Roasted cauliflower is a fast and easy recipe that turns this unassuming and healthy vegetable into a star. Your family will soon be asking for this delicious side dish all the time!
After the huge success of my Garlic Parmesan Roasted Cauliflower recipe, I decided to create another one because I know you all love roasted vegetable recipes as much as I do! 😉
Cauliflower is such a versatile ingredient and can be cooked in so many different ways, like this Mashed Cauliflower Recipe and Broccoli and Cauliflower Casserole Recipe and this Cauliflower Steaks.
You may have noticed that cauliflower has become a very popular vegetable, especially as a substitute ingredient in recipes. It now appears as pizza crust, cauliflower wings and even cauliflower rice.
One of the reasons for cauliflower's new found fame is because:
It's healthy and nutritious – it's naturally high in fiber and B-vitamins
It has a unique texture that's easy to incorporate into recipes
Its almost non-existent flavor allows it to absorb other flavors extremely well
Washing instructions
Like all fruits and vegetables, you need to make sure that the cauliflower is nice and clean before cooking it. You can get it cleaner by cutting it into florets first (see instructions below) before washing it.
Cut cauliflower into florets (see instructions below)
Fill a large bowl or tub (or your sink) with cold water.
Place the cauliflower florets into the water and let them soak for several minutes.
After soaking, place the florets into a colander and rinse under a stream of cold water.
Shake off any excess water.
Pat dry the florets.
Ingredients to make this cauliflower recipe
This Roasted Cauliflower recipe is absolutely tasty and very easy to make. I think the best part of this oven roasted cauliflower recipe is that you can use any spice you like. It doesn't take much to make this dish explode with flavor! All you need is the following short list of ingredients:
Subscribe for new recipes & a free e-cookbook
smoked paprika
turmeric
garlic powder
freshly ground black pepper
fine sea salt
cauliflower
extra virgin olive oil
I love hot spices. But if they are too strong for you, replace them for the ones you are used to. You can add also curry powder, red pepper flakes, chili powder, cloves garlic and even fresh herbs such as rosemary and cilantro. Either way, this healthy side dish will be the star of your table. If you like a cheese flavor, you can also add some parmesan cheese on top of the florets before baking.
Cutting instructions
To cut the cauliflower into florets:
1. Pull all the leaves off the base of the cauliflower and cut off any excess stem.
2. Cut the head of the cauliflower in half from top to bottom.
3. Cut each half piece in half through the core so that you end up with four quarters of the cauliflower.
4. Remove the core of each quarter by running your knife between the florets and the core piece. After you have removed the core, all the florets should naturally fall apart. If you find some of the florets are still quite large, break them up into smaller pieces (bite-sized pieces) with your knife (or hands). It's great if your florets have plenty of flat edges because the flat sides will lay flush against the pan, giving them a chance to caramelize.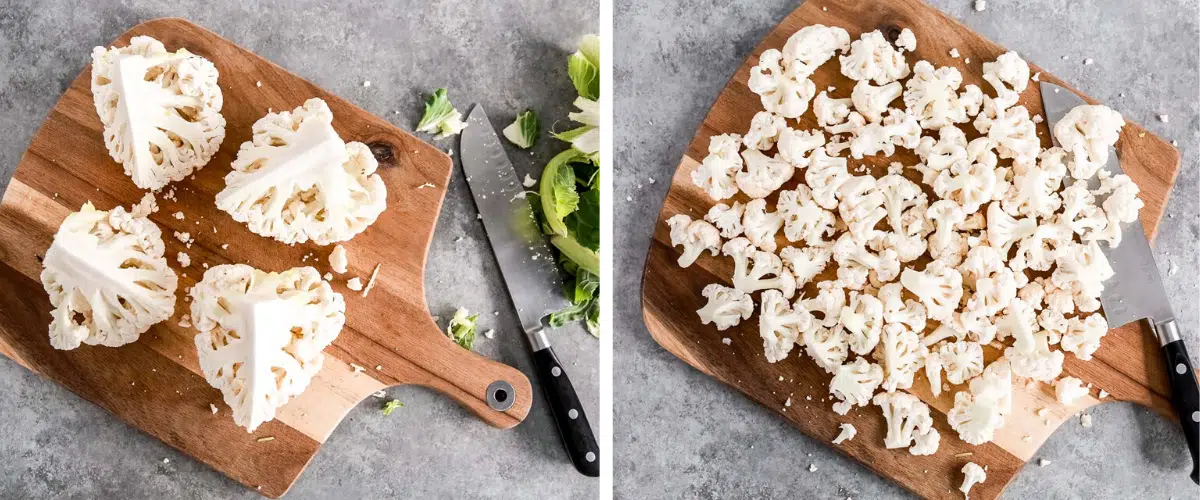 How to Make Roasted Cauliflower
Making this Roasted Cauliflower could not be any easier. Once you realize how simple it is (and how delicious!), you'll want to make this as often as possible!
Mix together smoked paprika, turmeric, garlic powder, salt and pepper. Set spice mixture aside.
Cut the cauliflower into florets.
Preheat the oven at 425F.
Spread the florets out into a single layer on an aluminum foil or parchment paper lined sheet pan (rimmed baking sheet) and pour/drizzle olive oil on top of them. Toss the florets until they are all evenly coated with oil. Then sprinkle the spice mixture over the florets, and mix well to combine.
Roast the cauliflower until it is tender and golden brown.
You can prepare it ahead of time by cutting the cauliflower into florets and adding all the spices. Then when it's about 30 minutes before dinnertime, place the cauliflower in the oven, and bake it for about 25 minutes. Optional, you can also ad some lemon zest and lemon juice on top of it before serving.
Make ahead tips
florets in advance so you can quickly roast them when ready to eat. Alternatively, you can roast the cauliflower beforehand, let it cool, and store it in an airtight container in the fridge for up to 4 days.
Reheat: you can reheat the leftovers in the microwave, air fryer, toaster oven, or regular oven. Just reheat until the cauliflower has warmed through.
Storing Leftovers
To store: Leftover roasted cauliflower in an airtight container for up to 4 days once they've cooled to room temperature.
To reheat: Reheat leftover cauliflower in the oven, so they stay crispy.
More Cauliflower recipes to try:
I mentioned before how easy it is to incorporate cauliflower into other dishes, so now is your chance to try it for yourself. Check out this Easy Cauliflower Fried Rice or this Mushroom Cauliflower Rice Skillet Recipe.
For pizza night, how about a Pepperoni Cauliflower Pizza Crust?
Or you can also try this delicious Cauliflower Casserole or this delicious Mashed Cauliflower Recipe.
What to serve with roasted cauliflower:
I think cauliflower is always the best side dish because it basically goes with any protein, such as salmon, chicken breast, baked chicken, seared steak, pork chops, garlic butter shrimp, and even frittata. I love to serve it with salmon and a salad. Hm… So good!! Also, you can serve it in tacos, making it a vegetarian or vegan meal.
Also, this Roasted Cauliflower Recipe is a great option to serve for holiday parties because it's hard to find someone who doesn't like cauliflower, right?
This is also a great side dish if you are on a low-carb, vegan/vegetarian, paleo, or gluten-free diet. I really hope you give this recipe a try and enjoy it!
Frequently Asked Questions
How Do You Make Cauliflower Not Mushy?
Ensure that there is enough space on your baking sheet when you roast the cauliflower. You should let there be some space when you roast them or the cauliflower florets will steam and you'll end up with mushy cauliflower. Also, it will help if you spread the florets into an even layer.  
How Do I Pick Cauliflower?
The heads of the cauliflower should be compact, white, and firm. Avoid any that look dry and yellow. You also want cauliflower that are dense and feel heavy for their size.
Can I Use Frozen Cauliflower?
You can find cut cauliflower florets in the frozen section of most grocery stores. You can thaw and roast them if the fresh cauliflower section is not ideal.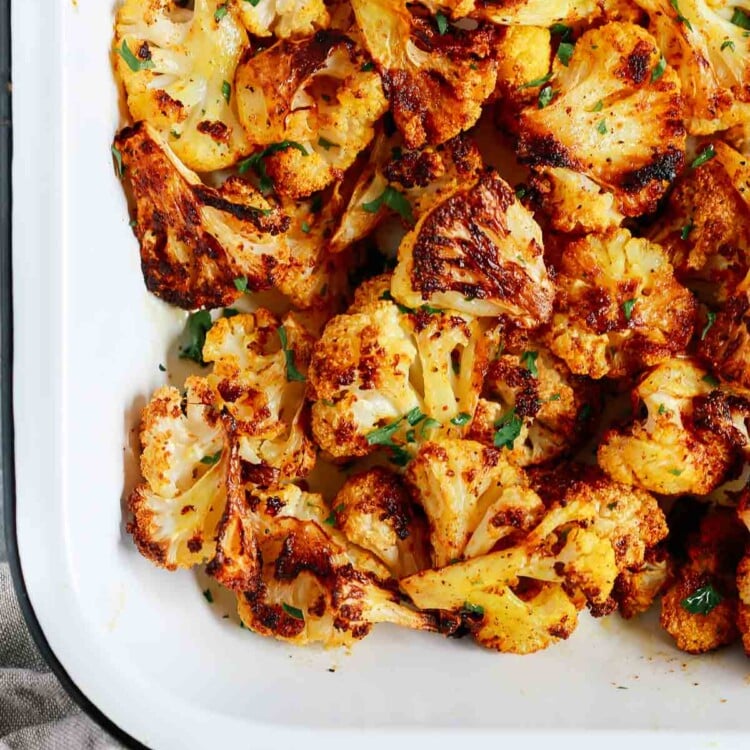 Roasted Cauliflower Recipe
Roasted cauliflower is a fast and easy recipe that turns this unassuming and healthy vegetable into a star. Your family will soon be asking for this delicious side dish all the time! 
Instructions
Adjust the oven rack to the middle position, and preheat oven to 425°F. In a small bowl, add smoked paprika, turmeric, garlic powder salt and black pepper. Mix everything very well.

Place the cauliflower florets on an aluminum foil lined baking sheet. Pour olive oil on top of the cauliflower florets and toss until everything is evenly coated. Sprinkle the spice mixture over the cauliflower, and mix well to combine.

Roast for about 25-30 minutes or until the cauliflower is tender and golden brown. Garnish with fresh parsley. Enjoy!
Tips
Click HERE to watch the web story. 
When buying the cauliflower, make sure the head is firm, tight, and does not have yellow patches.
You can buy pre-cut florets to save prep time. 
Make sure the florets are fully dry or they will not roast but steam instead.
To store: Leftover roasted cauliflower in an airtight container for up to 4 days once they've cooled to room temperature.
To reheat: Reheat leftover cauliflower in the oven, so they stay crispy.
Nutrition Information
Serving:
1
/4
Calories:
111
kcal
(6%)
Carbohydrates:
4.4
g
(1%)
Protein:
1.5
g
(3%)
Fat:
10.6
g
(16%)
Saturated Fat:
1.5
g
(9%)
Sodium:
254
mg
(11%)
Fiber:
1.9
g
(8%)
Sugar:
1.8
g
(2%)
Nutrition information is calculated using an ingredient database and should be considered an estimate.
If you like this Roasted Cauliflower recipe, please share it with your friends and family. Do you want to taste more? Subscribe to my newsletter, and follow Primavera Kitchen on Twitter, Pinterest, Instagram, and Facebook for all delicious recipe updates. As always, I really appreciate you stopping by.