Spicy chicken and cabbage with zucchini is a meal prep recipe that takes just 15 minutes to prepare! This chicken and vegetables dinner is a quick and easy solution for a busy weeknight.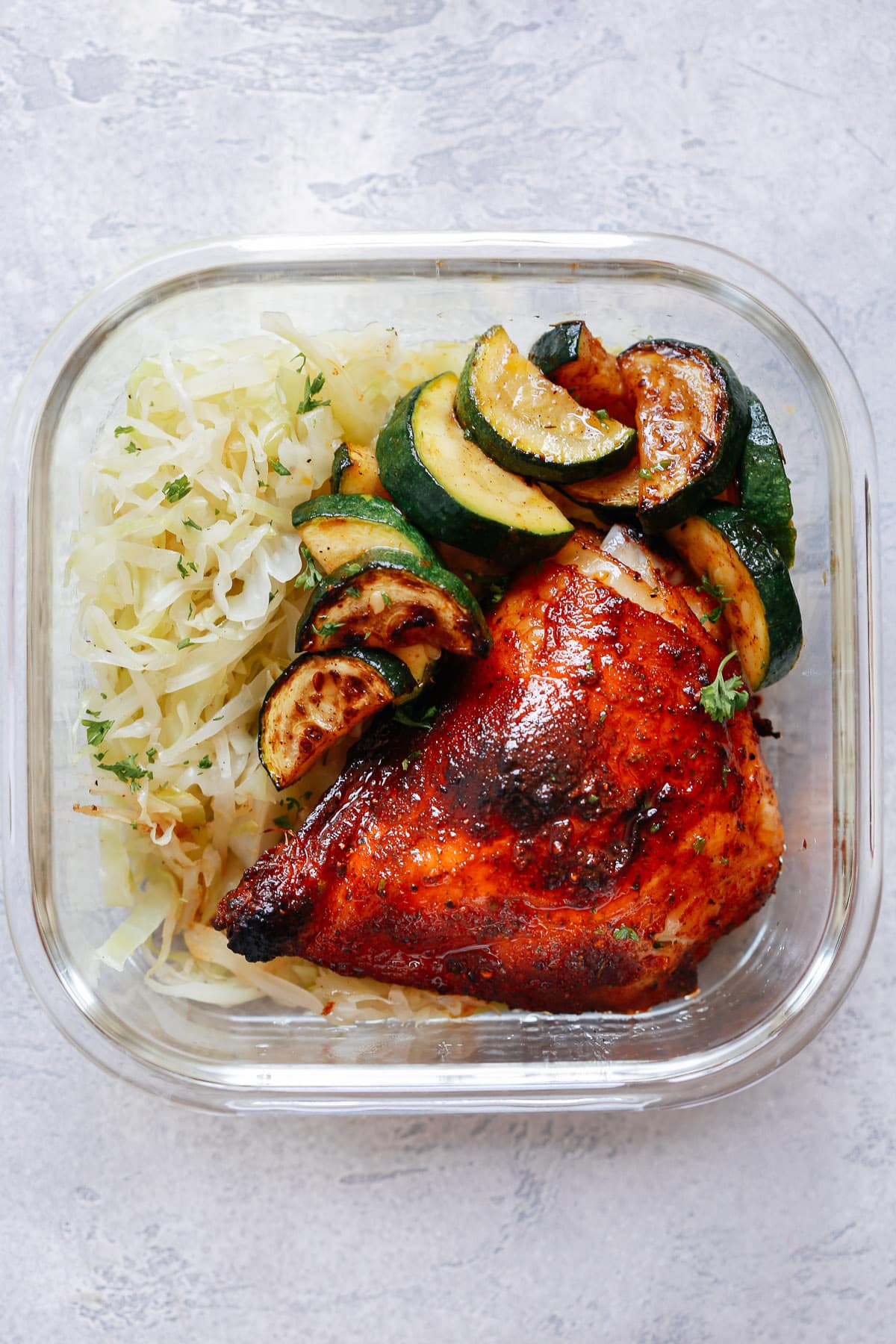 There's nothing better than starting the day off with a Peach Carrot Smoothie Recipe and then have a meal prep like this one ready to go for lunch. It makes life so easy and I recommend you give meal prepping a try if you haven't already!
Can you cook raw chicken and vegetables together?
It is important to be careful when cooking poultry because it must be cooked to an internal temperature of 165 degrees Fahrenheit to avoid carrying salmonella.
So can you ever put raw chicken in a pan with any other food? Yes, you can.
You simply cook raw chicken and vegetables in the same pan at the same time. Then, ensure that everything is fully cooked before consuming it and you will be fine. For example, my Chicken Vegetable Soup Recipe and Spicy Chicken with Cauliflower Rice cooks the chicken and vegetables in the same pot.
However, there are times when the preparation methods differ. For example, in this chicken and cabbage recipe, you want to crisp the skin on the chicken, and that is best done in a pan by itself. Additionally, you need space to toss the cabbage as it cooks. Also, the chicken and vegetables have different cooking times.
Chicken breast vs. chicken thighs – which is better?
Because of their higher fat content than breast pieces, some people believe chicken thighs are unhealthy. The truth is, the fat is healthy, monounsaturated fat. Your body requires this kind of fat to burn calories, as well as for heart health.
Subscribe for new recipes & a free e-cookbook
Also, the extra fat in thigh meat helps the chicken stay tender and juicy.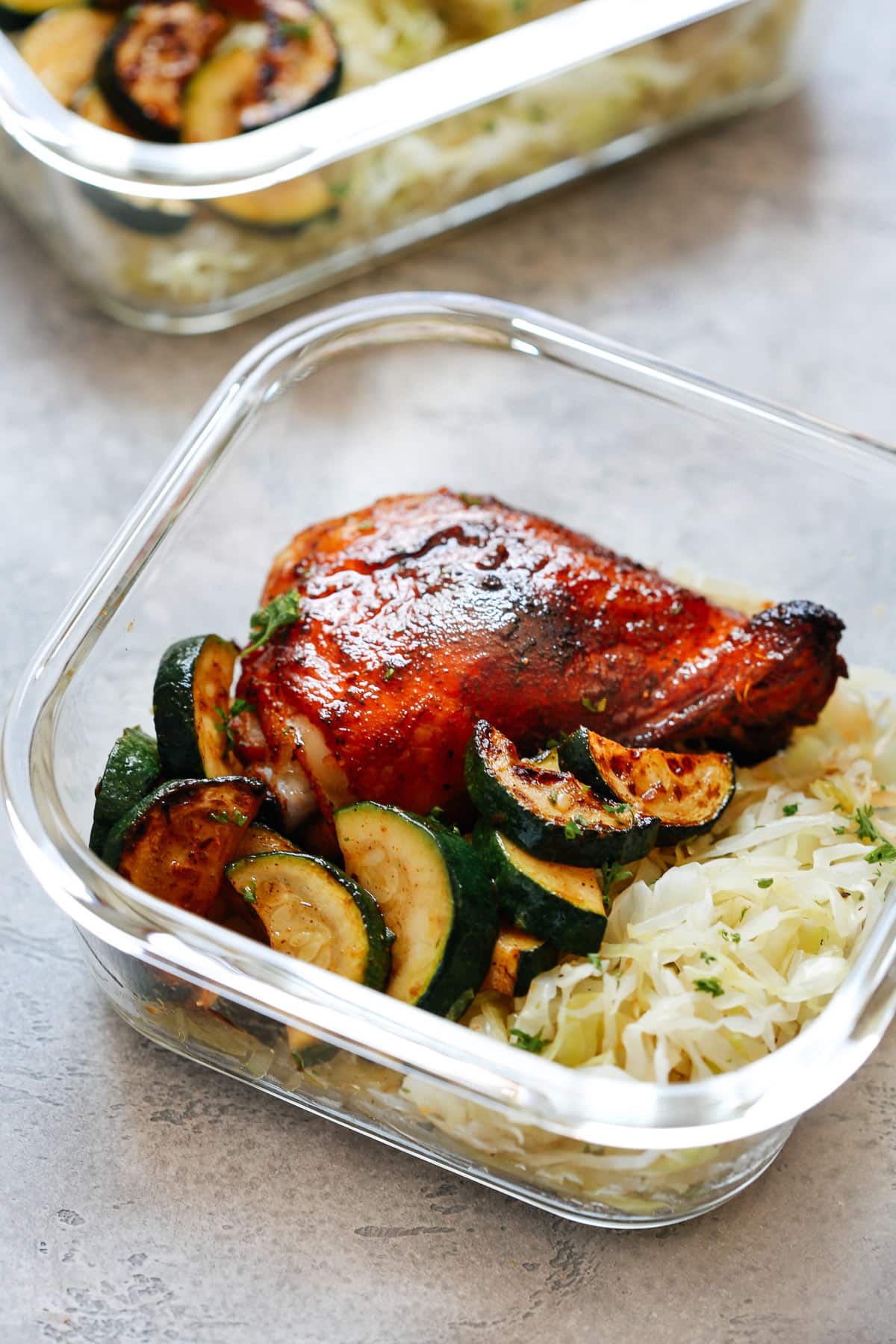 How long should I marinate chicken?
For this recipe, I recommend that the chicken sit in the marinade for at least 15 to 20 minutes. For even better flavor, allow it to marinate longer. You can prepare the meal in advance by mixing the chicken in the marinade the night before.
What if I want less spicy chicken and cabbage?
The combination of spices in this dish gives it a kick of spicy flavor. The main source of heat is the chili powder because is contains cayenne pepper. I don't use a lot of chili powder, but you can adjust the spiciness of this dish several ways.
Use more or less chili powder
Replace chili powder with paprika. As a result, you will add a lot of flavor but no heat.
Use oregano instead of chili powder
If you like spicier chicken, you can add hot sauces or cayenne pepper. Got extra cabbage? Try my Grilled Chicken Cabbage Salad and Cabbage Steaks!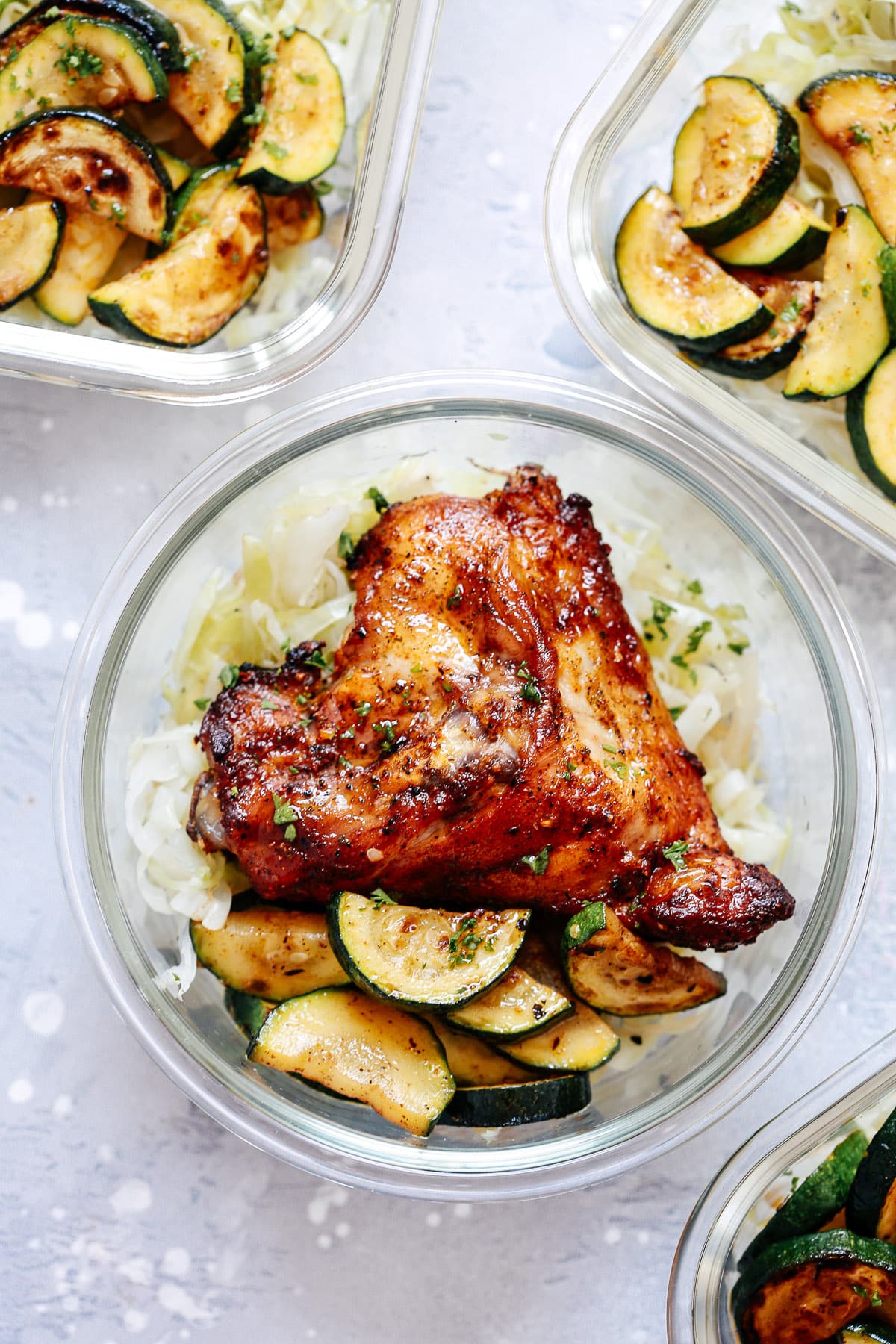 How do I meal prep chicken and cabbage?
You can use this meal prep recipe to make preparing dinner easier on a weeknight. Or, use it to make several days of healthy lunches. Either way, prepping ahead will save you a lot of time!
Simply prepare the marinade the night before and allow the chicken to marinate overnight. Prep the vegetables the night before as well. Cover and refrigerate them until it's time to cook. The next day, cook the entire meal and serve it for dinner, or divide it into four containers. Now you have four healthy lunches or dinners, ready to go!
Other Meal Prep Recipes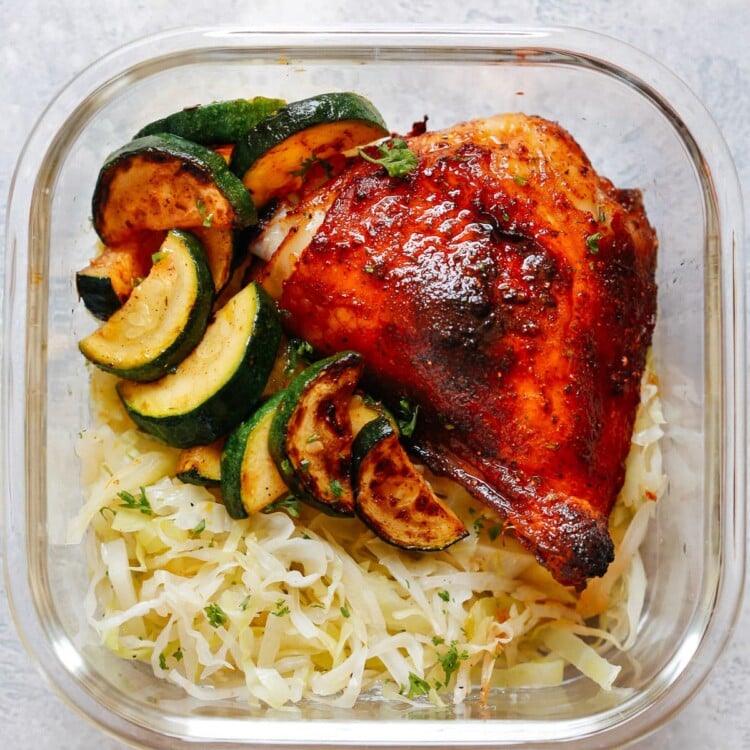 Spicy Chicken with Sautéed Cabbage and Zucchini Bowls
Spicy chicken and cabbage with zucchini is a meal prep recipe that takes just 15 minutes to prepare! This chicken and vegetables dinner is a quick and easy solution for a busy weeknight.
Instructions
For Spicy Chicken
In a large bowl, arrange chicken thighs and sprinkle with all of the chicken seasoning ingredients except for the olive oil. Mix everything well to combine and marinate for 15-30 minutes (or overnight).

In a large skillet, add olive oil over medium-high heat. Place the chicken skin side down, reduce the heat to medium and cook for 4 to 5 minutes on each side, or until chicken reaches an internal temperature of 165°F (75°C). Set chicken aside on a plate.
For Cabbage and Zucchini
Place the cabbage on a cutting board and cut it in half. Thinly slice each side and discard the core.

Place the sliced cabbage in a colander and rinse. Set aside to drain.

In a large and deep skillet, melt the butter over medium-high heat. Add garlic and sauté for 30 seconds. Then, add the cabbage, salt, pepper and red pepper flakes. Sauté for 10 to 15 minutes, stirring occasionally, until the cabbage is tender. Season according to your taste and set aside.

In the same skillet, add 1 tablespoon of butter, zucchini, salt and pepper. Sauté until it's tender.

Meal-Prepping: Place an even amount of chicken, cabbage, and zucchini into 4 glass containers. Cover with the lid and place in the fridge for up 4 days. Heat in the microwave for about 1½-2 minutes. The time depends on the power of your microwave.
Tips
I like having skin-on the chicken as it's crispy but you can always swap for skinless chicken thighs. The cooking time does not change. However, bone-in chicken thighs will have a longer cooking time.
Use an instant-read meat thermometer to check that the internal temperature of the chicken has reached 165F to ensure they're fully cooked.
You can swap chili powder for paprika so it's less spicy. 
To store: Store the spicy chicken bowls in the fridge for up to 4 days.
To reheat: Reheat the bowls in the microwave until heated through.
To freeze: I would recommend only freezing the chicken as the vegetables won't hold up well. Freeze the chicken in a freezer-safe bag or container for up to 3 months.
Nutrition Information
Serving:
1
/4
Calories:
378
kcal
(19%)
Carbohydrates:
12
g
(4%)
Protein:
26
g
(52%)
Fat:
23
g
(35%)
Saturated Fat:
6
g
(38%)
Polyunsaturated Fat:
3
g
Monounsaturated Fat:
4
g
Cholesterol:
90
mg
(30%)
Sodium:
748
mg
(33%)
Potassium:
825
mg
(24%)
Fiber:
6
g
(25%)
Sugar:
7
g
(8%)
Nutrition information is calculated using an ingredient database and should be considered an estimate.