This Peach Carrot Smoothie is healthy and delicious and has only four ingredients; banana, peach, coconut water, and greek yogurt. Enjoy!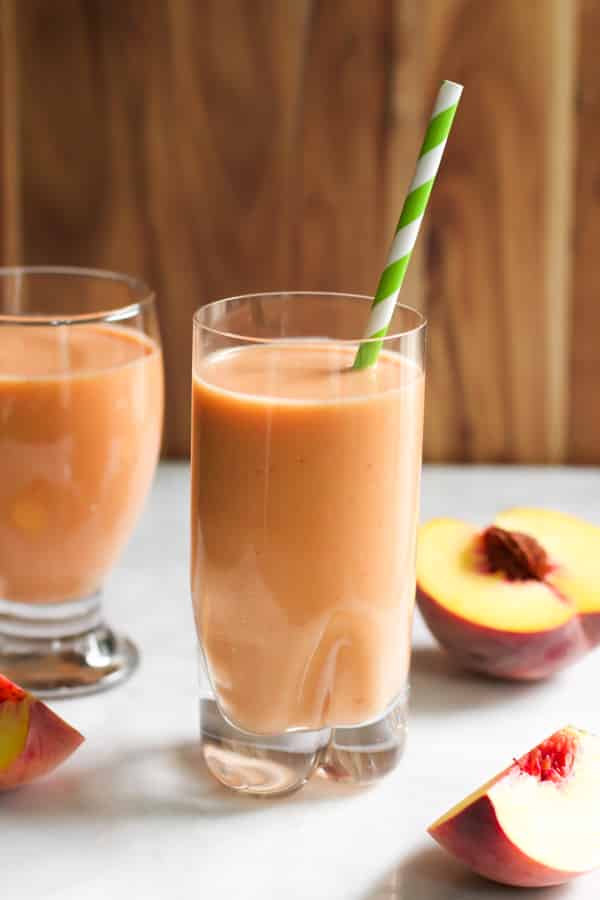 I love smoothies every time of the year. Some of my favorite recipes I've already posted here on my blog are my Strawberry Papaya Smoothie and Spicy Pineapple Peach Smoothie. For me, one of the best fruits to add to a smoothie is definitely peaches. They are so sweet and in many cases, you don't even need to add sugar to make a flavorful smoothie.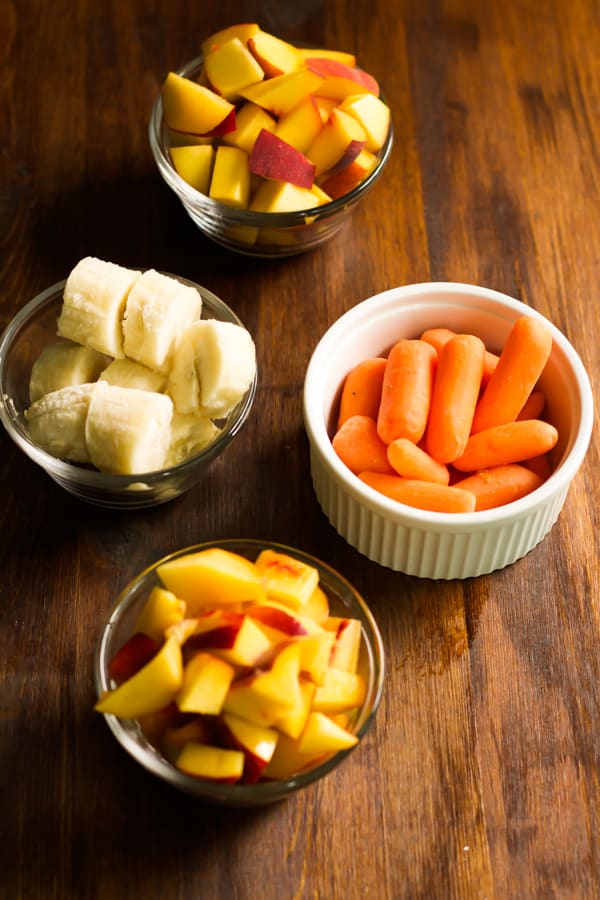 This time, I decided to add carrots as well. I've gotta be honest with you guys, I am not a type of person who likes to eat raw veggies. I mean I LOVE veggies, but I prefer to eat them when they are cooked. Maybe the reason why is because where I grew up in Brazil, it is not very common to eat raw veggies like here in North American. However, we do eat lots of veggies. I mean LOTS, and all the time since Brazil is a tropical country where everything grows year round.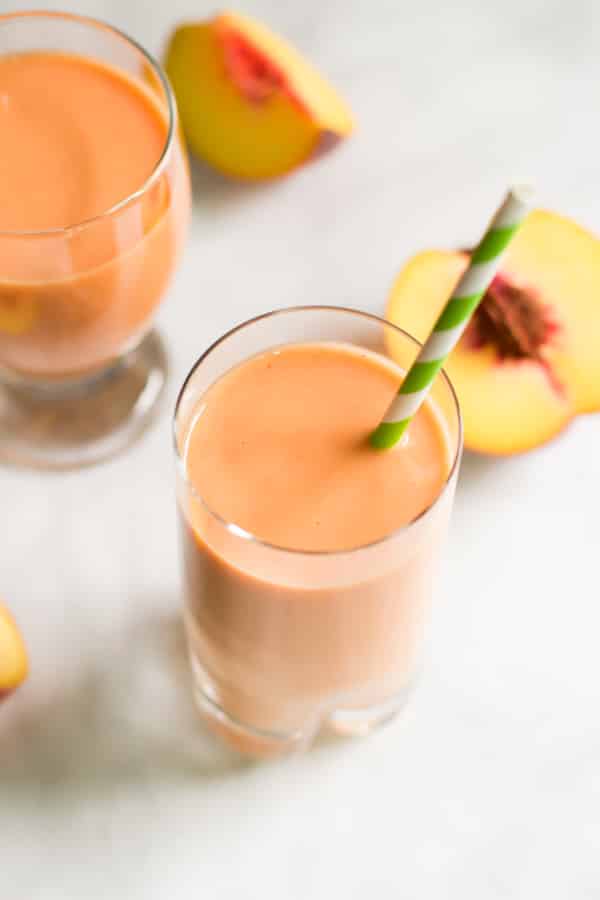 Many times I watch my husband eating a huge bowl of baby carrots and I just think: "How he can do that!!??" I really admire a person who likes to eat raw veggies because of course, they have more nutrients than cooked ones. But I am pretty happy already because after living 4 years together with him, I already got used to eating raw peppers and broccoli, which is awesome! But, I still have a hard time eating raw carrots and celery.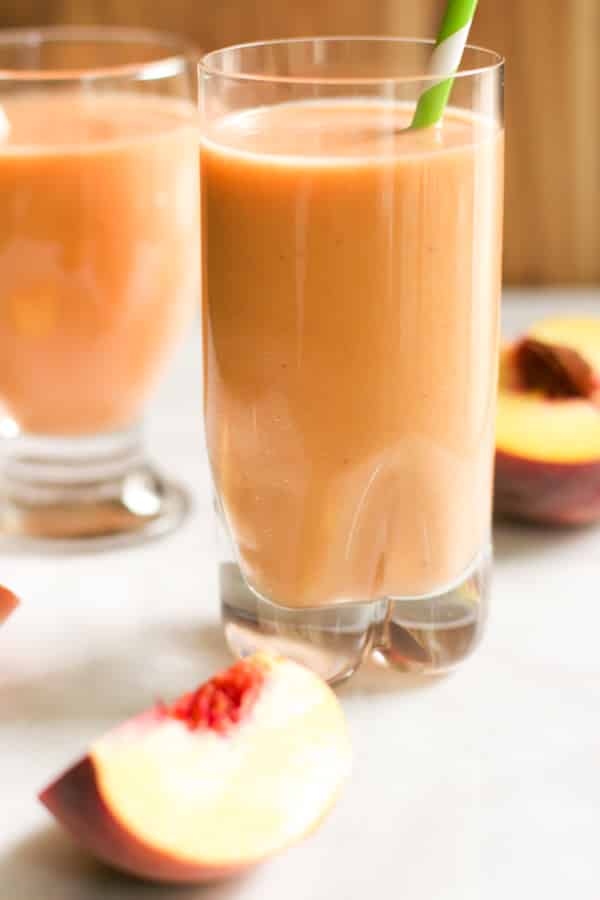 Two weeks ago, he had to travel for work and I was alone at home thinking: "what I will do with the bag of baby carrots in the fridge??!" I had to think of some recipe with carrot because I hate throwing food in the garbage. When I think about that, I just remember my mom saying to me when I was little: "please eat everything on your plate because there are so many kids on this planet that don't have anything to eat". I bet all our moms said the same thing to you once during our childhood, right? So, I thought of making a smoothie because the carrot is still raw, but to camouflage the raw flavor, I had some natural sweetener from the peach. And guys let me tell you: THIS SMOOTHIE ROCKS!! I loved it so much that the next day, I made the same recipe again for breakfast before prepping these Spicy Chicken with Sauteed Cabbage and Zucchini Bowls for lunch!!! Love, love, love!!!
That was the little story about this smoothie recipe creation! I really hope you like this peach carrot smoothie and give it a try 😉 If you have a ton of peaches like I have, you need to try my Peach Green Smoothie, Peach Salsa, or these 20 Healthy Peach Recipes.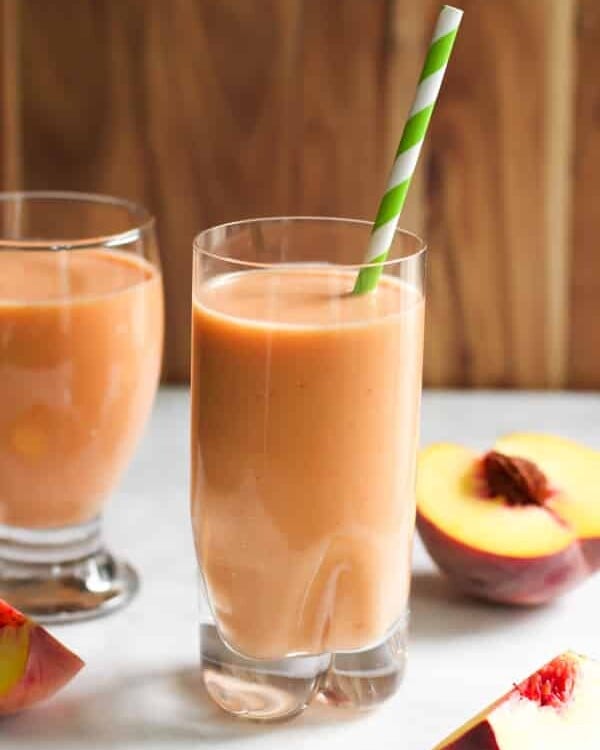 Peach Carrot Smoothie Recipe
This Peach Carrot Smoothie is healthy and delicious and has only four ingredients; banana, peach, coconut water, and greek yogurt. Enjoy!
Ingredients
2

cups

of peach

1

cup

baby carrots

1

frozen banana

2

tbsp

Greek yogurt

optional

1

cup

coconut water or water

1

tbsp

honey

optional. My peaches were already very sweet so I didn't add honey
Instructions
In a blender, combine all ingredients together and blend until smooth. Blend for about 30 seconds.

If you prefer, strain the smoothie to make it even smoother.
Tips
Feel free to use frozen peaches if peaches are not in season.
Avoid using canned peaches as they are packed in syrup.
A frozen banana will make the smoothie creamier. You can freeze the banana the night before or a few hours before making the smoothie.
To store: You can store the smoothie for an extra day in the fridge but you'll have to give it a mix as the smoothie may separate in the fridge. 
To freeze: Freeze the smoothie in an airtight container with some space on top as the smoothie will expand. 
Nutrition Information
Serving:
1
/2 (Doesn't include honey)
Calories:
192
kcal
(10%)
Carbohydrates:
33.6
g
(11%)
Protein:
12.1
g
(24%)
Fat:
2.4
g
(4%)
Saturated Fat:
1.5
g
(9%)
Cholesterol:
10
mg
(3%)
Sodium:
42
mg
(2%)
Fiber:
4
g
(17%)
Sugar:
28
g
(31%)
Nutrition information is calculated using an ingredient database and should be considered an estimate.
So, I hope you enjoy this Peach Carrot Smoothie recipe and try to make some in your own kitchen today. If you like this recipe, please share with your friends and family. Do you want to taste more? Subscribe to my newsletter and follow Primavera Kitchen on Twitter, Pinterest, Google+, Instagram, and Facebook for all delicious recipes updates. As always, I really appreciate you stopping by.
More smoothie recipes
 Start your day off with this Strawberry Papaya Smoothie!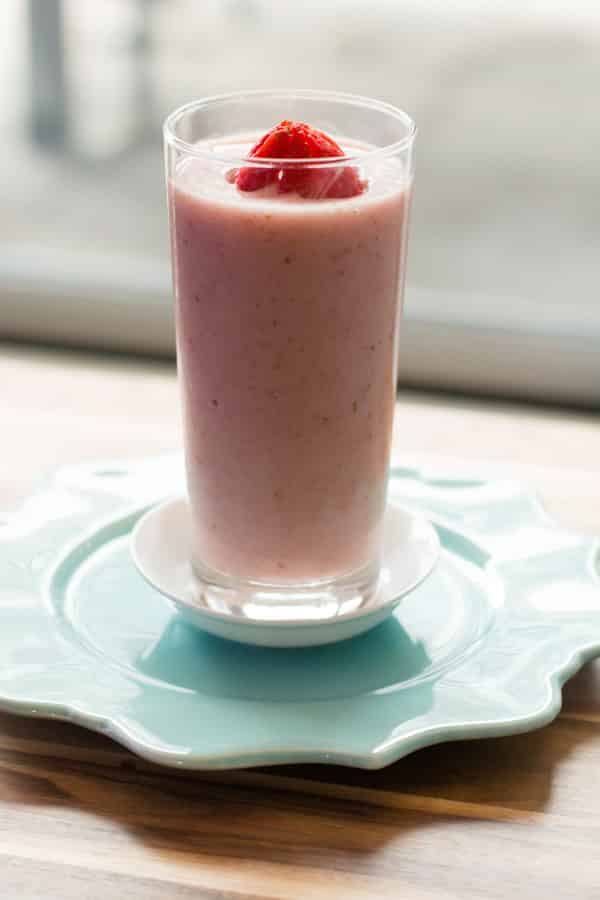 This Spicy Pineapple Peach Smoothie is another way to start your day!
Try this nutrient-packed pineapple green smoothie for breakfast!