Chicken and cabbage is a one pan meal that is healthy and quick. Use it for dinner or meal prep four lunches in under 30 minutes.
This recipe is amazing for your busy weeknights because it's all made in 30 minutes and using one-pot only. Perfect, right? If you like recipes like this one, you'll love this Cabbage and Sausage Stew, Ground Turkey Cabbage Skillet, and this Chicken with Sauteed Cabbage and Zucchini.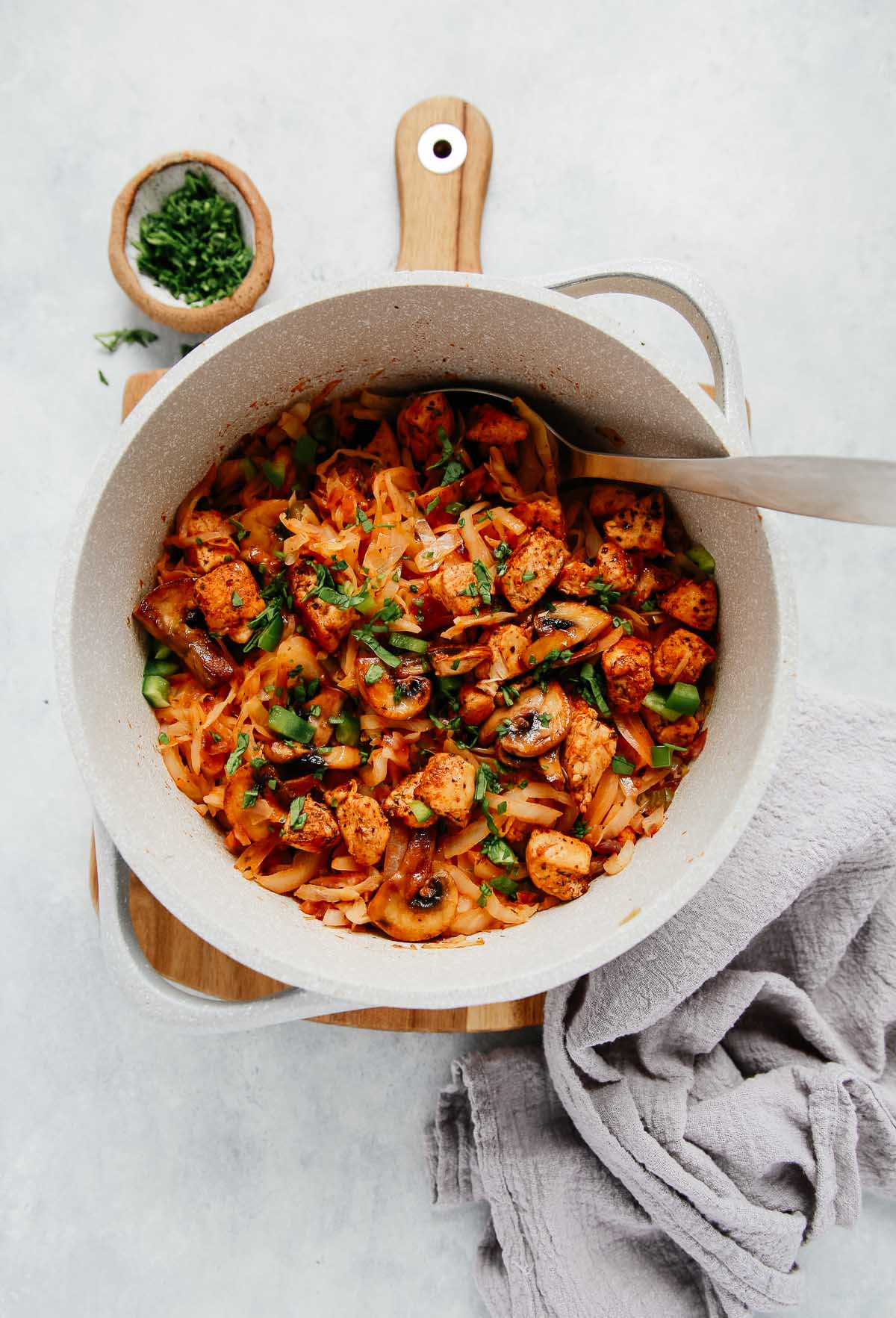 We love cabbage, especially because it's such a versatile veggie. You can serve it hot/cooked like this Cabbage Steak recipe and Cabbage and Sausage or cold/raw like this delicious Cabbage Salad.
Made with simple ingredients, this one pan meal is gluten, dairy, and nut free. It's low-carb and fits great with the paleo and Whole30 eating plan. Because it's so easy to store, it makes healthy eating super easy with meal prep. With lots of protein and fresh veggies, this chicken and cabbage dish is filling and delicious.
What is the best type of cabbage for chicken and cabbage?
There are more than a dozen varieties of cabbage, but some work better in this chicken and cabbage dish than others. Try any of these:
Cannonball cabbage- these are the typical green cabbages found in the grocery store
Napa cabbage- if you like something a little sweeter and not as crisp
Red cabbage- this is a little tougher if you want it to maintain a more crisp texture
How do you cut cabbage?
Cabbage is very dense and can be intimidating to cut into even pieces. Once you know the method, your chicken and cabbage will be evenly cooked and your coleslaw will look amazing.
Wash the cabbage under cold running water
Remove the outer leaves. Just pull off the ones that are loose and easy to remove.
Quarter the head of cabbage.
Each piece now has a bit of the core revealed. Use your knife to remove the tough core.
Put your cabbage quarter cut side down on the cutting board and slice it horizontally into ribbons. At this point you can make the ribbons as thick or thin as you like. For the chicken and cabbage dish, I cut them thicker than I would for coleslaw. If you want them short, you can then cut the ribbons in half or thirds.
What you'll need for this recipe?
Olive oil — or neutral oil of your choice
Chicken breast — cut in cubes or small pieces. Or you can swap for chicken thighs if you prefer. I prefer organic chicken breasts that were grass-fed. It is important to use high-quality meat as some chicken breasts are injected with a solution of saltwater to plump it up so it looks better on the shelves. Also, if you use chicken thighs, don't use bone-in chicken thighs.
Seasoning — I used paprika, dried oregano, kosher salt, black pepper, and garlic powder
Mushroom — use your mushrooms of choice. Baby mushrooms or white button mushrooms works.
Red onion — chopped
Green bell pepper — you can swap for red, orange, or yellow bell peppers.
Small cabbage or ½ cabbage large — sliced
Tomato sauce — this adds some nice colour and richness in flavor
Fresh herbs – Fresh herbs for garnish like parsley or cilantro. I love love to top it with chopped green onions.
How do you cook chicken and cabbage?
This chicken and cabbage meal can all be made in one pot. I prefer using my Dutch oven for a dish like this because of its size, and that it has a lid.
Subscribe for new recipes & a free e-cookbook
Cut the chicken in cubes so it cooks quickly
Season the chicken and cook it in olive oil. Small cubes of chicken will only take five to seven minutes to cook. Chicken is fully cooked when it reaches an internal temperature of 165F.
Remove the chicken and cook the onions
Add the mushrooms
Add the cabbage and the rest of the ingredients. Put the lid on and cook for ten to 15 minutes or until cabbage is cooked to desired tenderness.
Return the chicken to the pot and combine well. Let it cook for another minute or two to incorporate all the flavors.
Meal Prep Tips
Meal Prep Tips
If you are meal prepping this, be sure to let the chicken and cabbage cool before transferring it to the fridge. Be sure to keep the meals refrigerated until you're ready to eat.
Make sure to store all your portions into an airtight container. I use glass containers has they don't hold onto any smells and are easier to clean.
Microwave your meal prep with a damp paper towel over top the container to keep the ground beef meal prep bowls moist.
This meal prep will last for up to 4 days when properly stored.
Why I prefer to use glass food containers to store my meal-prep recipes:
There is no secret that I love using glass containers when it comes to storing my meal-prep recipes, and here are a few reasons why:
The chemicals from plastic containers may leach from the plastic into your food when you reheat your food in the microwave.
Glass is easier to clean than plastic because it doesn't stain and can be safely washed at high temperatures.
Glass containers don't absorb food as plastic does.
You don't need to wait for the food to cool completely to put it inside the glass container.
And finally, glass containers are better for the environment because up to 80% of all recycled glass can be reclaimed, which is a high number compared with plastic since not all plastics can be recycled.
Check out my Spicy Chicken Meal-Prep Bowls and Ground Turkey Cauliflower Rice Veggie Bowls for more recipes to use with your new glass containers!
Recipe Tips
Recipe Tips
Make sure to cut the chicken into similar-sized pieces so they cook through at the same time.
Chicken cubes are cooked through once it has reached the internal temperature of 165F. An instant-read meat thermometer is a super helpful kitchen tool.
If you don't have chicken, you can swap the chicken for a different meat such as beef, pork, or tofu.
Want to add more vegetables? Throw in a handful of spinach or broccoli!
Want to make this spicy? Try adding some cayenne pepper or hot paprika instead. For another spicy meal prep, try my Spicy Salmon Vegetable Meal-Prep Bowls.
Want to make an extra side dish but want it to be hands offs? Try my Roasted Butternut Squash Recipe.
More recipes to try:
One-Pan Chicken and Cabbage (Meal-Prep)
Chicken and cabbage is a one pan meal that is healthy and quick. Use it for dinner or meal prep four lunches in under 30 minutes. 
Ingredients
For the Cabbage
8

oz

mushroom

1

tbsp

olive oil

1

cup

red onion

chopped

1/2

cup

green bell pepper

chopped

1

small cabbage or ½ cabbage large

sliced

1

teaspoon

garlic powder

1/2

tsp

paprika

salt and black pepper

¼

cup

chicken broth

1/3

cup

tomato sauce
Instructions
In a large pot or Dutch oven, add olive oil and heat over medium high heat for 1 minute. Add the chicken and sprinkle with paprika, oregano, salt and black pepper. Cook for about 5-7 minutes, or until chicken is fully cooked. Set it aside.

Add mushroom and cook for 3 minutes and using a wooden spoon scrape off any brown bits that may be stuck to the bottom of your skillet. Set aside.

In the same pot, add 1 tablespoon of olive oil, onions and bell pepper. Sauté for 3-5 minutes, or until it gets brown.

Add the cabbage, garlic powder, paprika, salt and black pepper and chicken broth. Mix everything together. Reduce heat to medium low and cover with a lid. Cook for about 10-15 minutes, stirring occasionally.

Add tomato sauce to the pan. Return chicken to the pan and mix all together to combine. Cook for 2 more minutes. Garnish with fresh chopped parsley. Serve immediately.
Tips
Click HERE to watch the web story. 
You can swap the chicken breasts for boneless, skinless chicken thighs.
Make sure you cut everything as uniformly as possible so it cooks evenly. 
You can add some broccoli or spinach to the pan for more vegetables.
To store: Store the chicken and cabbage in an airtight container in the fridge for up to 4 days.
To reheat: Microwave the leftovers until hot.
Nutrition Information
Serving:
1
/4
Calories:
304
kcal
(15%)
Carbohydrates:
16
g
(5%)
Protein:
31
g
(62%)
Fat:
9
g
(14%)
Saturated Fat:
1
g
(6%)
Polyunsaturated Fat:
1
g
Monounsaturated Fat:
5
g
Cholesterol:
60
mg
(20%)
Sodium:
339
mg
(15%)
Potassium:
795
mg
(23%)
Fiber:
10
g
(42%)
Sugar:
13
g
(14%)
Nutrition information is calculated using an ingredient database and should be considered an estimate.