These Spicy Salmon Vegetable Meal-Prep Bowls are loaded with veggies, baked spicy salmon and nutrients. Definitely a great recipe to bring to work or prep for weeknight dinners!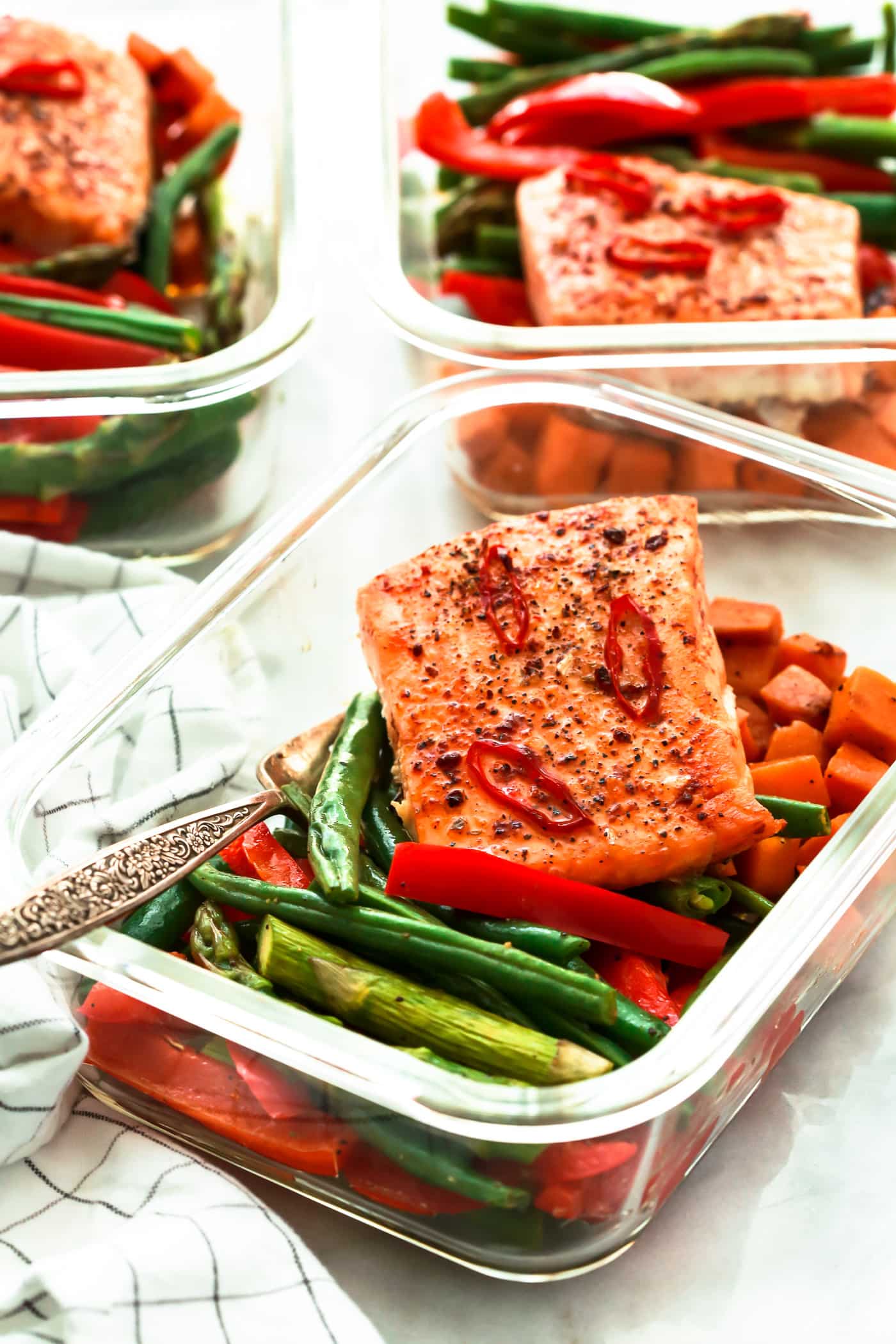 These past four weeks I've been very proud of myself just because I'm meal-prepping our meals for the week. I shared few of my meal-prep recipes here on the blog like these Spicy Chicken Meal-Prep Bowls and this One-Sheet Pan Shrimp with Cherry Tomatoes and Asparagus.
It has been so good for our diet because before when was about lunch time, and I didn't have anything ready to eat, I would go and eat some unhealthy. So, now on Sunday mornings after breakfast while my husband and son are playing together in the living room, I am meal-prepping our lunches for the week and I don't even spend more than one hour in the kitchen. How do I do that? I just choose to cook easy meals that don't require lots of ingredients and recipes that I can make all in one-pan.
This is totally life changing for me! Now, I don't worry any more about what my family will have for lunch the next day. On top of that I have more free time during the week, since I don't spend my nights preparing lunches for the next day. So good! I get more time to spend with my son and husband after dinner. We talk, we laugh, we play, and we read… It's now my favourite time of the day for sure.
Two Sundays ago, I made this Spicy Salmon Vegetable Meal-Prep Bowls and we ate it during the week. It was very good especially because this salmon tastes better as a leftover. It took me less than one hour to prepare everything because it's all made in one-pan and all the ingredients cook very fast. I absolutely love one pan meals just like this Spicy Salmon Vegetable Meal-Prep Bowls because they usual mean simplicity, easy clean-up, and less stress.
Subscribe for new recipes & a free e-cookbook
Meal prepping is such a lifesaver since it makes meal time much easier. I've been really loving this salmon bowl and also this One-Pan Chicken and Cabbage, One-Pan Italian Sausage Meal-Prep Bowls, Salmon Chopped Salad Recipe, and Easy Chopped Salmon Salad.
To make this recipe you just need to place the salmon fillets and all your veggies on a sheet pan. Season the veggies and salmon with salt, pepper, and olive oil. Place the fillets next to the veggies and bake 10-15 minutes or until the salmon are cooked through. The sweet potato maybe will be not cooked in only 10 minutes, but you can remove the green veggies, red bell pepper and the salmon and cook the sweet potato for 10 minutes more or so. Easy as pie!
3 reasons why I prefer to use food glass containers:
It's easier to clean and doesn't absorb dyes or colors. So, you can one day use it for store a Bolognese sauce and it won't have the greasy red stains.
There is no toxic substances migrate from plastic to food during microwave heating. The scientists have already confirmed that it's not safe to use plastic to reheat foods. So to be safe I prefer to use glass containers sinceit also can be safely washed at high temperatures in the dishwasher.
I know glass containers can be more expensive than is usually more expensive than plastic, but I believe that glass is a one-time investment that we last longer than plastic containers. Also you can find at good deals online like these ones from Amazon (affiliate link).
Tips to make these Spicy Salmon Vegetable Meal-Prep Bowls:
Cut the sweet potato in very small pieces, this way they will cook faster and you will save some time.
Make sure your salmon fillets are all the same size so they cook at the same time and avoid some to be dry and over cooked.
Do not bake your green veggies (asparagus and green beans) for more than 15 minutes because they will be soggy and mushy.
Here's what I love about this Spicy Chicken Meal-Prep Bowls recipe:
It's one-pan meal, which means it requires minimal clean-up.
It's gluten-free, Whole30 and paleo-friendly. You also can make it low-carb if you replace sweet potato for butternut squash or even another vegetable like broccoli.
The salmon tastes even better on the next day. Perfect for lunch!
Enjoy!
Spicy Salmon Vegetable Meal-Prep Bowls
These Spicy Salmon Vegetable Meal-Prep Bowls are loaded with veggies, baked spicy salmon and nutrients. Definitely a great recipe to bring to work or prep for weeknight dinners!
Ingredients
For the Salmon
1

tablespoon

olive oil

4

small salmon fillets

1

small red chili pepper

sliced
For the Veggies
2

tablespoons

olive oil

1

bunch of asparagus

ends trimmed and cut in halves

2

cups

green beans

cut in halves

3

big red bell pepper

sliced

4

cups

sweet potatoes

peeled and diced
Instructions
Preheat the oven to 400 degrees F.

Line a large sheet pan with foil or parchment paper.

Place salmon on the center of the prepared baking sheet and pour olive oil on top.

Season salmon with salt, pepper and some slices of red chilli pepper.

Add sweet potatoes on one side of the baking sheet and asparagus, green beans and red bell pepper on the other side. It's important that you don't mix all the veggies together because the sweet potato will need more time to cook than the asparagus, green beans and red bell pepper.

Pour olive oil on the top of the veggies and season with salt and pepper. Toss well to coat.

Place the baking sheet in the oven for 10-15 minutes. The cooking time will depend on the salmon size. Remove salmon, asparagus, green beans and red bell pepper from the oven and continue baking the sweet potato for 10 minutes more or until they are tender.
MEAL PREPPING:
Place an even amount of salmon and veggies into 4 different 

glass containers

. Cover with the lid and place in the fridge for up 4 days. Heat in the microwave for about 1.5 or 2 minutes. The time will depend on the power of your microwave.
Tips
Looking for more meal-prep recipe? I have other meal-prep recipes HERE for you. But my favourite meal-prep recipes are these ones: Ground Turkey Cauliflower Rice Veggie Bowls, Spicy Chicken Meal-prep Bowls and One-sheet Pan Shrimp with Cherry Tomatoes.
Make sure the pat dry the salmon, so the seasoning sticks better and the salmon doesn't seem.
Alternatively, you can start cooking the sweet potatoes first to ensure they all finish cooking at the same time.
Make sure you get salmon that is similar in size so they cook evenly in the oven.
To store: Store leftovers in the fridge in an airtight container for up to 4 days.
To reheat: You can reheat this salmon meal prep in the microwave. 
Nutrition Information
Serving:
1
/4
Calories:
392
kcal
(20%)
Carbohydrates:
40
g
(13%)
Protein:
20
g
(40%)
Fat:
17
g
(26%)
Saturated Fat:
2
g
(13%)
Cholesterol:
40
mg
(13%)
Sodium:
423
mg
(18%)
Fiber:
9
g
(38%)
Sugar:
14
g
(16%)
Nutrition information is calculated using an ingredient database and should be considered an estimate.
And if you like this Spicy Salmon Vegetable Meal-Prep Bowls recipe, please share with your friends and family. Do you wanna taste more? Subscribe to my newsletter and follow Primavera Kitchen on Twitter, Pinterest, Google +, Instagram and Facebook for all delicious recipes updates. As always, you are really appreciated for stopping by.