Salmon Chopped Salad Recipe
This Salmon Chopped Salad recipe is quick and easy to make, packed with protein, healthy fats and it's flavoured with lemon vinaigrette.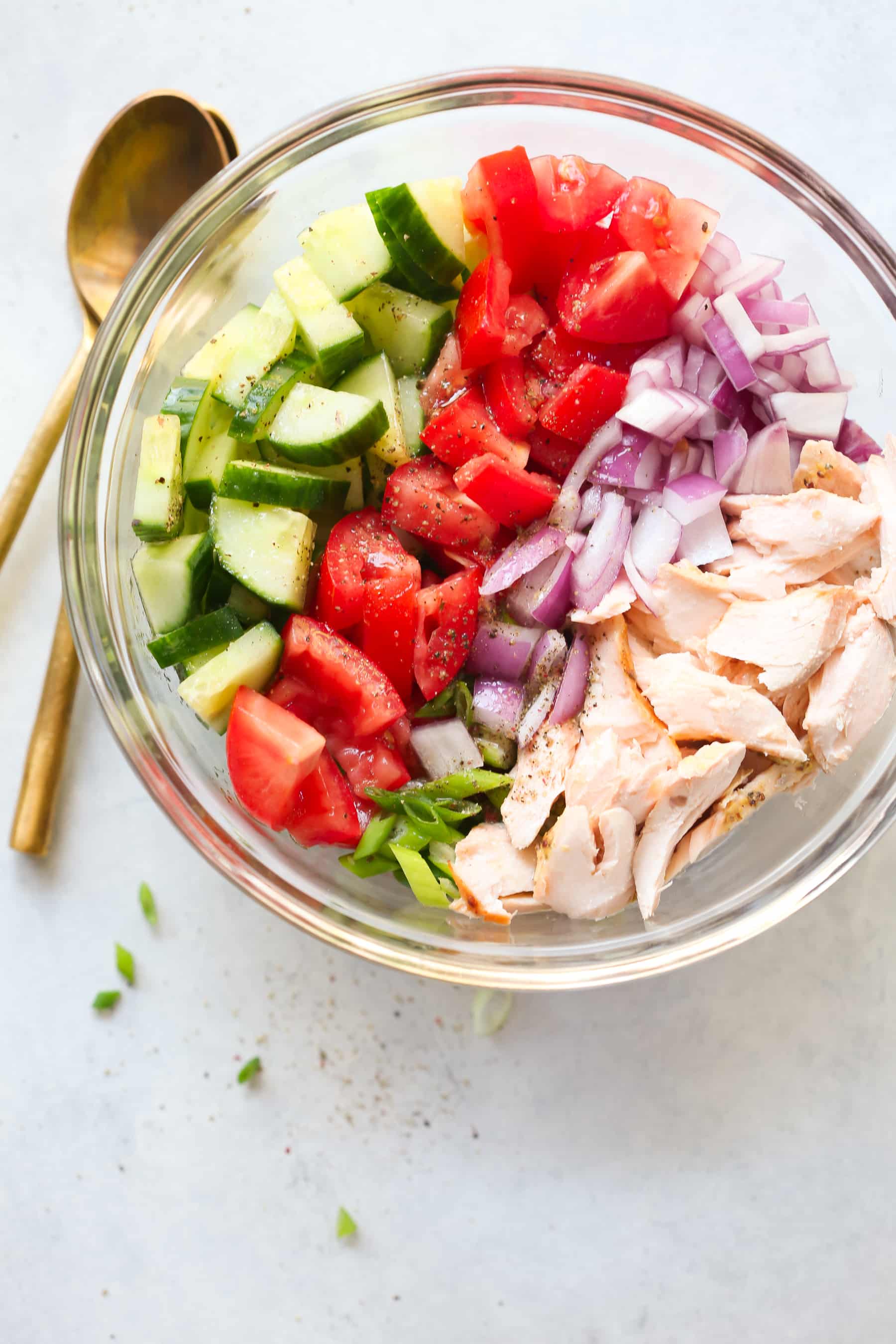 The other day I made a delicious dinner with broiled salmon and some roasted veggies as a side dinner. It was a perfect healthy and tasty dinner for spring.
The next day for lunch I decided to go light and have a salad. But instead of only having a salad with tomatoes, cucumber, red onions and green onions, I added the salmon leftover and it brought this salad to a whole new level! That was absolutely DELICIOUS!
This salmon chopped salad recipe is really delicious, very simple to make, and of course, so healthy too. For this recipe I used salmon leftover, but if you don't have any you can still make this salad. You just need to bake your salmon with salt and black pepper for 10-12 minutes at 400F degrees and done! After that, you flake the salmon and add it to the recipe when it is cooled down.
I loved the thought of salmon, tomatoes, cucumber and red onions together. It's a light meal, packed with protein, healthy fat and ultra flavourful! Also if you are not a fan of lettuce this salmon chopped salad is perfect for you.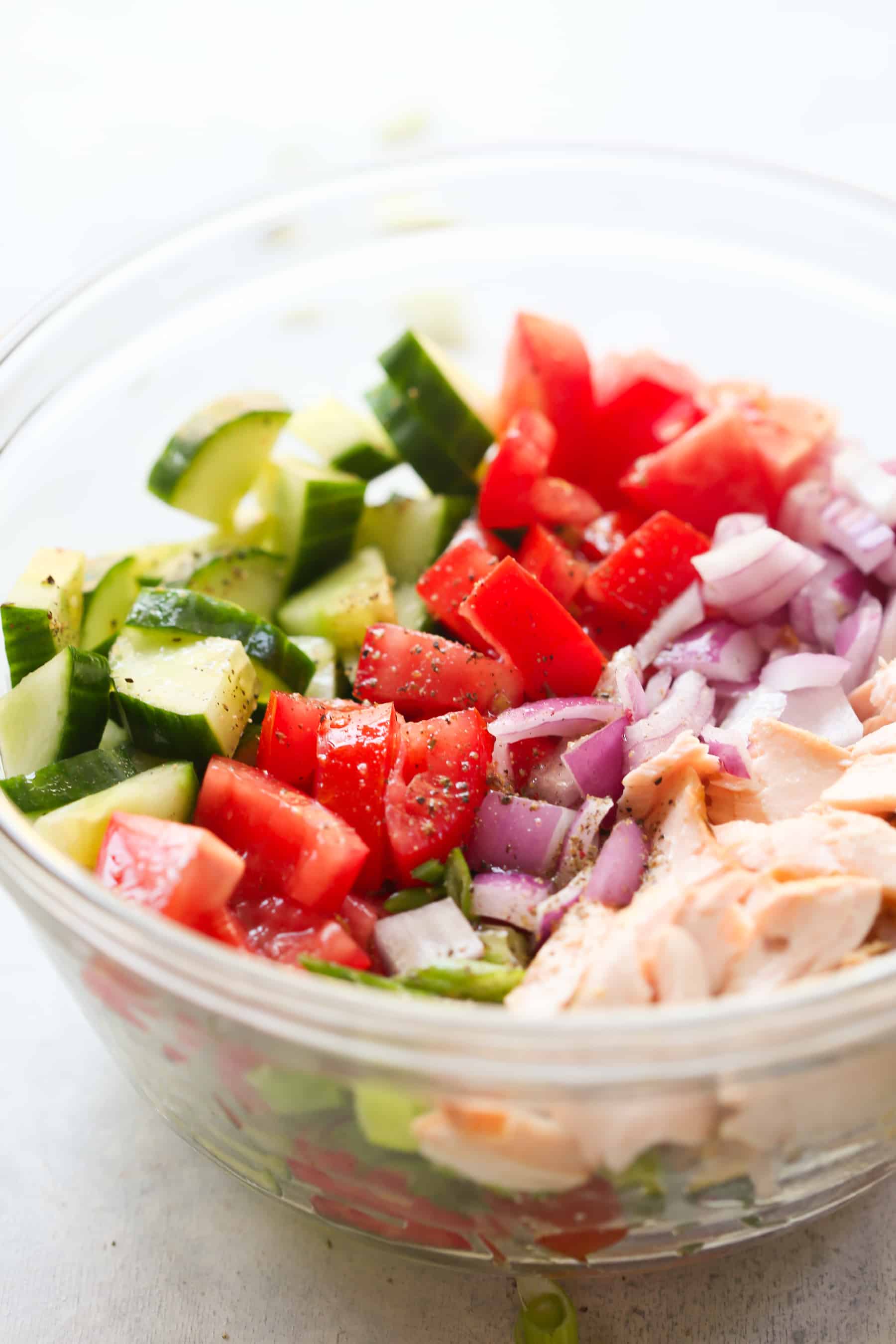 I need to say that this salad is perfect on its own, but if you are someone who doesn't like salads without carbs, please add cooked quinoa in there and you'll love the result.
Now why I love this Salmon Chopped Salad recipe so much? Because…
It's easy and quick to make.
It's loaded with protein.
It's low-carb, gluten-free and paleo.
It's very flavourful.
So, this salad kind of brightens my day just looking at it. Bright, light and delicious! Hope you give it a try and enjoy! Happy day, friends 😉
Salmon Chopped Salad Recipe
Salmon Chopped Salad is quick and easy to make, packed with protein, healthy fats and it's flavoured with lemon vinaigrette.
Ingredients:
For the salad
6 oz. salmon, cooked and flaked* (if you don't have salmon leftover, go to notes below the recipe instructions to know how to bake a salmon filet)
3 cups cucumber, chopped
3 cups tomatoes, chopped
¾ cup red onions, chopped
½ cup green onions, chopped
For the dressing
1 tbsp freshly squeezed lemon juice
2 tbsp extra virgin olive oil
Salt and fresh ground black pepper to taste
Directions:
In a large salad bowl, add the salmon, cucumber, tomatoes, red onions and green onions. Mix everything together until combined.
In a mason jar, pour the freshly squeezed lemon juice and olive oil. Add salt and pepper and whisk everything. Continue to whisk while streaming in the olive oil*.
Taste to check the seasoning and pour over the salad. Enjoy!
*This dressing stays good in the fridge in a sealed container for about a week.
* Preheat the oven to 400°F. Line a baking sheet with parchment paper or silicone mat. Place salmon on the baking sheet, skin-side down, season with salt and pepper and bake 10 to 12 minutes. Remove from the oven and let it cool down. Flake flesh and set aside.
Nutrition Information
Yield: 4, Serving Size: 1/4
Amount Per Serving:
Calories: 166
Total Fat: 10.1g
Saturated Fat: 1.5g
Cholesterol: 19mg
Sodium: 321mg
Carbohydrates: 11.1g
Fiber: 2.8g
Sugar: 6.1g
Protein: 10.5g
All images and text ©
If you make this recipe, please don't forget to snap a photo and hashtag it #primaverakitchen. I really want to see!
Products Featured in this Recipe:
(may include affiliate links)
And if you like this Salmon Chopped Salad Recipe, please share with your friends and family. Do you wanna taste more? Subscribe to my newsletter and follow Primavera Kitchen on Twitter, Pinterest, Google +, Instagram and Facebook for all delicious recipes updates. As always, you are really appreciated for stopping by.