This Eggplant Lasagna recipe is made with eggplant slices. There is not pasta or lasagna noodles, which makes it perfect for those who are following a low-carb or gluten-free diet. It's absolutely delicious, too!
I love making lasagna without traditional noodles. Instead, I always make it with zucchini or eggplant slices, like this Zucchini Lasagna Roll Recipe, Slow Cooker Zucchini Lasagna, and Low-Carb Zucchini Lasagna Skillet. Almost every month, I make my Spinach and Zucchini Lasagna for my husband, but since he doesn't like eggplant (and refuses to eat it!), it's been a while since I've made lasagna using eggplant. Even though I like eggplant, I really don't enjoy cooking only for me.
A few weeks ago, my husband was traveling for work, and my mom came to visit us in Canada for three weeks. We were buying groceries when she saw eggplants and said: "Can we buy them, and make eggplant lasagna?" I couldn't believe my ears. OMG, I'll finally be able to make eggplant lasagna again!! That's awesome! So, we bought the eggplants, made this low-carb eggplant lasagna, and enjoyed it all week.
Ingredients to Make Eggplant Lasagna
Eggplants — sliced 1/8″ thick, I used my mandoline to create perfect eggplant slices.
Coarse salt and black pepper — I use the salt to help pull the moisture out of the eggplant slices.
Part-skim ricotta — I love using ricotta for this lasagna. Feel free to use regular ricotta if you prefer.
Egg — This helps bind everything together.
Parmesan cheese — I like to grate my own parmesan as it melts better. Be sure to save some parmesan to sprinkle on top
Homemade tomato sauce — or your favourite marinara sauce. Feel free to use store-bought sauce to save time.
Part-skim mozzarella cheese — I recommend shredding your own cheese as it melts better than pre-shredded cheese which usually has a coating on it.
Parsley — for garnish!
How to Make Eggplant Lasagna
Prepare eggplant:
First things first, preheat your oven to 375°F!
Next, slice your eggplant up into 1/8th inch thick pieces. I highly recommend using a mandoline to create thin, even slices.
Sprinkle both sides of each slice with coarse salt to help draw out excess moisture. Let them sit for about 10 minutes and then pat both sides dry with a paper towel.
Grill eggplant slices:
Place a grill pan (or a large skillet) on the stovetop and cook eggplant slices for 3 minutes. Flip and cook 3 minutes longer! I didn't brush the slices of eggplant with olive oil, but if you prefer, you totally can do it.
Prepare filling:
Grab a medium sized mixing bowl. Add cheeses and one large egg to the bowl and stir everything together.
Assemble and bake:
Subscribe for new recipes & a free e-cookbook
Start by spreading some tomato sauce in the bottom of your casserole dish, this will help to prevent sticking.
Add eggplant "noodles" and cover them with ricotta mixture. Repeat until ingredients are used up.
Top lasagna with tomato sauce, mozzarella and parmesan cheeses.
Cover your baking dish with aluminum foil or parchment paper and bake for 40 minutes. Remove the foil and bake for an additional 10 minutes to achieve a golden brown topping for the eggplant lasagna. Check if the eggplant "noodles" are tender.
Serve:
Let your lasagna sit for at least 10 minutes (if you can wait 20, that's even better)! This will give the casserole time to set.
Garnish with some fresh parsley or fresh basil and cut into pieces. Serve and enjoy!
This gluten-free lasagna is very flavourful and perfect if you are on a low-carb or gluten-free diet. The best part of this low-carb eggplant lasagna is that it's so good that you won't even miss the noodles. Even if you are a carb lover, you will enjoy having this eggplant lasagna for dinner with your family.
Recipe tips
If you do not need this to be vegetarian, you can try using my homemade Instant Pot meat sauce instead of tomato sauce.
If you'd like to make this eggplant lasagna ahead of time, you can follow all of the instructions but instead of baking it, wrap it up tightly to store in the fridge for up to a day ahead of time. Leave it on the counter for a couple of minutes before baking. Alternatively, you can roast the eggplant and prepare the filling 1 day in advance. Keep them refrigerated in separate airtight containers and then assemble the lasagna the next day.
The reason we let the eggplant lasagna rest for 10 minutes is so the lasagna can set. This way, when you cut into it, the eggplant lasagna does not fall apart before getting on your plate!
Feel free to change up the cheese! Make this spicier with some Pepper Jack cheese, Habanero Cheddar Cheese, and more!
Got extra eggplant? Try this Eggplant Pizza Bites Recipe!
Recipe Variations
Vegan version: if you want to make a vegan eggplant lasagna, you can by sing dairy-free cheese alternatives or tofu ricotta.
Mediterranean-Inspired: for a delicious Mediterranean flavor, add some sun-dried tomatoes, artichoke hearts, and fresh spinach between the layers for more fiber. Drizzle with balsamic glaze for a finishing touch.
Spinach and Mushroom: create a hearty spinach and mushroom variation by sautéing sliced mushrooms and spinach with garlic and layering them between the eggplant slices. Top with a sprinkle of Parmesan and Italian seasoning for extra flavor.
Add some protein: boost your eggplant lasagna recipe with more protein by incorporating ground beef, ground turkey, or sausage into your tomato sauce for a heartier lasagna.
How to store eggplant lasagna
To Store: Allow leftovers to cool and tightly wrap your casserole dish with foil or plastic wrap. Store in the refrigerator for 3-5 days. If you don't want to place the whole baking dish in the refrigerator, you can also transfer leftovers to an airtight food-storage container.
To Freeze: You can freeze the entire lasagna once it's been baked. Simply wrap your casserole dish tightly in foil or plastic wrap and freeze for up to 3 months. You can also freeze pieces individually in containers.
To Reheat: Reheat leftover lasagna in the microwave or bake at 300°F until warmed through completely.
Tips: Avoid Watery Or Soggy Eggplant Lasagna
First, sprinkle some coarse salt on top of the eggplant slices.
Second, set it aside for about 10 minutes.
Third, pat them with a paper towel to remove the excess moisture and the coarse salt.
Finally, grill the slices for about 3 minutes per side. This is the most important step. It keeps the lasagna nice and firm.
I promise you that if you follow these four tips your Eggplant Lasagna will be very flavourful and not very watery. Please, do not skip these four steps before assembling the lasagna.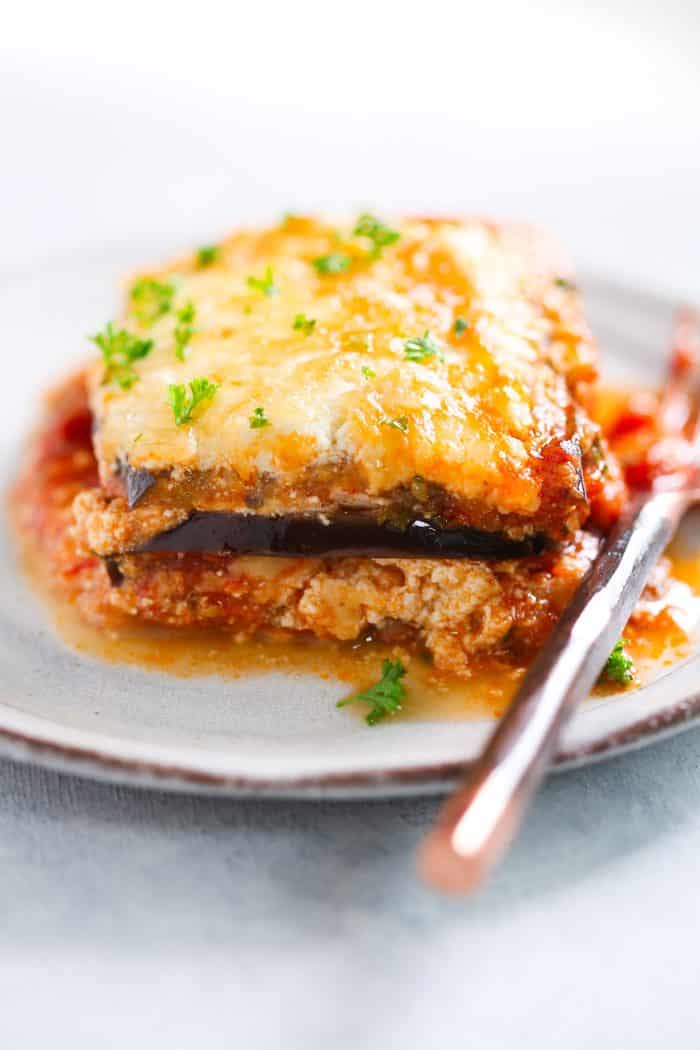 Frequently Asked Questions
Do I need to peel my eggplant?
Eggplant's skin is thin, soft, and edible. This means you do not have to peel it before using it!
Why is my eggplant lasagna watery?
You may have cut into it too quickly. Give your lasagna plenty of time to rest/set before diving in, at least 10-20 minutes! Also, it's extremely important to remove moisture from your eggplant slices before assembling lasagna. To do this, sprinkle coarse salt on each slice to draw out moisture and dry them well with a paper towel. Then, use a grill pan to cook slices on the stovetop before creating your lasagna layers.
What is the best way to slice eggplant for lasagna?
I am a huge fan of using my mandoline to make low carb eggplant lasagna! It's the fastest and easiest way to create thin, even slices for your layered casserole.
What does eggplant taste like?
Raw eggplant is similar in texture to mushrooms or zucchini and it has a hint of bitter flavor. Once cooked, the texture becomes much softer. Overall, eggplant has a very mild taste and it will absorb flavors from the ingredients you cook it with.
Can I add meat to my eggplant lasagna?
Absolutely! You can add meat to this lasagna if you're not looking to make a vegetarian dish. I sometimes enjoy mixing browned ground beef or turkey into my tomato sauce.
More veggie noodles recipes to try: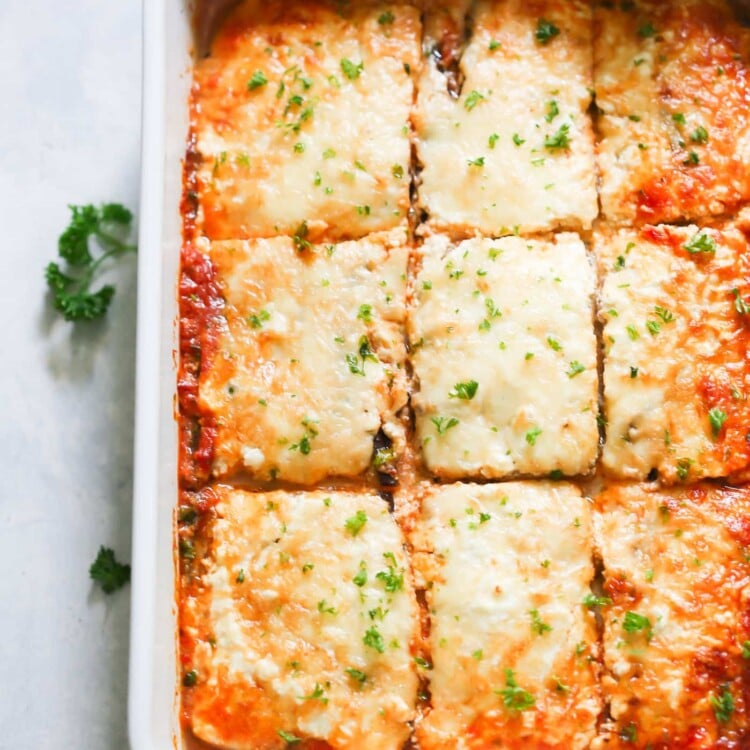 Eggplant Lasagna Recipe
This Low-Carb Eggplant Lasagna recipe is made with eggplant slices, which makes it perfect for those following a low-carb or gluten-free diet. It's absolutely delicious, too!
Instructions
Preheat oven to 375°F. Arrange the eggplant slices in a single layer on a clean surface.

Sprinkle the slices with coarse salt, and set aside for 10 minutes. Remove the excess moisture and salt with a paper towel.

In a grill pan, place the eggplant slices, and grill for about 3 minutes per side. Please, don't skip the steps 2 and 3. They are very important to avoid the lasagna becoming too soupy.

In a

medium bowl

, mix the ricotta cheese, Parmesan cheese, and an egg. Stir well.

In a casserole dish, spread some tomato sauce on the bottom. Place 5 or 6 eggplant slices on top to cover the sauce.

Spread some of the ricotta cheese mixture over the eggplant slices, and top with the mozzarella cheese. Repeat the layers until all your ingredients are used.

Top with the sauce, mozzarella, and Parmesan.

Bake 40 minutes covered and then 10 minutes uncovered. Let stand about 10 minutes before serving. Garnish with parsley.
Tips
Add meat to your tomato sauce, if desired. This Instant Pot meat sauce recipe is fabulous!
You can make this lasagna a day ahead of time. Follow instructions but stop short of baking. Wrap casserole dish tightly and store in the refrigerator overnight, then rest on the countertop for a few minutes prior to baking. 
Be sure to let your dish rest before serving. This will help prevent watery lasagna. 
Feel free to experiment with different cheeses. 
Nutrition Information
Serving:
1
/9
Calories:
223
kcal
(11%)
Carbohydrates:
10.6
g
(4%)
Protein:
18.5
g
(37%)
Fat:
12.4
g
(19%)
Cholesterol:
53
mg
(18%)
Sugar:
4.4
g
(5%)
Nutrition information is calculated using an ingredient database and should be considered an estimate.
And if you like this Low Carb Eggplant Lasagna Recipe, please share it with your friends and family. Do you want to taste more? Subscribe to my newsletter, and follow Primavera Kitchen on Twitter, Pinterest, Instagram, and Facebook for all delicious recipe updates. As always, I really appreciate you stopping by.