Cocktail meatballs are one of the tastiest party appetizers and always a crowd pleaser! You can conveniently make this recipe ahead of time and keep it warm in the slow cooker. Plus, a crockpot can be plugged in almost anywhere. This is helpful when you when you need extra space in the kitchen.
Many cocktail meatball recipes call for grape jelly, but not this one! Instead, we're making a homemade sauce with just 6 simple ingredients (and you've likely got most of them on hand already).
Are you planning a big get-together for Christmas, Thanksgiving, Easter or another occasion? Appetizers are a fun and exciting addition to any party and I've got plenty for you to try. Whip up some Baked Brie With Cranberry Sauce, Easy Deviled Eggs, Lentil Deviled Eggs, Air Fryer Baby Potatoes, Shrimp Guacamole Bites or Stuffed Mushroom Recipe. And of course, you can never go wrong with a classic Holiday Cheese Board!
How To Make Cocktail Meatballs
Meatball Ingredients
Ground beef — I recommend using lean, grass-fed beef if possible. You can also substitute ground turkey or chicken, if desired.
Egg — Acts as a binder to keep meatballs from turning out crumbly.
Breadcrumbs — Finely ground.
Heavy cream — Cream will add fabulous flavor to your meatballs.
Seasonings — Salt, freshly ground black pepper and fresh garlic.
Sauce Ingredients
Ketchup — Sweet and tomatoey.
Brown sugar — Light or dark brown sugar will both work.
Apple cider vinegar — For a touch of tanginess.
Worcestershire sauce — Just a couple of teaspoons will add tremendous flavor to this sauce!
Garlic — One clove, finely minced.
Salt & pepper — To taste.
Instructions
Make beef mixture:
First, preheat your oven to 400°F.
Measure ground beef, egg, breadcrumbs, cream, salt, pepper and minced garlic into a large bowl.
Mix ingredients until well combined.
Prepare and bake meatballs:
Use a cookie scoop to evenly proportion mixture. Roll scoops in your hands to form nice little spheres. If the mixture sticks to your hands, you can coat them with a little olive oil or non-stick cooking spray.
Line meatballs on a large baking sheet coated with non-stick cooking spray. Bake for 15-20 minutes, until browned.
Make cocktail sauce:
Subscribe for new recipes & a free e-cookbook
While meatballs bake, make your sauce.
Place a large skillet on the stovetop and turn heat to medium-high. Add ketchup, brown sugar, water, apple cider vinegar, Worcestershire sauce, minced garlic, salt and pepper. Stir constantly until sauce begins to thicken, then turn heat to low.
Serve:
Once meatballs are done baking, place them in the pan with cocktail sauce. Stir until well coated.
Garnish with freshly chopped parley, if desired.
Serve with festive appetizer picks or enjoy meatballs as a main course. I love spooning these meatballs over wild rice and pairing with roasted veggies or a tasty side salad.
Recipe Tips
Don't overmix meatball ingredients. Make sure they are well combined, but be gentle. Excess mixing activates the collagen in red meat, which can make the meatballs tough.
For super quick cleanup, you can line your baking sheet with parchment paper or aluminum foil before baking meatballs.
Don't overbake your meatballs. They should be completely brown and cooked after 15-20 minutes. Leaving them in the oven much longer will dry them out.
If you want a thicker your cocktail sauce, simply cook it a little while longer! More moisture will evaporate as it simmers away on the stovetop.
Use a big enough skillet or pan when making you sauce. It needs to be large enough to hold sauce and all of your baked meatballs.
It's easy to make these meatballs lower carb and keto-friendly. Simply substitute brown sugar with your favorite 1 to 1 sugar-free replacement product.
For a really big gathering, you can easily double (or even triple) this recipe. I like getting out my stand mixer when I make this much, it can be difficult combine such a large quantity of ingredients manually.
To keep your meatballs warm, simply place them in a crock pot and turn on the low or warm setting. This is handy if you're making them as a party appetizer! They can stay in there all night while guests graze, simply place some festive cocktail picks and small plates next to the slow cooker.
How To Store Leftovers
To store: Allow leftovers to cool completely and place them in an airtight container. Store in the refrigerator for 2-3 days or freeze for up to 3 months.
To reheat: Reheat your meatballs in the microwave (be sure to cover them so they don't splatter all over). You can also reheat in a small pot or saucepan on the stovetop over medium heat, until warmed through.
More Meatball Recipes
Meatball recipes are so fun and easy and I've got tons. Be sure to check out these fantastic options, they are all super scrumptious!
Frequently Asked Questions
How do you bind meatballs together?
Without a binding ingredient, your meatballs are likely to fall apart of have a crumbly texture. In this recipe, we're using egg as a binder. If you're out of eggs, you can try using mayonnaise or ricotta cheese. Searing the meat before baking will also help to keep meatballs from falling apart! This does require extra time and some extra oil.
What is the secret to good meatballs?
To make meatballs that are the opposite of bland, be sure to use enough seasonings and drench them in a delicious cocktail sauce. So yummy!
Can you make cocktail meatballs ahead of time and freeze?
Yes, you can! For best results, freeze cooked meatballs and cocktail sauce in separate containers. Then, heat the sauce in a pan or skillet and warm frozen meatballs in the hot liquid.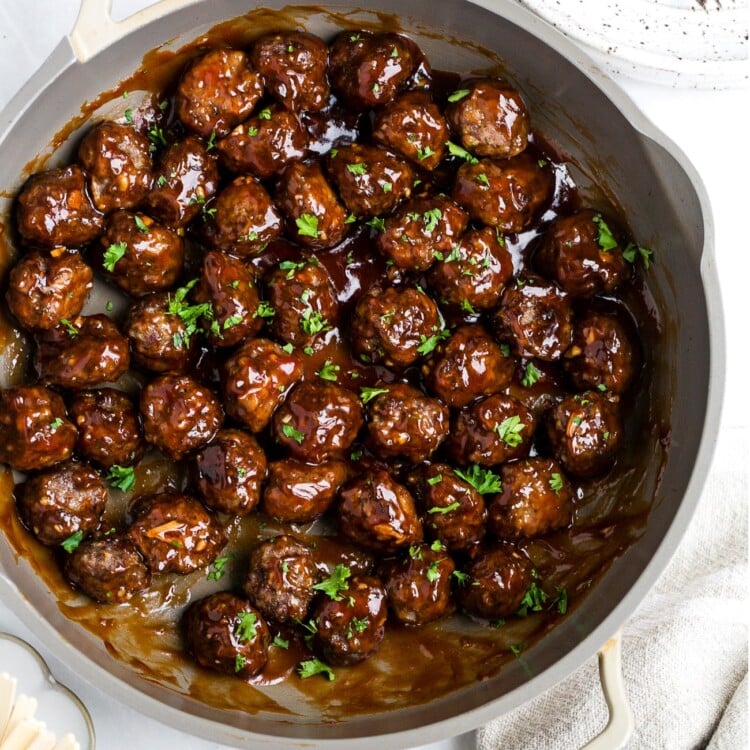 Cocktail Meatballs
Cocktail meatballs are one of the tastiest party appetizers and always a crowd pleaser! You can conveniently make this recipe ahead of time and keep it warm in the slow cooker.
Ingredients
For the meatballs
1

egg

3/4

cup

finely ground breadcrumbs

1/4

cup

cup heavy cream

1

teaspoon

salt

½

teaspoon

freshly ground pepper

2

large cloves garlic

minced
For the sauce
1/2

cup

ketchup

1/2

cup

brown sugar

or any sweetner of your preference

4

tablespoons

water

1 1/2

tablespoons

cider vinegar

2

teaspoons

Worcestershire sauce

1

teaspoon

garlic clove

minced

salt and ground black pepper
Instructions
Preheat your oven to 400°F.

Combine all meatball ingredients in a medium bowl. Gently mix everything well to combine.

Use a small cookie scoop to portion the meat mix. Roll these portions into small balls using your hands. It'll be about 24 meatballs (the amount will depend on the size of your meatballs).

Spray cooking oil on a baking sheet and place the meatballs on it.

Bake for approximately 15-20 minutes or until they are evenly brown.

While the meatballs are in the oven, let's make the sauce. Combine all ingredients in a skillet large enough to hold all the meatballs. Simmer the sauce over medium-high heat for about ten minutes, until slightly thickened.

Add the baked meatballs into the sauce and stir to coat.

Place the meatballs on a serving tray and spoon some of the sauce over them. Garnish with chopped fresh parsley and serve warm, with toothpicks.
Tips
The nutrition facts don't include the meatball sauce. 
Don't overmix meatball ingredients. 
Line baking sheet with parchment paper or foil for fast cleanup. 
Be careful not to overbake your meatballs, they may become dry.
If you want a thicker sauce, simply cook it longer.
Use a skillet big enough to hold sauce and all of your meatballs. 
Try using Swerve for a keto-friendly sugar alternative, if desired.
Double or triple this recipe for a big gathering!
If you want to keep the meatballs and sauce warm for a party, place them in a slow cooker.
To store: Place meatballs and sauce in an airtight container in the fridge for up to 3 days.
To reheat: Reheat cocktail meatballs in the microwave or on the stovetop.
To freeze: You can freeze cocktail meatballs in a freezer-safe bag or container for up to 3 months. 
Nutrition Information
Serving:
1
/24
Calories:
37
kcal
(2%)
Carbohydrates:
1
g
Protein:
4
g
(8%)
Fat:
2
g
(3%)
Saturated Fat:
1
g
(6%)
Cholesterol:
13
mg
(4%)
Sodium:
110
mg
(5%)
Potassium:
9
mg
Nutrition information is calculated using an ingredient database and should be considered an estimate.