This Taco Stuffed Sweet Potatoes recipe is incredibly delicious, very satisfying, healthy, family-friendly, and an easy Whole30 Mexican dish!
Hi, friends!
I'm sharing with you today a Whole30 and Paleo version of tacos that you won't notice they're healthy because they're absolutely delicious. So much so that this Taco Stuffed Sweet Potatoes recipe will become a favorite in your home.
If you're looking for a healthy, easy and super flavourful dinner recipe for tonight, you just found one. This recipe has everything you need to feel satisfied but stay on track with your healthy goals. Isn't that great when healthy eating taste so good?!
To make this Taco Stuffed Sweet Potatoes recipe healthy and Whole30 friendly, I used extra-lean ground beef, my homemade tomato sauce and of course lots of taco seasoning, which is homemade too, but you can totally use a Whole30 compliant store bought one. And to finish it up I topped it with a fresh tomato salsa. So good!
I love when things are "stuffed," like my Taco Stuffed Acorn Squash and Ground Turkey Sweet Potato Stuffed Peppers, it makes it so fun to eat! You'll love these stuffed sweet potatoes!
Subscribe for new recipes & a free e-cookbook
Meal-prep: Making a batch of these Taco-Stuffed Sweet Potatoes to enjoy during the whole week.
My favourite thing about these taco stuffed sweet potatoes is how easy they are to make! That's why I think this is also a great recipe to make on Sunday and have it for lunch during the week.
If you want to meal-prep this recipe, you just need to bake 2-3 sweet potatoes and store in a glass container in the fridge. Also the ground beef taco can be made ahead of time because it tastes amazing the next day. The salsa also keeps well in the fridge for up to 3 to 4 days. It will depend how ripe your tomato is.
How to Make Taco Stuffed Sweet Potatoes
Pierce sweet potatoes and bake at 400F for about 50 minutes.
While the sweet potatoes are in the oven, prepare your salsa (just combine all the ingredients for the salsa in a bowl and mix well. Set aside).
Then, prepare the ground beef taco by adding olive oil, onion, garlic and ground beef in a skillet over medium high heat. After that, add all the spices, tomato sauce and a little bit of water. Cook for about 25 minutes and you are ready to go!
Once the sweet potatoes are done baking, cut them, lightly mash them, and stuff with ground beef taco stuffing and salsa.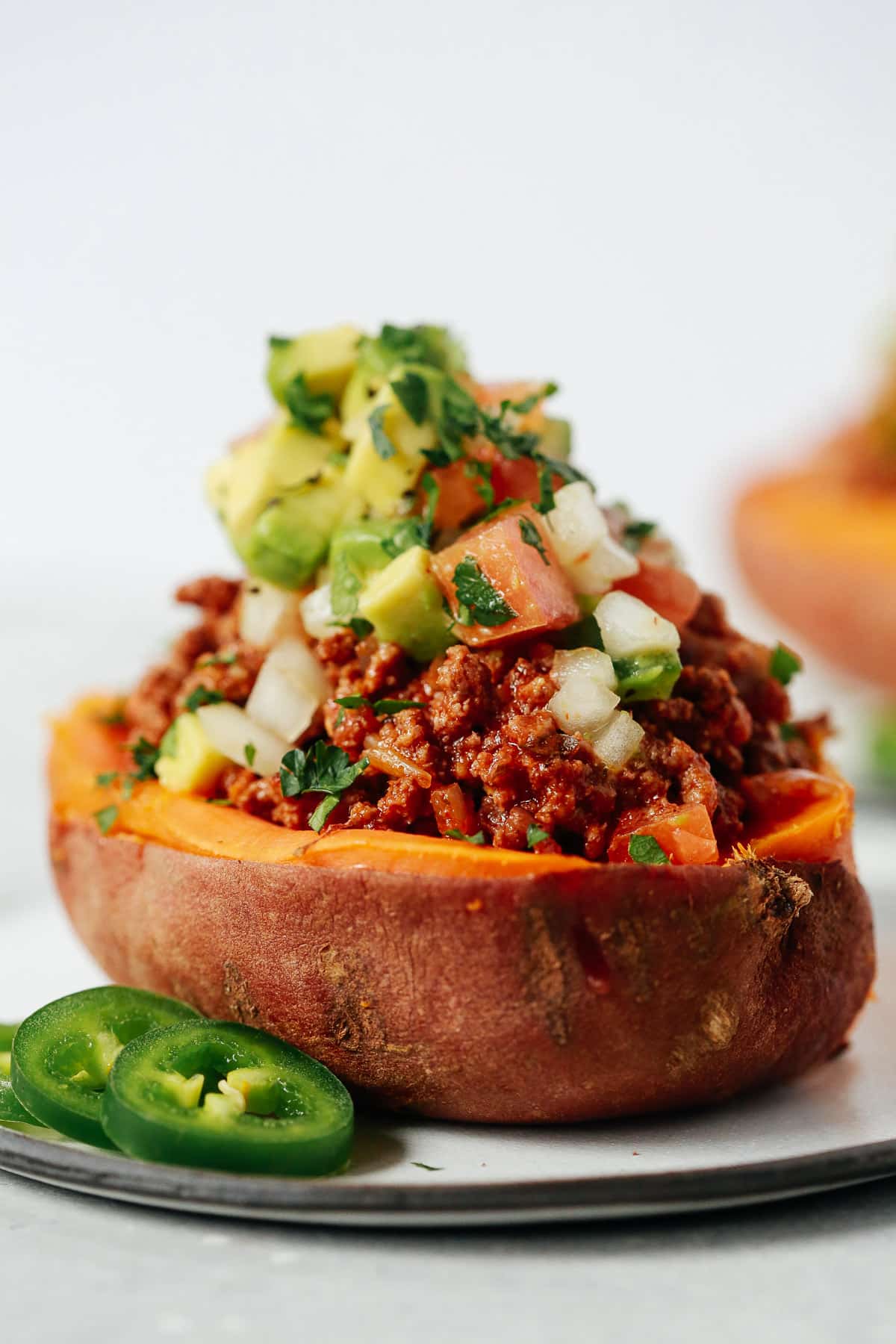 Taco Seasoning
For this recipe I took the time to make my own taco seasoning because I want to keep far away from sugar, preservatives and high amounts of sodium like what I would find in the pre-packaged seasoning mixes at the local grocery store. However, you can find whole30 compliant taco seasoning at Amazon, which is awesome because it's sugar-free.
I just added cumin powder, coriander powder, onion powder, smoked paprika, kosher salt and black pepper on top of the ground beef and mix well to combine. Simple like this!
Taco Topping
Really, here you can top your Taco Stuffed Sweet Potatoes with everything you like about taco toppings.  But if you're doing Whole30 or if you're follow paleo diet, you can't use sour cream, plain Greek yogurt or cheese. However you have lots of options to try such as:
Hot sauce– Perfect for those who like a very hot taco. Just don't use hot sauce that has sugar.
Sliced jalapenos– You can remove the seeds to reduce the heat.
Avocado – Lots, lots, lots of avocados. Yummy!
Cilantro – Love or Hate?
Salsa – of course I have to add salsa otherwise this taco stuffed sweet potatoes wouldn't be complete.
Want to change things up for Taco Tuesday? Try my Instant Pot Taco Soup Recipe or Easy Grilled Fish Tacos Recipe.
More Healthy and Delicious Recipes to Try:
Enjoy!
Taco Stuffed Sweet Potatoes
This Taco Stuffed Sweet Potatoes recipe is incredibly delicious, very satisfying, healthy, family-friendly, and an easy Whole30 Mexican dish!
Ingredients
For the Salsa
2

medium tomatoes — diced

¼

cup

red onion — diced

1

green bell pepper — diced

1

teaspoon

jalapeno — chopped

remove seeds for less heat

Fresh cilantro — chopped

optional

1

tablespoon

fresh lime juice

1

small garlic clove — minced
Instructions
Pre-heat oven to 400F.

Line a baking sheet with aluminum foil or parchment paper.

Wash sweet potatoes and scrub thoroughly. Then, dry completely.

Using a fork, poke sweet potatoes all over and place on baking sheet. Bake for 50-60 minutes or until sweet potatoes are tender and easily pierced through to the center with a fork.

While the sweet potatoes are baking in the oven, prepare the taco ground beef. In a skillet, add olive oil over medium high heat.

Add the ground beef and brown until no longer pink. Reduce the heat to medium and add onion and garlic. Sauté until onions are translucent.

Add all the spices and mix everything well to combine.

Pour over the tomato sauce and water. Reduce the heat to low, cover with a lid and cook for 20-25 minutes. Don't forget to stir occasionally.

Meanwhile, let's make the salsa by combining all the ingredients in a medium-size bowl. Set aside. (Cover tightly and refrigerate for up to 5 days if you have leftover).

10. To assemble, cut the warm baked sweet potatoes down the center lengthwise. Fill with taco turkey meat and top with salsa. Serve immediately or store separately in meal-prep containers in the refrigerator until ready to reheat and eat during the week.
Tips
Pick wide sweet potatoes for this recipe as it's easier to stuff than long, skinny ones. 
If you're in a rush, a store-bought salsa is a great alternative. 
Give the sweet potatoes a good scrub and pat dry before using. 
To store: Store leftovers in the fridge in an airtight container for up to 4 days. You can store the stuffing and sweet potatoes together or separately. 
To reheat: Reheat everything in a microwave until hot. 
To freeze: You can freeze the sweet potatoes and taco stuffing together or separately. Freeze in a freezer-safe bag for up to 3 months. 
Nutrition Information
Serving:
1
/4
Calories:
398
kcal
(20%)
Carbohydrates:
30
g
(10%)
Protein:
28
g
(56%)
Fat:
18
g
(28%)
Saturated Fat:
6
g
(38%)
Polyunsaturated Fat:
1
g
Monounsaturated Fat:
5
g
Cholesterol:
75
mg
(25%)
Sodium:
1111
mg
(48%)
Potassium:
1178
mg
(34%)
Fiber:
6
g
(25%)
Sugar:
11
g
(12%)
Nutrition information is calculated using an ingredient database and should be considered an estimate.