This Zucchini Noodle Soup is quick and easy to make, full of flavor, low in carbs, gluten free and very delicious.
I am a huge fan of soups of any kind. I mean I have a strong LOVE for soups and I am not even kidding. For the last month, every time my husband asks me what you want to have for dinner I say "soup". And every time he answers "really, again?? Why do you love soup? This is not a main dish!!!" And I always say "for me, it is". I don't know if I can say soup is my favorite dish ever, but I am someone that has a hard time to choose only one thing to say is my favorite, but soup is definitely on the top of my list for sure. So far, I've made Sweet Potato Chicken Soup Recipe, Spinach Sweet Potato Soup, and a couple of soups from this 30 Healthy Soup Recipes post!
I know it is summer time and normally people don't like to have soup this time of the year, but I just couldn't resist making this soup last weekend. I can't stay without having soup for so long. Three months of summer is too much time without having soup. So, when I see some zucchinis at my local market I thought they could go so well in a summer soup.
I bought them and of course I spiralized because I am addicted to making veggies noodles this summer. Who doesn't like to that?? It is so fun!! And the noodles are lighter, healthier, full of fiber and more flavorful than any traditional noodles out there. This time I didn't used my favorite tool to make noodles, which is Spiralizer from Paderno, because for this soup I would like to make julienne noodles, instead of curly noodle (but feel free to use it if you prefer. No problem at all). For this reason, I used my julienne peeler. I made my zucchini noodles in seconds and they were perfect.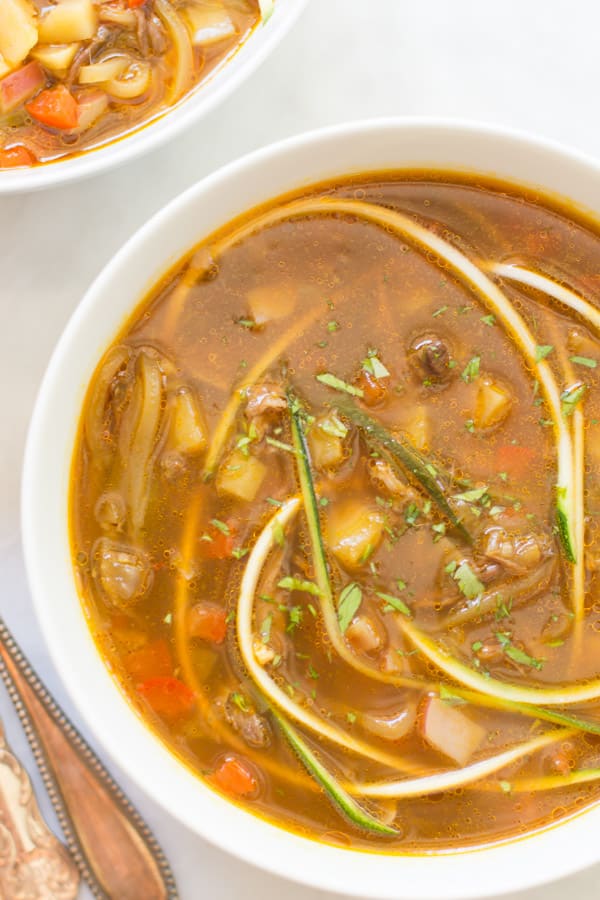 This soup is very easy to make. The only time consuming part is to chop some ingredients like red peppers, onions and potatoes. The broth you will use should be a very good one, because it is going to be the base for this soup. Also, just add your julienne zucchini noodles when the potatoes are done cooking otherwise your zucchini will be mushy or disintegrate. Zucchini cooks very quickly like in minutes. So, it should be the last ingredient added. I hope you enjoy this soup and let's get started!! Loved this soup and want to try something similar? Try this Zucchini noodles with Tomato Sauce and Shrimp (which goes reallllllly well with this Italian Sausage Tomato Sauce Recipe). 
This post contains affiliate links. For more information, please visit my disclosure page here.
Zucchini Noodle Soup Recipe
This Zucchini Noodle Soup is quick and easy to make, full of flavor, low in carbs, gluten free and very delicious.
Ingredients
1

tbsp

Olive oil

2

garlic cloves

minced

¾

cup

red onions, chopped

½

cup

red bell pepper, chopped

¾

cup

red potatoes, chopped

4

cups

low sodium vegetable broth

2

cups

zucchini noodle or more if you prefer

2

tbsp

chopped fresh Italian parsley

for garnishing
Instructions
In a large pot over high heat, add olive oil. When the pan and the oil are hot, turn the heat down to medium and add the garlic, red onions, red peppers and potatoes.

Cook for about 10 minutes.

Add broth and bring it to a boil. Add zucchini noodles, cover and simmer the zucchini for about 3 minutes.

Add salt and pepper and cook for about 2 minutes.

Taste and add any extra seasonings, if necessary. Serve topped with fresh parsley.
Tips
You can buy zucchini noodles pre-made at the fresh produce section if you do not want to spiralize your own.
If making your own noodles, make sure to wash the zucchini well beforehand as there's no need to peel them before spiralizing. 
Avoid simmering the soup for too long as you don't want the zucchini to break down.
To store: Store leftover soup in an airtight container in the fridge for up to 5 days. 
To reheat: Reheat the soup in the microwave or on the stovetop until hot.
Nutrition Information
Serving:
1
/4
Calories:
116
kcal
(6%)
Carbohydrates:
15
g
(5%)
Protein:
2
g
(4%)
Fat:
5
g
(8%)
Saturated Fat:
1
g
(6%)
Polyunsaturated Fat:
1
g
Monounsaturated Fat:
4
g
Sodium:
496
mg
(22%)
Potassium:
501
mg
(14%)
Fiber:
3
g
(13%)
Sugar:
3
g
(3%)
Nutrition information is calculated using an ingredient database and should be considered an estimate.
If you like Zucchini Noodle Soup, please share with your friends and family. Do you wanna taste more? Subscribe to my newsletter and follow Primavera Kitchen on Twitter, Pinterest, Instagram and Facebook for all delicious recipes updates. As always, you are really appreciated for stopping by.
More Soup Recipes!
Ground Turkey Soup with Veggie Roots