These 30 Healthy Soup Recipes are loaded with fresh veggies, pasta and beans. Not only are these recipes are very healthy, but they are also delicious, comforting, hearty, and very satisfying. 
Fall is in full swing which means it's time for cozy weathers, hot drinks by a fireplace, and my favourite thing, soup! There's nothing more comforting than a big bowl of warm healthy soup and today I've got 30 of my favourite to share with you!
Soup is one of those super easy things to make that it's almost impossible to mess up. You put all your ingredients into a pot and let it simmer until your entire house smells absolutely heavenly. The soups that I've picked are loaded with fresh veggies, pasta and beans.
What to Cook Soup In
I recommend getting a quality heavy bottomed pot. As soup tends to simmer for a while, you want a pot that your ingredients won't easily stick to the bottom and burn in as well as being able to handle being on top of a heat source for a long period of time. For sizing, I would recommend something between 6 and 10 qt. I find that the 6qt size to be perfect for most recipes but it's up to what you prefer and how big your family is.
You can also cook your soups in slow cookers and the Instant Pot. I love using the slow cooker and IP as it frees up the stove top for making the rest of dinner.
What to Serve with Soup
Soup works as both a starter, a side dish, or as a main meal depending on how big of a bowl you're serving up! Here are some of my favourite dishes to go alongside soups, no matter how big of a bowl of soup you've got: Arugula Blackberry Salad, Autumn Beet Orange Salad Recipe, Warm Quinoa Brussels Sprouts Salad, Clementine Arugula Salad Recipe, Cranberry Apple Quinoa Salad.
How to Store Leftover Soup
If you have leftover soup or plan on making the soups as a meal prep for lunch, make sure they've cooled completely before storing in the fridge. When portioning it out into meal prep containers, keep in mind that you should leave some space up top as it helps keeps spills at bay when reheating it at work or school.
Can You Freeze Soups?
Usually yes. Just double check the ingredients before freezing. For example if you want to freeze soups with pasta in it, I recommend you don't add the pasta to the soup before freezing as pasta doesn't thaw well. Just split the soup in half and enjoy half with the pasta in it, and freeze the other half without pasta.
Also, avoid freezing soup with potato in it as it can come out grainy. As for other vegetables, if you know you would like to freeze a portion of your soup, stop cooking a little early and set aside your freezer portion. If you are reheating frozen soup on the stove later, you'll be overcooking the vegetables, so by stopping the cooking process a little bit earlier, your vegetables will be perfectly cooked when reheated!
---
30 Healthy Soup Recipes
From Primavera Kitchen
Instant Pot Vegetable Beef Soup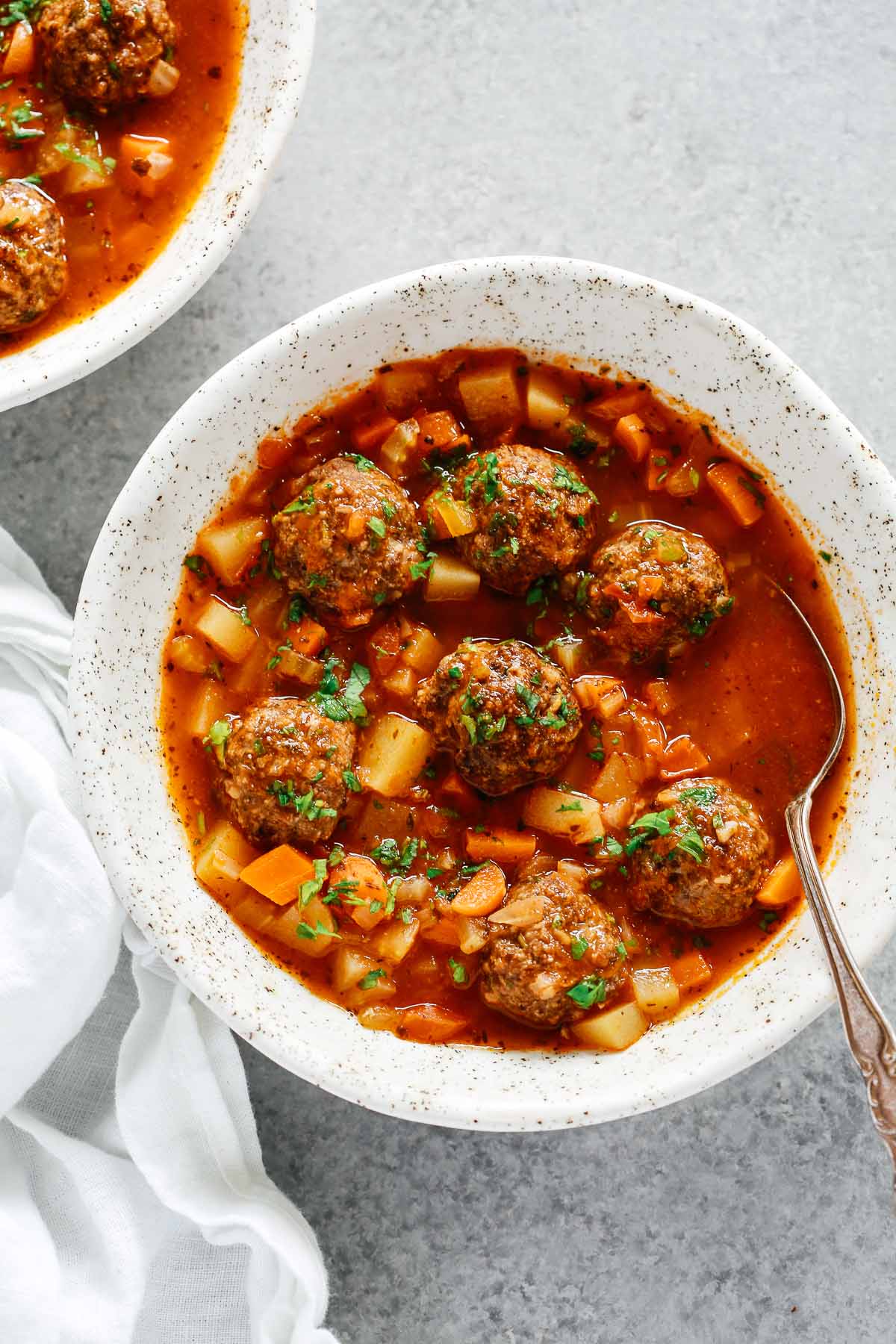 Ground Turkey Soup with Veggie Roots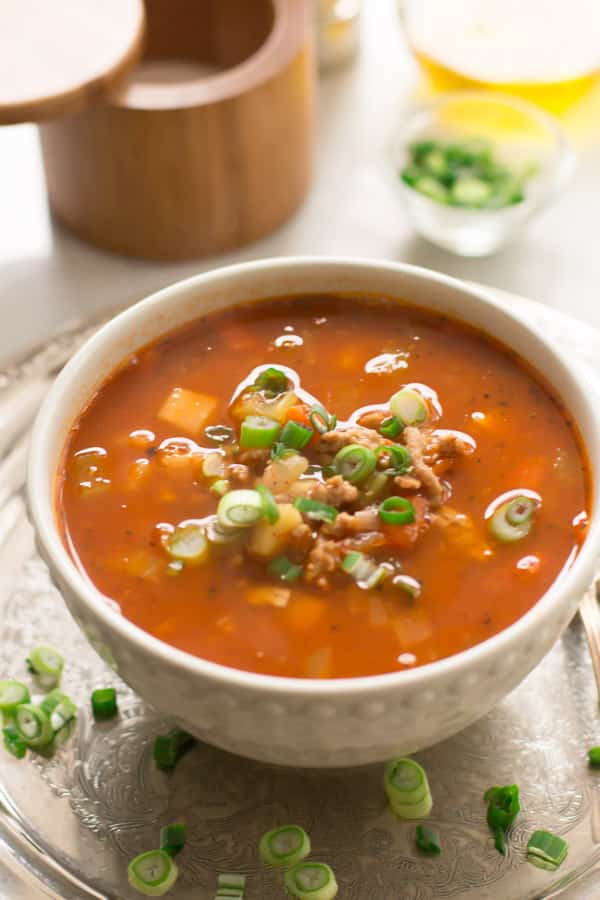 Ground Beef Vegetable Soup Recipe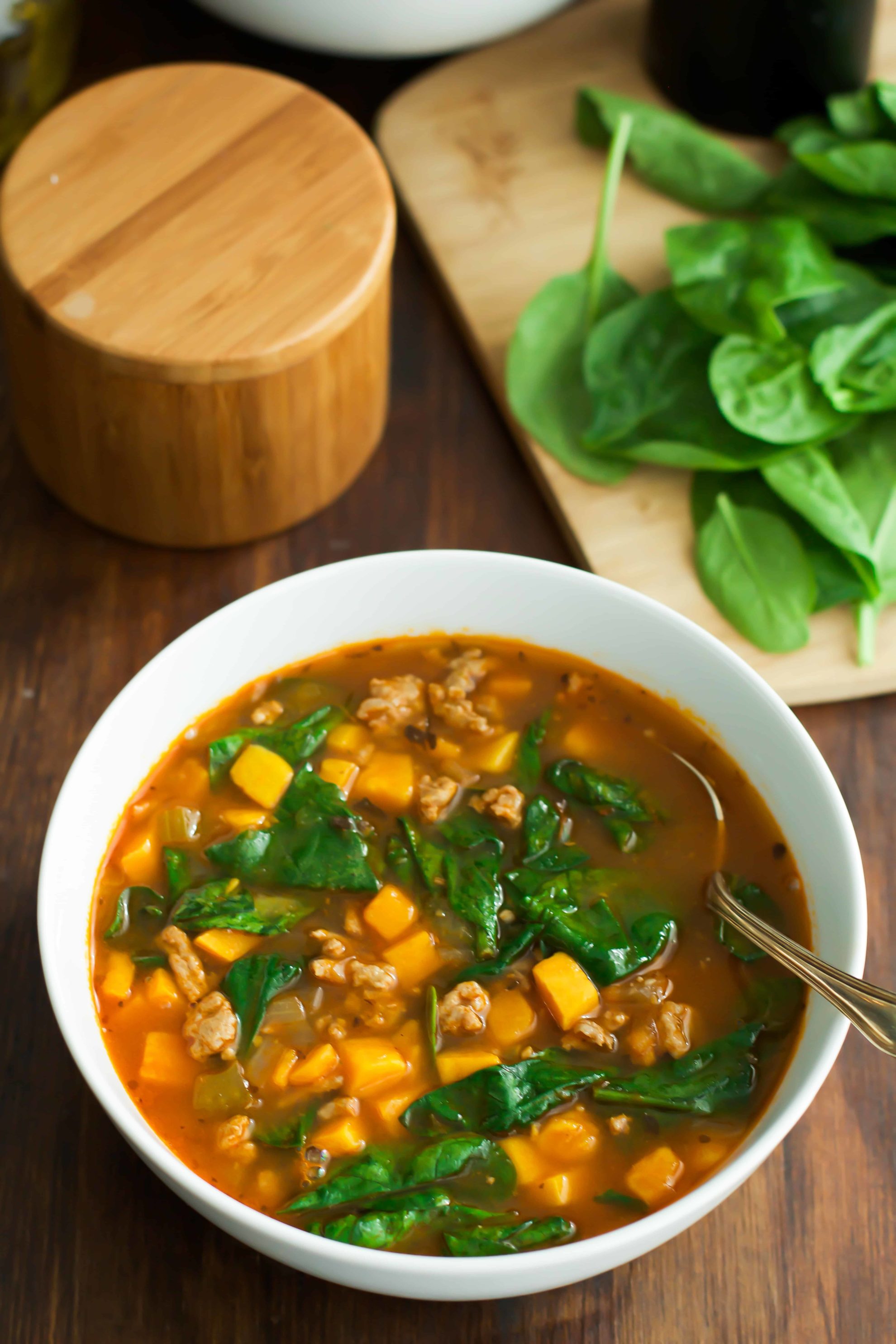 20-Minutes Butternut Squash Soup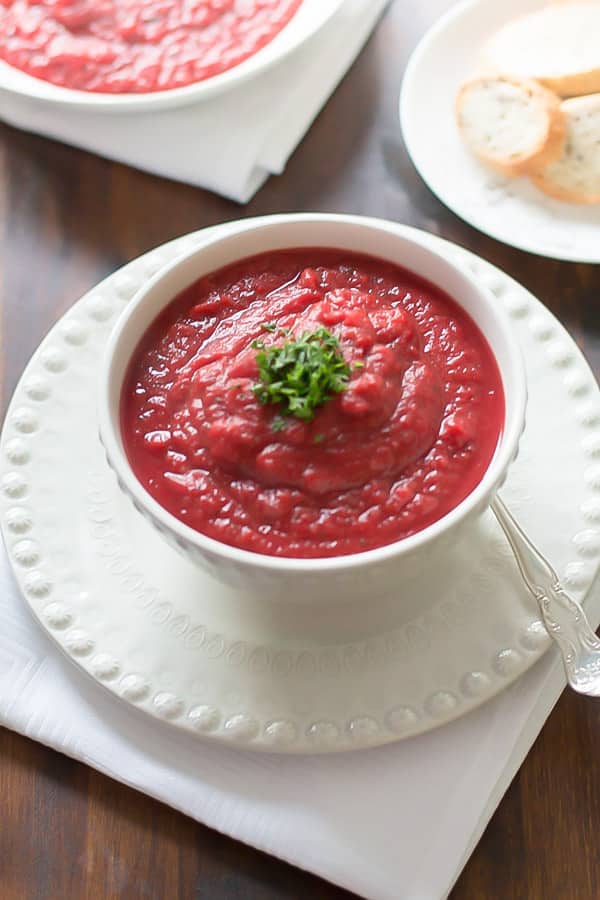 Sweet Potato Chicken Soup Recipe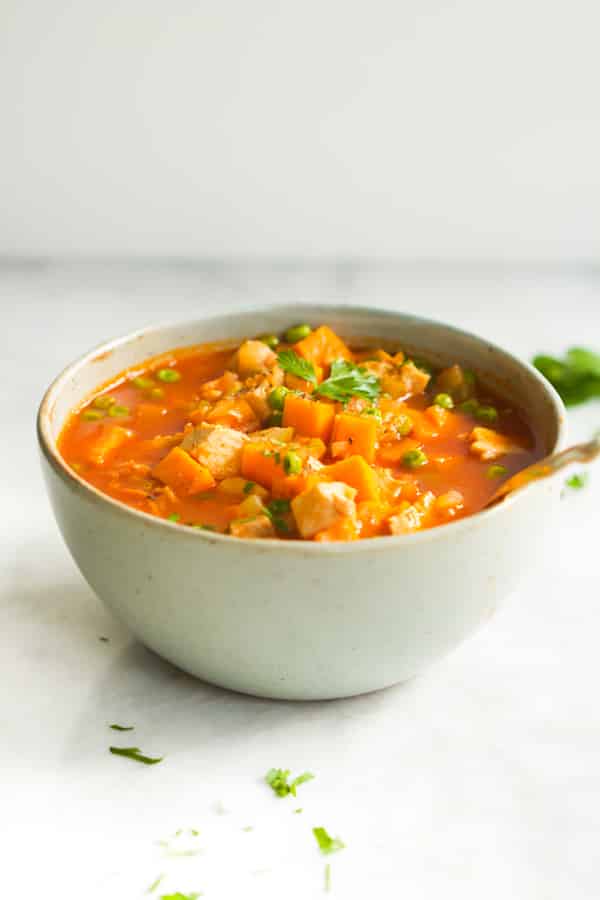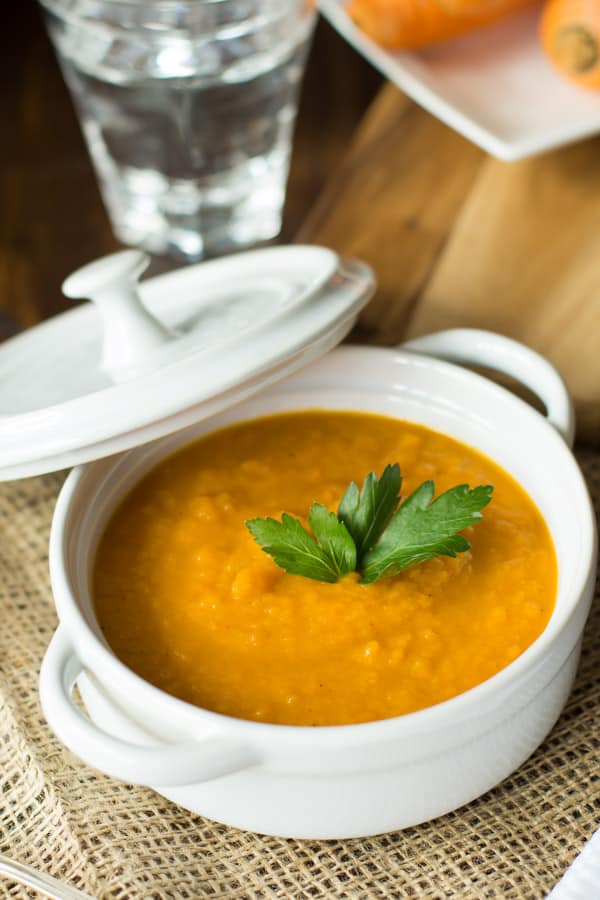 Ground Beef Butternut Squash Kale Soup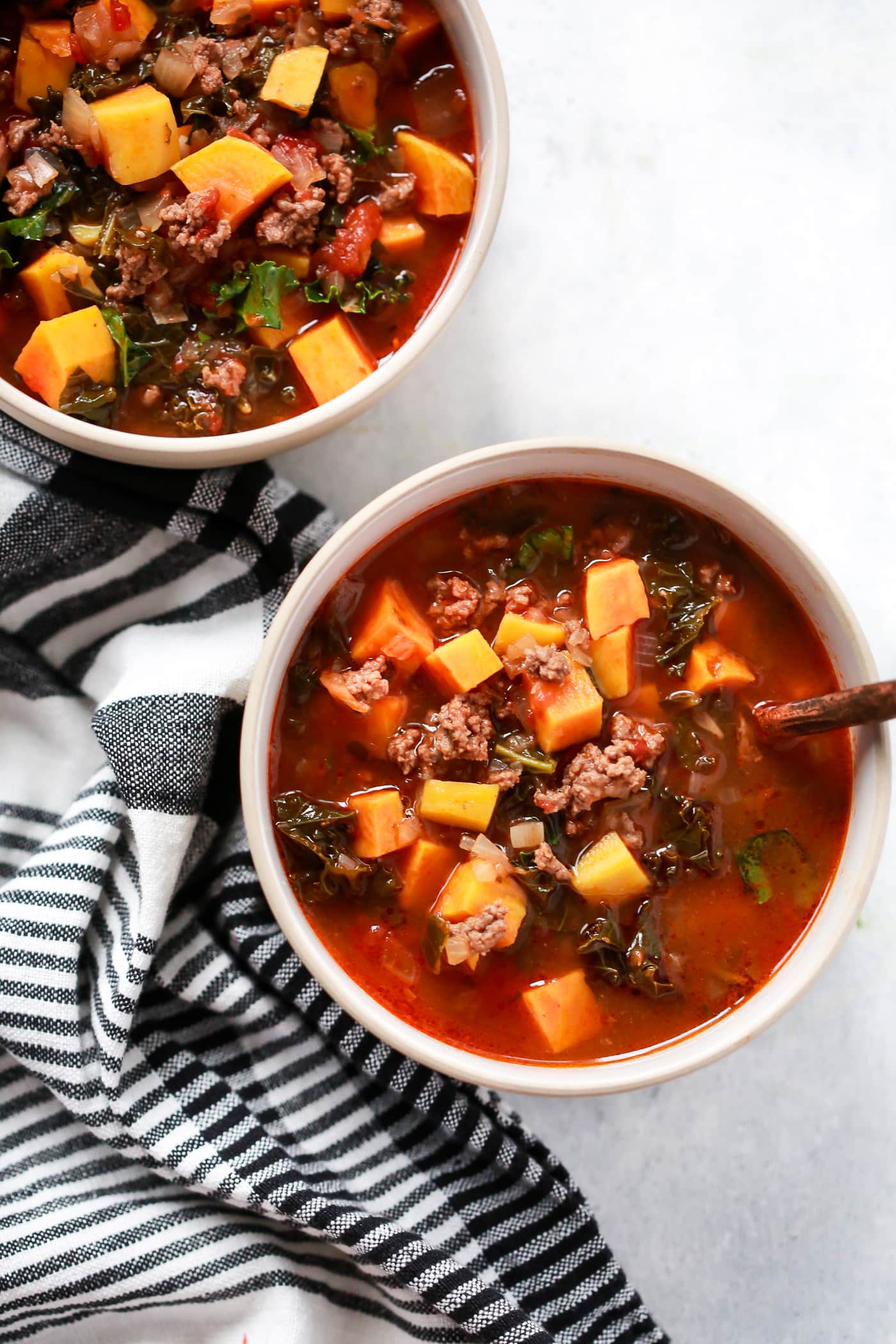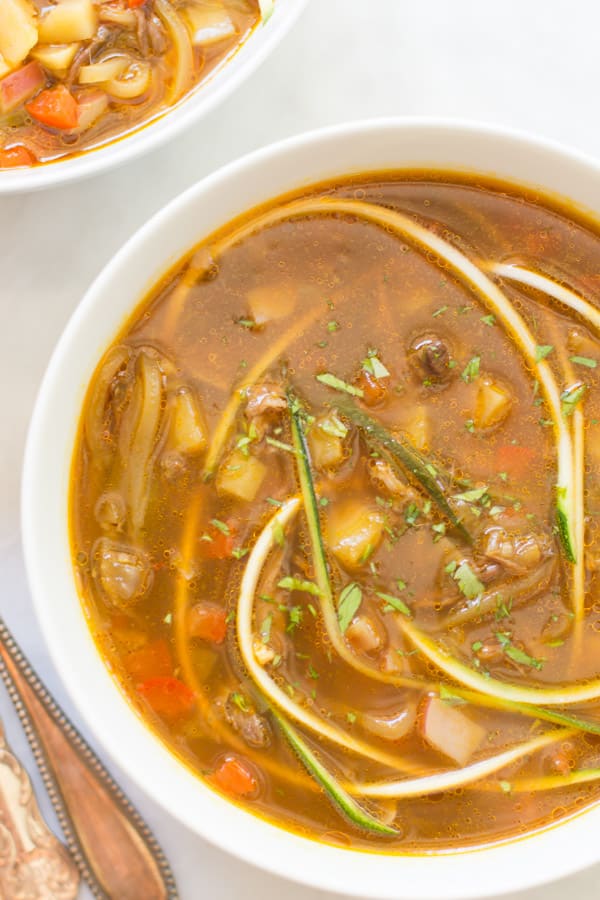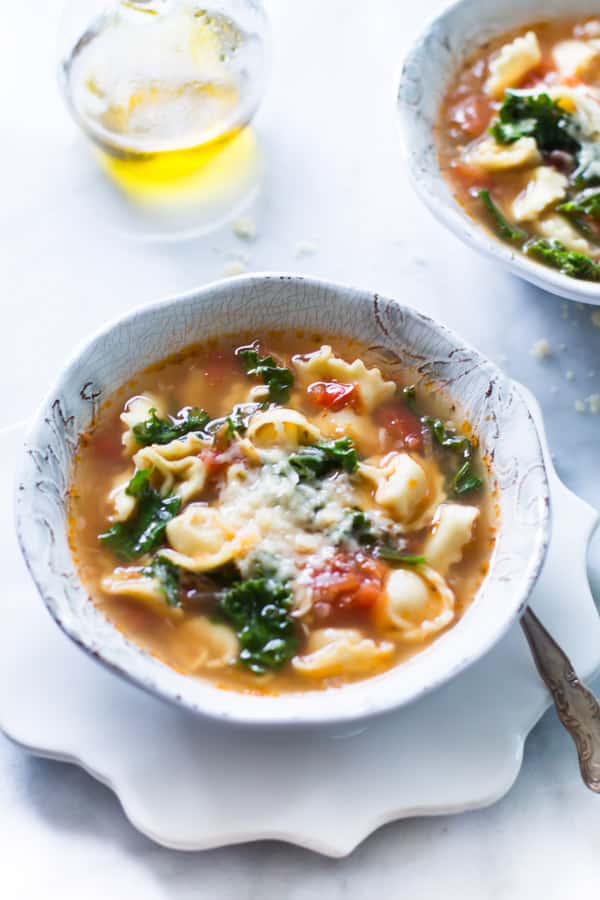 Pasta Soup with Sweet Potato and Peas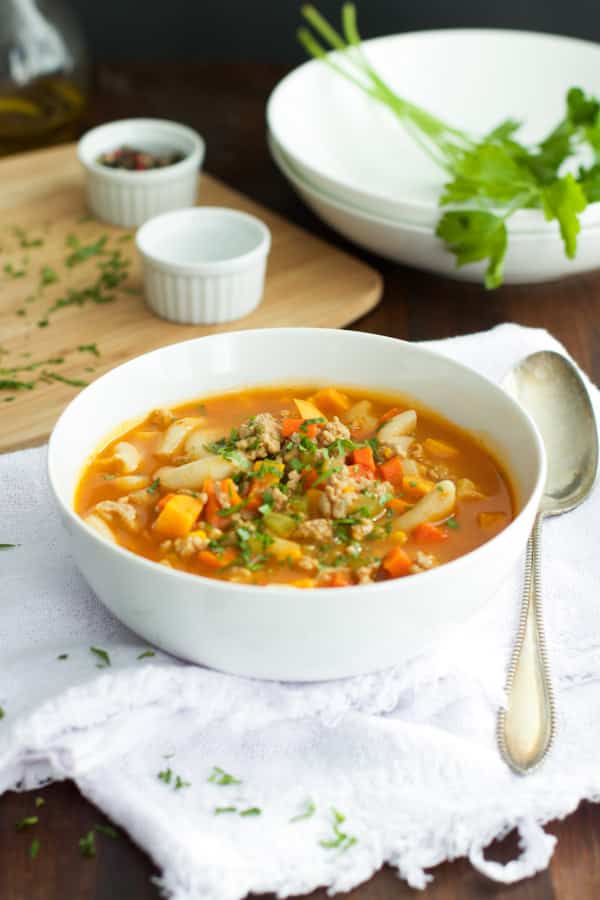 From Around the Web
Instant Pot Potato Soup from Garden in the Kitchen
Spicy Sausage kale and Whole Wheat Orecchiette Soup from How Sweet Is It.
Tomatillo and Black Bean Soup from A Couple Cooks.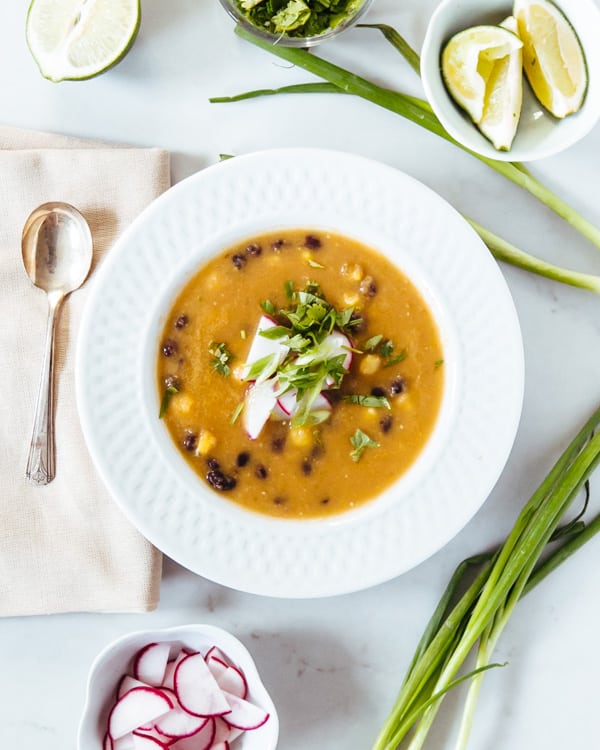 Golden Beet and Fennel Soup from The Roasted Root.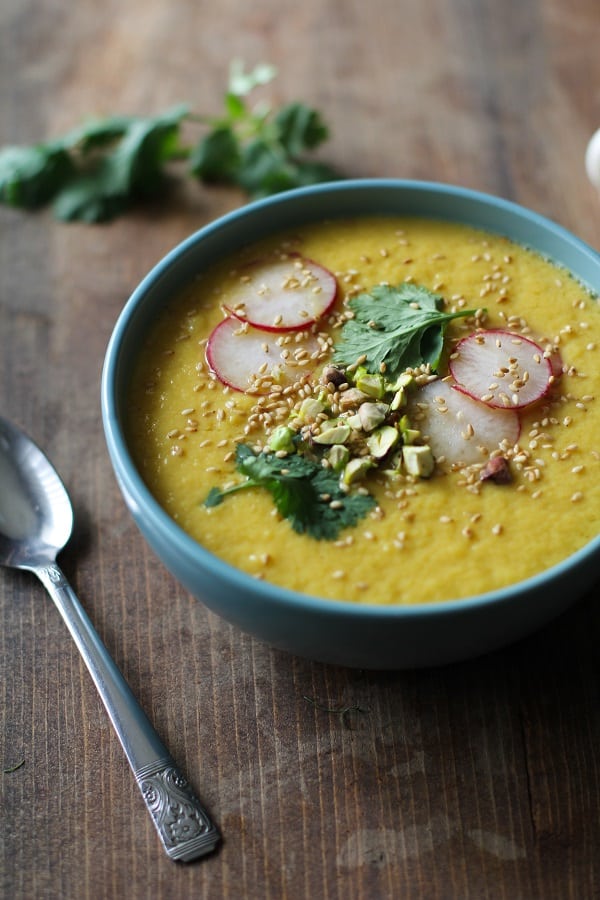 Creamy Tomato Basil Soup with Parmesan Cheese from Tastes Lovely.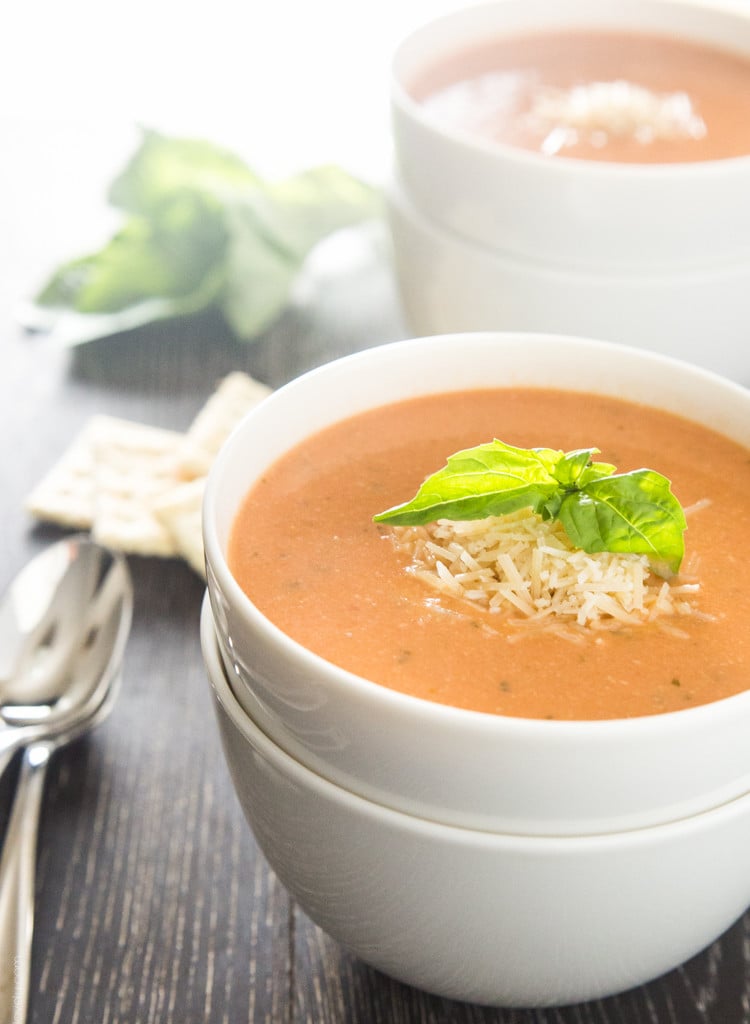 Quinoa White Bean and Kale Soup from Chelsea's Messy Apron.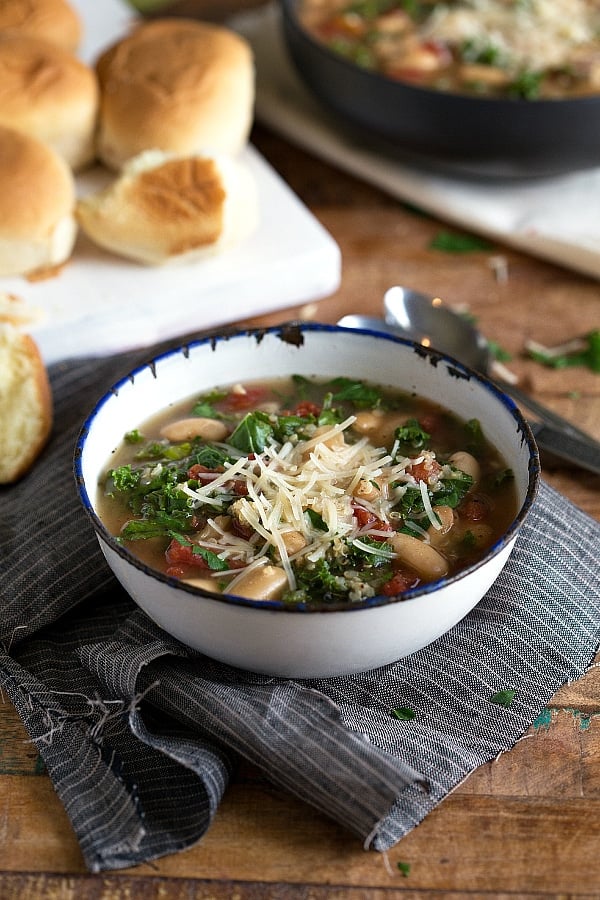 Smoked Sausage and White Bean Soup from The Comfort of Cooking.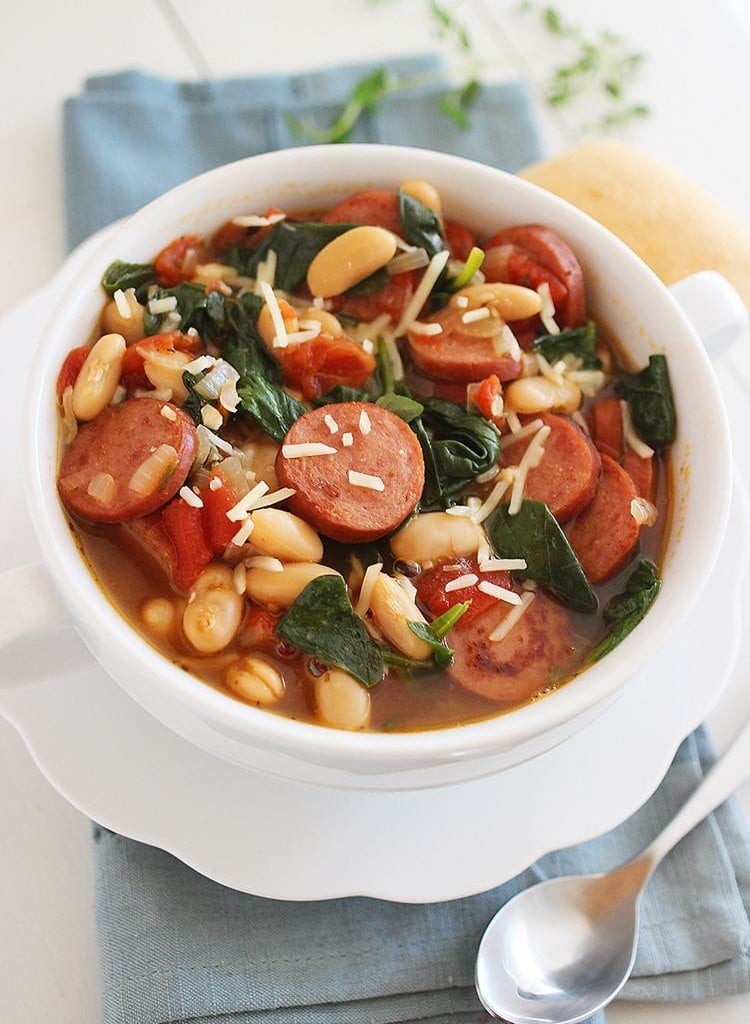 Healthy Creamy Chicken Noodle Soup from Well Plated.
Spiced Vegan Lentil Soup from Cookie and Kate.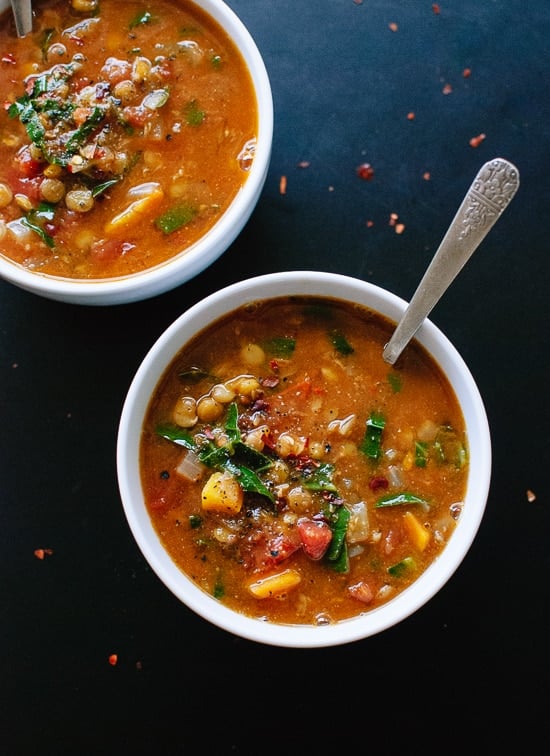 Curried Sweet Potato Soup from Love and Lemons.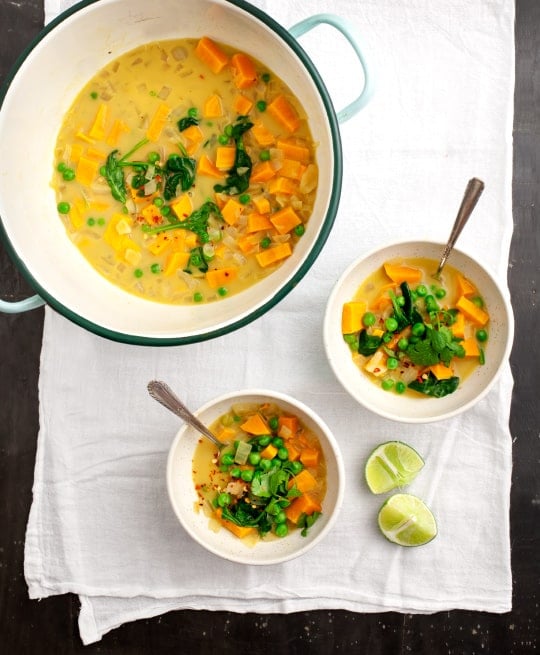 ---
If you like this 30 Healthy Soup Recipes, please share with your friends and family.
Do you wanna taste more? Subscribe to my newsletter and follow Primavera Kitchen on Twitter, Pinterest, Instagram and Facebook for all delicious recipes updates.
Want to browse all of my healthy recipe posts? Follow my Primavera Kitchen Board on Pinterest!!! I also have great Pinterest Boards such as Healthy Dinner, Healthy Pasta Meal, Healthy Slow Cooker Meals and Soups and Stews. I hope you enjoy all the delicious and healthy recipes I have there!!