These 30 Easy Healthy Soup Recipes are loaded with fresh veggies, pasta and beans. Not only are these recipes are very healthy, but they are also delicious, comforting, hearty, and very satisfying. I'm sure you will love this soup dinner ideas.
Fall is in full swing which means it's time for cozy weathers, hot drinks by a fireplace, and my favourite thing, soup! There's nothing more comforting than a big bowl of warm healthy soup and today I've got 30 of my favourite to share with you!
Easy healthy soup recipes are one of those super easy things to make that it's almost impossible to mess up. You put all your ingredients into a pot and let it simmer until your entire house smells absolutely heavenly. The soup dinner ideas that I've picked are loaded with fresh veggies, pasta and beans.
What to Cook Soup In
I recommend getting a quality heavy bottomed pot to make a big batch of these soup dinner ideas. As soup tends to simmer for a while, you want a pot that your ingredients won't easily stick to the bottom and burn in as well as being able to handle being on top of a heat source for a long period of time. For sizing, I would recommend something between 6 and 10 qt. I find that the 6qt size to be perfect for most recipes but it's up to what you prefer and how big your family is.
You can also cook your soups in slow cookers and the Instant Pot. I love using the slow cooker and IP as it frees up the stove top for making the rest of dinner.
What to Serve with Soup
Soup works as both a starter, a side dish, or as a main meal depending on how big of a bowl you're serving up! Here are some of my favourite dishes to go alongside soups, no matter how big of a bowl of soup you've got: Arugula Blackberry Salad, Autumn Beet Orange Salad Recipe, Warm Quinoa Brussels Sprouts Salad, Clementine Arugula Salad Recipe, Cranberry Apple Quinoa Salad.
How to Store Leftover for These Dinner Soup Recipes
If you have leftover soup or plan on making the soups as a meal prep for lunch, make sure they've cooled completely before storing in the fridge. When portioning it out into meal prep containers, keep in mind that you should leave some space up top as it helps keeps spills at bay when reheating it at work or school.
Subscribe for new recipes & a free e-cookbook
Can You Freeze Soups?
Usually yes. Just double check the ingredients before freezing. For example if you want to freeze soups with pasta in it, I recommend you don't add the pasta to the soup before freezing as pasta doesn't thaw well. Just split the soup in half and enjoy half with the pasta in it, and freeze the other half without pasta.
Also, avoid freezing soup with potato in it as it can come out grainy. As for other vegetables, if you know you would like to freeze a portion of your soup, stop cooking a little early and set aside your freezer portion. If you are reheating frozen soup on the stove later, you'll be overcooking the vegetables, so by stopping the cooking process a little bit earlier, your vegetables will be perfectly cooked when reheated!
---
30 Healthy Soup Recipes
From Primavera Kitchen
Turkey Vegetable Soup Recipe: This nutritious soup is packed full of vegetables, protein and fantastic flavor. It's a great way to use up leftover turkey once the Thanksgiving holiday has passed, plus it comes together in under 45 minutes.
Chicken Noodle Soup: This delicious, hearty and healthy soup is perfect on a busy and chili weeknight. Plus, leftovers make for an easy lunch the next day.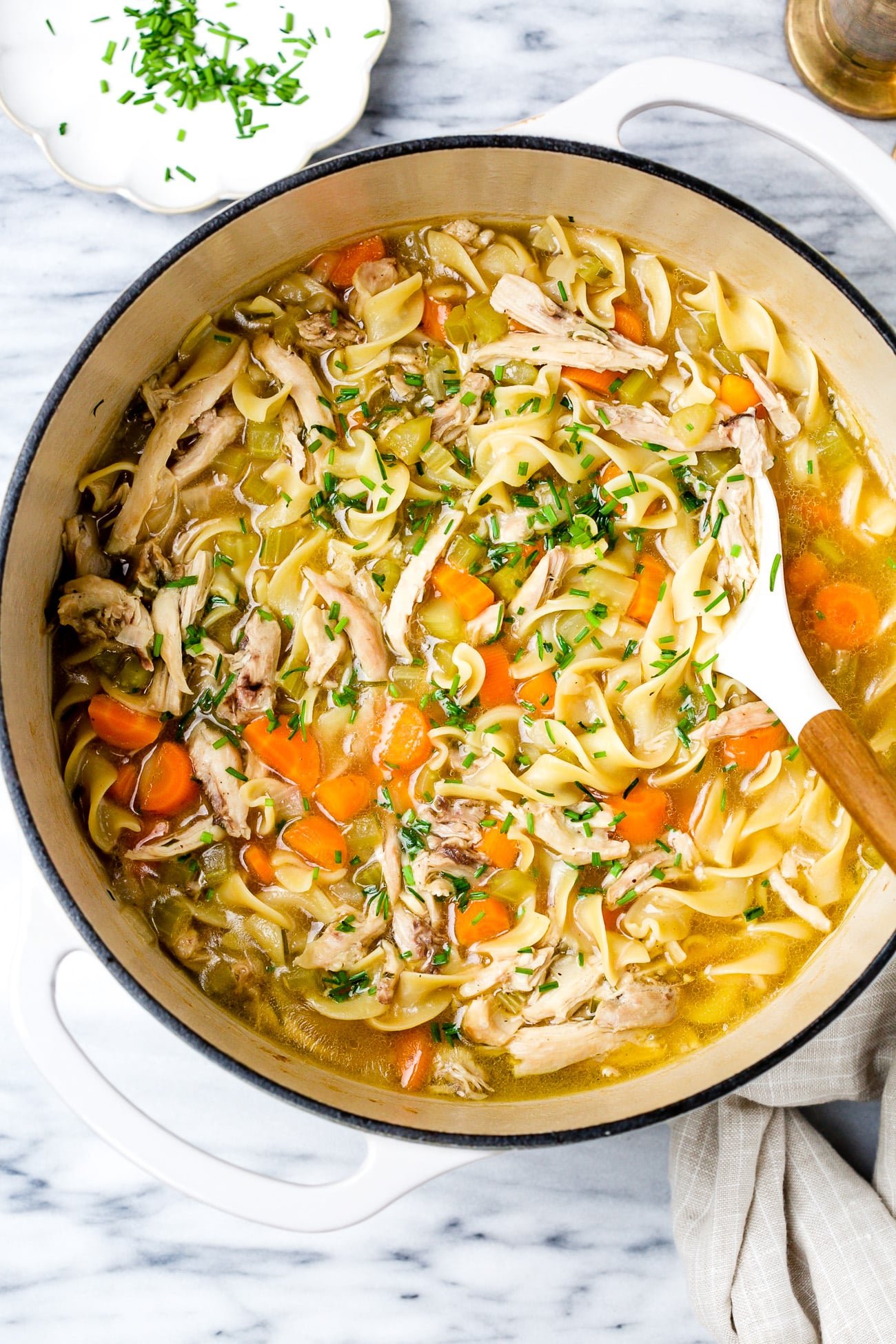 Easy Instant Pot Chicken Stew: Hearty chicken stew in just 25 minutes?! That's right my friends. That's the beauty of an Instant Pot and pressure cooking. Plus, you can easily use up any produce you've got laying around by adding it to this flexible soup recipe.
Instant Pot Vegetable Beef Soup: When you need to get dinner on the table quickly, this recipe is a great option. It features sirloin steak and lots of nutritious vegetables like celery, onons nd butternut squash, YUM! Don't forget to garnish your bowl of soup with fresh, aromatic thyme leaves, they really take this meal to the next level.
Healthy Meatball Soup: You haven't lived until you try meatball soup. It's crazy delicious, really fun and family friendly. This healthy recipe is perfect for a chilly winter or fall evening when you need a hot meal to warm your heart and home.
Ground Turkey Soup with Veggie Roots: Lean ground turkey, carrots and parsnips in savory chicken broth flavored with crushed tomatoes and yummy seasonings. This comforting soup is made using just one pot and it's ready in only 40 minutes, perfect for a busy weeknight.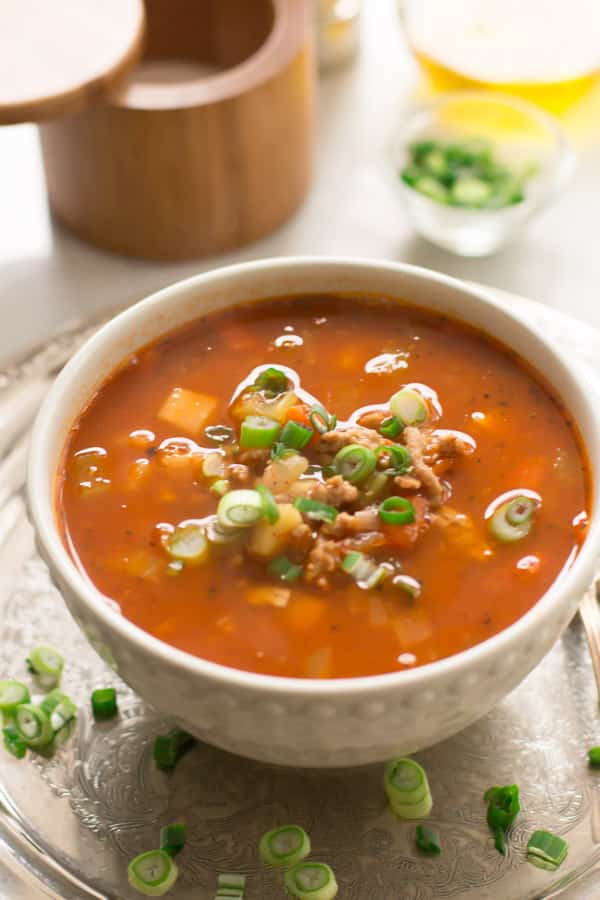 Ground Beef Vegetable Soup Recipe: This satisfying soup will make your home smell like a dream as it simmers away on the stovetop. Easily make it vegetarian by replacing ground beef with lentils, if desired.
Spinach Sweet Potato Soup: Naturally sweet potatoes, salty broth and lean ground turkey go together flawlessly. The spinach in this recipe adds gorgeous color, but otherwise goes fairly unnoticed. What a great way to get your greens in for the day!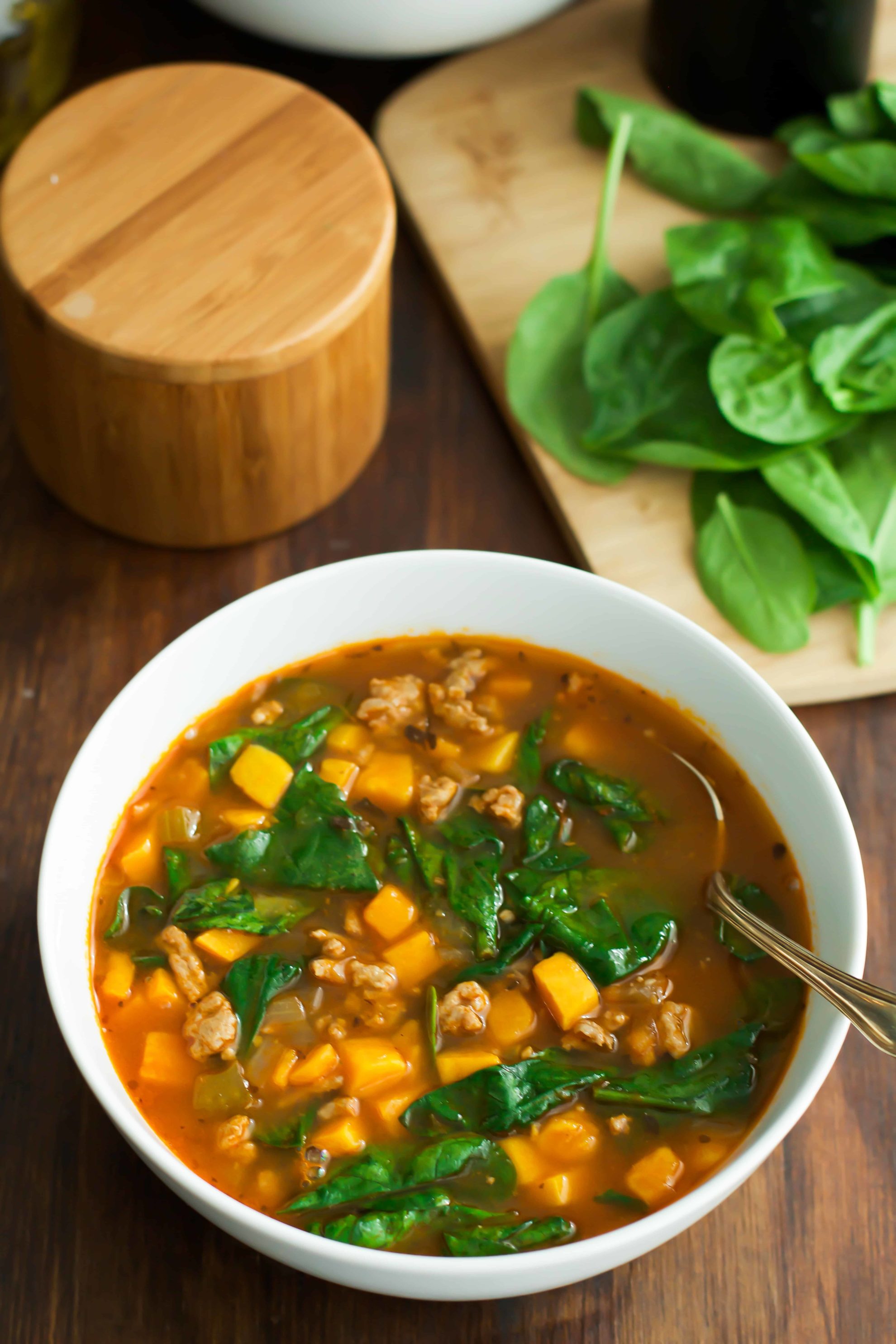 20-Minutes Butternut Squash Soup: Velvety smooth and subtly sweet, this soup makes the perfect delicious side dish for a holiday gathering. You can also enjoy it anytime throughout the cold weather season. Eat it solo or garnish with chopped nuts, seeds, fresh herbs or a swirl of heavy cream.
Cabbage and Sausage Stew (or you can say cabbage soup): Low carb and full of healthy vegetables, this soup is a game changer and proves that nutritious food can also be incredibly yummy. Plus, it features bacon and Italian sausage which both add incredible flavor.
Creamy Beet Sweet Potato Soup: They say that colorful food always tastes better and this delicious soup is no exception! It's perfect for lunch or as a light dinner when paired with a warm, crunchy garlic bread and a big salad.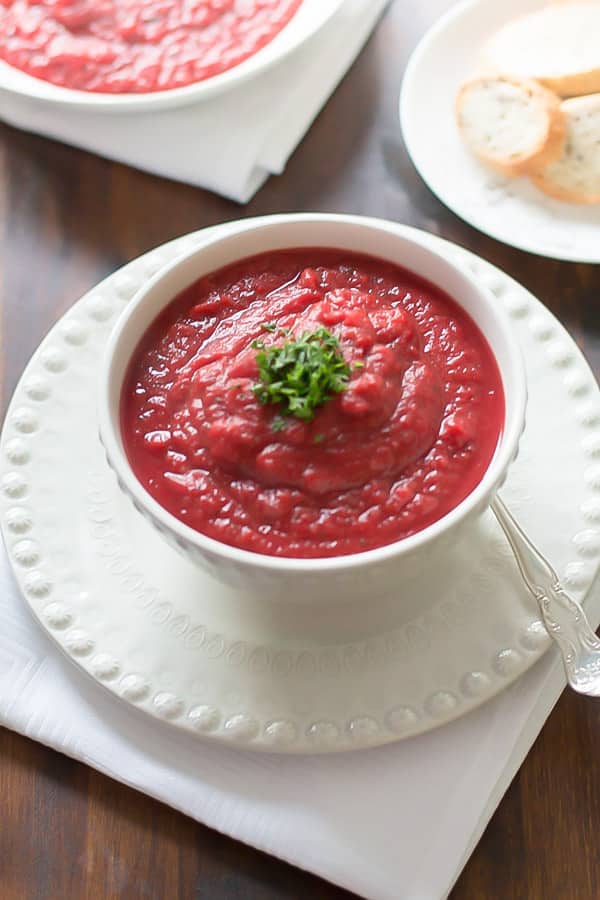 Sweet Potato Chicken Soup Recipe: You can't go wrong with mirepoix vegetables, sweet potato and chicken in delectable, perfectly seasoned broth. This recipe only takes 30 minutes from start to finish, but you can use shredded rotisserie chicken to make it even faster.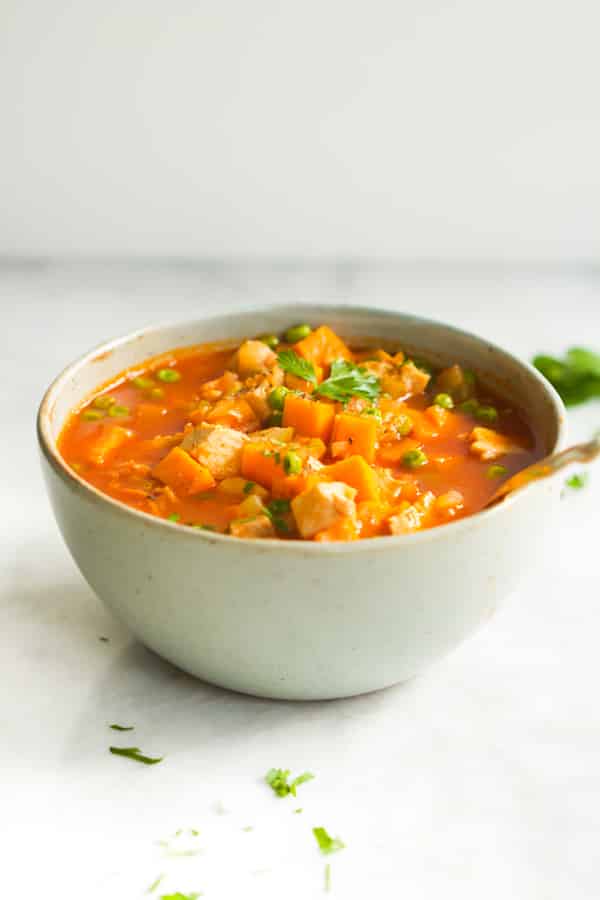 Spicy Carrot Soup: Sweet and spicy flavors marry together perfectly in this carrot soup. It's super smooth, creamy, healthy and scrumptious. Enjoy this soup solo or garnish with chopped peanuts and green onion. Another great thing about this recipe? It's super freezer friendly and perfect for meal prep.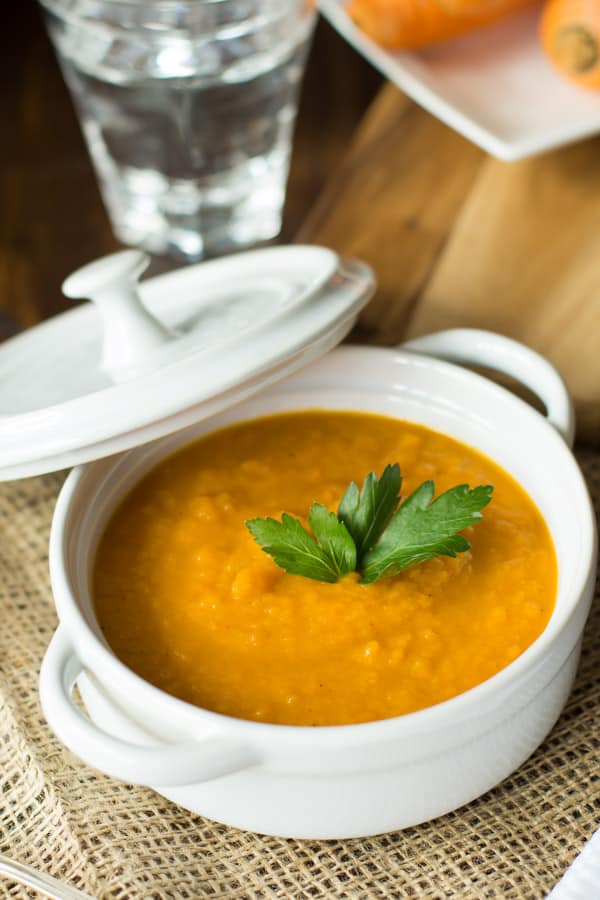 Chicken Vegetable Soup Recipe: Made using only one pot, this crave-worthy recipe will help to reduce the number of dirty dishes in your sink. It's cozy, comforting and still super healthy. Perfect for a cold night when you just can't warm up.
Ground Beef Butternut Squash Kale Soup: Butternut squash in soup is always a good idea, especially when paired with hearty kale. Add some lean ground beef and you've definitely got a winner. This recipe also has a bit of cayenne pepper kick, which pairs nicely with the sweet squash.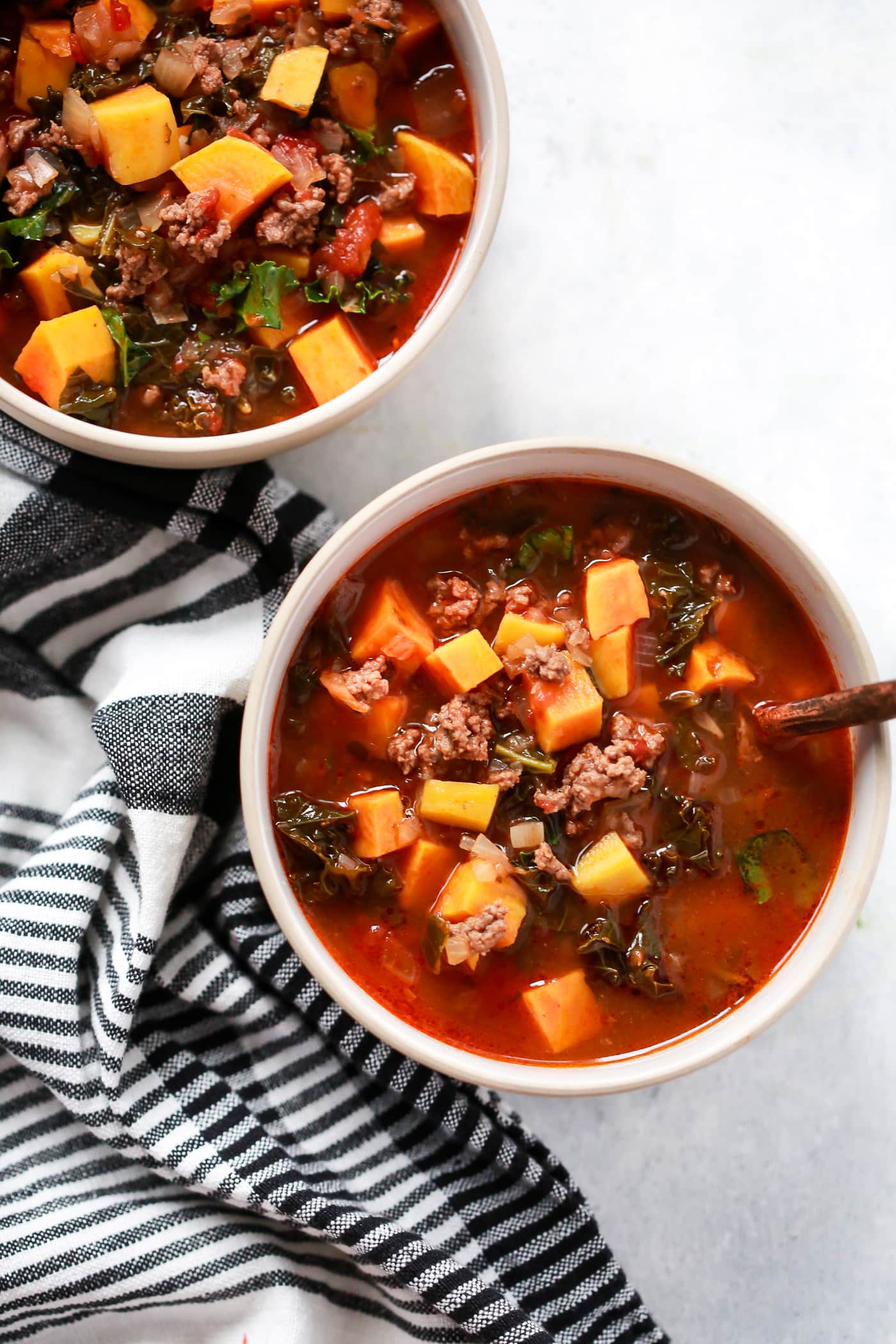 Carrot Parsnip Soup: This mouthwatering recipe is incredibly simple, requiring minimal effort and ingredients. All you have to do is throw everything in a pot, let it simmer and then puree. Serve your soup solo or garnish with fresh, chopped chives. It's really that easy!
Carrot Leek Soup: This vibrant, bright orange soup is so inviting and screams FALL! It's thick and luxuriously creamy, add an extra splash of vegetable broth to make it thinner if that's your preference. Top with chopped peanuts, seeds and green onions if desired.
Zucchini Noodle Soup Recipe: Zoodles are the best and most delicious pasta replacement. This simple, low-carb recipe requires only 9 ingredients and is ready in just 30 minutes. It's even dairy free!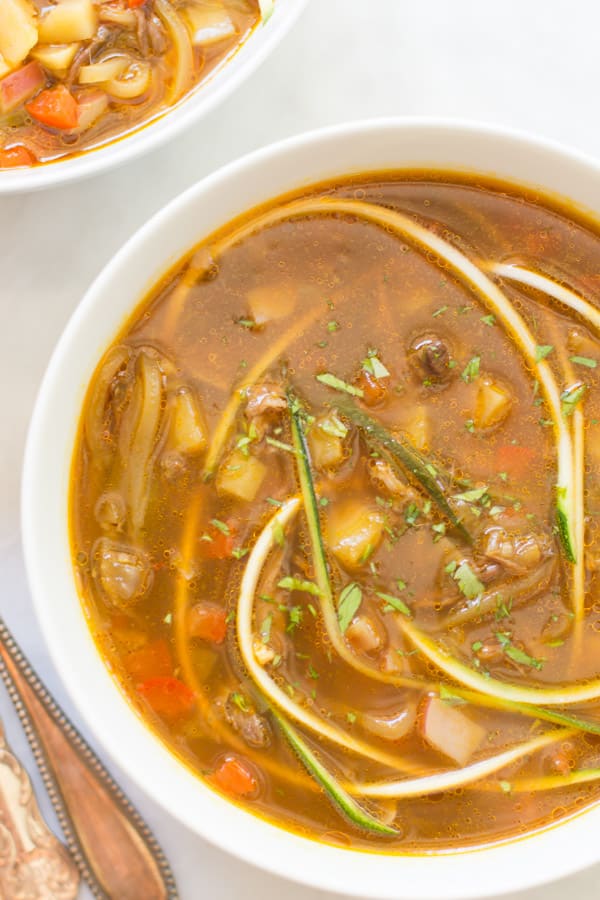 Kale Tomato Tortellini Soup: Cheesy tortellini mixed into soup? Yes please! This hearty, healthy soup is so easy to make and tastes heavenly. Don't forget to add some fresh grated parmesan cheese on top.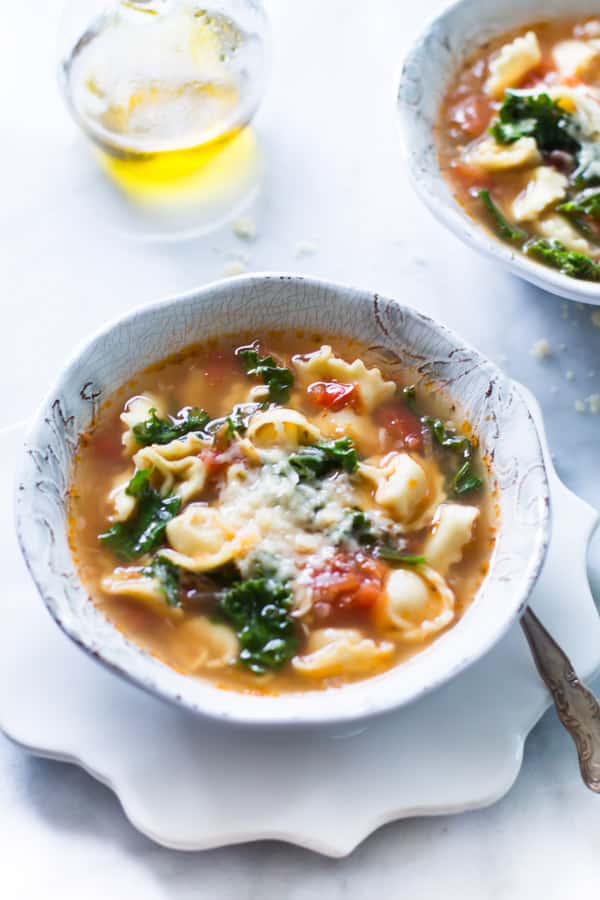 Pasta Soup with Sweet Potato and Peas: If you're anything like me, you'll agree that pasta in soup is the BEST idea. This recipe calls for brown rice pasta, which is perfect for those who prefer to cook gluten-free. It's also vegetarian!
Ground Turkey Pasta Soup: Brown rice pasta and lean ground turkey pair perfectly in this flavor packed recipe. Make it with just one pot in 30 minutes, the perfect meal when you need to get something on the table fast.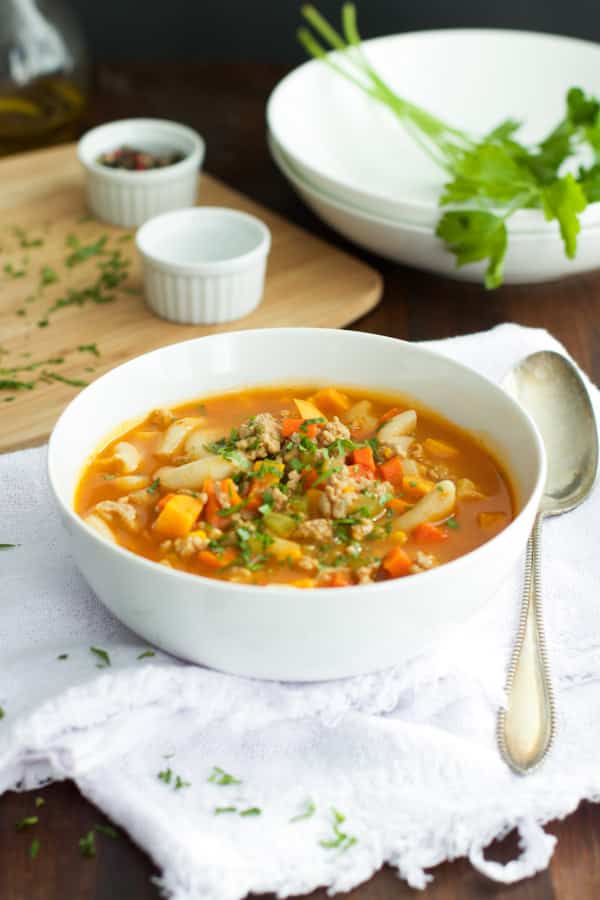 From Around the Web
Instant Pot Potato Soup from Garden in the Kitchen: Classic tomato soup is perfect for any gardener looking to use up their tomato harvest. When using an Instant Pot you can whip it up quick, we're talking under 30 minutes! Once you try fresh tomato soup, you'll never want the canned stuff again.
Spicy Sausage kale and Whole Wheat Orecchiette Soup from How Sweet Is It: If you've always had trouble getting enough greens into your diet, this is the soup for you. It's packed full of kale, but between the delicious orecchiette pasta, spicy sausage and perfectly seasoned broth, you won't even notice.
Tomatillo and Black Bean Soup from A Couple Cooks: Roasted tomatillos are the star ingredient in this recipe. They're zesty, tangy and perfectly complimented by hearty black beans and sweet hominy. Garnish with thinly sliced radishes, green onion and lime juice.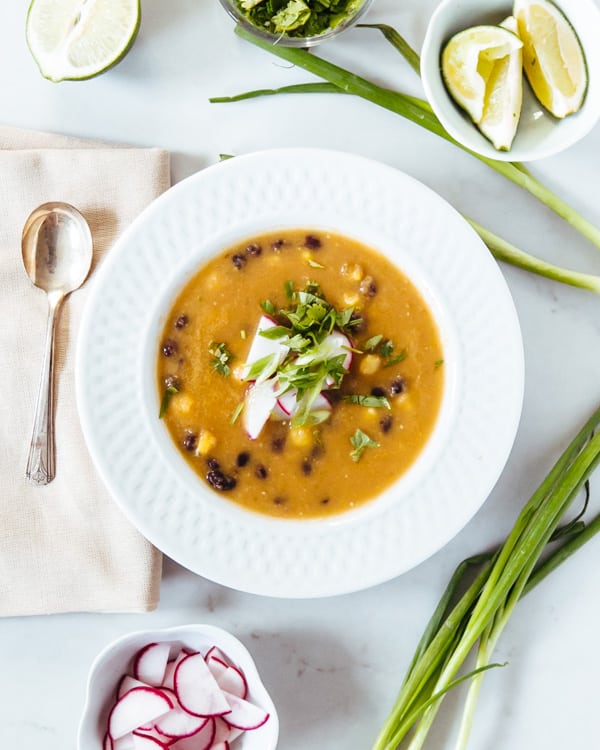 Golden Beet and Fennel Soup from The Roasted Root: This beautifully colored soup features unique, earthy and mild aniseed flavors. If you can't find golden beets at the grocery store, red beets can be substituted. Top your creamy bowl of goodness with radishes, lemon, seeds and pistachios.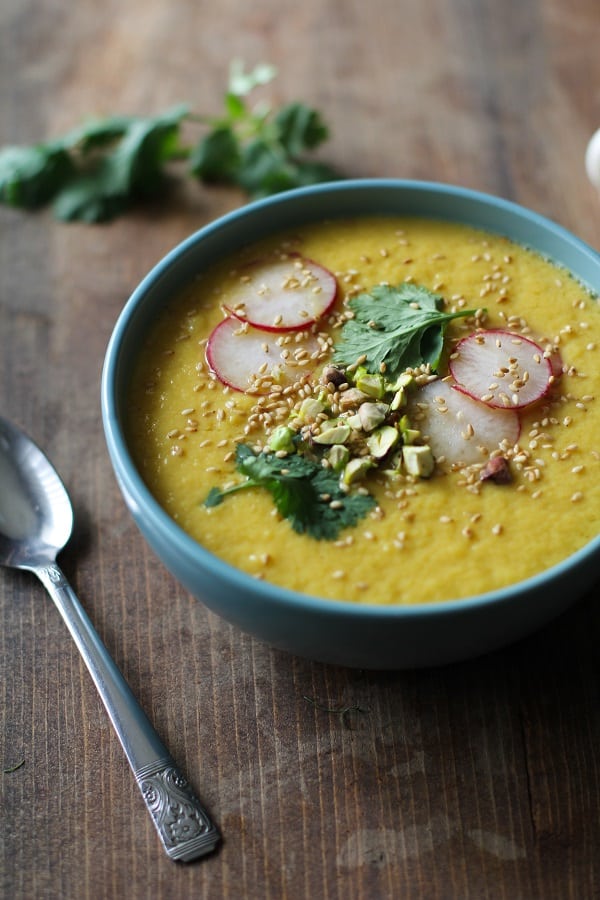 Creamy Tomato Basil Soup with Parmesan Cheese from Tastes Lovely: Basil and parmesan cheese are perfect in tomato soup. This recipe goes a step further with added flavor from butter and delicious heavy cream. You'll only need eleven simple ingredients to whip it up, and many are staples. Don't forget the grilled cheese!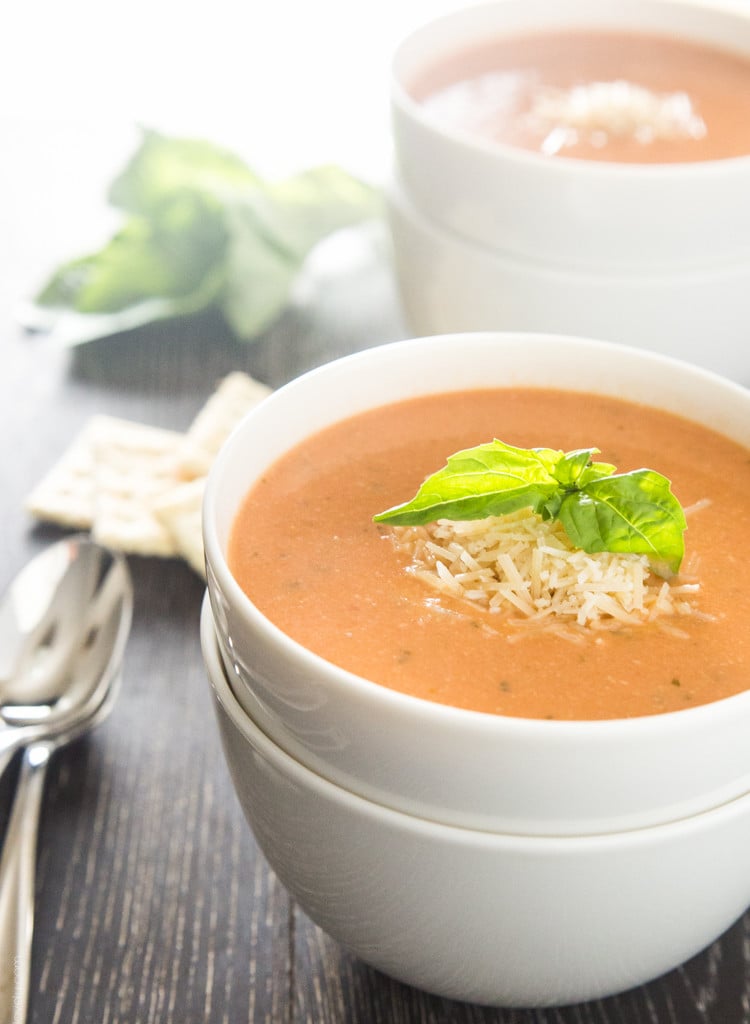 Quinoa White Bean and Kale Soup from Chelsea's Messy Apron: A one pot wonder completely packed with nutrient dense ingredients. This recipe is vegetarian, but feel free to add some shredded chicken (or leftover Thanksgiving turkey) for an added boost of protein.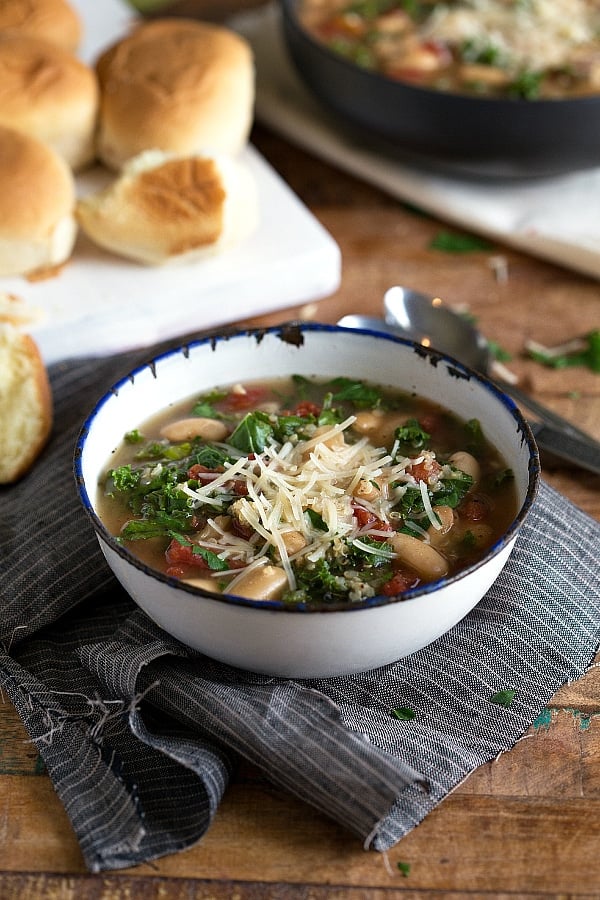 Smoked Sausage and White Bean Soup from The Comfort of Cooking: This satisfying soup is bowl-licking good and definitely won't leave you feeling hungry. I guarantee you'll add it to your weekly rotation once you give it a try.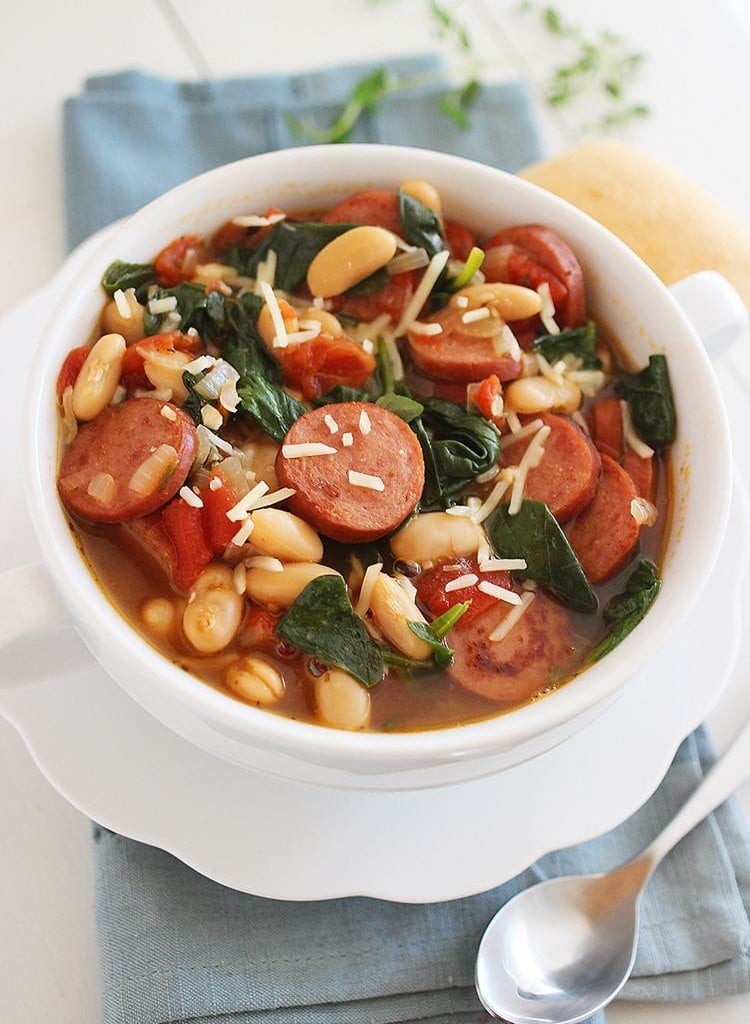 Spiced Vegan Lentil Soup from Cookie and Kate: If you've tried lentil soups that have left you wanting, know this one won't let you down. It's hearty and packed with vegetables, legumes, fresh greens and the perfect combination of spices.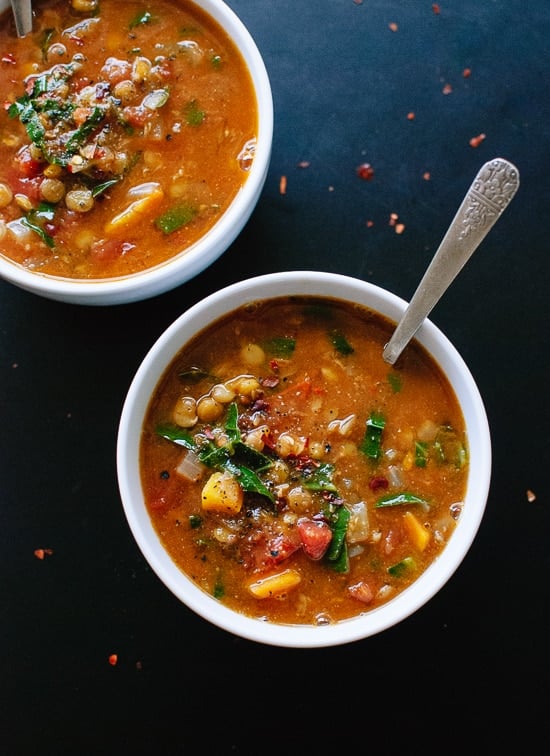 Curried Sweet Potato Soup from Love and Lemons: Curry spice pairs perfectly with sweet potato, spinach and green peas. You can't go wrong with this comforting soup, it's also tasty when spooned over cooked rice or lentils! Squeeze some lemon juice on top and you are ready do dig in!!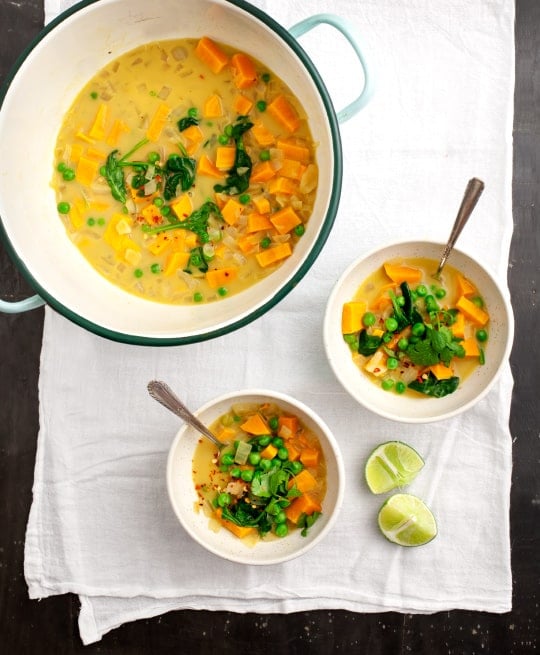 ---
Some more soup recipe ideas to try:
If you like this 30 Healthy Soup Recipes, please share with your friends and family.
Healthy Soup Recipes
Cook up hearty and healthy soup recipes with this guide! You'll learn how to make awesome soup recipes just like this easy Sweet Potato Chicken Soup Recipe!
Instructions
In a medium pan, add the chicken breasts, cover with about 2 inches of water, salt the water to taste and bring to boil over medium-high heat. Boil for about 15 mins or until chicken is cooked through.

While chicken in poaching, start sautéing the veggies. In a large pot, heat olive oil over high heat. When the oil is hot, turn the heat down to medium.

Add onion, celery and carrot. Sauté for 5-7 minutes or until the onions are soft and translucent. Don't forget to stir occasionally.

Add garlic and cook for 30 seconds.

Add chicken broth, sweet potato, oregano, onion powder, coriander, salt and pepper. Mix all together.

Bring to a boil and simmer partially covered for 10-15 minutes or until the sweet potato is soft.

Halfway through boiling the sweet potatoes, add in the shedded chicken to rewarm a bit. Taste and add any extra seasonings, if necessary. If you prefer, add a pinch of cayenne pepper.

Garnish with fresh chopped parsley before serving.
Tips
For a short cut, you can use pre-cooked shredded rotisserie chicken in place of the chicken breasts.
Dice everything uniformly to ensure even cooking and that you'll get a bite of everything with each spoonful.
Do not overcook the chicken or it'll become rubbery.
To store: Put leftover soup into an airtight glass container and keep them in the refrigerator for up to 5 days.
To reheat: Rewarm soup in the microwave or on the stovetop. 
To freeze: Freeze cooked soup in a freezer-safe bag or container once cooled. Freeze for up to 3 months.
Nutrition Information
Serving:
1
/4
Calories:
278
kcal
(14%)
Carbohydrates:
26
g
(9%)
Protein:
27
g
(54%)
Fat:
8
g
(12%)
Saturated Fat:
2
g
(13%)
Polyunsaturated Fat:
2
g
Monounsaturated Fat:
4
g
Cholesterol:
62
mg
(21%)
Sodium:
1497
mg
(65%)
Potassium:
476
mg
(14%)
Fiber:
5
g
(21%)
Sugar:
11
g
(12%)
Nutrition information is calculated using an ingredient database and should be considered an estimate.
Do you wanna taste more? Subscribe to my newsletter and follow Primavera Kitchen on Twitter, Pinterest, Instagram and Facebook for all delicious recipes updates.