Extra-lean Turkey Chili with Kale
This delicious Extra-lean Turkey Chili with Kale is healthy, easy to make, gluten-free, low fat and it is perfect for a chilly day! 

Hello, Guys
How are you? I am very tired because I just arrived in Canada after a 10 hours flight. I was in Brazil visiting my family and friends for about 2 months and now it is time to get back to my "real life", right? I had such a great time down there, enjoying the beautiful and wonderful summer time and my nephew who was born last November. This time it was really hard to leave Brazil because of my nephew. I was helping my sister to take care of him for one month and two weeks and for this reason I got very close to him. But, later I will make a post talking about my vacation in Brazil.
MY LATEST RECIPES
I was missing my home, my Canadian friends and family, but to be honest this weather is totally disappointing. I know you may think "why are you complaining about the weather if you live in Canada for years. You should be used to it". I have to agree and I don't complain much about the COLD temperatures, because all the places are heated and if you have good quality coat you are totally fine. However, I really can't get used to the dark days. For me, this is the worst part of the winter. When I wake up at 6:30am is still very dark and when it is 4pm it is already dark again!! Oh Gosh!!
But, let's talk about good things like for example delicious winter food!! Yes, I love winter food and one of my favourite is turkey chili because I love beans and all the spices we can add in there. It is warm and perfect for this time of the year. So, I definitely love to have this dish at least one time per week. This extra-lean turkey chili with kale is very healthy because I used lean turkey meat to reduce the amount of fat and also I add the superfood kale, since this green is packed with antioxidants such as vitamin C and beta-carotene.
I hope you enjoy this recipe and give it a try. I promise this delicious and nutritious chili will help you to feel warmer this winter. Thanks a lot for reading. Want to browse all of my healthy recipe posts? Follow my Primavera Kitchen Board on Pinterest!!! For this period of the year I also have great Pinterest Boards full of awesome recipes like Healthy Dinner, Healthy Winter Recipes, Healthy Slow Cooker Meals and Soups and Stews. I hope you enjoy all the delicious and healthy recipes I have there!!
Extra-lean Turkey Chili with Kale
This delicious Extra-lean Turkey Chili with Kale is healthy, easy to make, gluten-free, low fat and it is perfect for a chilly day! 
Ingredients:
1 tbsp olive oil
1 cup diced onions
2 garlic cloves, minced
3⁄4 pound extra-lean ground turkey
1 cup red bell pepper, seeded and chopped
1⁄2 cup diced celery
1 cup diced carrots
3 cups kale, chopped
2 tbsp crushed red pepper
2 tsp ground cumin
1⁄2 tsp ground coriander
1 can (19 oz/ 540 ml) diced tomatoes, undrained
1 can (19 oz/540 ml) red kidney beans, drained and rinsed
Salt and ground black pepper
Directions:
In a large skillet over medium-high heat, add olive oil and sauté onions until they are translucent.
Add garlic and sauté until you can smell garlic aroma.
Add ground turkey and cook for 10 minutes and stirring occasionally.
Add pepper, celery and carrots. Stir until combined.
Add all the spices, tomatoes and the beans and heat to a boil for a few minutes, stir constantly and then reduce heat to low.
Cook on low heat for about 2 hours. Add kale and cook for more 5 minutes. Add salt and pepper for taste and adjust if necessary.
All images and text ©
If you make this recipe, please don't forget to snap a photo and hashtag it #primaverakitchen. I really want to see!
Products Featured in this Recipe:
(may include affiliate links)
If you like this Extra-lean Turkey Chili with Kale recipe, please share with your friends and family. Do you wanna taste more? Subscribe to my newsletter and follow Primavera Kitchen on Twitter, Pinterest, Google +, Instagram and Facebook for all delicious recipes updates.
More Kale Recipes
Easy and quick Sweet potato, Kale and Shrimp Skillet recipe!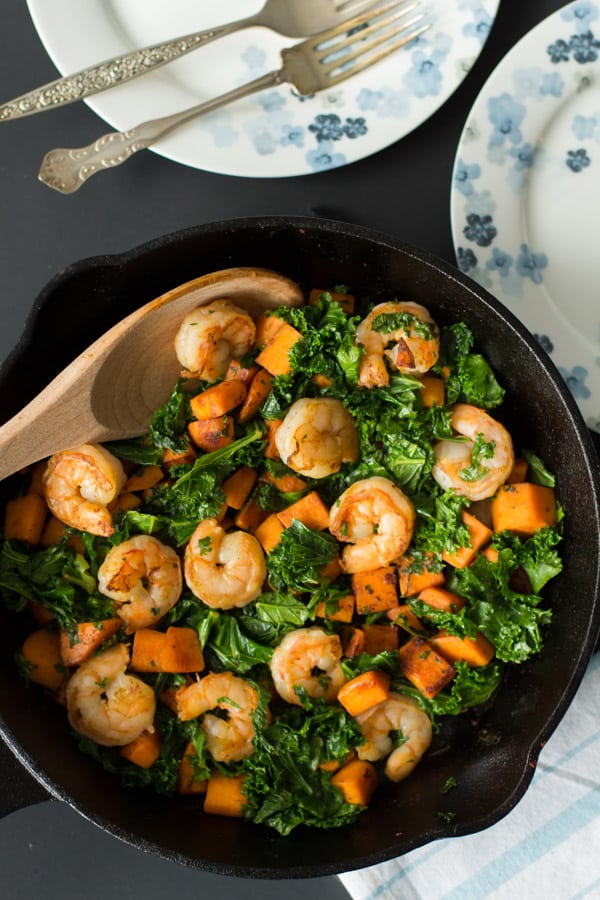 I promise this Kale Sneak in Meatballs is as delicious as the traditional meatball recipes and healthier.
This Kale, Peppers and Red Onions Pizza is made with whole wheat flour.