Try this super easy slow cooker chili recipe that is packed with beans, veggies, and spice. This is a perfect hearty and spicy meal for dinner. 
Today, it is the first day I am alone taking care of my little baby. My mom was with me for a month helping me with everything, but yesterday she went back to Brazil. I have to say I already miss her so much. She helped a lot. I can't even imagine how my first weeks with my little Thomas would have been without her here. When we are first time parents, we feel a little lost at first because of all the new things that are happening so fast. It is always good to have someone with more experience than you to help and support you, right? Nobody is better than your mom who loves you and your son unconditionally to be with you. Although I tried to prepare myself for the big day by reading books and talking to parents, my mom was much more helpful than all the pieces of advice and books that I read. I am very grateful for that.
My mom is not here anymore but I am lucky that my husband is an awesome father and he is doing his role very well. I always can count on him. He does everything he can to support me. I couldn't do everything that I am doing without him.
The days are very different from the days I didn't have a baby. Now, it is all about him and his schedule, I barely have time to take a bite of my Sun-dried Tomato Pesto Cauliflower Salad sometimes. The time to breastfeed, to sleep, to take a bath … And I also feel much more worried about everything concerning him. I always ask myself, "why is he sleeping so much?", or "why is he not sleeping?", "is he having enough milk?", "is he being over stimulating?" or "what I have to do to play with him?" and the list goes on and on. I guess these are all thoughts of a first-time mother who wants the best for your baby. I must admit I am happy my husband is less worried them me, which balance things up.
I have to say all the hard work pays off when I look at his little face. I forget about the sleepless nights and all the worries. He is an angel in our lives and we couldn't ask for more. I am so grateful our baby is healthy and super calm. He also loves to sleep during the day, which allows me to do lots of things such as cooking recipes like this one. Now that I have a baby to take care of, I am looking for recipes that are super easy and fast to make. I made this recipe very quickly while Thomas was sleepimg on my mom's lap. The only thing that takes a little bit of time is to chop the veggies. When the veggies were chopped, I sautéed the ground turkey in the skillet for 10mins and then all I needed to do was to add everything in a slow cooker and wait to be ready. That's the beauty of a slow cooker recipe! Easy and yummy, just like this Slow Cooker Chicken and Sweet Potato! Hope you enjoy this recipe. If you're craving more? Try this Easy Whole30 Sweet Potato Chili or any of these Top 30 Healthy Chili Recipes You Must Try This Fall!
Subscribe for new recipes & a free e-cookbook
Super Easy Slow Cooker Chili
Try this super easy slow cooker chili recipe that is packed with beans, veggies, and spice. This is a perfect hearty and spicy meal for dinner.
Instructions
Add onion and sauté for 3 minutes, then add garlic and sauté for 30 seconds longer.

Add extra-lean ground turkey and cook, breaking up the turkey with a wooden spoon, until the turkey is cooked through, about 5 minutes.

Add celery, carrots, red kidney beans, diced tomatoes, tomato paste, chili powder, coriander seed, crushed red pepper, smoked paprika, salt, and black pepper.

Stir mixture, cover with a lid and cook on low heat for 5 - 6 hours.

Top with green onions.
Tips
Feel free to swap the ground turkey for another ground meat such as beef.
Don't skip browning the onions and meat as it adds a ton of flavour. 
Feel free to swap the kidney beans for black beans or pinto beans.
To store: Store leftover chili for up to 4 days in the fridge. Try to keep the toppings off the chili if you plan on refrigerating it for later.
To reheat: Reheat the chili in the microwave or stovetop.
To freeze: Freeze leftover chili in a freezer-safe container for up to 3 months. 
Nutrition Information
Serving:
1
/6
Calories:
204
kcal
(10%)
Carbohydrates:
24
g
(8%)
Protein:
22
g
(44%)
Fat:
4
g
(6%)
Saturated Fat:
1
g
(6%)
Monounsaturated Fat:
2
g
Cholesterol:
32
mg
(11%)
Sodium:
671
mg
(29%)
Potassium:
569
mg
(16%)
Fiber:
8
g
(33%)
Sugar:
7
g
(8%)
Nutrition information is calculated using an ingredient database and should be considered an estimate.
If you like this Super Easy Slow Cooker Chili recipe, please share with your friends and family. Do you want to taste more? Subscribe to my newsletter and follow Primavera Kitchen on Twitter, Pinterest, Instagram, and Facebook for all delicious recipes updates. As always, I really appreciate you stopping by.
More Chili Recipes!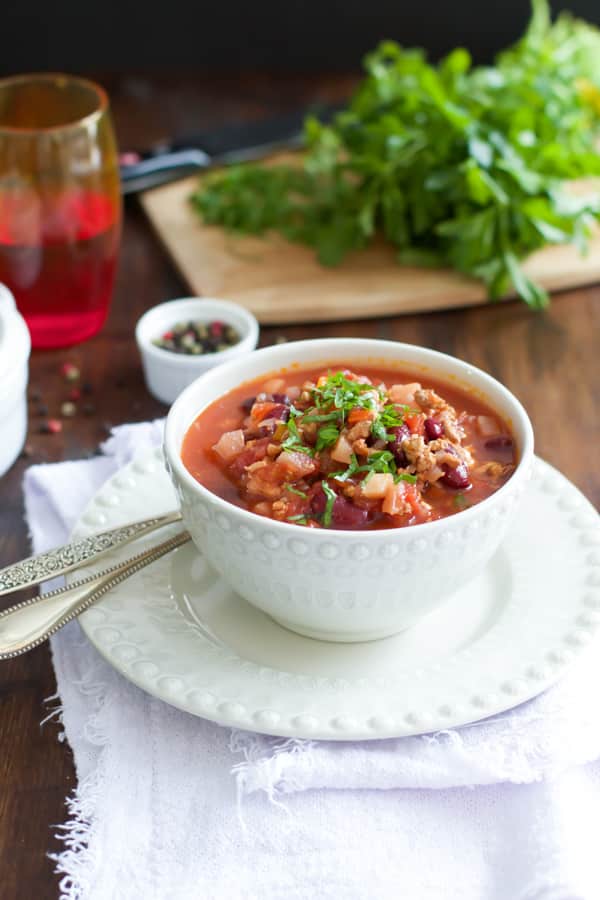 Slow Cooker Sweet Potato Chili