This is an Ultra-easy Slow Cooker Chicken Chili you will ever make. Dump in the ingredients and let the slow cooker do the rest for you.
This is one of the easiest slow cooker chicken chili recipes you ever will make in your life. Sounds exaggerated? I know, but I'm very serious! This recipe is a dump-everything-in-there-and-forget-about-it recipe. You don't need any extra steps such as sauteé the chicken or something else. The only thing you have to do is to add all the ingredients in the slow cooker, cook for 3 hours on high, and break apart the chicken at the end of the cooking time. The slow cooker is one of my favourite ways to make chili because it's so easy. Don't believe me? Check out my Slow Cooker Sweet Potato Chili, Slow Cooker Chicken and Sweet Potato, and my Super Easy Slow Cooker Chili!
If you prefer to cook on low, you can do that too. You throw all of the ingredients into the slow cooker in the morning before you leave for work and when you come back home, dinner will be ready. Actually, you will not only have dinner but lunch through the week with the leftovers. This slow cooker chicken chili is just as flavorful the next day too. You can store it in small Tupperware to bring to work and warm it up in a microwave. The chili is good for up to 5 days in the fridge.
Before you jump to the recipe, I just want to give you one extra tip. For this recipe, I used a bottle of salsa I bought at my local grocery store and it is already very spicy. That's why I didn't add lots of spices to this recipe. But of course, if you like spicy food, you can add more spices according to your taste.
Subscribe for new recipes & a free e-cookbook
This hearty Slow Cooker Chicken Chili is definitely the best meal choice for this time of the year. This is ultra flavorful, warm, comforting, spicy, and healthy. The chicken is also juicy. Hope you give this recipe a try and enjoy it!
Want more chili? Try this Easy Whole30 Sweet Potato Chili or my Top 30 Healthy Chili Recipes You Must Try This Fall!
Slow Cooker Chicken Chili Recipe
This is an Ultra-easy Slow Cooker Chicken Chili you will ever make. Dump in the ingredients and let the slow cooker do the rest for you.
Ingredients
2

large skinless boneless chicken breasts

(about 1 and 1/2 pounds)

1 ½

cup

white onions

chopped

1

cup

yellow bell pepper

diced

1

(11 ounce) can corn (rinsed and drained) or 1 package of frozen corn

1

(19 ounce) can black beans, drained and rinsed

1

(21 ounce) bottle salsa sauce, medium

2

cups

chicken broth

3

tablespoons

tomato paste

2

cups

diced tomato

drained

1

cup

crushed tomato

1

Tablespoon

minced garlic

1

teaspoon

salt

1

teaspoon

ground cumin

1

teaspoon

coriander
Instructions
Stir well to combine.

Cover with lid and cook on low for 6-7 hours or high for 3 hours.

Remove the chicken. Shred into pieces using a fork and return it to the slow cooker and stir well.

Taste and add more salt or add ground black pepper if necessary.

Cover the slow cooker and cook for about 10-15 more minutes.

Serve warm topped with fresh cilantro and shredded cheese.

Keep leftovers in a plastic/glass container in the refrigerator for up to a week.

You can reheat in the microwave or on the stove.
Tips
This post contains affiliate links. For more information, please visit my disclosure page here.
Do not open the lid while the slow cooker is cooking your chicken chili. Since it takes a long time for the slow cooker to build up heat, when you open the lid to peak inside, the heat escapes, and your slow cooker will have to rebuild the heat. 
You can use low sodium broth if you're worried about salt.
You can swap for chicken thighs if you prefer.
To store: To store leftovers, transfer the chili to an airtight container and keep refrigerated for up to 4 days.
To reheat: You can reheat chili in the microwave or stovetop.
To freeze: Freeze chili in a freezer-safe container for up to 3 months.  
Nutrition Information
Serving:
1
/6
Calories:
290
kcal
(15%)
Carbohydrates:
46
g
(15%)
Protein:
22
g
(44%)
Fat:
3
g
(5%)
Saturated Fat:
1
g
(6%)
Monounsaturated Fat:
1
g
Cholesterol:
33
mg
(11%)
Sodium:
1181
mg
(51%)
Potassium:
1215
mg
(35%)
Fiber:
10
g
(42%)
Sugar:
9
g
(10%)
Nutrition information is calculated using an ingredient database and should be considered an estimate.
If you like this Slow Cooker Chicken Chili recipe, please share with your friends and family. Do you want to taste more? Subscribe to my newsletter and follow Primavera Kitchen on Twitter, Pinterest, Google+, Instagram, and Facebook for all delicious recipes updates. As always, I really appreciate you stopping by.
More Chili Recipes: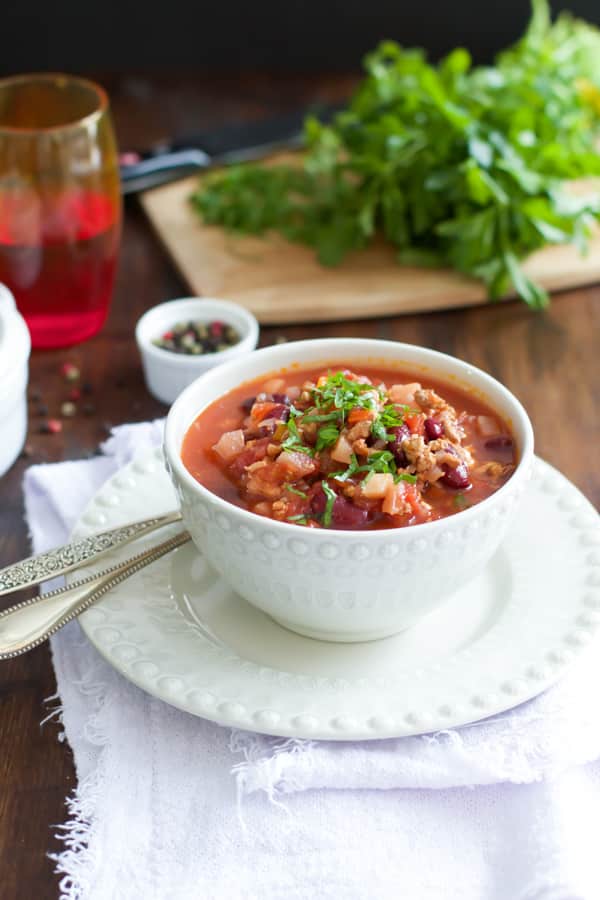 Slow Cooker Sweet Potato Chili
Extra-lean Turkey Chili with Kale