Roasted sweet potato is a healthy and nutritious side dish that pairs well with any meal. It's a flavor-pack answer to starchy foods. Delicious, quick, and easy to make it. 
There is no doubt that sweet potatoes are so tasty, healthy, and high in vitamins A and C, but it is also very versatile veggie because you can have a sweet potato for breakfast, lunch or even dinner. I like to eat them at lunch with a green salad and some kind of fish. Some other delicious sweet potato recipes for you to try are Asparagus Sweet Potato Chicken Skillet, Ground Turkey Sweet Potato Skillet Recipe, Sweet Potato, Kale and Shrimp Skillet, Spicy Salmon Sweet Potato Skillet, and Easy Whole30 Sweet Potato Chili.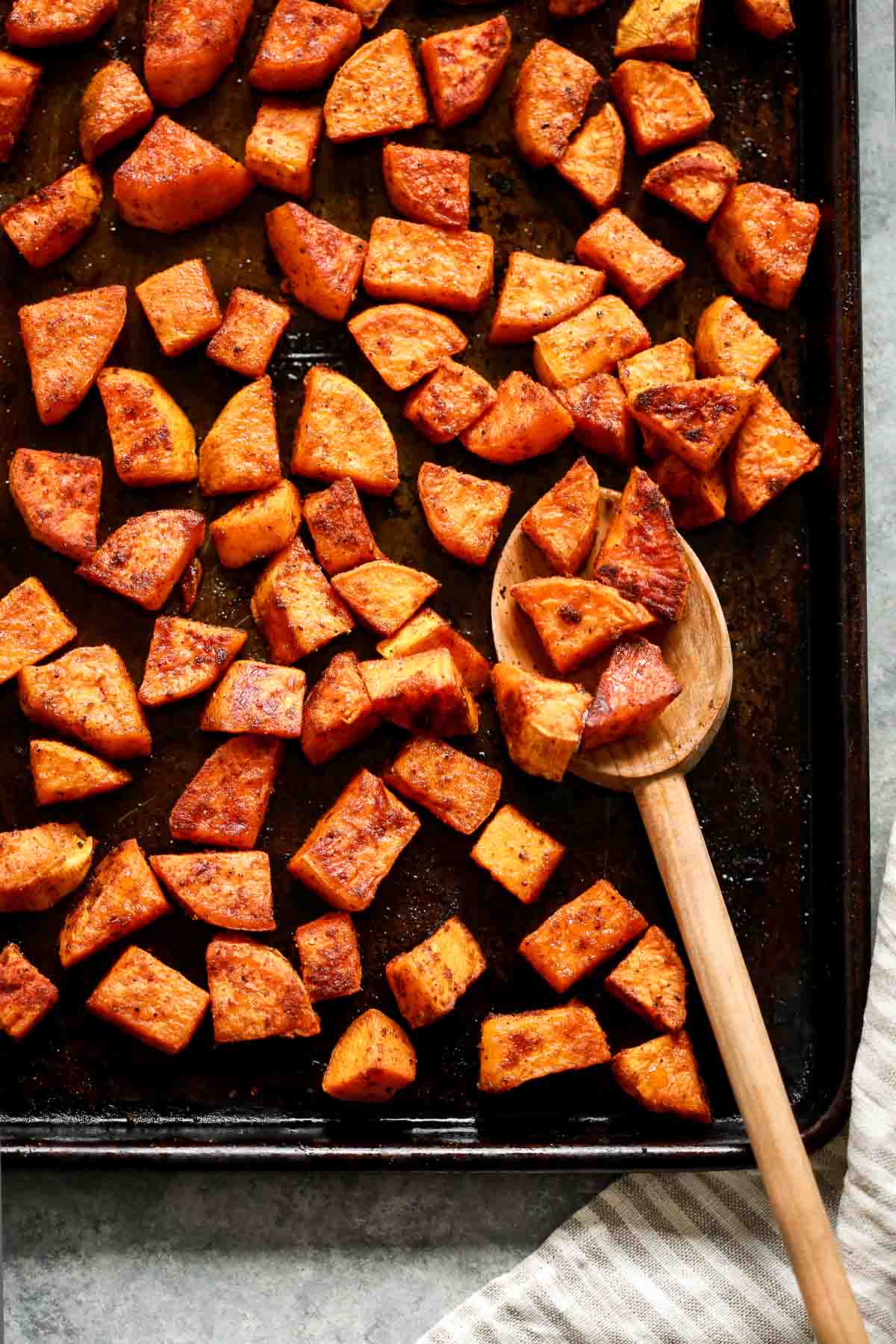 Roasted sweet potato is a recipe that nearly anyone will enjoy. It is naturally gluten, nut and dairy free. It's Whole30 approved and a nutritious alternative to white potatoes.
The crispy outside and tender fluffy inside is flavored with paprika and garlic powder. Roasted sweet potatoes are super flavorful so they just need a little spice to perfect this dish.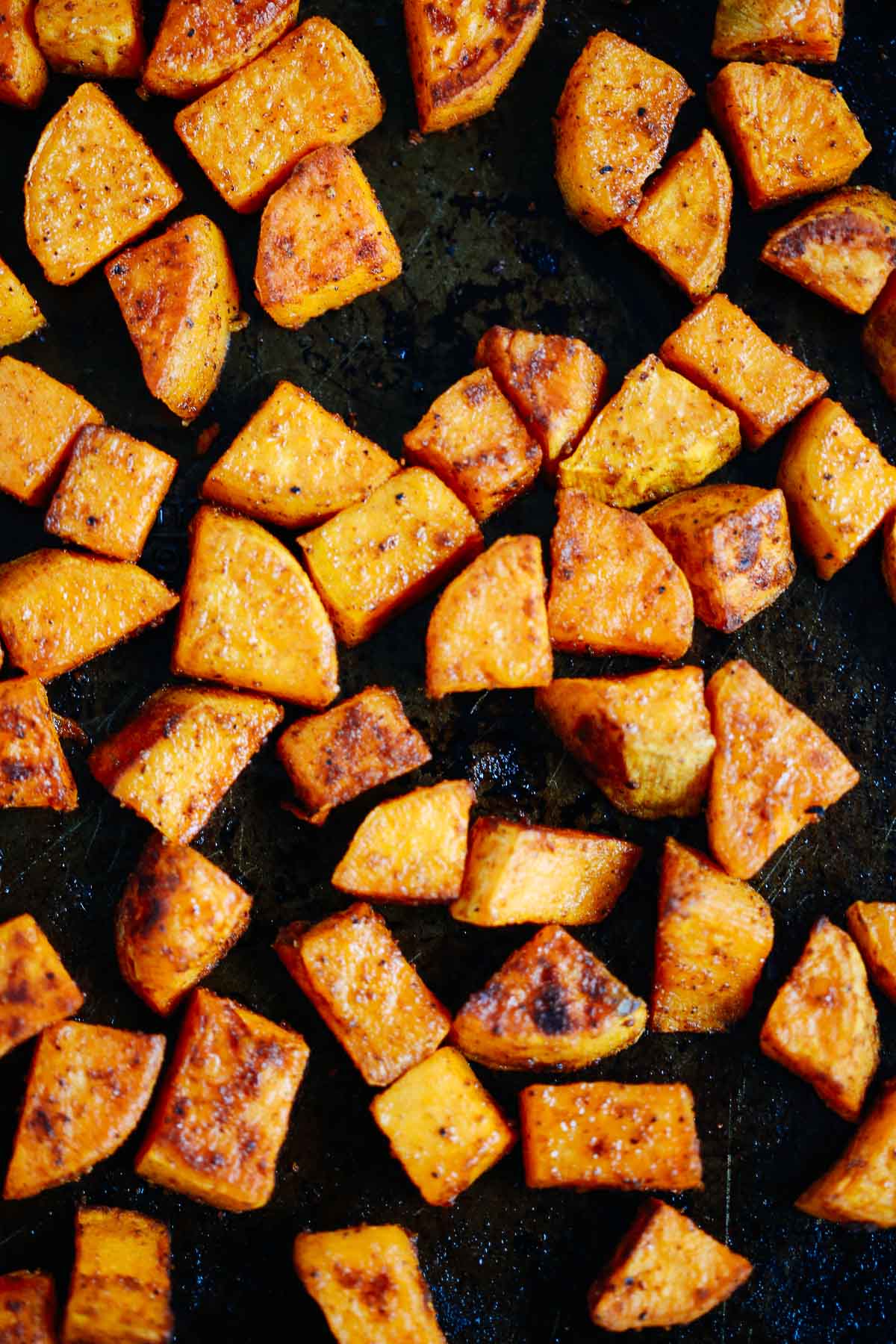 Do you need to peel them?
This is completely a personal preference. Just like with white potatoes, you may prefer the skin on or off and you can roast them either way.
I take the time to peel my sweet potatoes. The skin can get chewy while roasting. You can peel just some of the skin so you still have some crispy bits, peel them completely or make this a super quick side dish by not peeling them at all. The skin does contain extra nutrients that are great to eat.
Especially if you don't peel them, be sure to wash and scrub the potatoes well to remove any leftover dirt.
You also have choices about the shape to cut the sweet potato in. In this roasted sweet potato recipe, I dice my potatoes. One inch chunks are perfect for roasting. They end up crispy but not burnt, yet fully cooked. They are also easy to throw into other dishes or are a perfect bite-sized piece.
However, you could cut them in discs or wedges. If your pieces are larger, they will take more time to completely cook.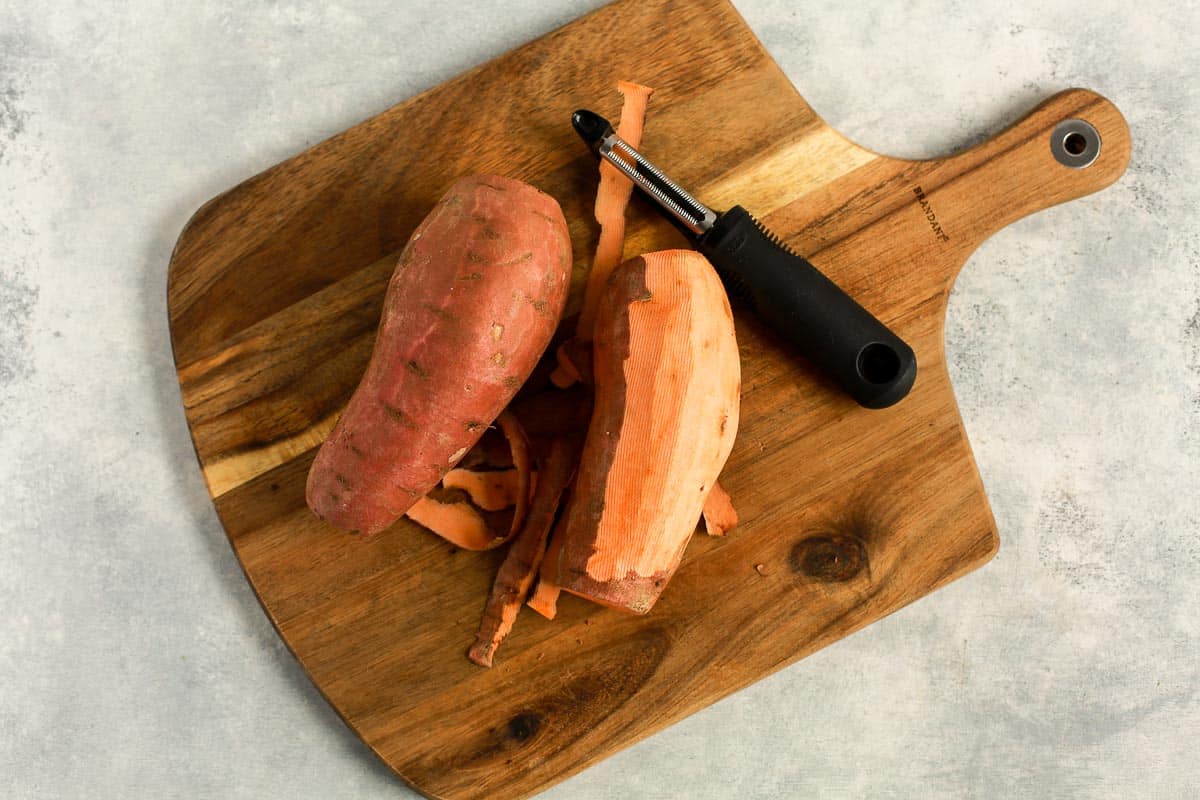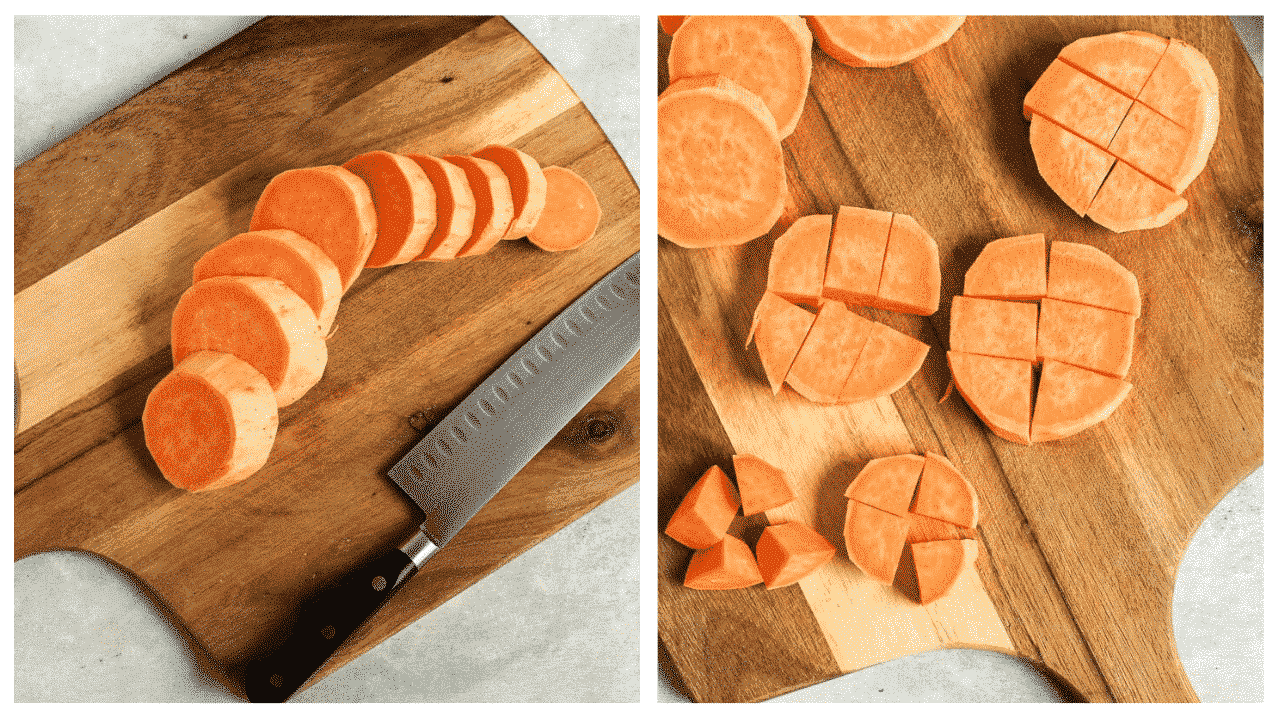 How to make roasted sweet potato
This savory side dish can roast while you cook the rest of your dinner.
Combine the seasonings, tossing well.
Spread cut sweet potato on a baking sheet.
Pour olive oil over the potatoes
Sprinkle with seasoning.
Toss the potatoes to completely cover them with the seasoning.
Spread the potatoes on the tray in an even layer. Try not to let them touch so all the edges have a chance to crisp.
Bake for about 35 minutes at 425F. At this high temperature, the outside of the potatoes slightly char and the inside cooks slowly but completely. Flip them about every ten minutes so they evenly bake. They are done when they are tender and browned.
Sprinkle with fresh parsley.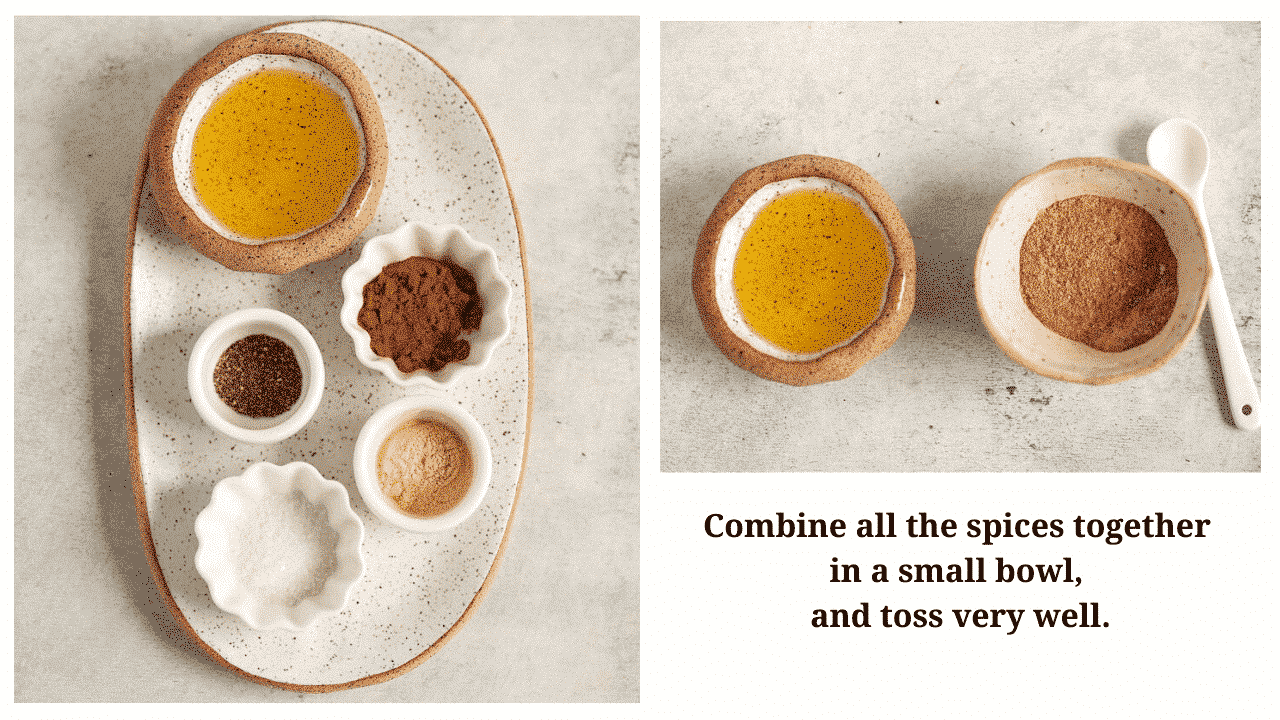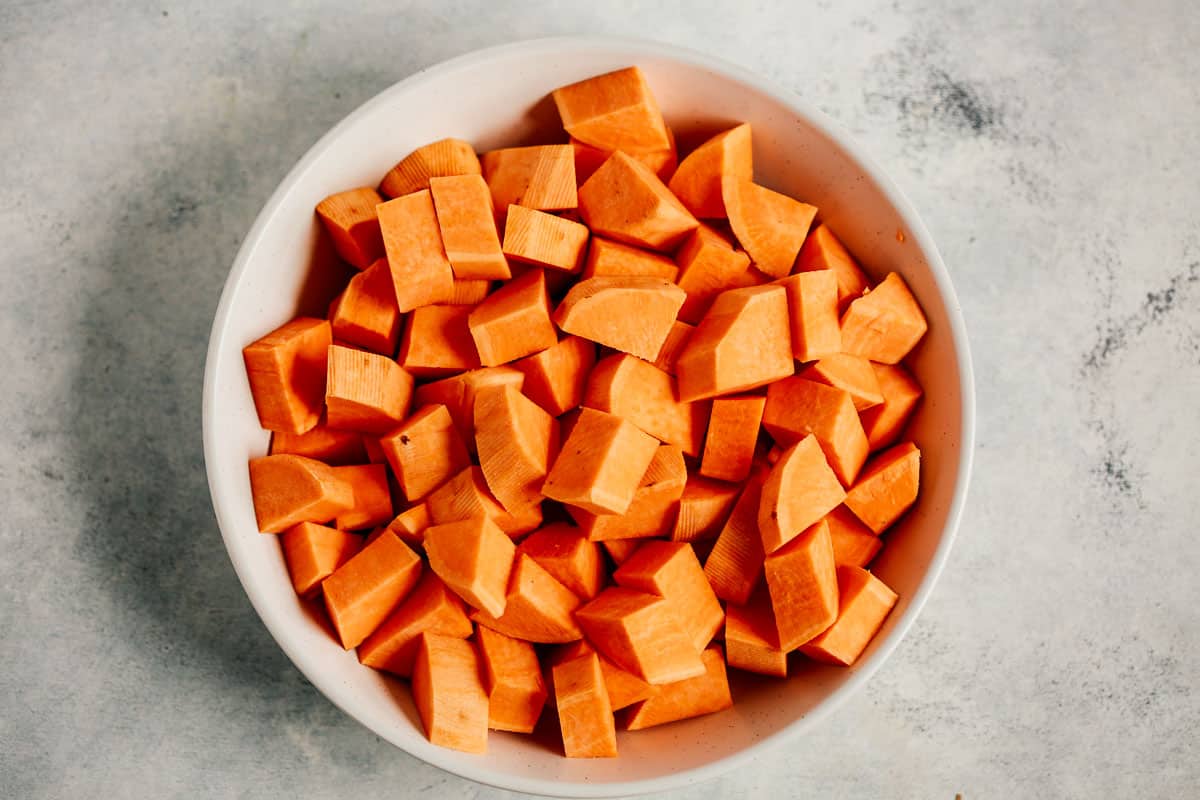 What does roasted sweet potato pair well with?
Roasted sweet potato is a versatile and healthy dish. It's a great accompaniment to any protein-packed meal. But it also pairs well with other foods.
Try combining your roasted sweet potatoes with these dishes:
Cut in long strips they make a great substitute for french fries
Scrambled eggs
Mexican bowls with rice and beans
Buddha bowls with veggies and grains
In a salad of roasted veggies with a light vinaigrette
I also love serving sweet potatoes with Salmon Recipes and Cabbage and Sausage Skillet Recipe. Want a second side dish that compliments this for a large dinner? Try this Spinach Fruit Salad Recipe.
More side dishes to try:
I hope you can give this recipe a try and let me know at the comments below how it was.
As always, thank you so much for stopping by and if you enjoy this post, please share it with your friends and family. You are deeply appreciated.
Want to browse all of my healthy recipe posts? Follow my Primavera Kitchen Board on Pinterest!!! I also have great Pinterest Boards such as Healthy Dinner, Roasted Vegetables, Healthy Slow Cooker Meals and Soups and Stews. I hope you enjoy all the delicious and healthy recipes I have there!! And if you still want more? Try these 16 Sweet Potato Side Dishes For the Holidays!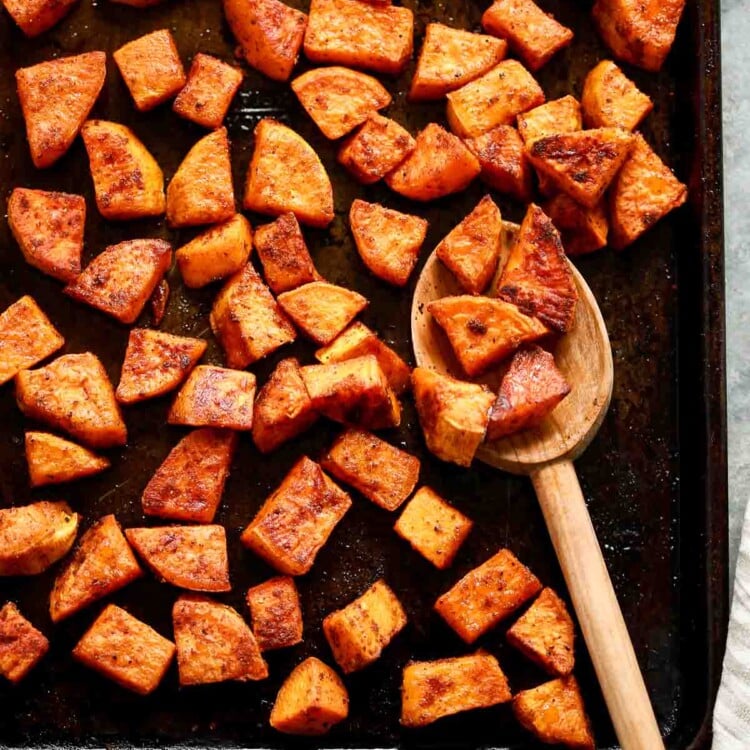 Roasted Sweet Potato
Roasted sweet potato is a healthy and nutritious side dish that pairs well with any meal. It's a flavor-pack answer to starchy foods. Delicious, quick and easy to make it. 
Ingredients
1/2

tsp

smoked paprika

1/2

tsp

garlic powder

1/4

tsp

freshly cracked black pepper

1/2

tsp

fine sea salt

2

medium sweet potatoes (about 1lb)

peeled and cut into 1/2 inch cube pieces.

2

tbsp

olive oil

1

tsp

chopped fresh parsley
Instructions
Combine smoked paprika, garlic powder, salt and black pepper together in a small bowl, and toss very well.

In a large baking sheet, add sweet potato and pour olive oil all over it. Add the seasoning mixture on top and toss to coat all the sweet potatoes.

Using your hands, spread out the sweet potatoes to arrange in an even layer. Bake for approximately 35 minutes or until the potatoes are tender and browned. Don't forget to flip the sweet potatoes every 10 minutes. I fliped my sweet potapoes 3 times.

Remove from oven and sprinkle with parsley. Enjoy 😉
Tips
Cut the sweet potatoes as uniformly as possible so they roast evenly.
You can peel the sweet potatoes or leave the skin on. If leaving the skin on, make sure to wash and dry the potatoes first.
Feel free to adjust the seasoning to your liking.
To store: Store roasted sweet potatoes in an airtight container in the fridge for up to 5 days.
To reheat: You can reheat this in the microwave or oven.
To freeze: Once cooled, you can freeze the potatoes in a freezer-safe bag for up to 3 months.
Nutrition Information
Serving:
1
/4
Calories:
139
kcal
(7%)
Carbohydrates:
19
g
(6%)
Protein:
1
g
(2%)
Fat:
7
g
(11%)
Saturated Fat:
1
g
(6%)
Polyunsaturated Fat:
1
g
Monounsaturated Fat:
5
g
Sodium:
455
mg
(20%)
Potassium:
12
mg
Fiber:
3
g
(13%)
Sugar:
9
g
(10%)
Nutrition information is calculated using an ingredient database and should be considered an estimate.
Bring Joy and Sweet potatoes in your day 😉