You need to make these Easy Salmon Recipes for dinner. They are healthy, easy and quick meals to prepare for you and your family! You will find lots of skillet recipes, baked in foil, salmon meals or simple baked oven recipes.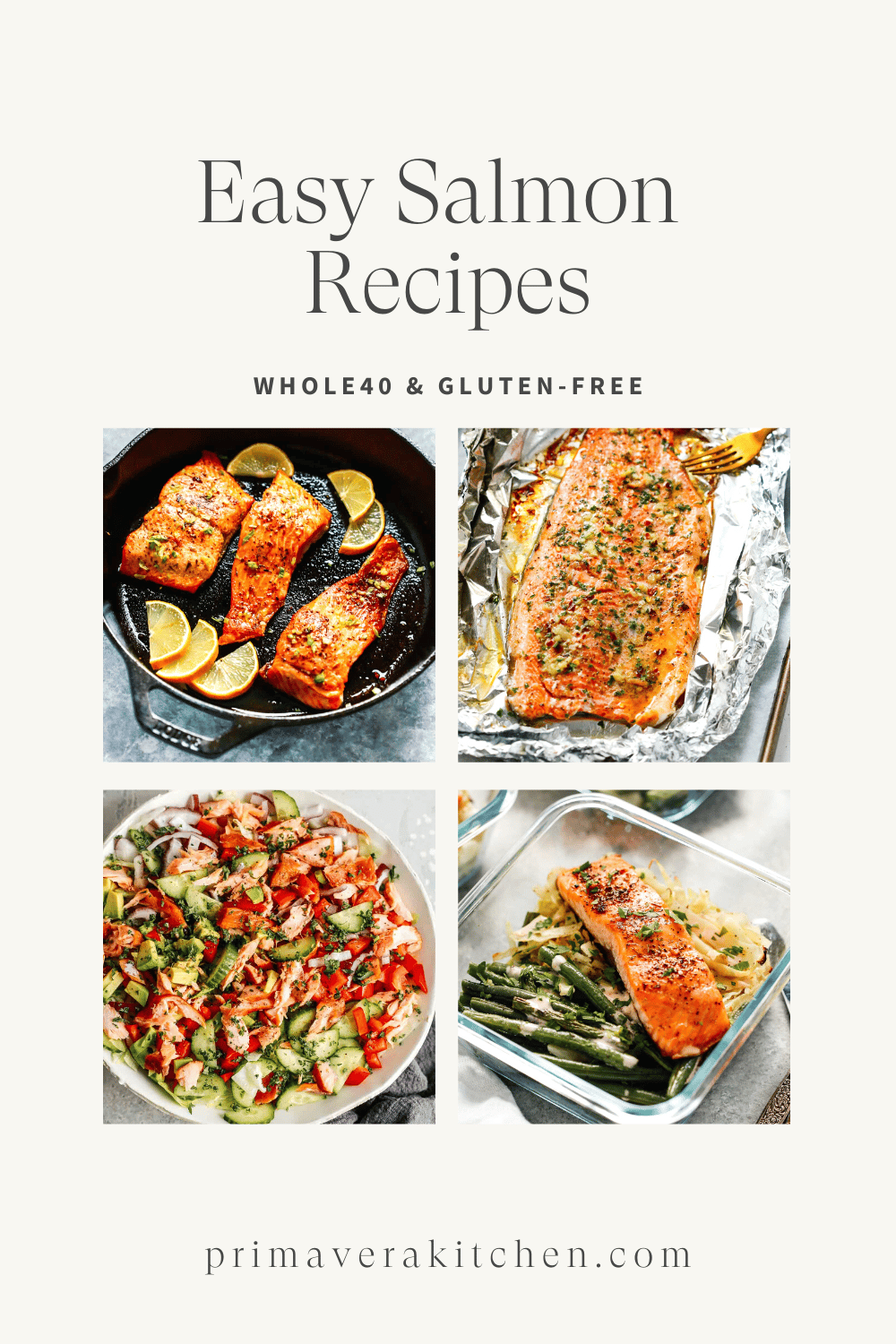 Today I am sharing my favourite salmon recipes from my site and around the web to help you get a healthy dose of omega-3 fatty acids in your meals.
These salmon meals are healthy options for quick and flavorful dinner during your busy week. I chose these specific salmon recipes because they are quick and easy to make and very rich in protein and good quality fat.
You're going to see that even when you are very busy and tired after a long day at work, you can still be able to make a healthy and delicious dinner for you and your family.
When you do your groceries, try to always buy some salmon fillets. Salmon is so versatile to cook. You will never get sick of it. Don't believe me? Take a look at the recipes below.
How Can I Cook Easy Salmon Recipes?
On the list of recipes below you will see that you can prepare this fish in many different ways such as grilled, smoked, or baked. It's totally up to you how you should cook it. I love broiled salmon and make it all the time for dinner. My family loves it and it's so quick to make that I don't need to spend a lot of time in the kitchen. Win-win!
What is a good side dish with salmon?
Salmon recipes go really well with some simple salads or rice or roasted veggies and mashed potato/cauliflower. My personal preference is to serve is with Cauliflower Potato Salad Recipe, Spicy Roasted Cauliflower Recipe, Garlic Parmesan Roasted Brussel Sprouts and Easy Mediterranean Salad Recipe.
Subscribe for new recipes & a free e-cookbook
Can I eat salmon everyday?
Many people are concerned about eating fish everyday because of the mercury. However, the level of mercury in salmon is consider very low, which makes it safe to eat salmon daily. Also remember to buy wild-caught salmon instead of farm-raised salmon (Atlantic salmon) to get more nutrition from it.
Salmon is a great source of protein and it's lower in calories and saturated fats than some red meat. It also has fiber, vitamin C, potassium, calcium and it has zero sugar and carbohydrates. Salmon also can help to reduce your cholesterol levels.
What flavors go well with salmon?
Salmon is a very versatile fish because it pairs with lots of different tastes. I love to make my easy salmon recipes with:
Salty flavours: lower-sodium soy sauce, coconut aminos and teriyaki sauce.
Sweet flavours: salmon goes really well with honey, coconut sugar, maple syrup, butter mixture and orange juice.
Sour flavours: fresh lemon, lemon or orange zest, fresh lime and balsamic vinegar.
Also I love making easy salmon recipes with onions, shallot, garlic, ginger, butter and olive oil.
What spices pair well with these easy salmon recipes?
Here is a list of my favorite spices and ingredients to use when cooking salmon filets:
Sea salt and black pepper
Garlic powder
Onion powder
Cajun spices
Dill (dried or fresh)
Lemon pepper
Lemon juice or lemon slices
Mustard
Fresh herbs such as parsley and cilantro
How should I season salmon?
It's super simple and quick. I like to do the following steps:
Pour olive oil on top of the fillets and then use your fingers to rub it in.
Season to taste with salt, black pepper, dried thyme and garlic powder.
Or if you like spicy food you can use smoked paprika, chili powder, or cumin. Yummy!
Oh, and I forgot to say that on this recipe roundup you will find gluten-free, paleo-friendly, low-calorie, low-carb and one-pan recipes. Also, most of these recipes can be ready in under 30 minutes! I hope you enjoy these salmon recipes and try all of them next week. You won't regret it.
Do you eat salmon skin?
Oh yes. Salmon skin is considered safe to eat. In fact then skin is as healthy as in the salmon and it's also delicious when you stir-fry it. I like to cook salmon recipes in my cast iron skillet, so the skin gets super extra crispy!
What temperature should salmon be cooked?
The USDA recommends a minimum internal temperature of 145°F, which you can measure at the thickest part of the fillet using a meat thermometer. You can also know when salmon flakes easily with a fork.
Now, let's check all these amazing easy salmon recipes out and give them a try because they are all healthy for you and family friendly as well. Hope you enjoy them!!!
---
How to Cook Salmon in the Oven from Primavera Kitchen.
Easy Broiled Salmon Recipe from Primavera Kitchen. This recipe is cooked in high heat.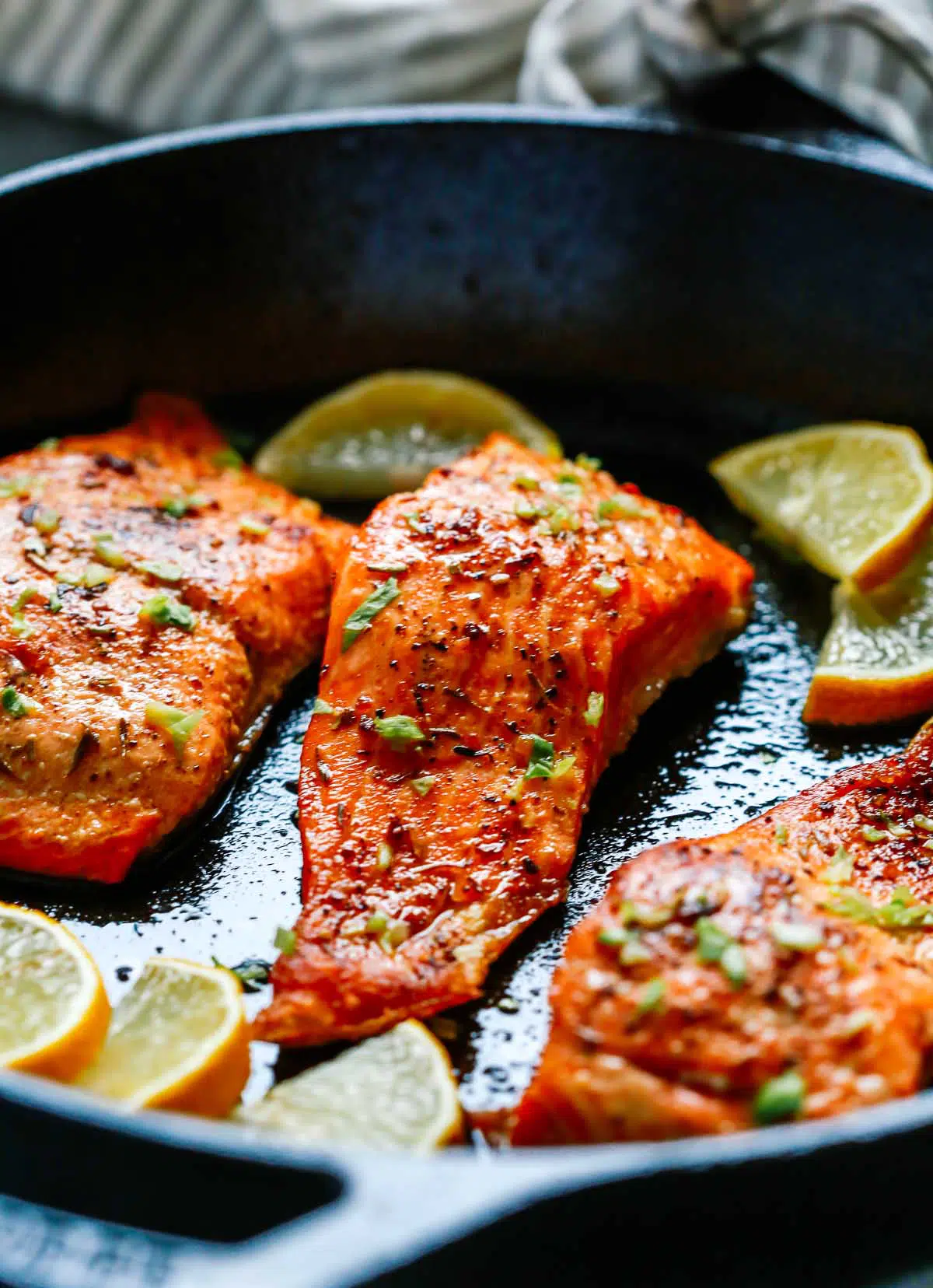 s
Salmon Pasta Recipe from Salt and Lavender.
Easy Healthy Baked Salmon from Creme De La Crumb.
Easy Chopped Salmon Salad from Primavera Kitchen.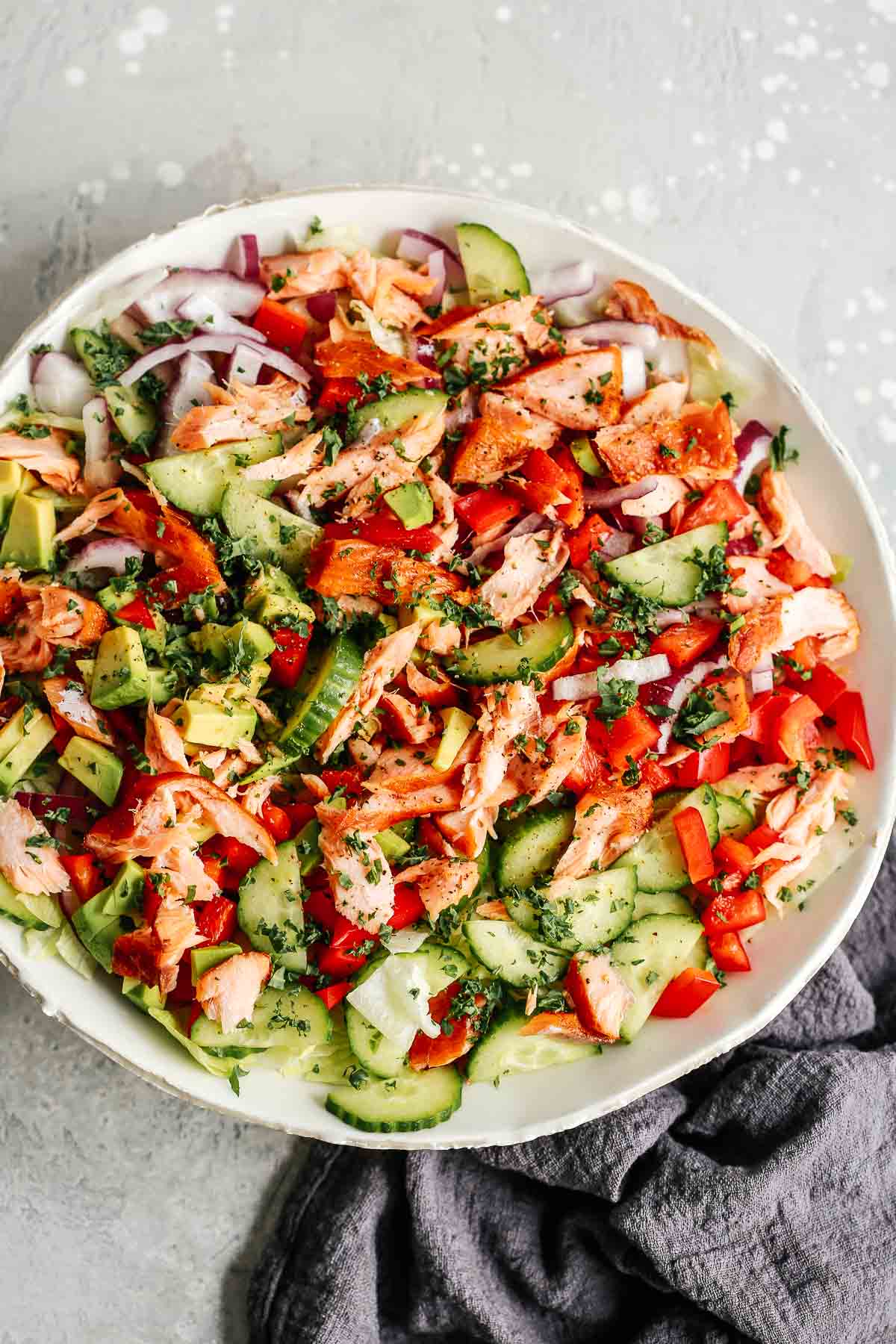 Easy Salmon Salad Recipe from Primavera Kitchen.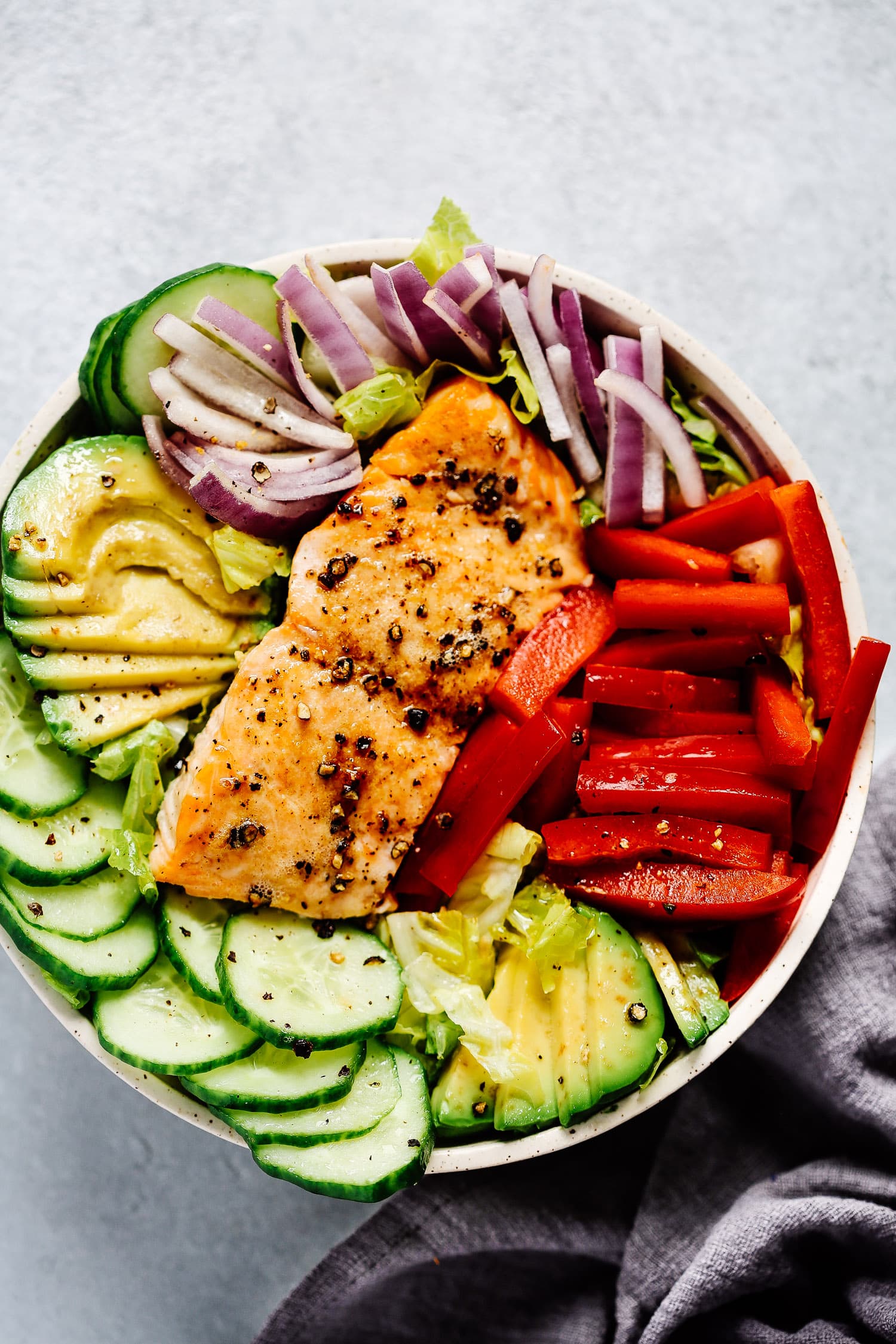 Baked Salmon with Garlic and Dijon from Natasha's Kitchen.
Dijon Mustard Salmon Recipe from Primavera Kitchen.
Honey Garlic Salmon Recipe from Delish.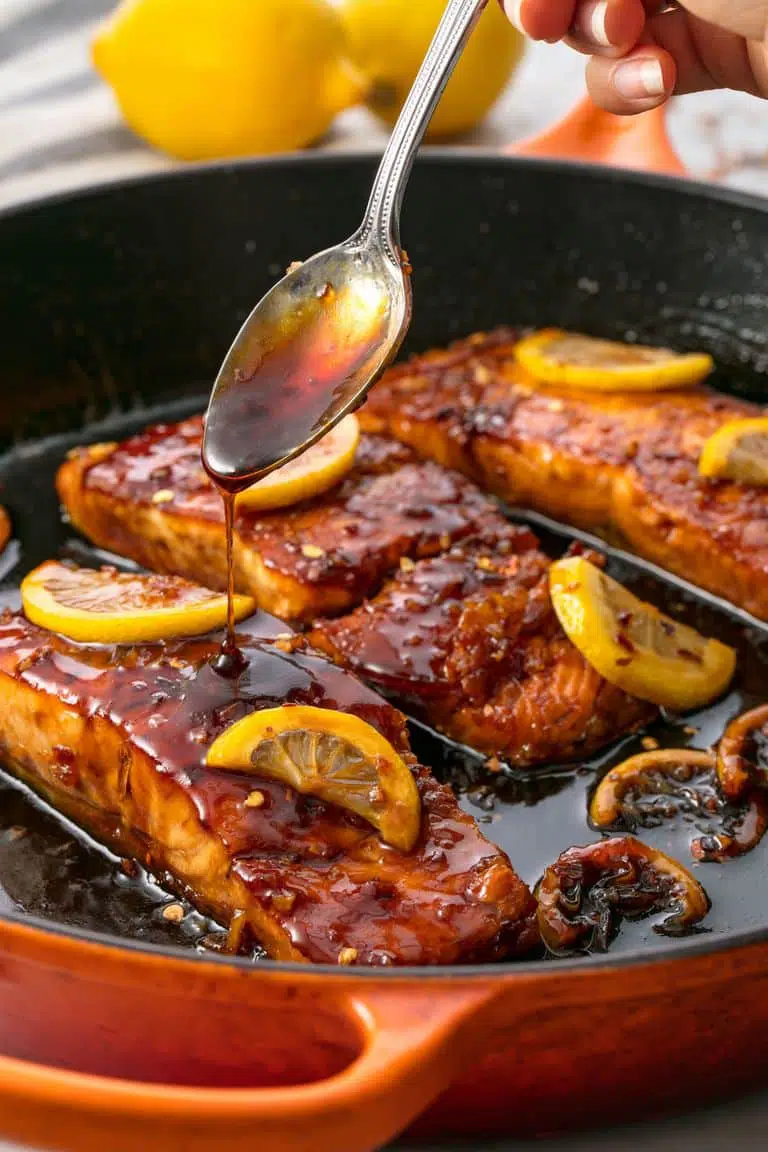 Garlic Butter Baked Salmon recipe from Diethood.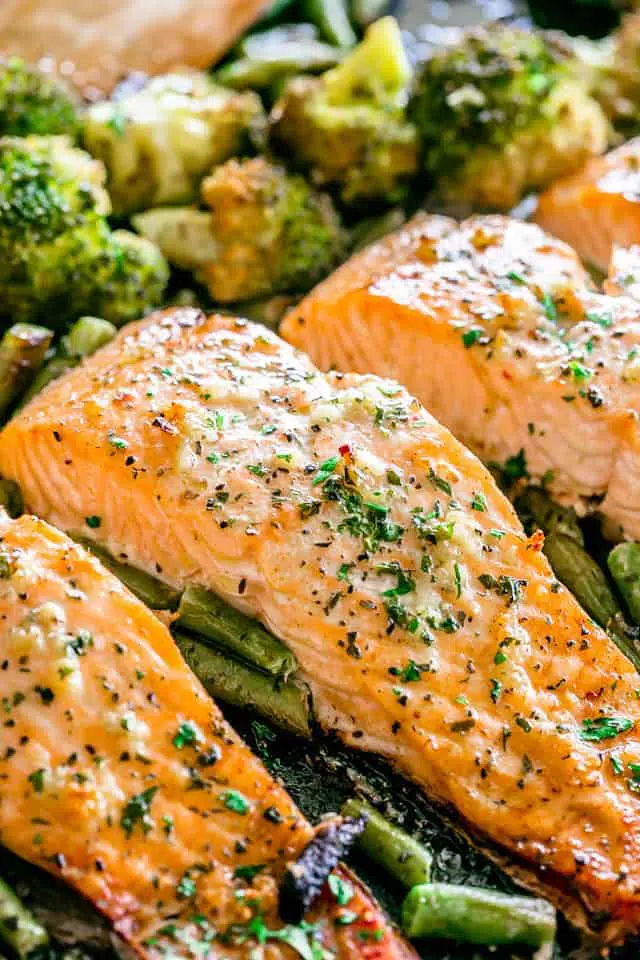 Quick and Easy Baked Salmon from Gimme Some Oven.
Pan Seared Salmon with Garlic Lemon Butter Sauce from Lexi's Clean Kitchen.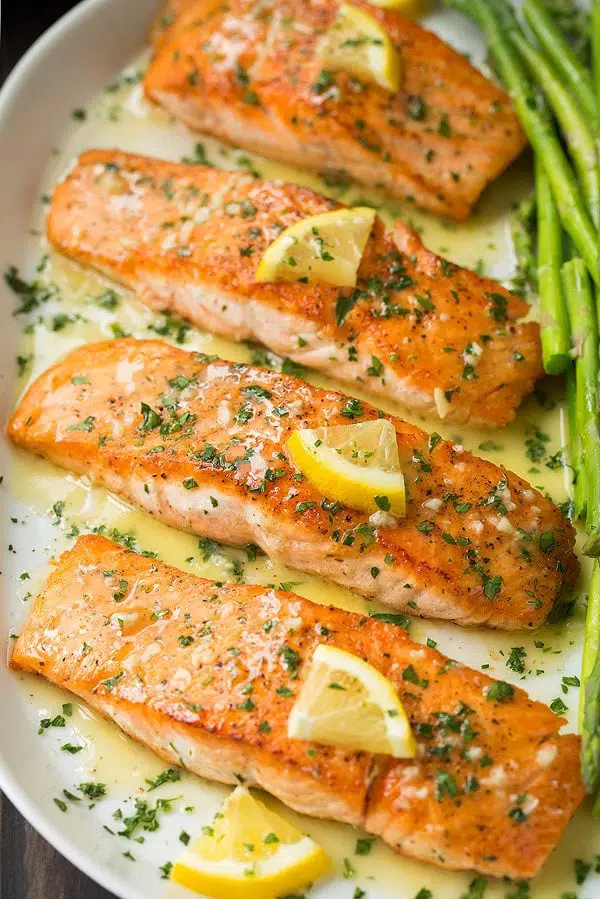 Honey Garlic Salmon from Recipe Tin Eats.
Baked Lemon Garlic Salmon Recipe from The Mediterranean Dish.
Garlic Brown Sugar Glazed Salmon from The Recipe Critic.
Simple Garlic Butter Salmon Recipe from Primavera Kitchen. – You make this recipe using baking sheet and aluminium foil or parchment paper.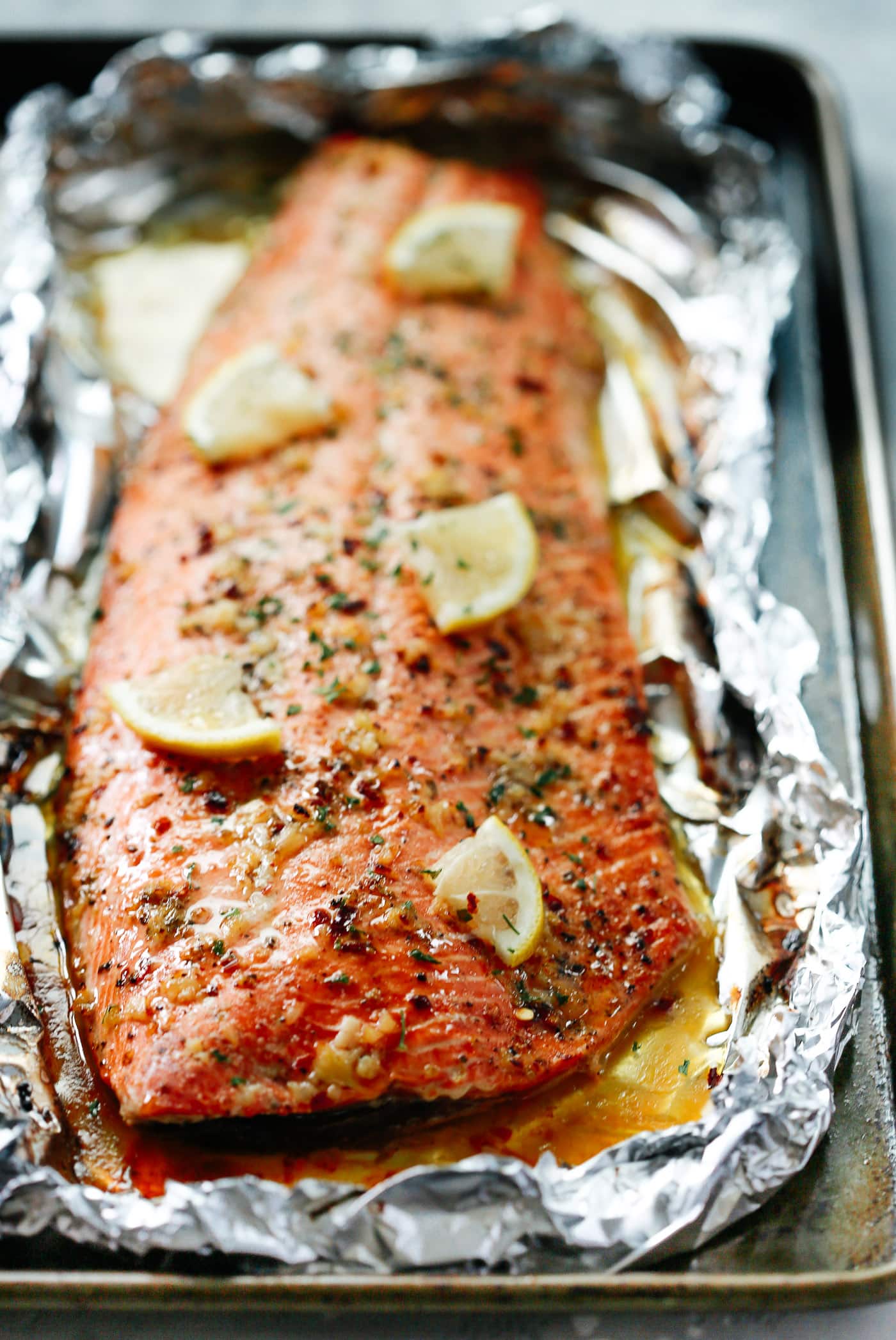 Blackened Salmon Recipe from Primavera Kitchen.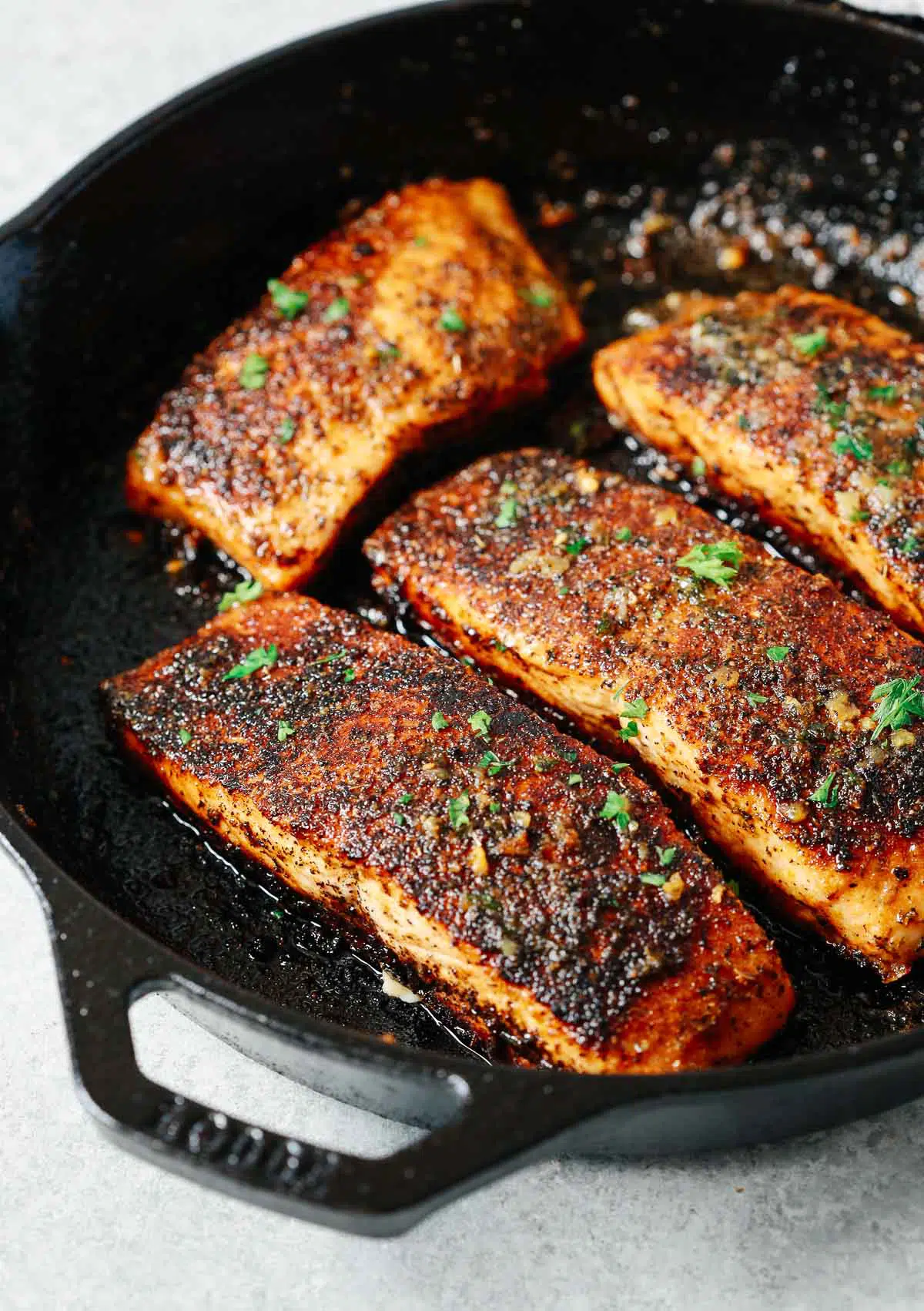 Spicy Salmon Sweet Potato Skillet from Primavera Kitchen.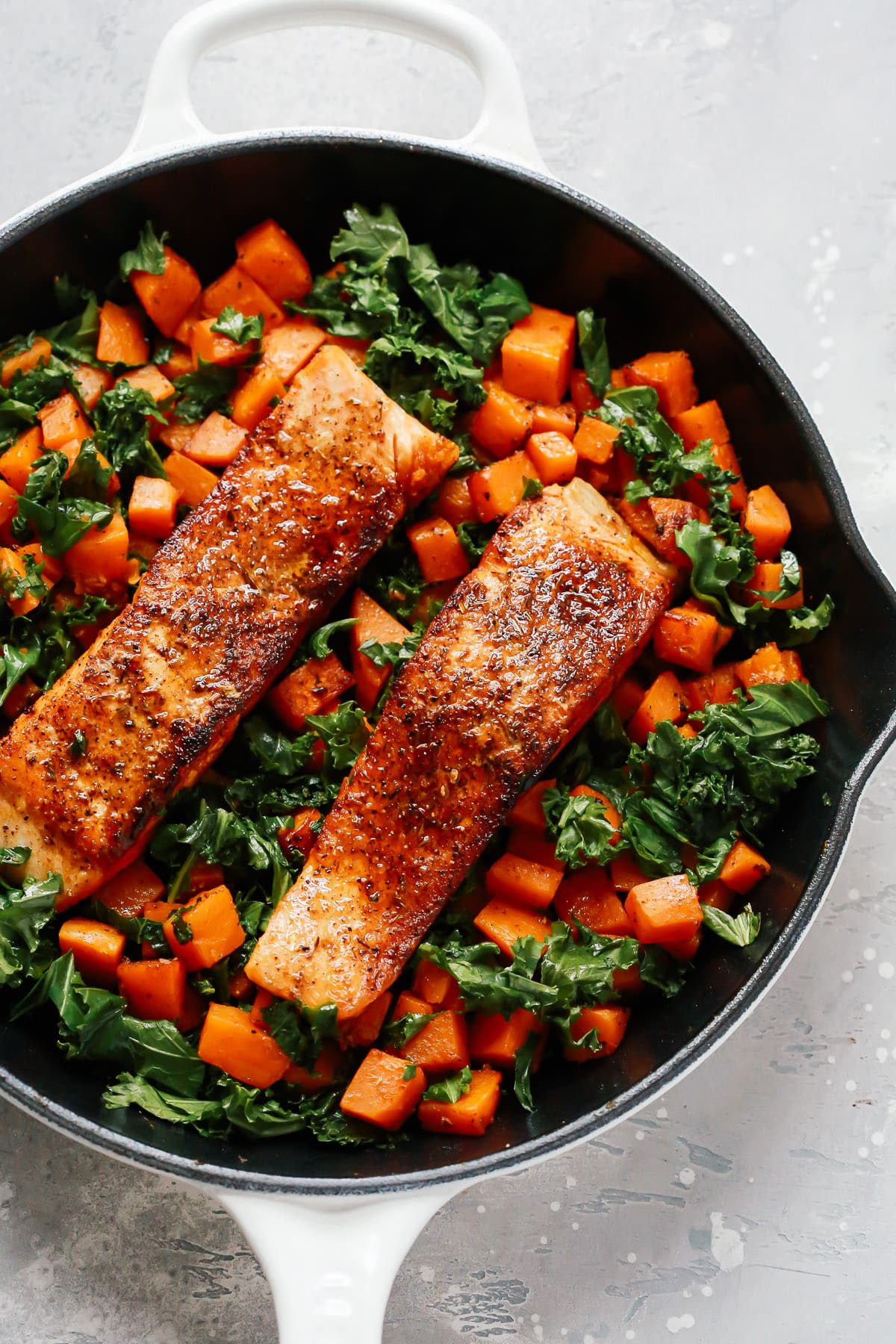 Salmon Patties with Coleslaw Meal-Prep Bowls from Primavera Kitchen.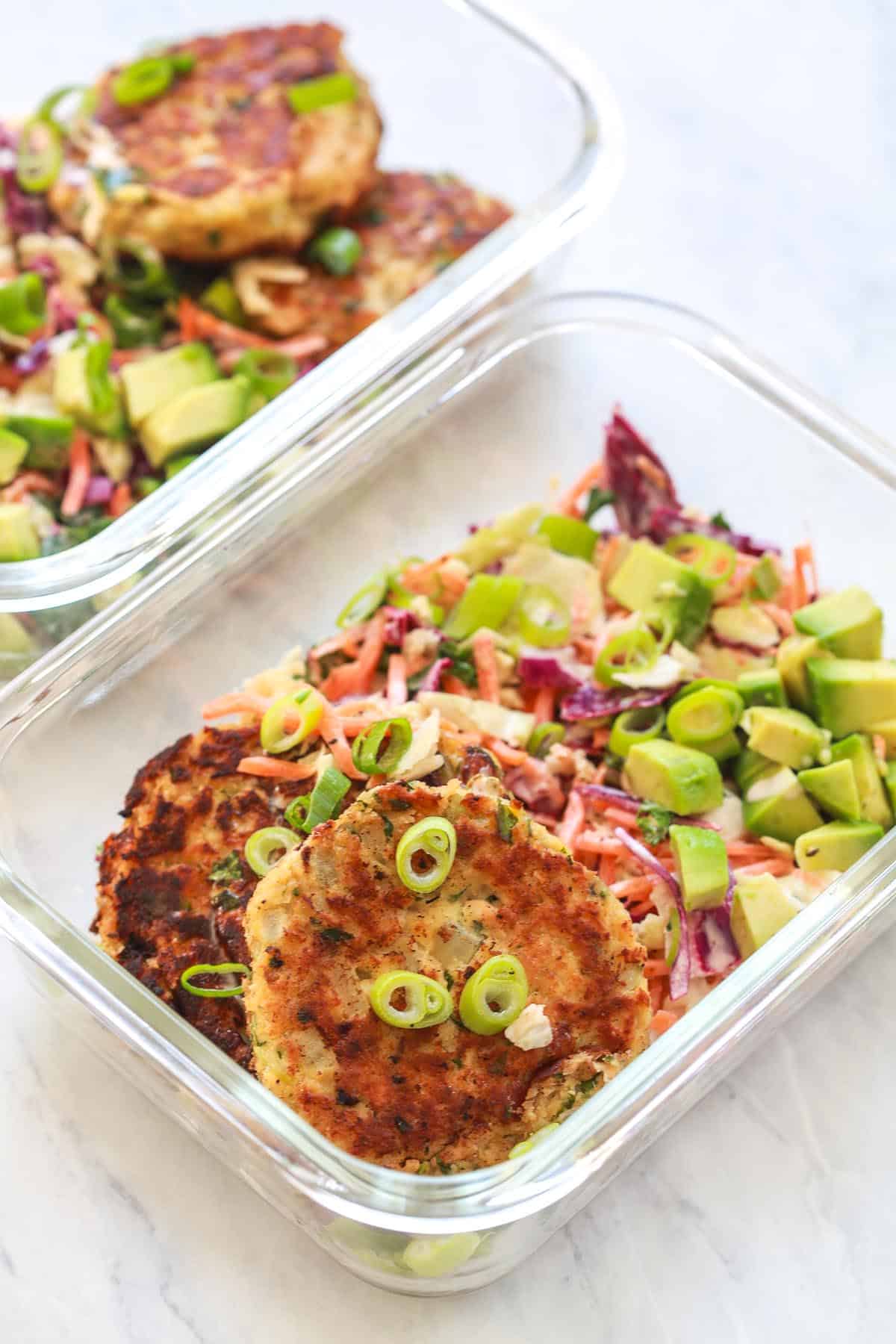 Broiled Salmon with Cabbage and Green Beans (Meal-Prep) from Primavera Kitchen.
Cajun Salmon with Strawberry Salsa from Primavera Kitchen.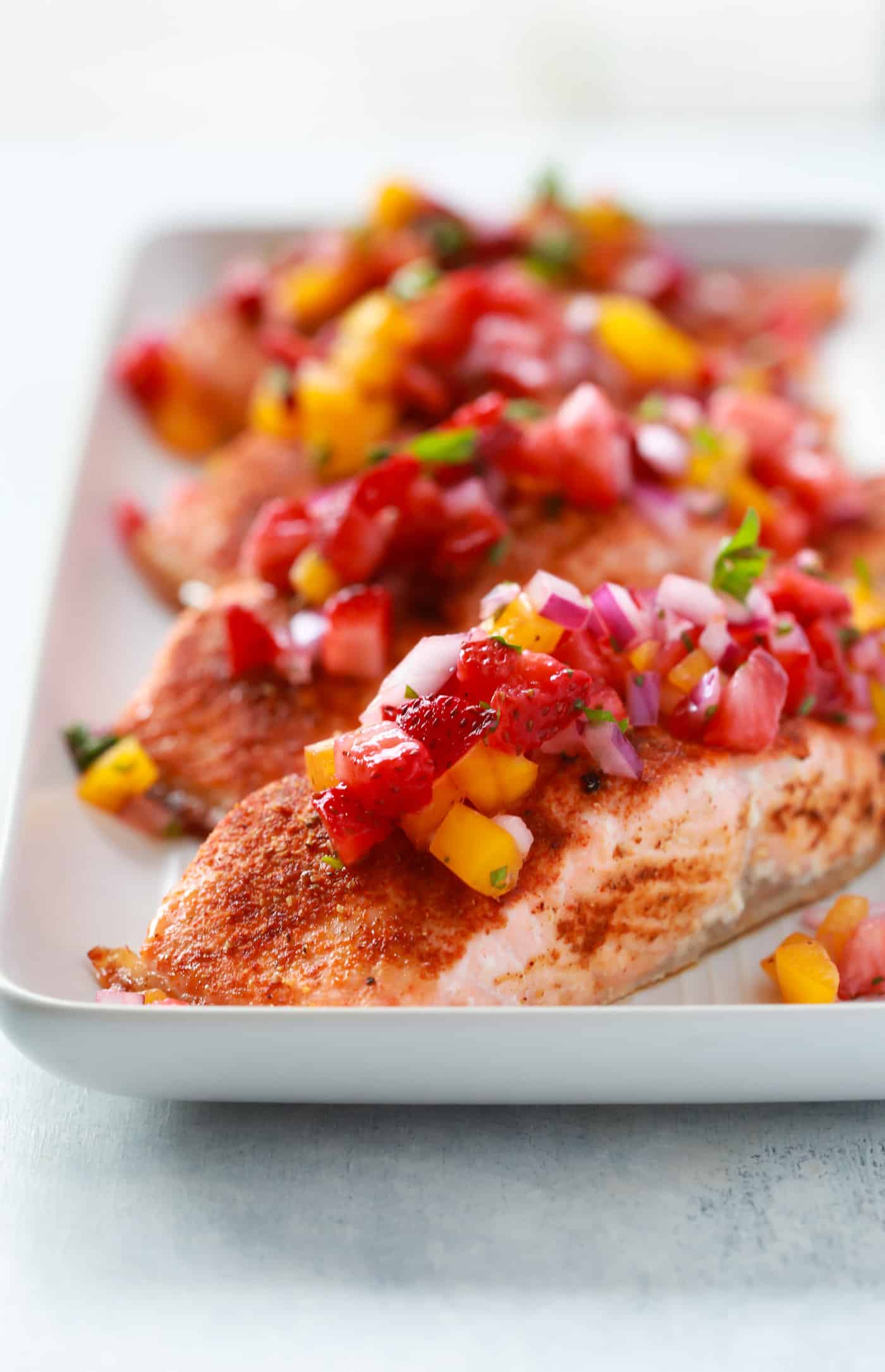 Low-Carb Salmon Burgers with Avocado Coleslaw from Primavera Kitchen.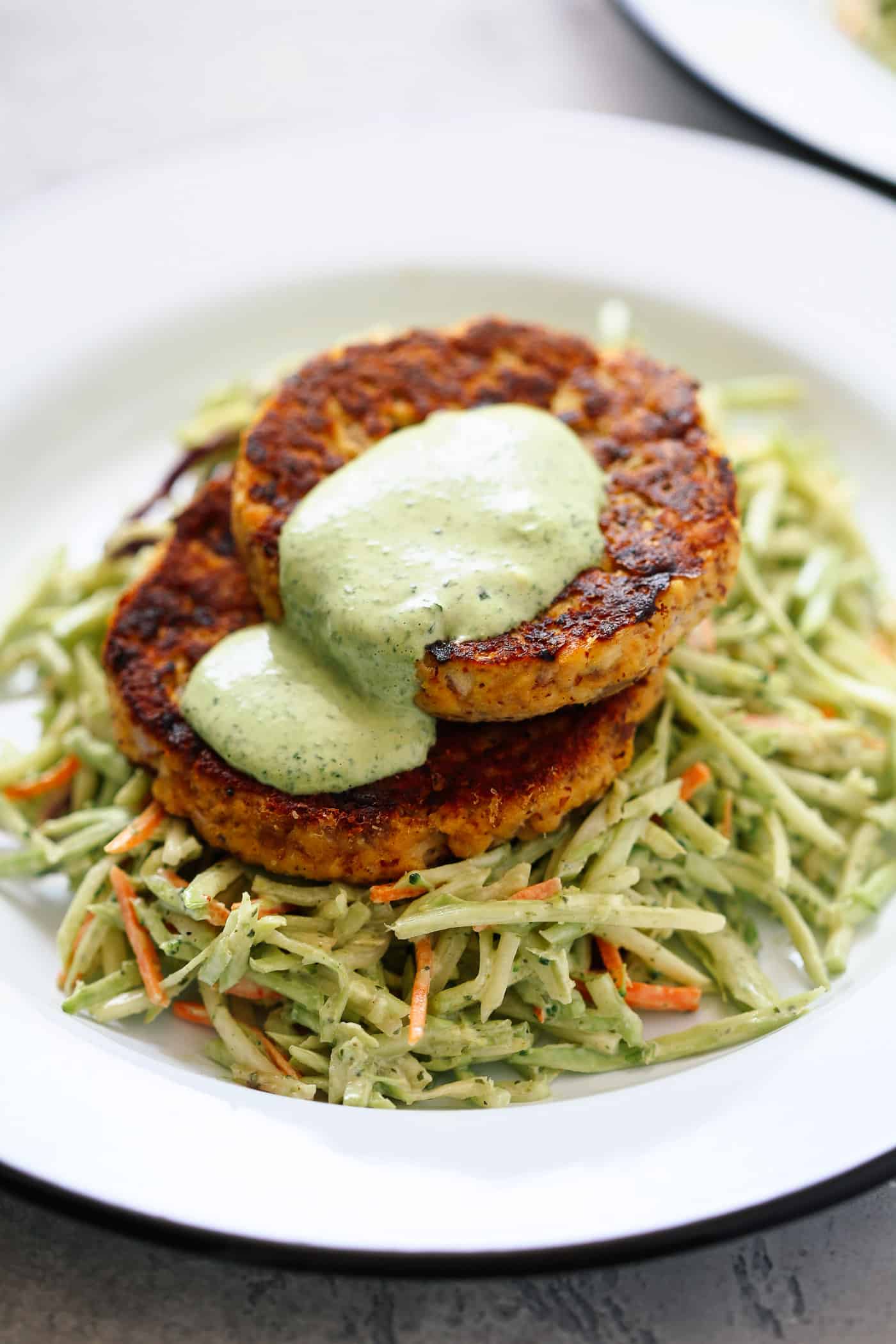 Spicy Salmon Vegetable Meal-Prep Bowls from Primavera Kitchen.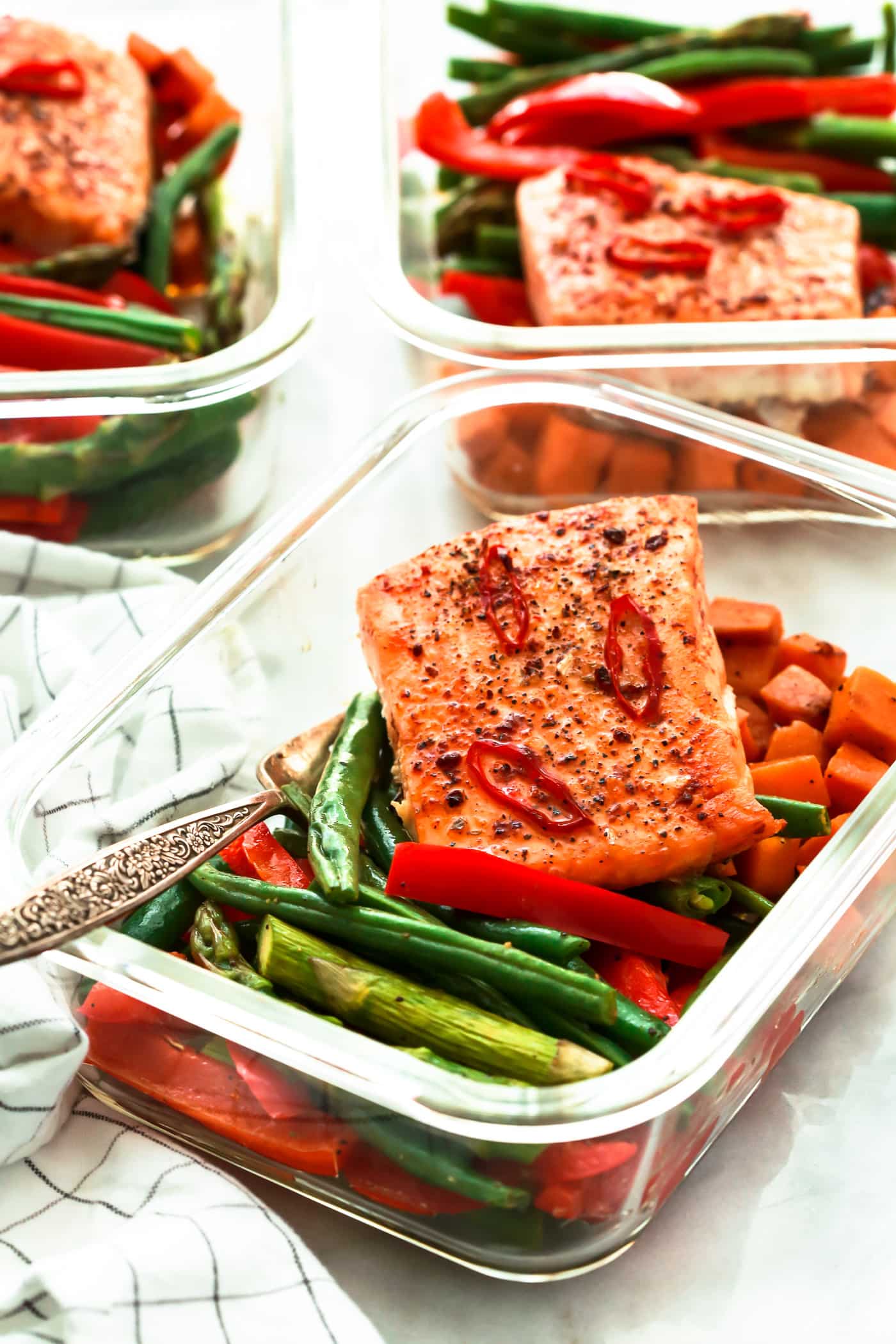 Ingredient Pomegranate Glazed Salmon from Primavera Kitchen.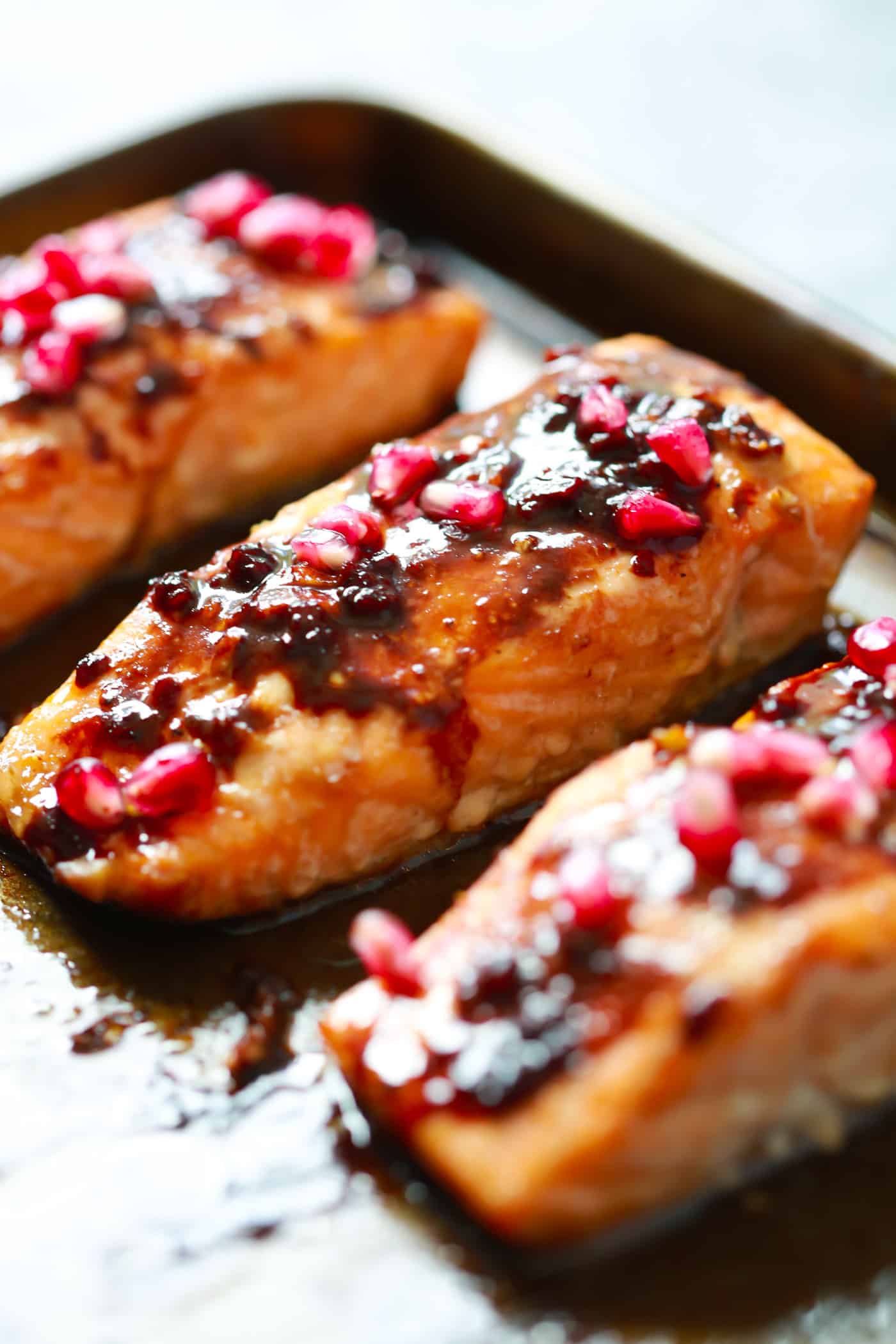 Spicy Butter Salmon in Foil Recipe from Primavera Kitchen.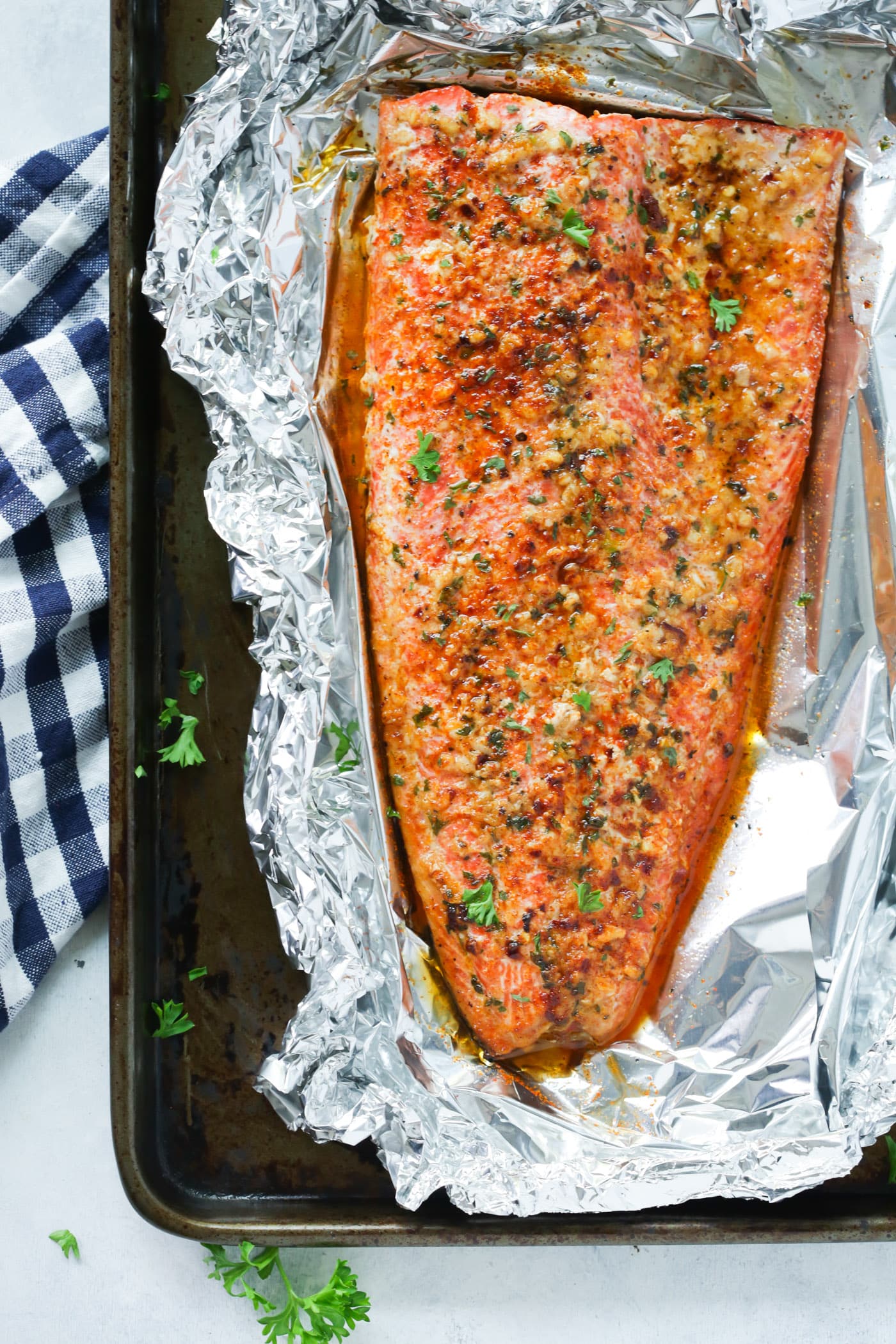 Easy Cedar Plank Salmon recipe from Primavera Kitchen.
Salmon Chopped Salad recipe from Primavera Kitchen.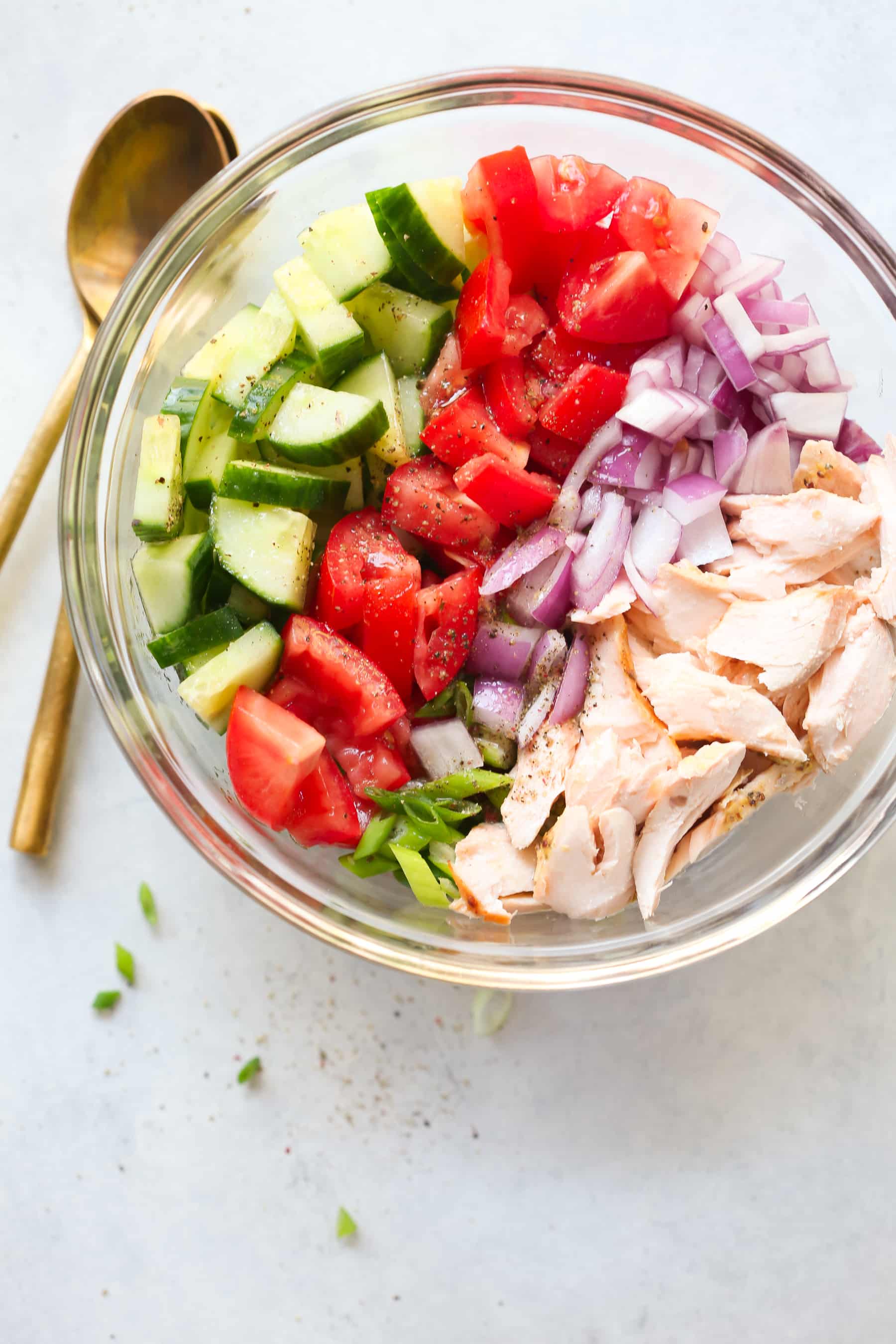 Pan Seared Salmon Recipe from Primavera Kitchen.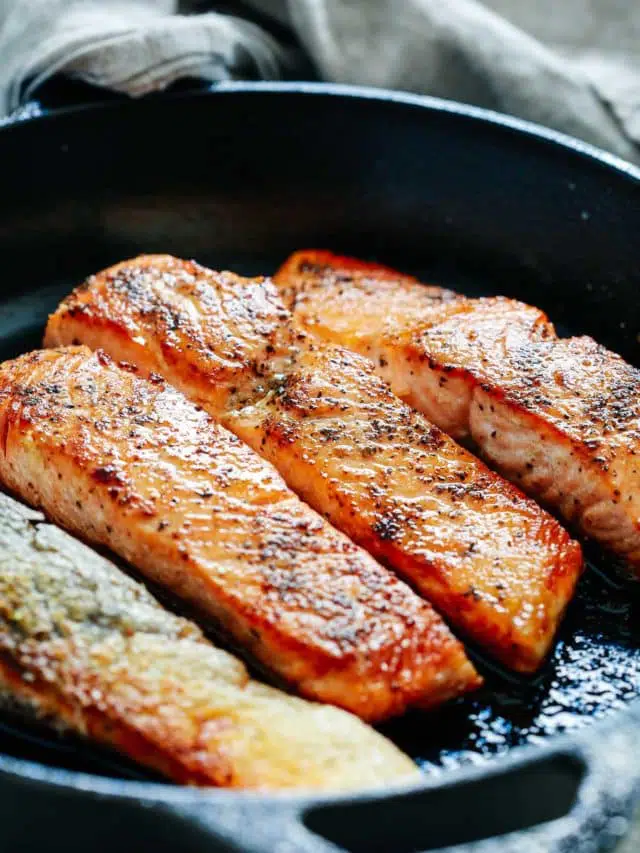 Foil Baked Salmon Recipe from Primavera Kitchen.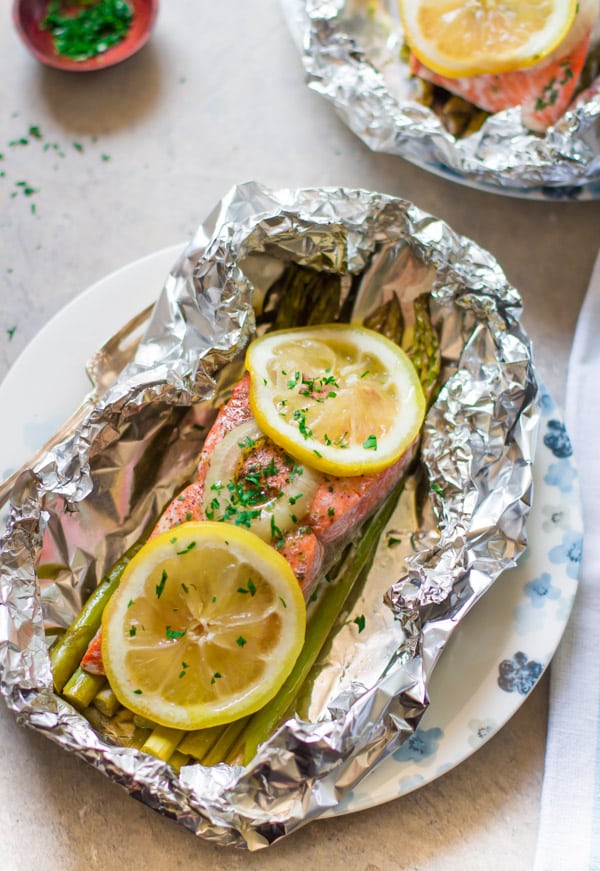 Orange-Rosemary Glazed Salmon from Cooking Classy.
Asian Salmon in Foil from Damn Delicious.
Easy Baked Salmon from Tastes Better from Scratch.
Air Fryer Salmon from Primavera Kitchen.
Maple-Mustard Salmon from Primavera Kitchen.
Tomato Pesto Salmon and Rice Recipe Baked in Foil from Diethood.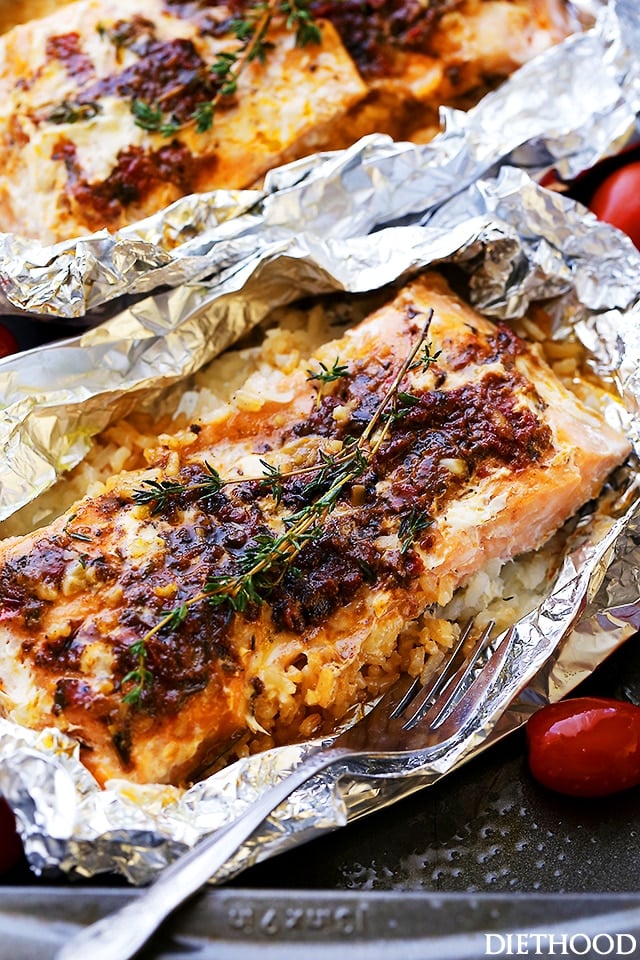 Herb Crusted Baked Salmon from Spend with Pennies.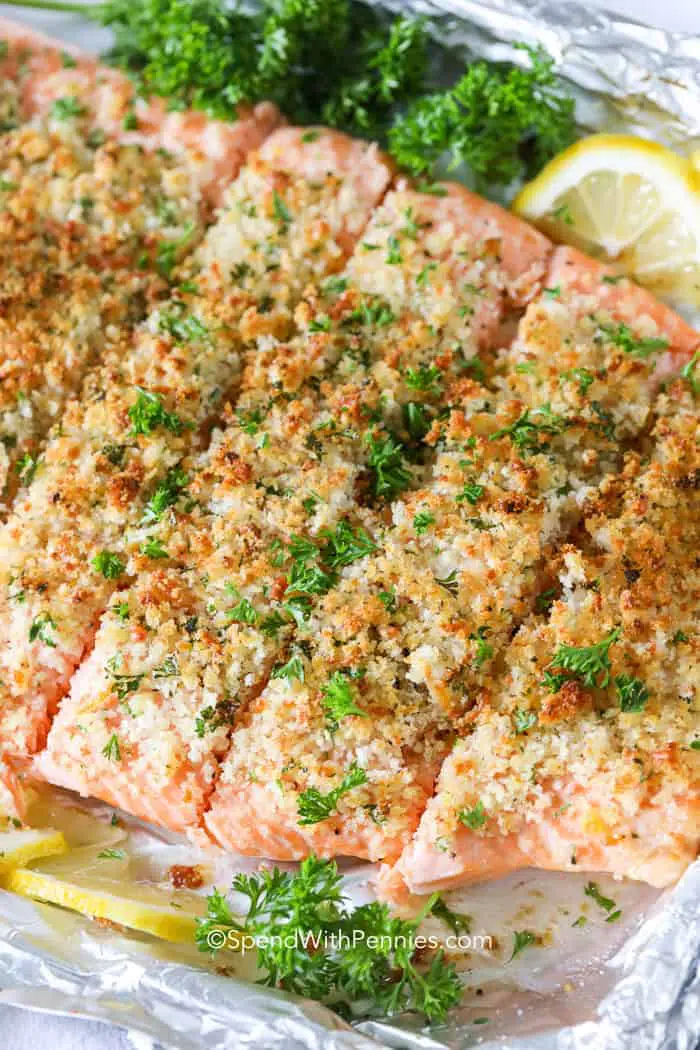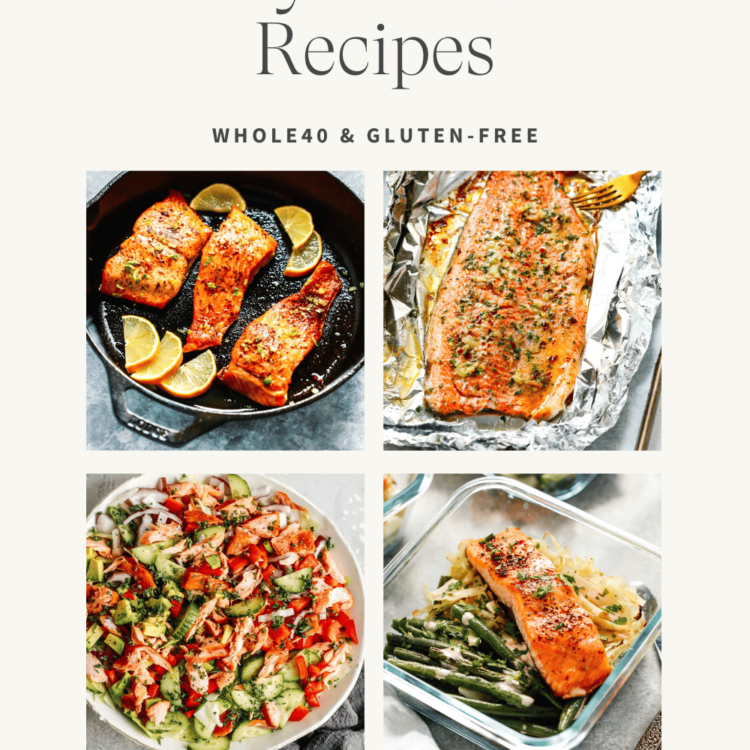 Easy Salmon Recipes
Cook up delicious and satisfying salmon recipes with this guide! You'll learn how to make awesome salmon recipes just like this easy Pan Seared Salmon Recipe!
Ingredients
4

salmon filets skin

about 6 ounces each

2

tbsp

butter

use ghee for Paleo and Whole30
Instructions
Heat your cast iron skillet over medium heat. Pat salmon dry with paper towel and season both sides with salt and pepper.

When your skillet is near smoking, add in the butter, let it melt for 30 seconds.

Add in the salmon (skin side down). Let the salmon cook without moving. It's about 5 minutes depending on how thick your salmon fillet is.

Flip, and cook for 2 more minutes. You know when it's time to flip when the sides of the salmon look about 2/3 opaque and cooked through.

Remove from the pan and set it aside (skin side up). Enjoy!
Tips
Make sure the pat dry the salmon before cooking so you get a nice sear.
I recommend wild salmon as it has fewer calories and higher mineral content than farmed salmon.
The skin gets so crispy and is so tasty, so keep the skin on!
To store: Store leftover salmon in the fridge in an airtight container for up to 4 days.
To reheat: You can reheat salmon on the stovetop or microwave. 
To freeze: Freeze the salmon in a freezer-safe bag once they have reached room temperature. Freeze for up to 4 months.
Nutrition Information
Serving:
1
/4
Calories:
253
kcal
(13%)
Protein:
26
g
(52%)
Fat:
16
g
(25%)
Saturated Fat:
7
g
(44%)
Monounsaturated Fat:
2
g
Cholesterol:
79
mg
(26%)
Sodium:
199
mg
(9%)
Potassium:
2
mg
Nutrition information is calculated using an ingredient database and should be considered an estimate.
If you like one of these recipes, please share with your friends and family. Do you want to taste more? Subscribe to my newsletter and follow Primavera Kitchen on Twitter, Pinterest, Instagram, and Facebook for all delicious recipes updates. As always, I really appreciate you stopping by.