This fresh Chimichurri Chicken Chopped Salad is loaded with lettuces, cherry tomatoes, cucumber, bell pepper, red onions and grilled chicken. It's a complete meal to enjoy this summer!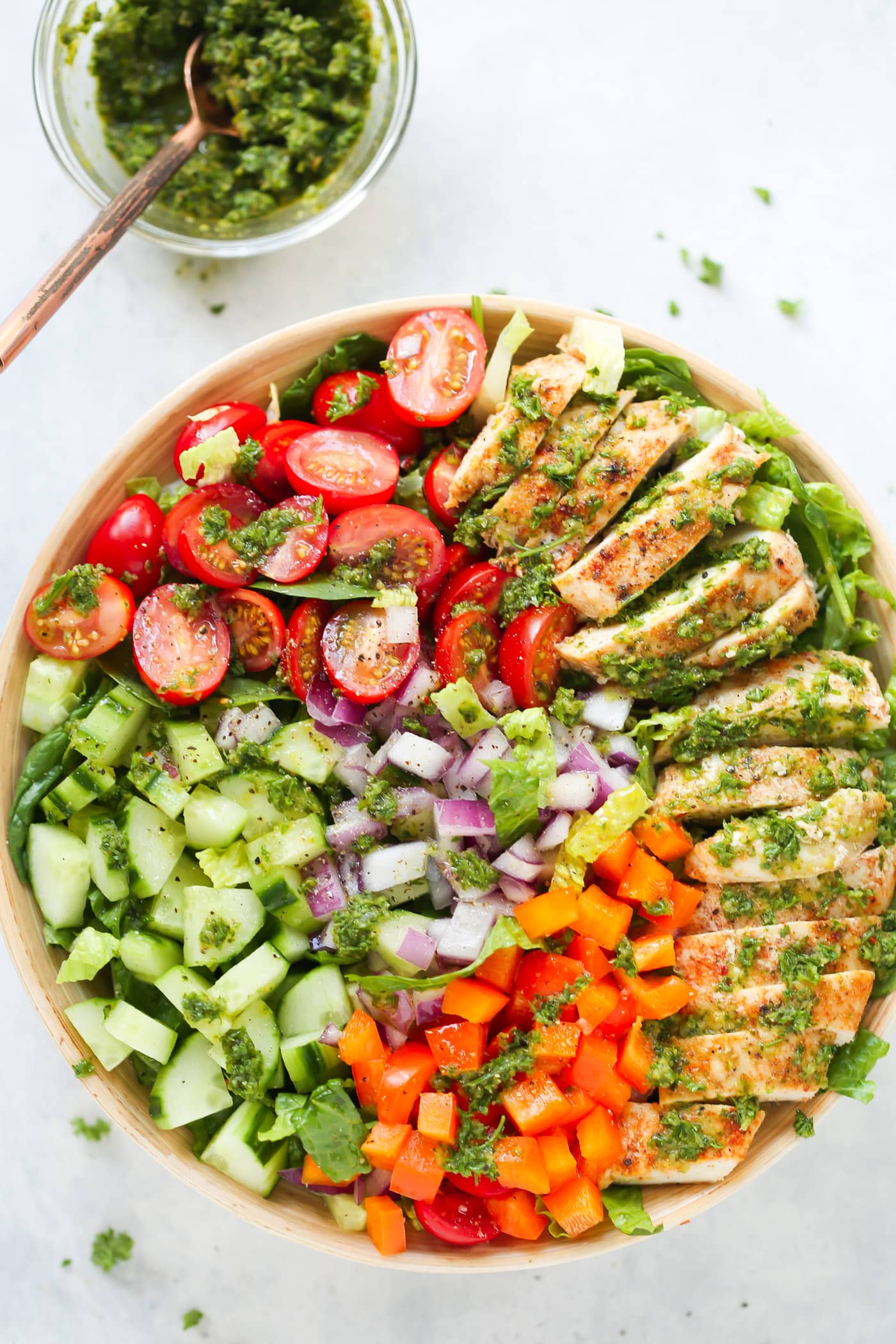 We just arrived from our vacation in UK two days ago and I have to say that it feels good to be home although I already miss all the vibrant cities we visited. We had an amazing time there and we enjoyed every single moment. We didn't want to waste any time there because we wanted to see/visit/learn everything we possibly could. And we were very lucky because our 1.5-year-old boy Thomas is such a good traveller. He didn't complain about anything. When the few moments that he wasn't very happy we played with him, gave some snacks and all of a sudden he was fine.
London is a great city. It's rich in history with lot's of incredible buildings, museums, palaces and shops to visit. Edinburgh happens to be one of the most beautiful cities in the world (I'm not exaggerated at all). For me it has a fairy tale vibe or it maybe makes you feel like you are back in the Medieval Times. Incredible! And Dublin is full of traditional pubs, parks and Victorian building. I have so much to say that I'm thinking to write a post only about our trip to Europe. Let me know if you would like that.
One downside of traveling to Europe is the jet leg (of course if you are traveling east-west or west-east)! Canada and London has 5 hours time zone difference. So, it's not fun at all. I came back two days ago and I'm still feeling exhausted. I slept at 8pm last night and woke up today at 3:40am. Wait? What? Yes, you head me well… I tried to get back to sleep but I really couldn't. So here I'm writing this post for you.
I was reading about how to minimize the effect of jet leg and everything that I was reading says to eat a well-balanced diet and drink lots of water.
Subscribe for new recipes & a free e-cookbook
So, that's exactly what I'm doing. And that's why I brought to you today this delicious and very healthy Chimichurri Chicken Chopped Salad that is actually a complete meal. I love chimichurri – I have a ton of recipes using my Chimichurri Sauce Recipe here on the blog using it like my Grilled Chicken Chimichurri Recipe, Chimichurri Shrimp Broccoli Skillet, Chimichurri Chicken Salad, and Chimichurri Chicken Green Beans Skillet.
I grilled the breast chicken with only salt and pepper for about 3 minutes each side. Then, I made the Chimichurri sauce, which it's very easy to prepare. I added all the ingredients for this sauce in a food processor and pressed pulse. In less than 5 minutes the sauce was ready to pour over the chopped salad.
This Chimichurri Chicken Chopped Salad is definitely a winner if you want to eat a light, but a very satisfying meal. It's easy and quick to make, it's low-carb, gluten-free, Whole30 and paleo friendly. So, what are you waiting for? Please give it a try and enjoy!
Watch the Chimichurri Chopped Salad Web Story. For more chicken salad recipe, try this Grilled Chicken Avocado Salad Recipe. It's so easy to make and so good.
Chimichurri Chicken Chopped Salad
This fresh Chimichurri Chicken Chopped Salad is loaded with lettuces, cherry tomatoes, cucumber, bell pepper, red onions and grilled chicken. It's a complete meal to enjoy this summer!
Ingredients
Instructions
For the Chicken
Season chicken with salt and pepper.

Place chicken on a greased grill or grill pan and cook for about 3-4 minutes on each side, or until the chicken is cooked though.

Leave the breast chicken to cool down, slice it and set aside.
For the Chimichurri
Add all the Chimichurri ingredients in a

food processor

or high-speed blender and process on low. For about 3 minutes. Set aside.
For the Salad
In a

large salad bowl

, add first the lettuce, and then top it with cucumber, cherry tomatoes, red onions, bell pepper and the sliced breast chicken.

Pour the Chimichurri sauce on top of the salad and taste to check for seasoning.
Tips
You can make this sauce with ½ cup of cilantro + ½ cup of parsley too.*
You can use chicken leftovers in this recipe if you already have cooked chicken in the fridge.
Feel free to change up the vegetables in the salad.
To store: If this salad will be your lunch at work, bring the dressing in a separate container to avoid the salad getting soggy. Everything will keep well when separate from the dressing for up to 4 days.
To freeze: I don't recommend freezing the salad, but you can freeze the chicken for up to 3 months.
Nutrition Information
Serving:
1
/4
Calories:
230
kcal
(12%)
Carbohydrates:
9.3
g
(3%)
Protein:
21.2
g
(42%)
Fat:
12
g
(18%)
Saturated Fat:
2
g
(13%)
Cholesterol:
50
mg
(17%)
Sodium:
230
mg
(10%)
Fiber:
1.3
g
(5%)
Sugar:
3
g
(3%)
Nutrition information is calculated using an ingredient database and should be considered an estimate.
And if you like this Chimichurri Chicken Chopped Salad recipe, please share with your friends and family. Do you wanna taste more? Subscribe to my newsletter and follow Primavera Kitchen on Twitter, Pinterest, Google +, Instagram and Facebook for all delicious recipes updates. As always, you are really appreciated for stopping by.