Flavor-packed white bean and kale soup is the epitome of healthy comfort food. It's full of greens, nutritious legumes, and vegetables like onion, celery and butternut squash. Plus, this recipe is hearty and filling with a protein boost that comes from lean ground beef. Best of all, it's ready in just 35 minutes making it perfect for a busy weeknight.
And, have you noticed that soup always gets better as the ingredients marinate together in the refrigerator? That's another thing I love about this kale recipe, it's even better the next day and leftovers make the perfect, easy lunch.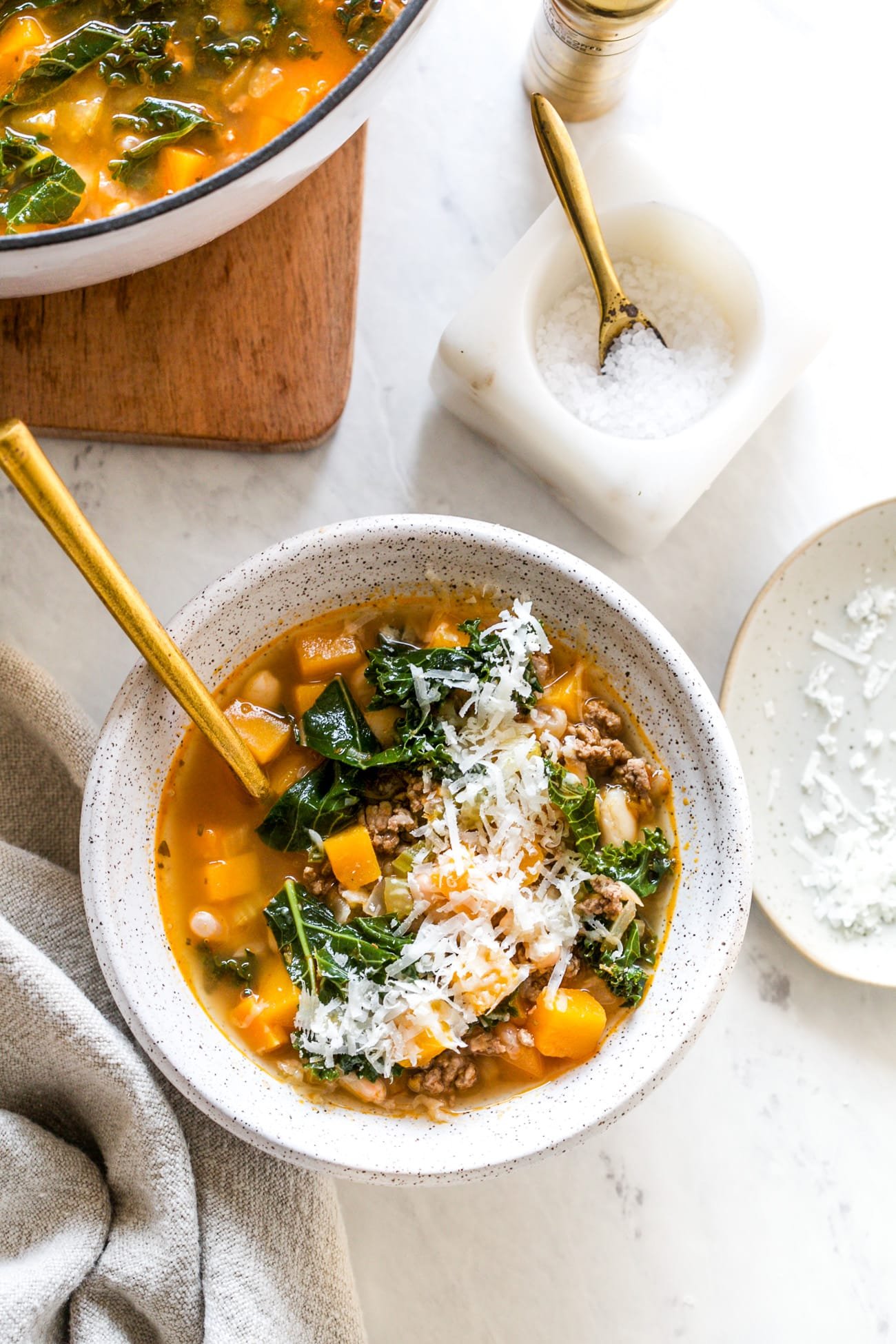 Cozy soups are the best way to survive cold weather because they really heat up the kitchen. Though I'll absolutely eat them any time of year, I appreciate a hot meal most when I need help warming up.
If you need more comforting soup recipes be sure to check out my Chicken Vegetable Soup, Chicken Noodle Soup, Carrot Leek Soup, Dutch Oven Beef Stew and Zucchini Noodle Soup or this incredible Healthy Meatball Soup!
Ingredients To Make White Bean And Kale Soup
Olive oil — Extra virgin. Sub coconut or avocado oil if desired.
Ground beef — Lean and grass-fed. I generally use 93/7% beef. If you use fattier meat, I recommend draining the excess fat after browning, before adding other ingredients.
Onion (white or yellow onion) — Either yellow or white.
Celery — 3-4 stalks, diced.
Garlic — This recipe calls for minced, fresh garlic cloves, but you can substitute about ¼ teaspoon of garlic powder in a pinch, if necessary.
Butternut squash — Buy a whole squash from the grocery store or look for a pre-cut option in the produce section to save a little time. Sweet potato would be a nice alternative!
Chicken broth — Vegetable broth or stock will also work well.
Seasonings — I like using dried oregano, salt and black pepper. Feel free to play around with other herbs and spices if desired, this recipe is quite flexible. You can ass red pepper flakes for some extra heat.
Beans — I like using cannellini beans, though white navy beans would be a nice substitute.
Kale — Be sure to remove stems before adding to soup.
Parmesan cheese — Freshly grated parmesan cheese will have the best taste, though pre-shredded or grated will still be yummy.
Instructions
Instructions to Make this Kale Soup
Prep work:
Chop onion, dice celery, mince garlic and set to the side.
Peel, halve and remove seeds from your squash. Dice it into small, half inch cubes.
Remove stems from kale and chop it into bite sized pieces.
Sauté:
Measure olive oil into a large soup pot or Dutch oven and place on the stovetop over high heat. Once oil is hot, reduce heat to medium and add the ground beef. Crumble meat with a wooden spoon and allow it to brown completely.
Once all of the pink color is gone, add the onion, celery and garlic. Mix it in and sauté with beef for approximately 5 minutes.
Boil the soup:
Subscribe for new recipes & a free e-cookbook
Mix in your butternut squash cubes, then add chicken stock and spices.
Cover the pot and turn heat to high. Once boiling, reduce heat to medium and simmer 15 minutes or until the veggies are tender.
Serve:
Mix white beans and chopped kale into the soup. Once the kale has wilted, do a taste test and add more salt/pepper, if desired.
Ladle soup into serving bowls, top with freshly grated parmesan cheese and enjoy.
Recipe Tips
The most time-consuming part of making this kale soup is prepping all of the veggies. You can totally chop them up ahead of time and store in the refrigerator for later! This will save you extra time on a busy weeknight.
This kale soup recipe is super flexible and versatile. If you'd like to try a different protein, ground turkey or chicken would both work nicely!
Be sure to remove the stems from your kale, it takes a few extra minutes but it's worth the time. They're tough, chewy and not the tastiest. It's best to avoid putting them in your soup.
Feel free to use a different leafy green in this kale soup. Spinach, Swiss chard, mustard greens and collard greens are all good substitutes for Kale.
You can make this kale soup without the ground beef and turn it into a vegan soup.
You can also add some herbs such as rosemary, bay leaf and thyme.
Before serving you can squeeze a little bit of lemon juice on top of the soup.
How To Store Leftovers
To Store: Allow this kale soup to cool and place it in an airtight container. Refrigerate for 3 to 4 days.
To Freeze: Allow leftovers to cool and place them in a freezer-safe food storage container, leave some space at the top as the soup will expand when freezing. Store frozen for up to 3 months.
To reheat: You can reheat this soup straight from frozen. Use the microwave or place soup in a pot on the stovetop, over medium heat, until warmed through completely.
More Ground Beef Recipes
Ground beef is the best ingredient when you want to make a healthy, quick and convenient dinner. Be sure to check out these other tasty recipes:
Frequently Asked Questions
What bean is closest to cannellini?
If you can't find cannellini beans at the store, I'd recommend purchasing great northern beans. White navy beans will also work well as a stand-in.
Are white kidney beans the same as cannellini beans?
Yes. If you're having trouble finding cannellini beans, note that they are sometimes labeled as white kidney beans, but it's the same thing!
How can I thicken my kale soup?
If you want to thicken this white bean and kale soup, there are many options. You can use less broth or more beans and veggies. You can also blend up an extra can of beans until smooth and creamy and stir them into the broth as a thickener! Finally, you can create a slurry of cornstarch and cold water and add this to your hot broth (this is a very common way to thicken soups and sauces).
Watch the White Bean and Kale Soup Web Stories.
White Bean and Kale Soup
Flavor-packed white bean and kale soup is the epitome of healthy comfort food. It's full of protein, greens, nutritious legumes, and vegetables. Plus, this hearty and filling recipe is ready in just 35 minutes making it perfect for a busy weeknight.
Instructions
Chop onion and kale, dice celery and mince garlic. Peel and dice butternut squash into half inch cubes and set everything to the side.

In a large pot over high heat, add olive oil. When the oil is hot, turn the heat down to medium and add ground beef. Use a wood spoon and break up the ground beef while it cooks.

When the ground beef is no longer pink, add onions, celery and garlic. Cook for about 5 minutes.

Then, add butternut squash and mix all together. Add chicken broth, dried oregano, salt and pepper. Stir well, cover with a lid, and bring ingredients to a boil. Then, reduce the heat to medium and cook for about 15 mins.

Finally, add cannellini beans and kale. Stir well and cook for about 5 mins or until kale is soft.

Taste and add any extra seasonings, if necessary. Then, before serving, top each soup bowl with Parmesan cheese. Enjoy!
Tips
Pre-chop veggies ahead of time to make for quicker weeknight prep.
Feel free to swap the ground beef for another ground meat of your choice such as ground turkey or chicken.
Kale stems are quite tough so I don't recommend trying to adding them to your soup. 
Don't have kale? Feel free to swap for any leafy greens such as spinach or collard greens. 
To store: Store leftover soup in an airtight container in the fridge for up to 4 days. 
To reheat: Reheat the soup in the microwave or on the stovetop until hot.
To freeze: Freeze the soup for up to 3 months. Make sure you leave space when freezing as soup expands as it freezes. 
Nutrition Information
Serving:
1
/6
Calories:
246
kcal
(12%)
Carbohydrates:
22
g
(7%)
Protein:
22
g
(44%)
Saturated Fat:
2
g
(13%)
Cholesterol:
53
mg
(18%)
Sodium:
581
mg
(25%)
Fiber:
7
g
(29%)
Sugar:
4
g
(4%)
Nutrition information is calculated using an ingredient database and should be considered an estimate.
If you like this White Bean and Kale Soup recipe, please share with your friends and family. Do you want to taste more? Subscribe to my newsletter and follow Primavera Kitchen on Twitter, Pinterest, Google+, Instagram, and Facebook for all delicious recipes updates. As always, I really appreciate you stopping by.
SaveSave