Chicken vegetable soup is a comfort food we all crave in the winter. This warm satisfying recipe is turned into a healthier soup with lots of fresh veggies. It's an ultra-flavorful soup to stay healthy. It's also gluten-, grain-, and dairy-free as well as paleo and whole30!
We love soup during the cold weather and that's why our site is loaded with delicious soups such as: Sweet Potato Chicken Soup, Turkey Vegetable Soup, Instant Pot Vegetable Beef Soup, Healthy Meatball Vegetable Soup and Ground Beef Butternut Squash Kale Soup.
I was looking at my other soup recipes here on the blog like Turkey Sausage Vegetable Soup, Ground Turkey Soup with Veggie Roots, Kale Tomato Tortellini Soup, Pasta Soup with Sweet Potato and Peas, Ground Turkey White Bean Kale Soup, and Spinach Sweet Potato Soup, Chicken Noodle Soup and I realized all my posts always say the same thing: Soup is my favorite kind of meal during the winter season.
I also say I don't mind having soup all year long even when the weather is really hot. I don't know what it is, but there is something about soups that just make me crave them more and more every time I have one.
This new chicken vegetable soup that I'm posting today it's naturally gluten free with no noodles. I use sweet potatoes instead of white potatoes to increase the vitamins and minerals.
It's made with fresh veggies and meat so it's Whole30 approved. Chicken and vegetable soup is satisfying while still providing lots of protein and whole ingredients.
Ingredients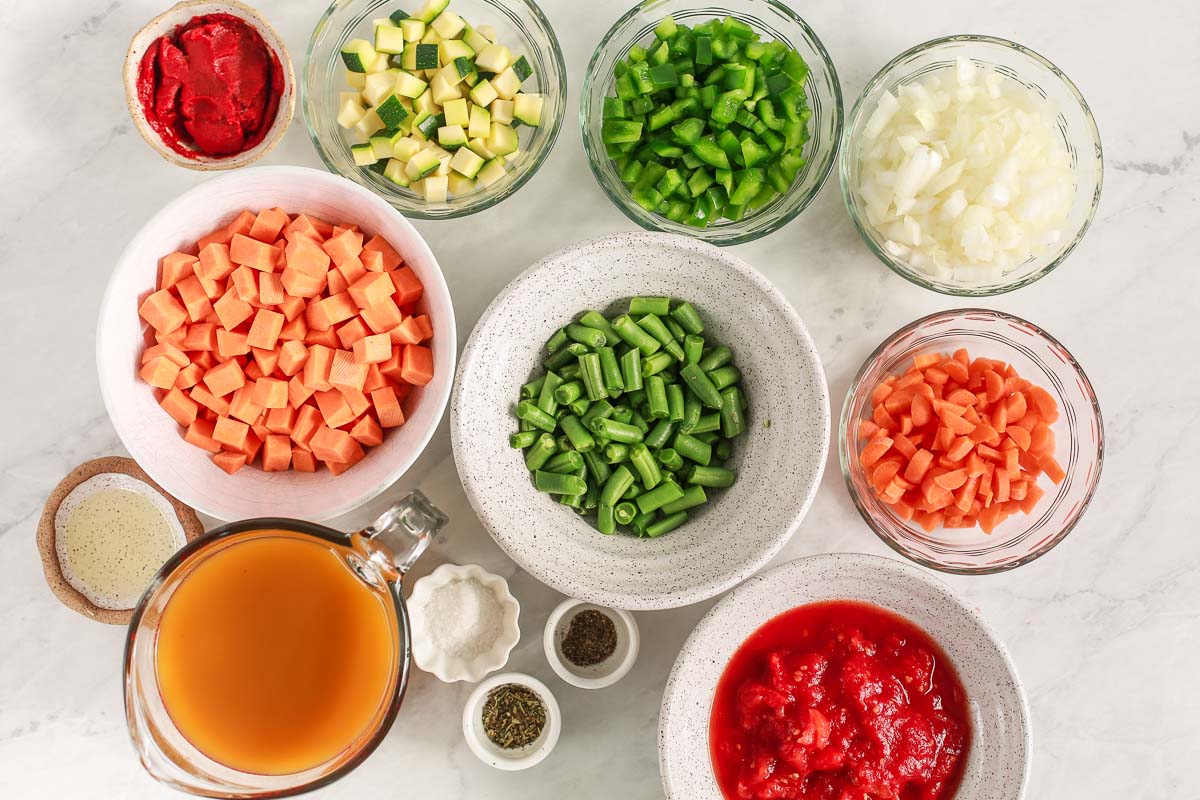 Olive oil — or any other type of healthy oil you prefer.
Vegetables — Onion, bell pepper, carrots, fresh green beans, zucchini, sweet potato and garlic. (If you've got extra zucchini, you should try my Spicy Chicken with Sauteed Cabbage and Zucchini Bowls!). Chop the veggie in bite-size pieces.
Tomato — Canned diced tomatoes and tomato paste.
Seasonings — Salt, fresh ground black pepper and dried Italian seasonings.
Vegetable or chicken broth — Look for organic and Whole30/Keto friendly vegetable broth at the grocery store if applicable to your diet!
Diced or shredded chicken — You can dice or shred up leftover cooked chicken or use a rotisserie chicken from the grocery store. It's also easy to cook raw chicken by sautéing it with your soup veggies or simmering the meat along with broth and all other ingredients.
Fresh parsley — Optional, for garnishing.
As you can see by the ingredients, this soup is like a main course since it's loaded with veggies and good quality protein. I can guarantee to you that you will feel very satisfied.
Subscribe for new recipes & a free e-cookbook
How to Make this Chicken Vegetable Soup
Chicken soup recipes are the best! This classic comfort food can be on the table in just 30 minutes, using only one pot or a large Dutch oven. I use chicken that has already been cooked. Leftover chicken or chicken that you meal prepped earlier in the week can be used in this chicken vegetable soup recipe. This soup is very easy to make although you will need a little bit of time to chop all the ingredients.
Saute onion, carrot, and pepper in olive oil until they are soft and the onions are translucent. This will take about five minutes.
Add the garlic.
Add the zucchini, sweet potatoes, tomato paste, broth and seasonings. Let it simmer for 15 minutes.
Add the chicken and green beans and cook for another five minutes. Done! Isn't that easy? You will have food on the table in less than 30 minutes. This Chicken Vegetable Soup definitely will make you feel warm and happy 😉
Can you put raw chicken in soup?
You can make this chicken vegetable soup recipe (and other kinds of soup) with raw chicken if you don't have some cooked already.
If you are working with raw chicken, add it when you add the rest of your vegetables. You can cut it in cubes first so it cooks quickly. Plus, when you saute it with the vegetables, the edges have a chance to brown and will create a rich flavor in the meat and the broth.
Test to make sure the chicken is completely cooked before serving. Chicken is done when it has reached an internal temperature of 165F.
Is it better to simmer covered or uncovered?
Simmering is cooking something- in this case vegetables- in a liquid under its boiling point. The broth should not be quickly bubbling during the 15 minutes of simmering. The heat is too high if it is.
Covering or not will depend on what your goal is. Covering the soup pot traps more heat inside so the burner does not need to be set as high.
Also, there will be little evaporation if the pot is covered. In some cases, you will want to reduce the liquid. In this chicken vegetable soup, you still want an adequate amount of broth so we partially cover the pot with a lid.
How to season chicken vegetable soup
I typically keep things simple when seasoning this vegetable chicken soup. I normally use salt, pepper and a dried Italian seasonings blend. Sometimes I like adding a bay leaf or sprig of fresh thyme to the pot while my soup simmers. Garlic powder, onion powder, paprika and dried/crushed rosemary are other tasty seasoning options. If you like spicy food, try a pinch of cayenne pepper to add a little kick!
recipe variations and substitutions
This chicken vegetable soup recipe is very flexible and forgiving. Feel free to have some fun and get creative with this one!
Protein: Instead of chicken, use skinless chicken thighs and also turkey from Thanksgiving. Simply dice or shred your leftover turkey and toss it in. You can also use ground turkey or chicken. If you go this route, I recommend browning your ground meat first thing, then adding diced veggies and sautéing them along with the cooked meat.
Veggies: You can add almost any vegetable you want to this recipe, it's great for using up extra produce. You can add diced cabbage, green peas, corn, spinach, brussels sprouts, cauliflower, broccoli, celery, fresh herbs and more. A cozy soup is the best way to use up extra veggies and keep them from going to waste.
Cooking method: This soup comes together really quickly on the stovetop! However, you can also make it in the crock pot. Set it, forget it and let it simmer all day long. You can add raw, boneless skinless chicken breasts or chicken thighs right to your broth. Slow cooker chicken is the most tender chicken in my experience! It's completely delicious and shreds apart with very little effort.
Noodles: You can also make this soup with noodles and turn this recipe into chicken noodle soup.
Can you freeze chicken soup?
You can freeze this vegetable chicken soup. However, I'd consider making it without zucchini or sweet potatoes. These ingredients can become mushy if stored frozen, but you can add them when reheating. Simply place thawed soup in a large pot on the stovetop and bring ingredients to a boil. Add diced zucchini and potatoes, then simmer over low heat until the veggies become tender!
How long can you store this chicken vegetable soup?
Leftover, homemade chicken vegetable soup is perfect for lunch the next day. Simply allow leftovers to cool completely and place them in an airtight container. Store in the refrigerator for up to 3-4 days.
You can also freeze chicken vegetable soup. Store it in an airtight bag and store it in the freezer for three months. Let it thaw in the refrigerator before reheating.
Want more soup recipes? Try these 30 Healthy Soup Recipes!
Watch the Chicken Vegetable Soup Web Stories.
Chicken Vegetable Soup Recipe
Chicken vegetable soup is a comfort food we all crave in the winter. This warm satisfying recipe is turned into a healthier soup with lots of fresh veggies.
Instructions
In a large pot, heat olive oil over high heat.

When the oil is hot, turn the heat down to medium.

Add onion, carrot, and bell pepper.

Sauté for 5 minutes or until the onions are soft and translucent. Don't forget to stir occasionally.

Add garlic and cook for 30 seconds.

Add the rest of the ingredients (except the chicken, green beans and fresh parsley)

Bring to a boil and simmer partially covered for 15 minutes.

Taste and add any extra seasonings, if necessary.

Add chicken, green beans and cook for 5 minutes. Garnish with fresh chopped parsley before serving. Enjoy!
Tips
Use low sodium vegetable broth when possible, so you can control the amount of salt added to the soup. 
Make sure you dice everything as uniformly as possible so they cook evenly.
In this chicken vegetable soup, you still want there to be a decent amount of broth so we partially cover the pot with a lid.
To store: Store leftover soup in an airtight container in the fridge for up to 3-4 days. 
To reheat: Reheat the soup in the microwave or on the stovetop until hot.
To freeze: Freeze the soup for up to 3 months. Make sure you leave space when freezing as liquid expands as it freezes. 
Nutrition Information
Serving:
1
/6
Calories:
200
kcal
(10%)
Carbohydrates:
25
g
(8%)
Protein:
9
g
(18%)
Fat:
6
g
(9%)
Saturated Fat:
1
g
(6%)
Polyunsaturated Fat:
1
g
Monounsaturated Fat:
3
g
Cholesterol:
21
mg
(7%)
Sodium:
1365
mg
(59%)
Potassium:
947
mg
(27%)
Fiber:
6
g
(25%)
Sugar:
12
g
(13%)
Nutrition information is calculated using an ingredient database and should be considered an estimate.
If you like this Chicken Vegetable Soup recipe, please share with your friends and family. Do you want to taste more? Subscribe to my newsletter and follow Primavera Kitchen on Twitter, Pinterest, Google+, Instagram, and Facebook for all delicious recipes updates. As always, I really appreciate you stopping by.