These Canned Tuna Recipes feature delicious dinner meals, quick and easy lunch recipes and even some snacks. Make the most of this versatile, healthy and yummy pantry staple with my canned tuna recipe roundup.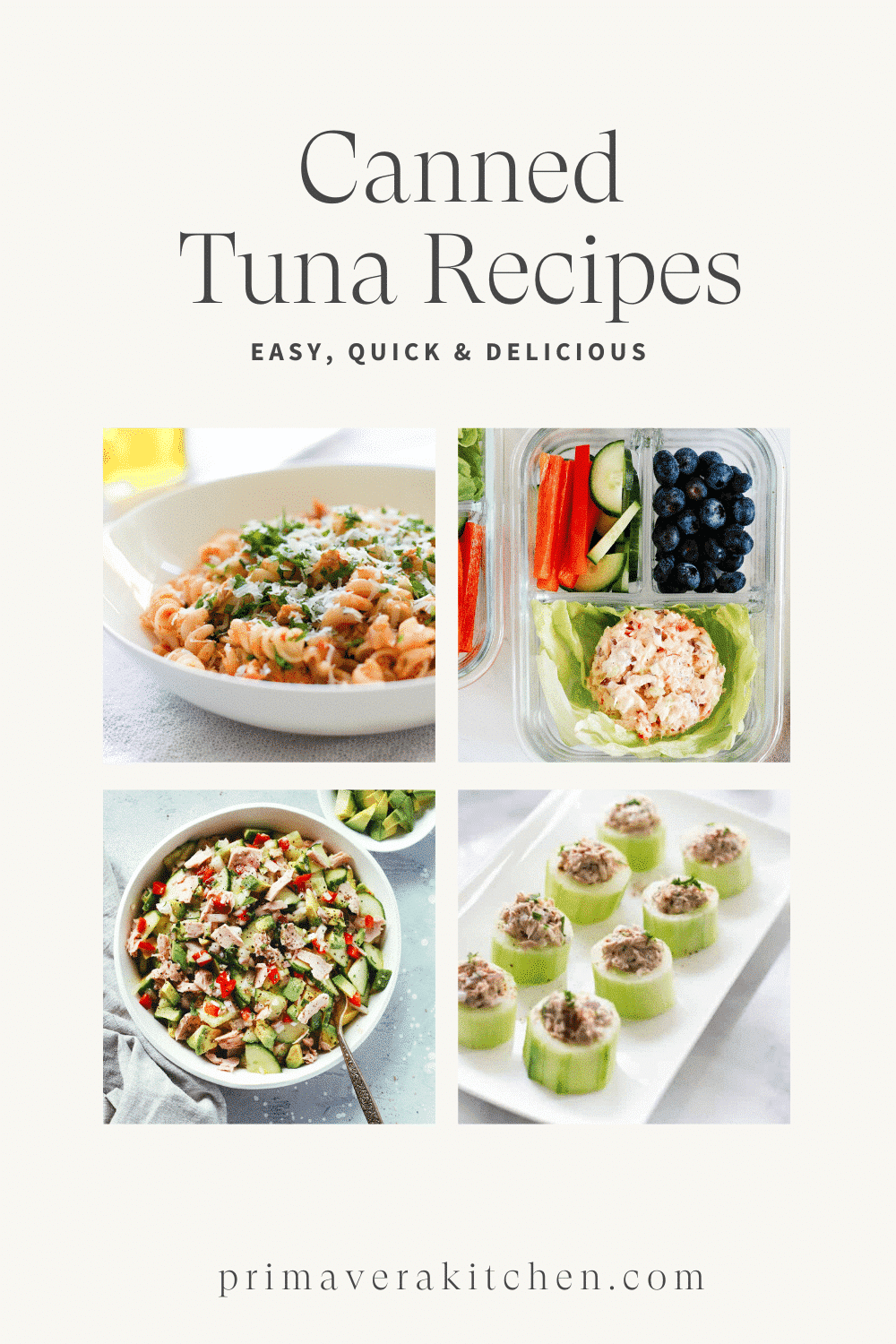 Life is so crazy right now. There is so much to do between working from home, taking care of the kids, taking care of ourselves (very important!), homeschooling, virtual meetings, trying to help others and so on. Besides all of this, we have limited supplies from the grocery store to cook dinner for our families.
That's why I think canned tuna recipes are great and super handy since I believe you probably already have some canned tuna in your pantry. Tuna fish can be used for lots of different healthy recipes. For example, if you've got canned tuna, you can make tuna patties/cake like a tuna burgers and serve with a coleslaw salad. Or you can make a delicious and fresh tuna salad for lunch. Or you can create a delicious tuna sandwich or a tuna macaroni salad.
Did you see how many delicious healthy canned tuna recipes you can make? So, go beyond the basic tuna recipes and be creative. These canned tuna recipes feature delicious dinner meals, quick and easy lunch recipes and even some snacks. I hope this recipe roundup helps you out with some delicious and healthy recipes during these unpredictable times we're living now.
Great canned tuna brands
Canned tuna taste might differ a bit depending on different brands. The reason why is because canned tuna brands have separate mechanisms of storing the fish. Some brands store tuna with water, some with salt, some with olive oil, some even use different kind of sauce and some doesn't use anything. Here is a small list of some good quality canned tuna to buy:
Healthy Canned tuna recipes:
Canned Tuna Salad Meal Prep Bowls – Tuna recipes are great for meal prep! These bowls are simple, healthy and really easy to assemble. You can't go wrong with nutritious veggies, fruit and tuna salad with lettuce for wrapping. This combo is perfect for lunch or grab-and-go snacking. Of course, you can use whatever produce you've got on hand to make your bowls!
Avocado Cucumber Tuna Salad – This light and refreshing canned tuna salad comes together in just 10 minutes and requires only a handful of simple ingredients. It features delicious flaky tuna perfectly complimented by creamy avocado, crunchy chopped veggies and a homemade citrus dressing. It's great for lunch, as a light dinner or dinner side dish.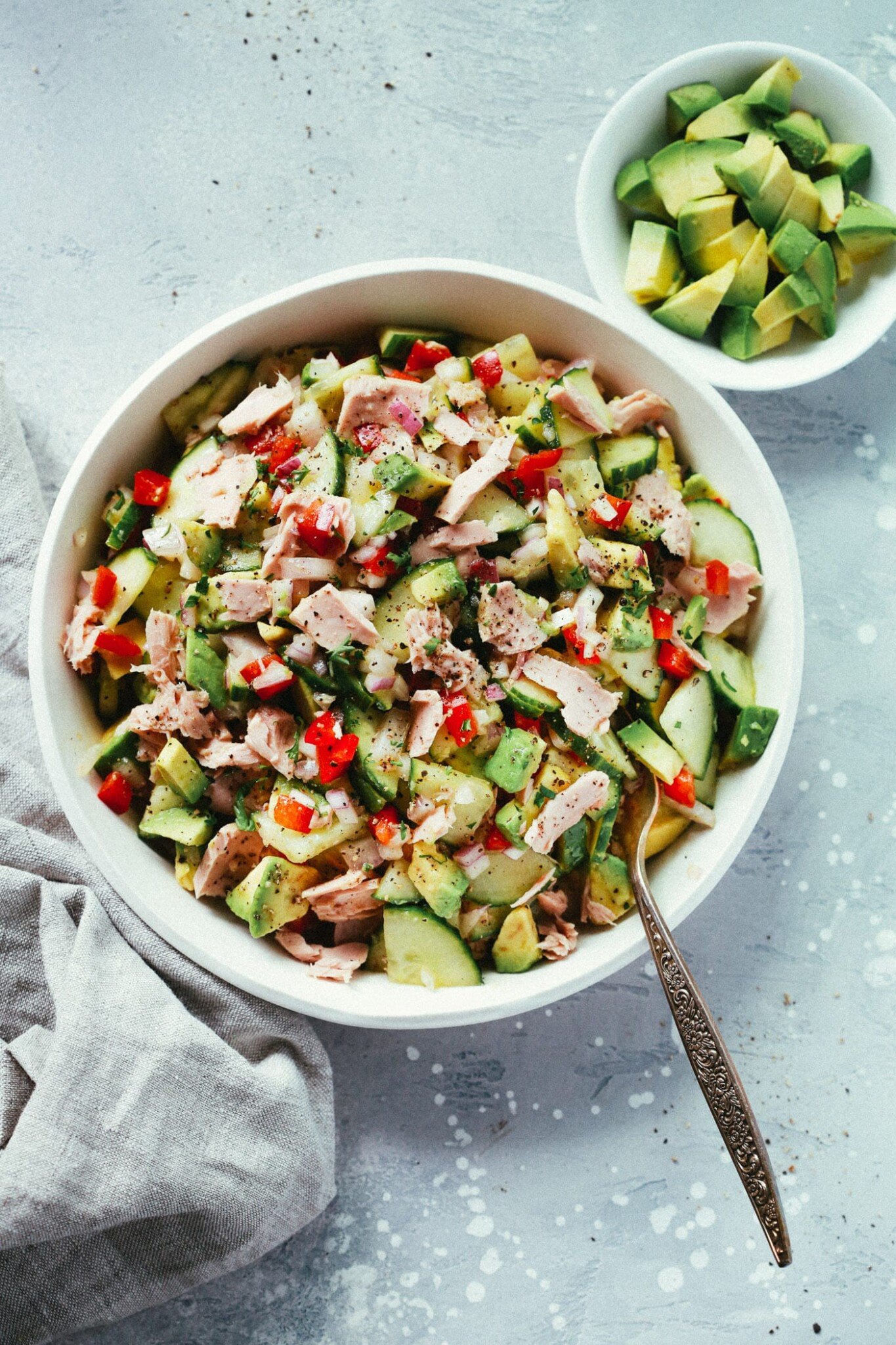 Avocado Tuna Boats – With only 4 net carbs per serving and healthy fats galore, these boats are very keto friendly and perfect if you're try to eat fewer carbohydrates. Of course, you'll love them even if you're not following any specific dietary plan. Whip up a batch in just 10 minutes and make with homemade mayo is delicious. Enjoy your flavor-packed avocado boats any time of day! This is one of my favorite canned tuna recipes.
Tuna Cucumber Cups Recipe – Canned tuna recipes can make great appetizers! If you need a healthy snack or party app, look no further. These delicious, crunchy cucumber bites require minimal ingredients and come together quickly. Plus, they're gluten free and low carb. In even better news, they require no cooking whatsoever, making them perfect for a warm summer day. This is definitely one of the easiest

canned tuna recipes

you can make!
Quick Easy Tuna Pasta – When adding protein to pasta, I often gravitate towards chicken, ground beef or shrimp. But canned tuna is a delicious and often overlooked option when it comes to rounding out your pasta dish with a filling boost of protein! Give it a try, I guarantee you won't regret it.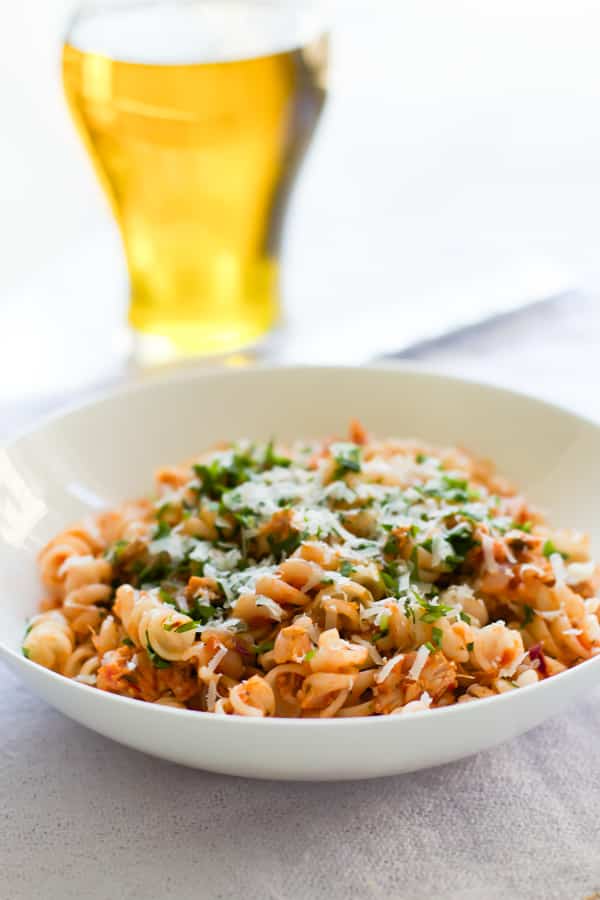 Healthy Mediterranean Tuna Salad

from The Mediterranean Dish

: This unique, healthy tuna recipe is made in just 10 minutes without any mayonnaise. It features a lot of crunchy veggies, Kalamata olives, flavorful herbs and homemade Dijon mustard dressing. It's low calorie, low carb, high protein and straight up delicious. Easily make this salad ahead of time and simply store dressing separately to avoid sogginess!
Rainbow Poke Bowl With Canned Tuna from The View From Great Island: Healthy poke bowls are great for lunch or as a light dinner. They're full of nutritious produce and typically incorporate a protein of some kind, often raw sushi grade tuna or salmon. I LOVE using canned albacore tuna instead because it's super accessible, really affordable and tastes fabulous.
Spanish-Style Deviled Eggs

from The Spruce Eats

: These deviled eggs are made by mixing flaked canned tuna with creamy egg yolk and tomato sauce. They make an excellent healthy appetizer or protein-packed afternoon snack.
Mexican Chopped Tuna Salad from Kim's Cravings: Need a delicious filling for your lettuce wraps? How about a dip for crunchy, corn tortilla chips? Look no further! This Mexican inspired tuna recipe is the perfect solution and oh so tasty. It's perfect on any hot summer day because it requires zero cooking or baking.
Spaghetti Squash Tuna Noodle Casserole Boats from Eating Bird Food: If you're in the mood for classic tuna casserole but trying to eat more nutritious veggies, check out this healthy version! It's made with spaghetti squash instead of traditional noodles or wheat pasta. These boats are really creamy, yet dairy-free. They're also paleo, gluten free and low carb!
Tuna Curry Bowl with Cauliflower Rice from Eating Bird Food: You'll need only staple ingredients to whip up these 20 minute, protein-packed curry tuna bowls with cauli rice. They're perfect for lunch and also great as a light dinner. This recipe is grain free, but you can add some regular Fluffy Rice to the mix, if desired.
Honey Mustard Apple Tuna Salad

from Ambitious Kitchen

: Sweet crunchy apples and tart dried cranberries go so nicely in this canned tuna recipe. They're complimented perfectly by a fresh dressing made from Dijon mustard and Greek yogurt. Eat your salad solo or serve it with crackers, chips, toasted bread or sweet potato slices.
Pesto Tuna Caprese Cucumber Bites

from Ambitious Kitchen

: Whether you're entertaining guests or just looking for a tasty snack to enjoy with the family, these fresh little bites are the best idea! Whip up a batch in only 25 minutes. They feature tuna, mozzarella cheese, cherry tomatoes, basil and a drizzle of balsamic glaze. Yum!
Asian Tuna Melt Nachos

from Healthy Nibbles

: Get super creative with your tuna recipes! Mexican and Asian flavors fuse together beautifully in these insane tuna melt nachos. This recipe even includes instructions for making homemade, crispy tortilla corn chips. Of course, you can spread your canned tuna atop store-bought chips to save a little time.
Canned Tuna Recipes
Looking for some delicious, healthy and easy canned tuna recipes with this guide! You'll learn how to make easy and quick dinner recipes just like this easy Avocado Tuna Salad Recipe!
Ingredients
1 ½

cups

cucumber chopped

½

cup

red onions chopped

1

cup

red bell pepper chopped

2

medium avocados peeled

pitted and chopped

2

cans 12oz flaked light tuna

drained

1

tablespoon

chives chopped

1

tablespoon

lemon juice

2

tablespoons

olive oil
Instructions
In a large salad bowl, add cucumber, red onions, bell pepper, avocado, drained tuna and chives.

In a mason jar, pour the freshly squeezed lemon juice, olive oil, salt and black pepper. Whisk everything together until combined.

Taste to check the seasoning and pour over the salad.

Toss to combine and enjoy!
Tips
Make sure the bell pepper, onion, and cucumbers are finely diced, so they blend nicely into the tuna.
I use tuna packed in water for this salad, but oil packed also works.
 If the avocados you purchased for this salad are softening too fast, put them in the refrigerator (whole) to slow ripening.
Red bell peppers are preferred as they're the sweetest, but you can also use orange, yellow or green.
To store: Store the tuna salad in the fridge for up to 3 days in an airtight container. The avocado may start browning as it oxidizes.
Nutrition Information
Serving:
1
/4
Calories:
288
kcal
(14%)
Carbohydrates:
10
g
(3%)
Protein:
23
g
(46%)
Fat:
18
g
(28%)
Saturated Fat:
3
g
(19%)
Polyunsaturated Fat:
2
g
Monounsaturated Fat:
12
g
Cholesterol:
46
mg
(15%)
Sodium:
435
mg
(19%)
Potassium:
420
mg
(12%)
Fiber:
6
g
(25%)
Sugar:
3
g
(3%)
Nutrition information is calculated using an ingredient database and should be considered an estimate.