This Quick Easy Tuna Pasta is a delicious, healthy meal to make when time is short and you still want to make a nutritious meal for dinner or lunch.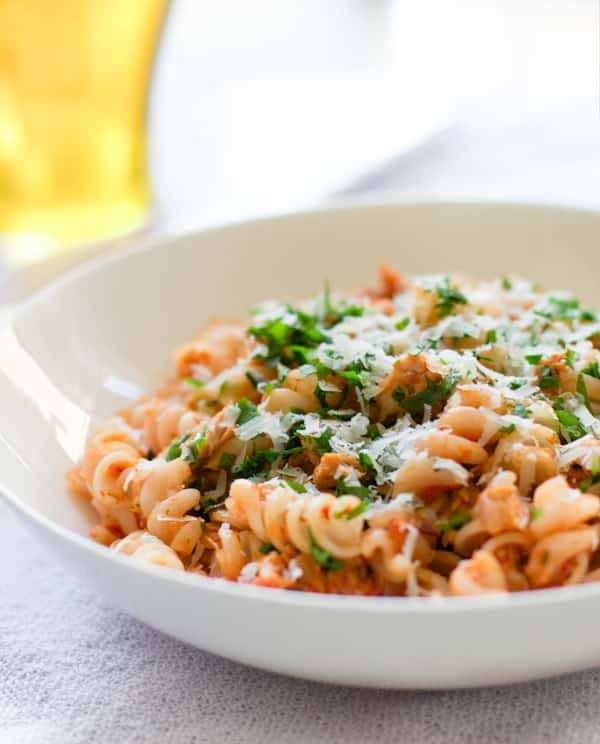 Last week, I made a recipe with quinoa pasta and since I loved the texture of it, I am now totally addicted to this pasta. Every time I want to cook pasta, I choose quinoa pasta because there isn't a huge difference between the traditional pasta and quinoa pasta. Plus, using quinoa means this pasta is a complete protein! Of course, if you choose whole wheat pasta it is also a great option since it has a higher amount of fiber.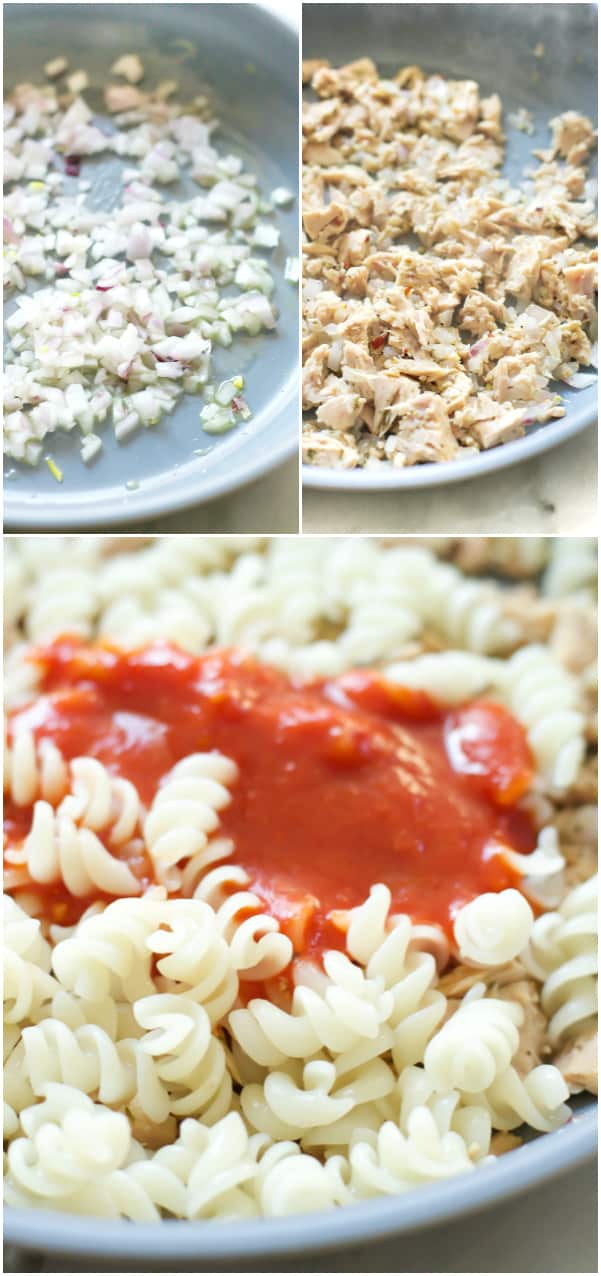 My husband has been traveling for work for about 10 days that my husband is traveling for work. When I am alone, I don't like to cook anything that takes more than 20mins to be ready (my Ground Turkey Sweet Potato Skillet and Leek Kalamata Rice are my favorite recipes under 30mins recipes). I honestly don't know how people love to cook for one. I think it is so boring to cook only for myself but I REALLY enjoy cooking for someone else like my husband or friends. I have to confess: Sometimes I even buy some frozen cooked meals so I don't have to cook for one. Yes, I know. This is awful and it is not healthy at all, but life is not perfect and neither am I 😉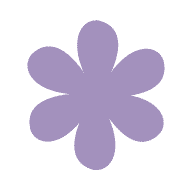 MY OTHER RECIPES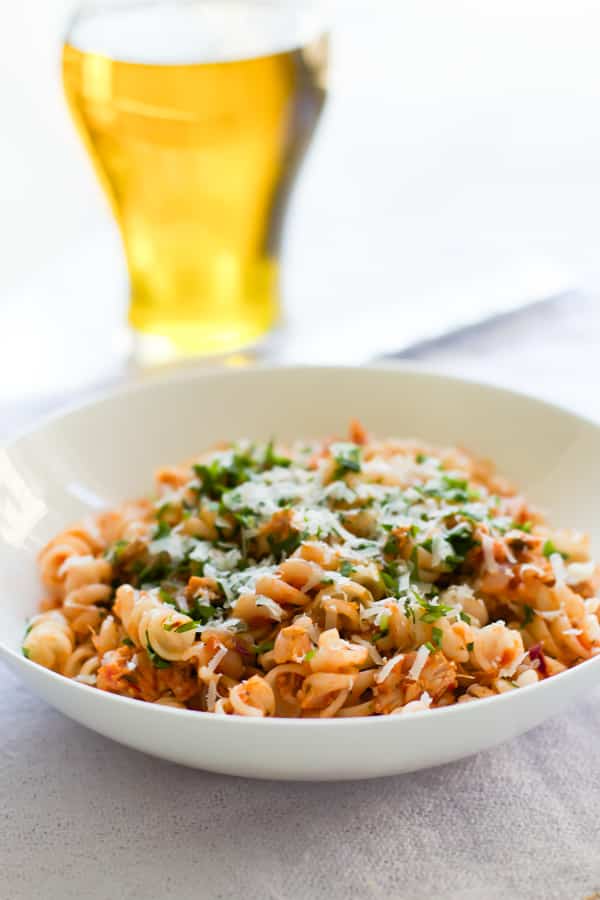 So, I decide to make this quick tuna pasta recipe for lunch because it is very easy to make and I made a double batch to have leftover for dinner. The ingredients are so simple and I bet everyone has these in the fridge and pantry. Once you chop your onion, you will be almost done. Not kidding!! You only need to sauté onions and garlic. Add flake tuna. Homemade tomato sauce and cooked pasta into a pan. There you have it! A healthy, delicious meal ready to enjoy at any time! Hope you enjoy this quick and easy tuna pasta today. Get inspired and make something tasty and nutritious in your kitchen!
Quick Easy Tuna Pasta
This Quick Easy Tuna Pasta is a delicious, healthy meal to make when time is short and you still want to make a nutritious meal for dinner or lunch.
Ingredients:
2 cups quinoa fusilli
salt and ground black pepper
2 tbsp olive oil
½ cup red onion, chopped
2 garlic cloves, finely chopped
100g can tuna, drained
1 cup homemade tomato sauce
1 tbsp basil leaves, chopped
¼ cup parmesan cheese, shredded
Directions:
Bring a large pot of lightly salted water to a boil.
Add the quinoa fusilli and cook according to packet instructions; drain the pasta.
Heat the oil in a pan, add the onion. Saute until they are golden brown.
Add garlic and cook until fragrance is released.
Flake the tuna into the onion mixture and heat.
Add the homemade tomato sauce and quinoa fusilli to the tuna mixture. Stir well for 1 minute or so.
Serve with a generous grinding of pepper, basil leaves, and parmesan cheese.
All images and text ©
If you make this recipe, please don't forget to snap a photo and hashtag it #primaverakitchen. I really want to see!
Products Featured in this Recipe:
(may include affiliate links)
If you like Quick Easy Tuna Pasta recipe, please share with your friends and family. Do you want to taste more? Subscribe to my newsletter and follow Primavera Kitchen on Twitter, Pinterest, Google+, Instagram, and Facebook for all delicious recipes updates. As always, I really appreciate you stopping by.
More Pasta Recipes!