Super Easy Avocado Cucumber Tuna Salad is light, flavorful and creamy because of the avocados. And the lemon dressing is super fresh!
Everyone in my family loves this Avocado Tuna Salad. This is so quick to put together that it's going to become a weekly staple around here for sure. Healthy, flavorful, colorful, and perfect to bring to work or for a quick dinner!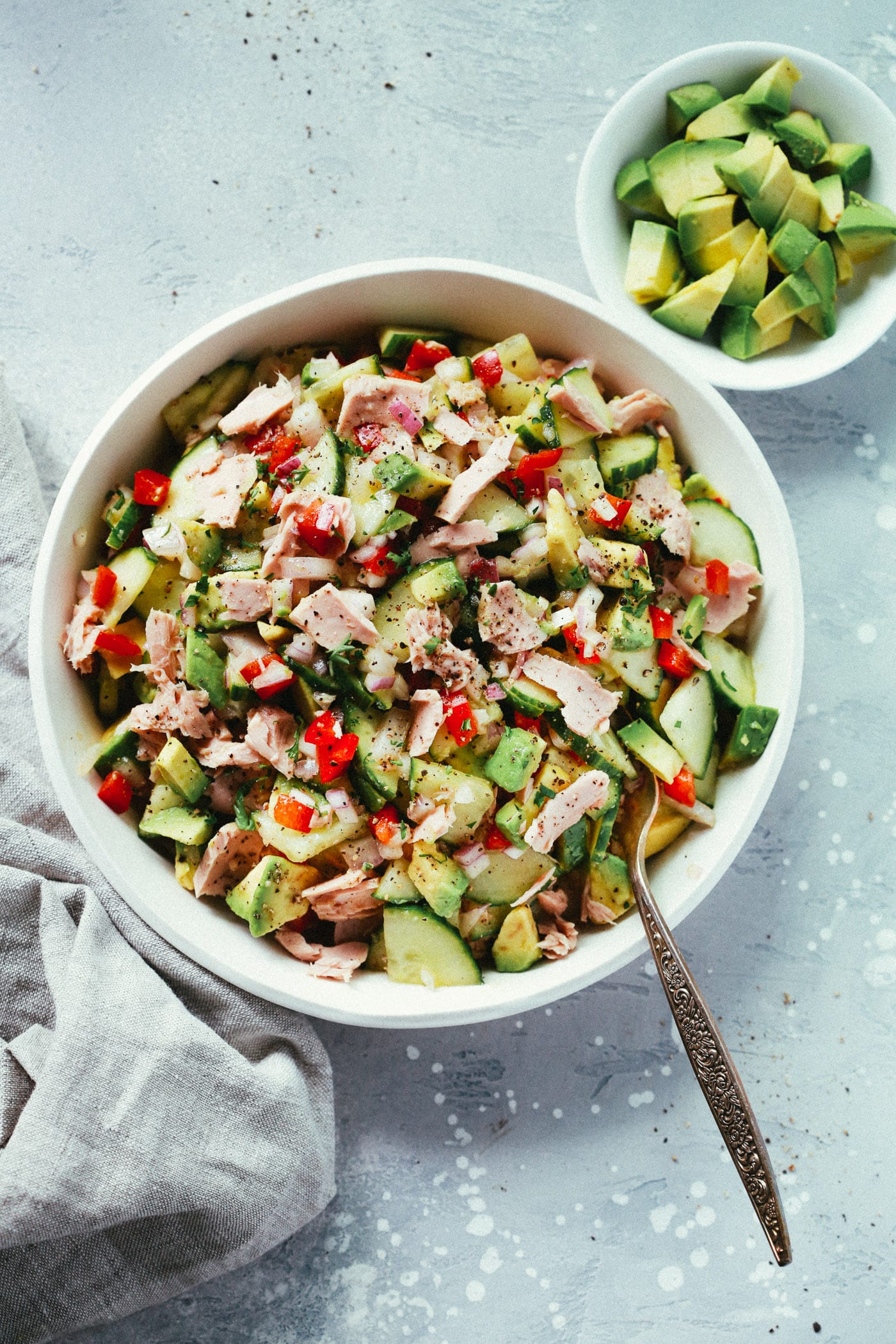 I made this avocado tuna salad for lunch on Monday and we had it for dinner too because I made a lot of it and because this salad is just like a complete meal (veggies + protein).
I love tuna as it's such an easy protein to work with, like in my Tuna Cucumber Cups Recipe, Quick Easy Tuna Pasta, and Tuna Salad Meal Prep Bowls.
You feel so satisfied that you don't even need to complement this Avocado Tuna Salad with anything else. Well… You can always have a delicious healthy dessert after eating this salad. Great idea, right?! Hands up to all the chocolate addicts like me 😉 But in my defense I'm also addicted to salads 😉
How long does avocados last in this salad?
Avocados are truly the best. On my site, you find avocado recipes that will make everybody happy. From this nutritious Grilled Chicken Avocado Salad to this quick whole dinner meal Low-Carb Salmon Burgers with Avocado Coleslaw for example.
Subscribe for new recipes & a free e-cookbook
You also can find side dishes like this Whole30 Creamy Avocado Cauliflower Salad or even a creamy dressing/sauce recipe such as this Creamy Avocado Sauce that it's dairy-free and delicious. As you can see, avocados go really well with almost anything, but they can go bad pretty fast. That's why when I'm at my local grocery store, I look for avocados with firm skin and no soft spots. Also, once I cut them, I wrap it tightly in plastic wrap before refrigerating. And sometimes I even sprinkle a little bit of lemon juice onto the exposed avocado flesh.
So, for this Avocado Cucumber Tuna Salad if I make it for the whole family to eat for dinner, for example, I add all the ingredients in a bowl including the avocados because I know I won't have leftovers. But if I have I keep this salad in the fridge and it's good for about 2 days. The lemon dressing helps avocados to stay good for longer.
If you are making this Avocado Cucumber Tuna Salad to bring to work. I think it's better if you bring the avocado with you and add to your salad when it's time to eat. It will be the last ingredient you add before eating to help keep them green and fresh for longer.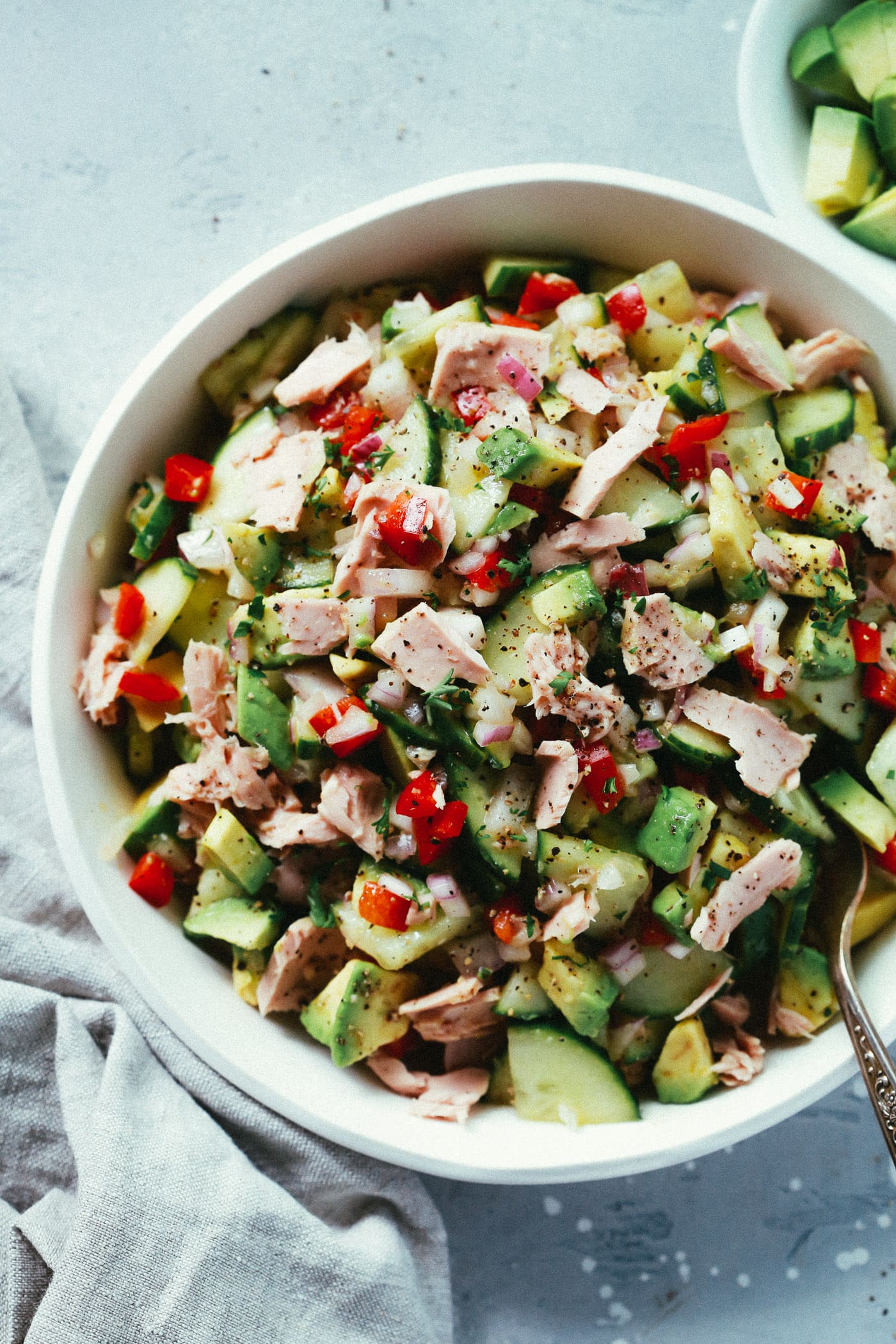 Let's just talk a little bit more about why I absolutely love today's Avocado Tuna Salad:
There is just so much goodness loaded into this one salad recipe. You've got drained tuna, crunchy red bell pepper, red onions and of course avocado, which is the start of this salad. Why? Because it gives to this salad all this creamy texture!
All of these ingredients are drizzled with a light tangy and fresh lemon dressing. So yum!
It's a perfect main course for lunch and makes a great meal-prep. But it's also amazing as a side salad! It's up to you.
This salad is SO SO SO good that I can almost taste the flavors of it just by looking at all these pictures again. Mm… My mouth is watering! I'm absolutely sure you'll love this Super Easy Avocado Cucumber Tuna Salad. Enjoy!
Want some more delicious tuna recipes? Try my Top 10 Tuna Recipes You Can Enjoy This Summer!
Super Easy Avocado Cucumber Tuna Salad
Super Easy Avocado Cucumber Tuna Salad is light, flavorful and creamy because of the avocados. And the lemon dressing is super fresh!
Ingredients
1 ½

cups

cucumber

chopped

½

cup

red onions

chopped

1

cup

red bell pepper

chopped

2

medium avocado

peeled, pitted and chopped

2

cans

12oz flaked light tuna, drained

1

tablespoon

chives

chopped

1

tablespoon

lemon juice

2

tablespoons

olive oil
Instructions
In a

large salad bowl

, add cucumber, red onions, bell pepper, avocado, drained tuna and chives.

In a

mason jar

, pour the freshly squeezed lemon juice, olive oil and salt and black pepper. Whisk everything together until combined.

Taste to check the seasoning and pour over the salad.

Toss to combine and enjoy!
Tips
If you like this recipe you can make also this Shrimp Avocado Cucumber Salad, which is also super easy to make and delicious. But instead of tuna, you will use shrimp. Or if you're looking for another high-protein salad, I'm sure you'll love this delicious Shrimp Tomato Salad recipe. It's fresh, healthy, and quick and easy to make too!
Click Here to watch Web Stories for this recipe.
I use tuna packed in water for this tuna salad, but you can use tuna packed in oil if that's all you have on hand.
Make sure the bell pepper, onions, and cucumbers are finely diced, so they blend nicely into the tuna.
Red bell peppers are preferred as they're the sweetest, but you can also use orange or yellow bell peppers.
To store: Store the tuna salad in the fridge for up to 3 days in an airtight container. The avocado may start browning as it oxidizes.
Nutrition Information
Serving:
1
/4
Calories:
288
kcal
(14%)
Carbohydrates:
10
g
(3%)
Protein:
23
g
(46%)
Fat:
18
g
(28%)
Saturated Fat:
3
g
(19%)
Polyunsaturated Fat:
2
g
Monounsaturated Fat:
12
g
Cholesterol:
46
mg
(15%)
Sodium:
435
mg
(19%)
Potassium:
420
mg
(12%)
Fiber:
6
g
(25%)
Sugar:
3
g
(3%)
Nutrition information is calculated using an ingredient database and should be considered an estimate.
Watch the Web Story HERE.
And if you like this Super Easy Avocado Cucumber Tuna Salad recipe, please share with your friends and family. Do you wanna taste more? Subscribe to my newsletter and follow Primavera Kitchen on Twitter, Pinterest, Google +, Instagram and Facebook for all delicious recipes updates. As always, you are really appreciated for stopping by.