This avocado tuna salad recipe is delicious, light and refreshing. It's super easy to make and comes together in only ten minutes. Crunchy cucumber, red onion and bell pepper pair perfectly with creamy avocado and flaky tuna. Top everything with a flavor-packed, tangy lemon and olive oil dressing!
I love making this family favorite in the spring and summertime. It's the perfect cookout side and easy to transport to an outdoor event. It's also a great everyday dinner side or an easy take along lunch.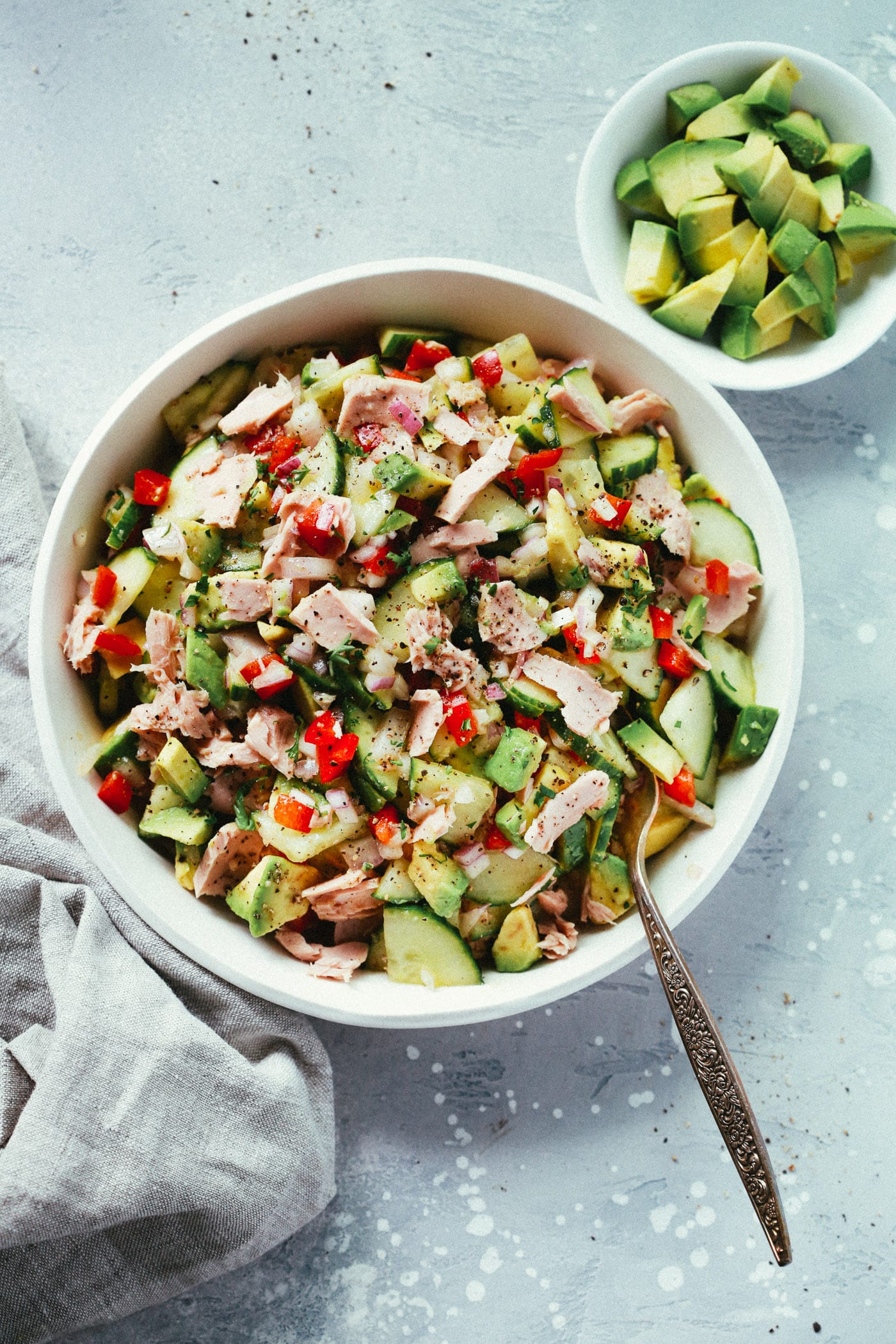 Canned tuna is so easy to work with! It's truly the perfect ingredient when you need something fast and simple. Plus, it really provides a nice boost of protein. If you enjoy this avocado tuna salad, be sure to check out my Tuna Cucumber Cups Recipe, Quick Easy Tuna Pasta, and Tuna Salad Meal Prep Bowls.
For even more ideas see my Top 10 Tuna Recipes For Summer!
How To Make Avocado Tuna Salad
Ingredients
Veggies — Cucumber, red onion and red bell pepper (or your favorite color)! I enjoy using red bell pepper because it's the sweetest.
Avocados — If you won't be making this salad for a couple of days, look for avocados that are fairly hard at the grocery store. They'll soften and become ripe quickly at room temperature. Making it right away? Try and find some that give a little when pressed gently with your finger.
Tuna — I prefer using flaked light tuna, though any type will work. You could also substitute canned salmon in this recipe, if desired.
Chives — This tasty herb ads lots of flavor and color.
Homemade dressing — Fresh squeezed lemon or lime juice, extra virgin olive oil, salt and ground black pepper. You can also use Dijon mustard.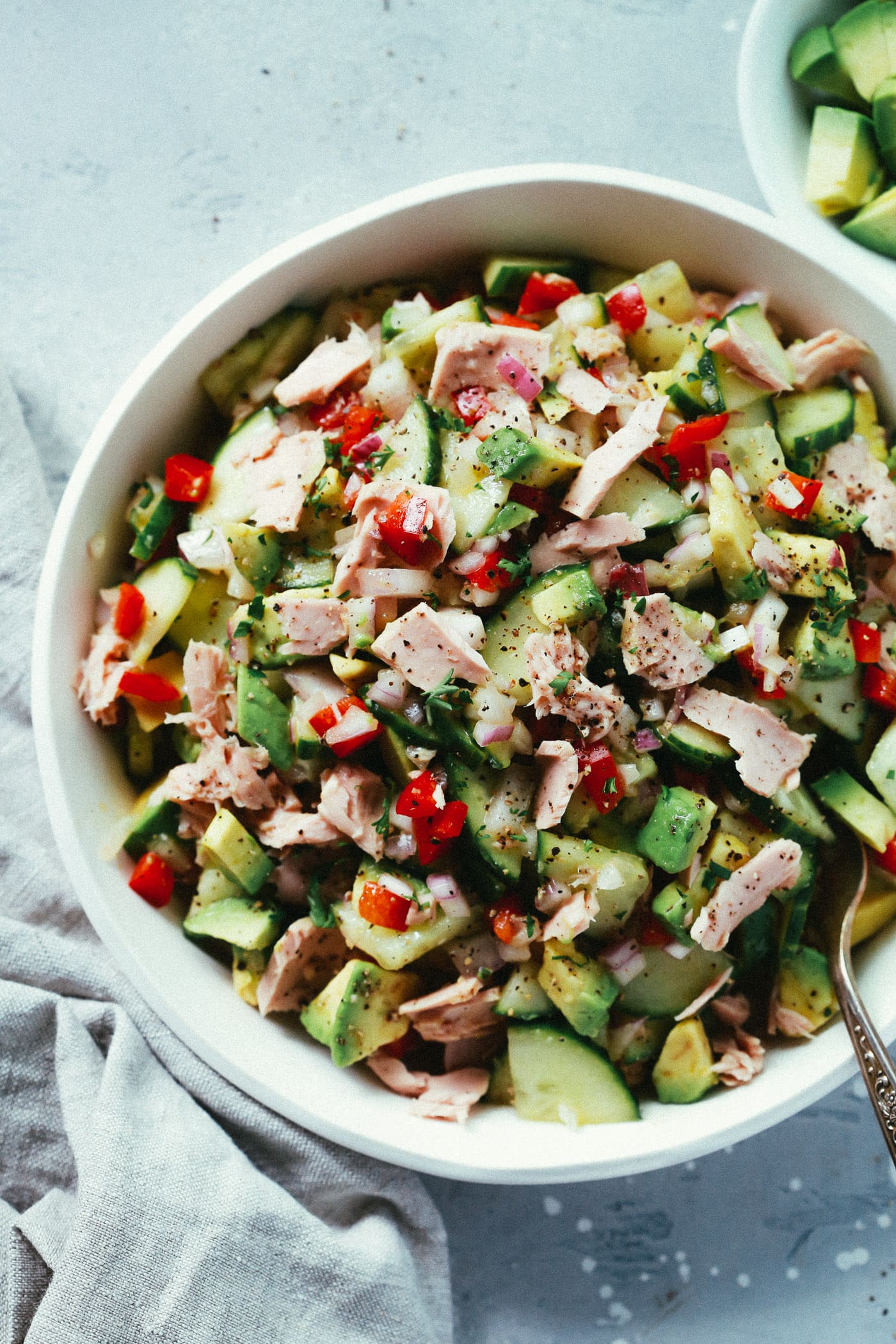 Instructions
Assemble salad:
Chop up your cucumber, red onion, bell pepper and chives. Transfer everything to a large mixing bowl.
Open canned tuna, drain well and add it to the bowl along with veggies.
Remove pits from avocados. Peel, dice and place cubes in the salad bowl.
Mix all ingredients together until well incorporated!
Make dressing:
Grab a small mason jar or bowl and add dressing ingredients: freshly squeezed lemon juice, olive oil, salt and pepper. Whisk vigorously, until emulsified.
Do a taste test and add more salt or pepper, if necessary!
Serve:
Subscribe for new recipes & a free e-cookbook
Pour dressing over the salad ingredients and toss to coat. Garnish with fresh parsley or cilantro.
Serve and enjoy!
Recipe Tips
This low carb salad is even more delicious when you take the time to chop your veggies up nice and small because you'll get a little of each ingredient in every bite and they'll mix better with the tuna.
Any type of tuna will work for this recipe, though I typically use flaked light tuna packed in water. Feel free to use whatever you've got on hand; you can even substitute canned salmon!
If you buy avocados for this recipe and they're ripening too quickly, you can place them in the refrigerator (whole)! They'll keep longer in the cold than they will on the countertop.
I like using red bell peppers in my salad because they're the sweetest. But you can use whatever color you prefer (or even mix and match)! Also, feel free to incorporate other vegetables, if desired such tomatoes, celery, lettuce (romaine lettuce) and so on.
The dressing for this recipe is very light and delicious. So, it does not include mayonnaise or Greek yogurt. For this reason, it doesn't have the texture of a creamy classic tuna salad, but if you prefer, feel free to add them (mayo and yogurt) to the dressing.
You can enjoy this tuna avocado salad by itself, or you can serve it with tortilla chips or even use it as a sandwich filling.
Some people love to add cheese, such as feta, to this salad. So, if you enjoy a bit of cheese, feel free to add it.
Meal Prep Instructions
It's easy to make this salad ahead of time for work or even for a summer cookout or side dish. Simply combine all ingredients and assemble the salad per recipe instructions, but don't add the avocado.
Instead, leave the avocado whole and keep it to the side. Dice it up and mix it in when you're ready to serve! It will be the last ingredient you add before eating to help keep it green and fresh for as long as possible.
How To Store Leftover Avocado Tuna Salad
To Store: Place any leftover avocado tuna salad in an airtight container and store in the refrigerator for up to 3 days. The avocado may begin to brown and oxidize, but the lemon juice will help slow this process. I do not recommend freezing this salad. You can also leave the salad in the mixing bowl, cover it with plastic wrap and place in the fridge.
More Avocado Recipes
Avocados are creamy, velvety, colorful and oh so delicious! If you're an avocado addict like me, don't miss out on these other fabulous recipes:
Frequently Asked Questions
How long do avocados last in this salad?
Avocados often brown quickly once they're chopped up. This is because the green flesh oxidizes when it touches the air, causing discoloration. The lemon juice (acidity) in this salad will help slow browning. Leftovers should last in the fridge for about 2 days. Slightly oxidized avocado is okay to eat, it just won't look as appetizing.
Is avocado tuna salad healthy?
I definitely consider this recipe to be healthy because it's packed with nutritious veggies and lots of protein. Plus, avocados provide healthy fats!
What type of tuna should I use for this salad?
I really like using flaked light tuna packed in water, but any type will work just fine! Solid white albacore tuna is also delicious, keep in mind that you'll need to flake the tuna into pieces manually if you purchase a "solid" option. Also, both oil and water packed will work, though oil packed may have a richer taste.
Avocado Tuna Salad Recipe
This avocado tuna salad recipe is delicious, light and refreshing. It's super easy to make and comes together in only ten minutes. Crunchy cucumber, red onion and bell pepper pair perfectly with creamy avocado and flaky tuna. Top everything with a flavor-packed, tangy lemon and olive oil dressing!
Instructions
In a

large salad bowl

, add cucumber, red onions, bell pepper, avocado, drained tuna and chives.

In a

, pour the freshly squeezed lemon juice, olive oil, salt and black pepper. Whisk everything together until combined.

Taste to check the seasoning and pour over the salad.

Toss to combine and enjoy!
Tips
Click Here to watch Web Stories for this recipe.
Make sure the bell pepper, onion, and cucumbers are finely diced, so they blend nicely into the tuna.
I use tuna packed in water for this salad, but oil packed also works.

If the avocados you purchased for this salad are softening too fast, put them in the refrigerator (whole) to slow ripening.

Red bell peppers are preferred as they're the sweetest, but you can also use orange, yellow or green.
To store: Store the tuna salad in the fridge for up to 3 days in an airtight container. The avocado may start browning as it oxidizes.
Nutrition Information
Serving:
1
/4
Calories:
288
kcal
(14%)
Carbohydrates:
10
g
(3%)
Protein:
23
g
(46%)
Fat:
18
g
(28%)
Saturated Fat:
3
g
(19%)
Polyunsaturated Fat:
2
g
Monounsaturated Fat:
12
g
Cholesterol:
46
mg
(15%)
Sodium:
435
mg
(19%)
Potassium:
420
mg
(12%)
Fiber:
6
g
(25%)
Sugar:
3
g
(3%)
Nutrition information is calculated using an ingredient database and should be considered an estimate.
Watch the Web Story HERE.
And if you like this Avocado Tuna Salad recipe, please share with your friends and family. Do you wanna taste more? Subscribe to my newsletter and follow Primavera Kitchen on Twitter, Pinterest, Instagram and Facebook for all delicious recipes updates. As always, you are really appreciated for stopping by.