This Italian Sausage Cauliflower Rice Skillet is an easy Whole30, low-carb and one-pan dinner that it's flavoured with homemade pesto and it's ready in less than 20 minutes.
Cauliflower rice is always a big hit on my blog, considering how popular my  Cauliflower Rice, Ground Turkey Cauliflower Rice Veggie Bowls and my Easy Cauliflower Fried Rice recipes are. My readers are always making these cauliflower rice recipes, snapping pictures and hashtaging them #primaverakitchen on Instagram. I love seeing all your creations on Instagram, because it always makes my day. There is nothing more incredible in my work than knowing that you're cooking my recipes in your kitchen and enjoy them with your family! This is something very special for me.
So, I decided to make another cauliflower recipe that I think you'll really like because it's super delicious and easy to make. The cauliflower rice gets all the flavour from the homemade pesto, which is made without Parmesan cheese. Instead I used nutritional yeast and it's known for having a nutty flavour, which makes it popular as an ingredient in cheese substitutes.
I chose to make my pesto with it because if you're doing Whole30 this recipes fits in your diet and also because it adds more nutrients to this dish. Nutritional yeast is a great source of protein, B vitamins, antioxidantsand trace minerals.
What is the best way to cook cauliflower Rice?
My two favourite ways to cook cauliflower rice is by sautéing it in a skillet or cooking in the microwave. For this Italian Sausage Cauliflower Rice Skillet I sautéed the cauliflower rice, but you can also microwave it.
Sauté: Once you process cauliflower florets in the food processor, you simply sauté in a large skillet over medium heat and 1 tablespoon of olive oil for 1 minute. Then, add ¼ cup of chicken broth, cover the skillet with a lid to allow the cauliflower steams and becomes tender. The total cooking time is between 5-8 minutes (the time will depend on how tender you prefer your cauliflower rice to be). Then, don't forget to stir occasionally and season it as you desire (such pesto, soy sauce, coconut aminos (it's like soy sauce, but it's gluten-free and low-carb), salt and pepper).
Microwave: Place the cauliflower rice in a microwave-safe bowl and cover with plastic wrap or if your bowl comes with a lid, use that. Then, microwave the cauliflower rice for about 3-5 minutes (the time will depend on the power of your microwave). Remove the bowl from the microwave and carefully lift the lid or the plastic wrap to give the rice a good stir with a fork.
How long does cauliflower rice last?
If you store your Italian Sausage Cauliflower Rice Skillet nicely in a covered airtight container (I prefer to use glass containers), it will last for 3 to 4 days in the refrigerator. But if you prefer you can freeze it in a freezer bag, which will last for a month or two.
Can I use store-bought pesto for this Italian Sausage Cauliflower Rice Skillet?
Yes you can and it'll save it a lot of time in your kitchen. I sometimes buy pesto because as I said it's very convenient, but this time I made my own because I had lots of fresh basil leaves from my patio herb garden. So I made homemade pesto for this recipe and freeze the rest to use in other recipes like my Pesto Shrimp Tomato Salad Recipe, Sweet Potato Pesto Chicken Skillet, and Pesto Chicken Salad Recipe!
Can you buy cauliflower Rice?
Yes you can. Sometimes I buy cauliflower rice in my local healthy store or even online at Amazon. It's very convenient, especially if you have busy weeknights dinner. Cauliflower products are popular nowadays because they are low-carb, keto and paleo friendly. And also if you're doing Whole30 is a great substitute for traditional rice. This one from Amazonis keto friendly and it's made from 100% air dried cauliflower, which makes it last longer. Here is a link for all the cauliflower products on Amazon. I also love cauliflower pizza crust that now you can buy at Amazon too.
I usually try to make my own though since I always have cauliflower on hand as I cook so often with it! For example, I make my Garlic Parmesan Cauliflower Rice Recipe and Spicy Chicken with Cauliflower Rice quite often!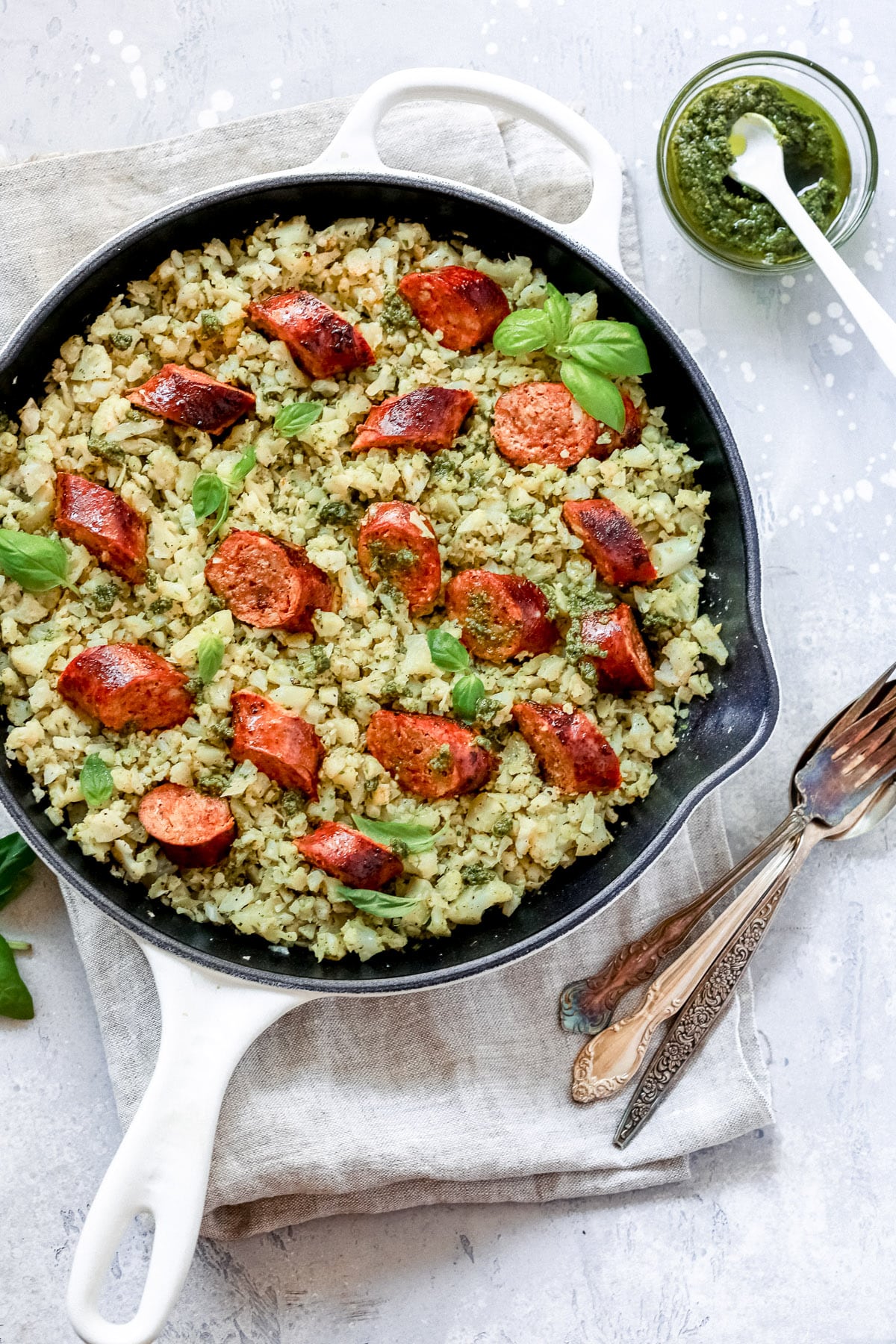 Italian Sausage Cauliflower Rice Skillet
This Italian Sausage Cauliflower Rice Skillet is an easy Whole30, low-carb and one-pan dinner that it's flavoured with homemade pesto and it's ready in less than 20 minutes.
Ingredients
Instructions
For Italian Sausage
Heat 1 tablespoon of olive oil in a skillet and over medium-high heat.

Add sausage and cook until browned for about 5 minutes, turning links often.

Reduce heat to medium-low and carefully add ½ cup chicken broth or water to skillet.

Cover and simmer for 10-12 minutes or until sausage reaches the internal temperature of 160°F.

Remove from the skillet, place on a cutting board and allow to cool down for about 5 minutes. Slice them and set aside.
For Pesto
Combine basil, nutritional yeast, pine nuts, garlic, salt and pepper in food processor.

Pulse the ingredients until combined.

Remove the lid and scrape down the sides with a spatula.

Slowly pour in olive oil while running food processor.

Reserve 4 tablespoons to add to the cauliflower rice and the rest place in a mason jar and use for other recipes.
Cauliflower Rice
Pulse the cauliflower florets in a food processor for about 25-30 seconds until it's a rice-like consistency. Set aside.

In a large skillet add olive oil over medium heat.

Add onions and celery and cook until tender about 5 minutes.

Add garlic and cook for 30 seconds.

Add the cauliflower rice and the vegetable broth. Allow the cauliflower rice to absorb the vegetable broth. Cook until it is soft, but not mushy.

Add 4 tablespoons of pesto and mix everything well to combine. Add the cooked Italian sausage and top with fresh basil before serving. Enjoy!
Tips
For more cauliflower recipes, please CLICK HERE. They are all low-carb and gluten-free. 
If you do not have nutritional yeast, you can use parmesan. 
You can buy pre-made cauliflower rice to save time.
You can swap the sausage with a spicy sausage for extra heat.
To store: Store leftovers in the fridge in an airtight container for up to 4 days.
To reheat: You can reheat this sausage skillet recipe in the microwave or on the stovetop.
To freeze: Freeze leftovers in a freezer-safe bag for up to 3 months. 
Nutrition Information
Serving:
1
/4
Calories:
385
kcal
(19%)
Carbohydrates:
16
g
(5%)
Protein:
18
g
(36%)
Fat:
28
g
(43%)
Saturated Fat:
6
g
(38%)
Polyunsaturated Fat:
2
g
Monounsaturated Fat:
12
g
Cholesterol:
38
mg
(13%)
Sodium:
1018
mg
(44%)
Potassium:
761
mg
(22%)
Fiber:
6
g
(25%)
Sugar:
4
g
(4%)
Nutrition information is calculated using an ingredient database and should be considered an estimate.