Mushroom Cauliflower "Rice" Skillet Recipe
This Mushroom Cauliflower "Rice" Skillet is a delicious low-carb and vegan/vegetarian main dish for dinner. And it's done in only 20 minutes.
If you read Primavera Kitchen often you know that I'm all about one-pan/skillet recipes. I have lots of these types of recipes on my blog and the most popular recipes are Ground Turkey Sweet Potato Skillet, Asparagus Sweet Potato Chicken Skillet, Ground Beef Zucchini Sweet Potato Skillet and Shrimp Vegetable Skillet. Why do I love skillet recipes? Well, the answer is so simple: because it's easy and quick to make and make clean up is a breeze. For a busy mom like me these three points are very important when I'm cooking.
MY LATEST RECIPES
I also love the fact that you can always sneak some vegetable in these skillet recipes, don't you agree with me? I love adding some asparagus, sweet potato, broccoli, green beans and, of course, cauliflower. This one is great because it so versatile and goes well with everything. Cauliflower rice is my thing at the moment.
At my local grocery store I now can find cauliflower rice ready to cook. It's so convenient and cuts my time in half when I'm cooking with cauliflower. However I know that it's not very easy to find cauliflower rice everywhere. So, on the instructions below I explained how to make your own cauliflower rice. And if you love cauliflower like me I have lots of cauliflower recipes here.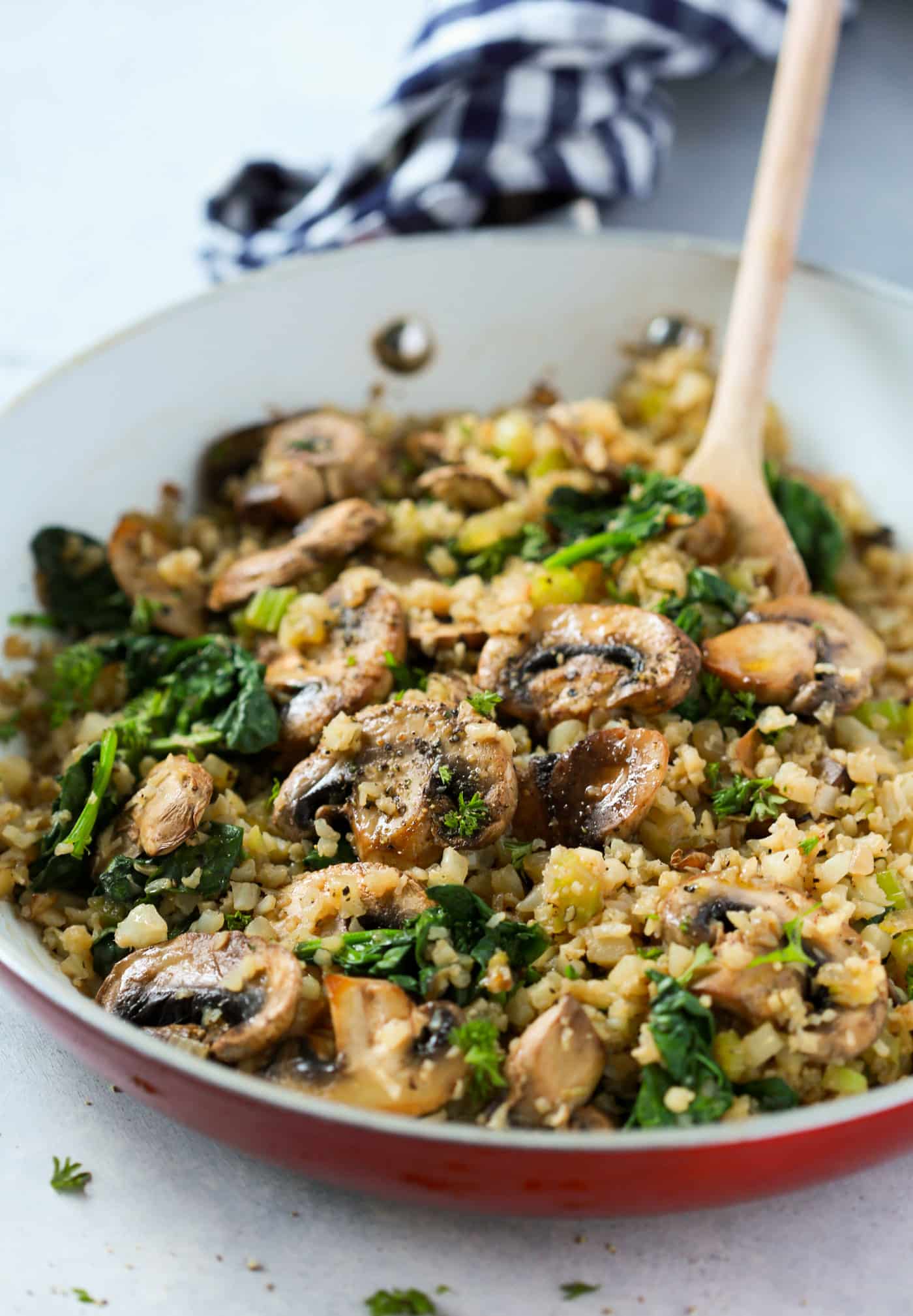 For this recipe I used lots of mushroom and spinach. I just think this combo works really well and adds more nutrition to your dish. You'll also need onions, celery and garlic to make this mushroom cauliflower "rice" skillet. Simple ingredients that the whole family will enjoy and ask for more. If you don't follow a vegetarian or vegan diet you can pair this dish with some delicious salmon, chicken or even boiled eggs. I also can't forget to say that this recipe is paleo, low-carb and gluten-free too! Mm… It's so good! Hope you enjoy it.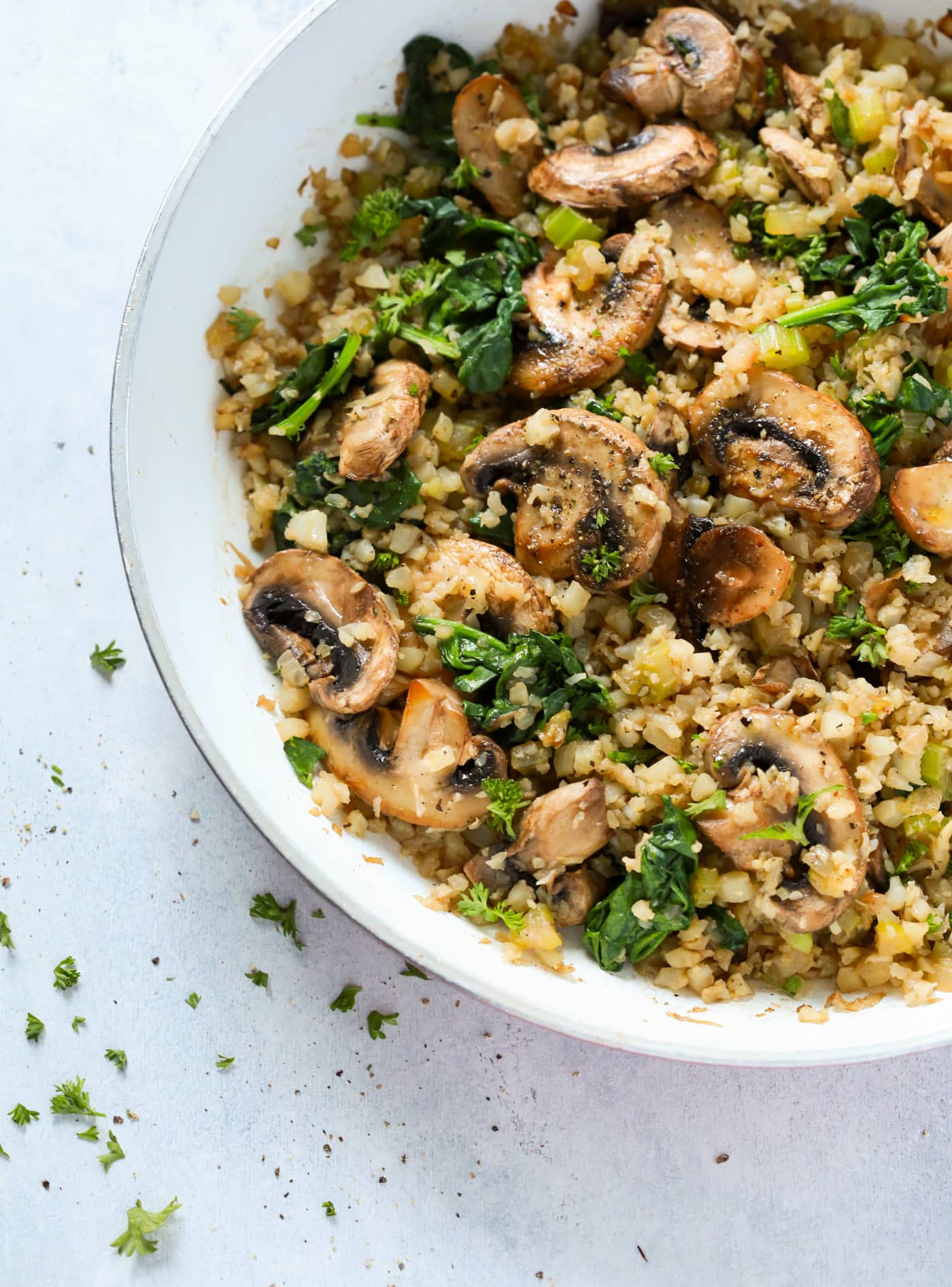 Love this Mushroom Cauliflower "Rice" Skillet Recipe? Let's try to make it!
Mushroom Cauliflower "Rice" Skillet Recipe
This Mushroom Cauliflower "Rice" Skillet is a delicious low-carb and vegan/vegetarian main dish for dinner. And it's done in only 20 minutes.
Ingredients:
2 tbsp olive oil
1 stalk celery, sliced
½ cup onion, chopped
1 big garlic clove, minced
3 cups mushrooms, sliced
14 oz. (400g) cauliflower rice (see instructions below on how to make the cauliflower rice)
1/3 cup vegetable broth
2 cups spinach
Salt and pepper to taste
1 tbsp fresh parsley, chopped
Directions:
Pulse the cauliflower florets in a food processor for about 25-30 seconds until it's a rice-like consistency. Set aside.
In a large skillet add olive oil over medium heat. Add onions and celery and cook until tender about 5 minutes. Add garlic and cook for 30 seconds.
Add mushroom and sauté until it's cooked through.
Add the cauliflower rice and the vegetable broth. Allow the cauliflower rice to absorb the vegetable broth. Cook until it is soft, but not mushy.
Add spinach and cook for 2 minutes. Season with salt and pepper to taste.
Garnish with chopped fresh parsley before serving. Enjoy!
Nutrition Information
Yield: 4, Serving Size: 1/4
Amount Per Serving:
Calories: 125
Total Fat: 7.3g
Saturated Fat: 1g
Sodium: 300mg
Carbohydrates: 9.8g
Fiber: 4.2g
Sugar: 4.4g
Protein: 4.6g
All images and text ©
If you make this recipe, please don't forget to snap a photo and hashtag it #primaverakitchen. I really want to see!
Products Featured in this Recipe:
(may include affiliate links)
And if you like this Mushroom Cauliflower "Rice" Skillet recipe, please share with your friends and family. Do you wanna taste more? Subscribe to my newsletter and follow Primavera Kitchen on Twitter, Pinterest, Google +, Instagram and Facebook for all delicious recipes updates. As always, you are really appreciated for stopping by.