This pesto chicken salad is delicious and nutritious! It's loaded with leafy greens, sweet cherry tomatoes, creamy avocado, spicy red onion, feta and creamy avocado slices. Top everything off with a simple, bright, homemade lemon dressing.
You can enjoy this summertime salad as a full meal because it's quite filling and makes the perfect, easy lunch or light dinner. And of course, it's also a great side dish option!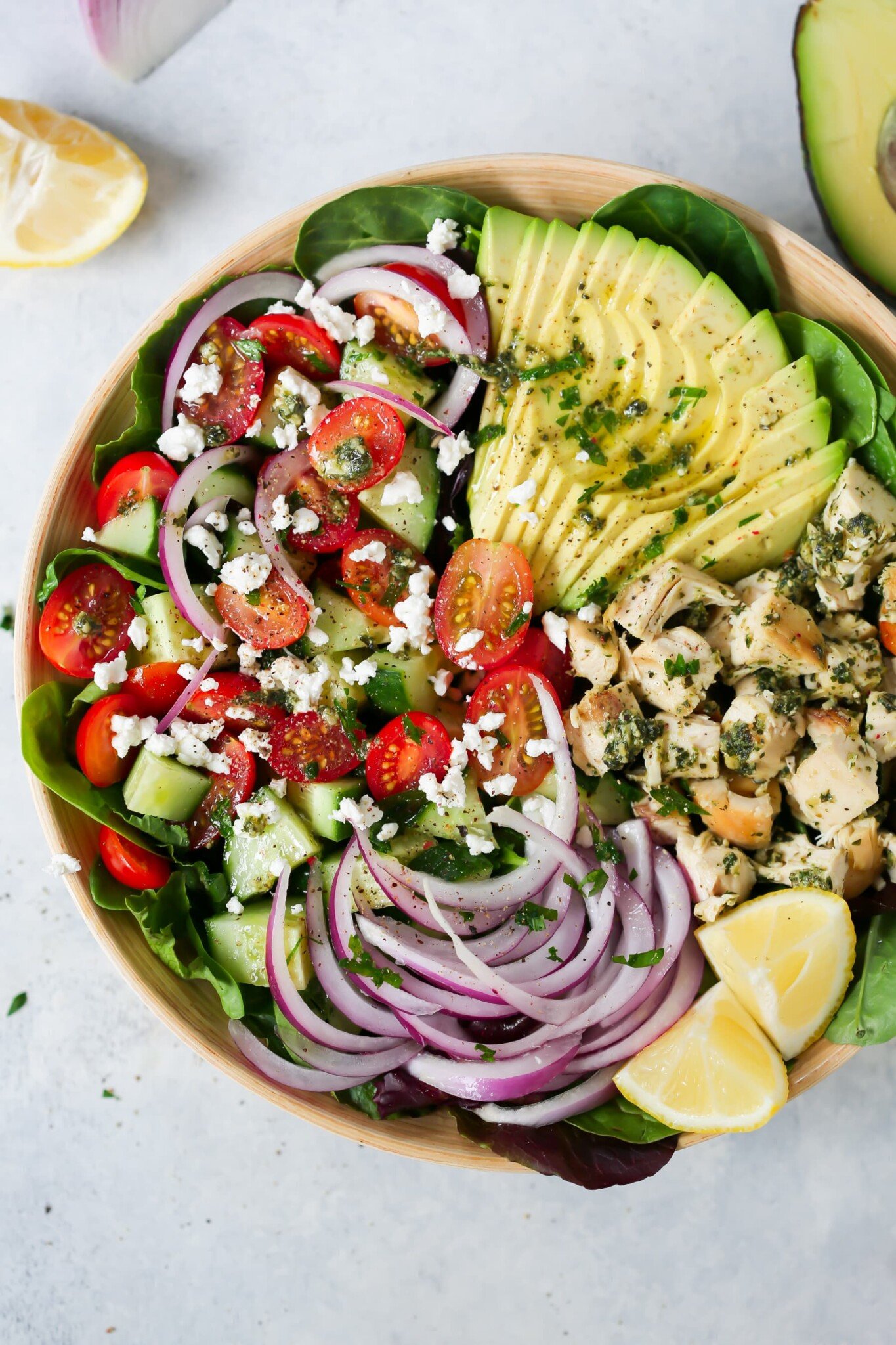 The flavor-packed chicken in this salad is seasoned with my homemade pesto, which tastes incredible. I LOVE this recipe and add it to everything like my Pesto Shrimp Tomato Salad, Sweet Potato Pesto Chicken Skillet, Pesto Spaghetti Squash with Shrimp, and Sun-dried Tomato Pesto Shrimp Asparagus Skillet.
You can't go wrong with any of these amazing recipes.
Ingredients to Make Pesto Chicken Salad
Ingredients
For the chicken:
Chicken breast — Boneless and skinless. I prefer to purchase free-range, organic brands whenever possible.
Seasonings — Salt and black pepper.
Pesto — I highly recommend my homemade pesto sauce recipe because it's so good and really easy to make with fresh basil! You can also use a store-bought option, if desired.
For The Salad:
Leafy greens — I generally use spinach in this salad. Romaine, arugula, iceberg, or butter lettuce would all work nicely. Pick one or mix and match!
Veggies — Red onion and cucumber. Feel free to add other vegetables, too.
Cherry tomatoes — Grape tomatoes would also work, though I prefer cherry tomatoes because they're extra sweet.
Avocado — Adds the best, creamy texture.
Feta crumbles — Feel free to experiment with different options, blue or goat cheese crumbles would certainly taste fantastic on this salad.
Parsley — Fresh chopped parsley leaves add extra color and flavor.
How to Make Basil Pesto Chicken Salad
Bake chicken:
Preheat your oven to 400°F and line a baking sheet with parchment paper.
Place chicken on the baking sheet and season both sides generously with salt and pepper.
Bake chicken for about 30 minutes, or until the internal temperature of the breast reaches 165°F, then remove from the oven and rest for approximately 10 minutes.
Prepare the salad:
While chicken rests, arrange leafy greens in a large bowl along with red onion, cherry tomatoes and cucumber. Slice up your avocado and place it on top.
Dice chicken in bite-size pieces, place cubes in a small bowl and mix with pesto, then add chicken to the salad.
Measure lemon juice, olive oil, salt and pepper into a large mason jar. Mix well with a small whisk, or place a lid on the jar and shake ingredients to combine.
Do a quick taste test, then add more seasonings if needed.
Drizzle dressing over your salad and sprinkle with chopped parsley and salty feta cheese crumbles. Enjoy!
Recipe Tips
Boneless, skinless chicken thighs can also be used to make this salad.
After baking your chicken breast, let it rest for about 10 minutes. Cutting into the meat too quickly can cause juices to run out, resulting in dryness. Rest time is the key to moist and juicy chicken!
If you have no time to bake chicken, you can also use a rotisserie chicken or any cooked shredded chicken you have on hand.
You can totally make extra chicken for meal prep. That way, when you want another salad, you can whip it up in minutes.
I really prefer using homemade pesto for this recipe. But, you can substitute store-bought pesto, if desired.
I love red onion, though it can sometimes be extra spicy. An easy way to remove the bite? Soak your red onion slices in cold water for about 15 minutes.
If you'd like to add even more protein to this salad, you can top it with a hard-boiled egg!
You can enjoy this recipe on its own or serve it in a sandwich, a wrap, a toast, a pita, a sourdough bread or even a tortilla, if you prefer.
How To Store Pesto Chicken Salad
To Store: If you're meal prepping this salad for later, I recommend storing it separately from the dressing. If you add the dressing, the salad greens will wilt due to the moisture.
To Freeze: I don't recommend freezing this salad. It won't taste good once thawed. You can freeze just the chicken if you'd like to save it for later. Simply place it in a Ziploc bag or airtight container and store frozen for up to 3 months.
More Chicken Salad Recipes to Try
Frequently Asked Questions
Is this pesto chicken salad healthy?
This salad is very healthy and full of nutritious ingredients like greens, tomatoes and vegetables. Plus, you get a nice boost of protein from the chicken! It's a great low calorie, low-carb and gluten free meal option.
Subscribe for new recipes & a free e-cookbook
What is pesto dressing made of?
My homemade pesto is made with a simple mixture of basil leaves, fresh parmesan cheese, pine nuts, garlic cloves, olive oil, plus salt and pepper to taste!
What does pesto taste like?
The main ingredient in pesto is basil! So, it definitely has a strong herby, basil flavor with cheesy and nutty undertones. The flavor of pesto is quite powerful, so a little bit goes a long way.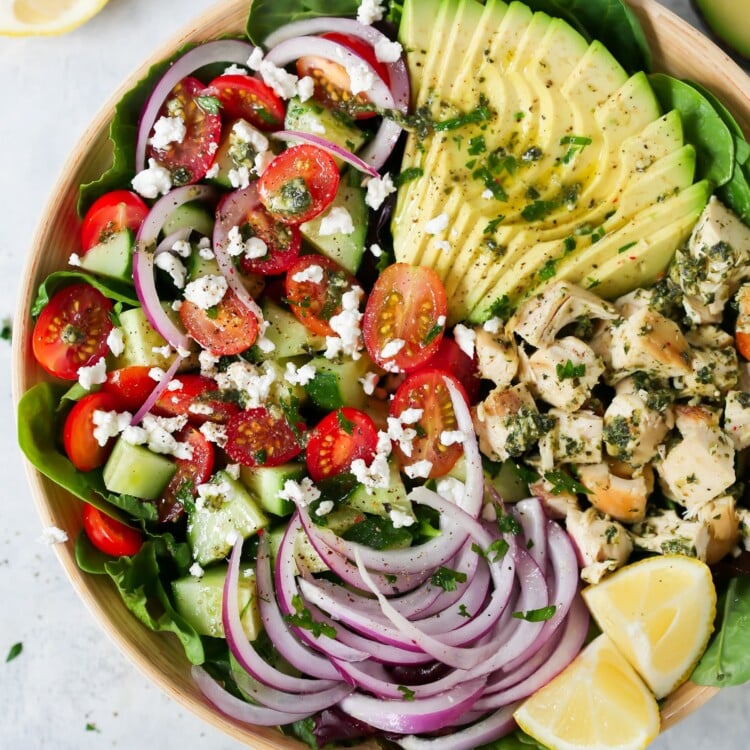 Pesto Chicken Salad Recipe
This pesto chicken salad is delicious and nutritious! It's loaded with leafy greens, sweet cherry tomatoes, creamy avocado, spicy red onion, feta and creamy avocado slices. Top everything off with a simple, bright, homemade lemon dressing.
Ingredients
Instructions
For the chicken
Preheat the oven to 400°F. Line a baking sheet with parchment paper or a silicone mat.

Place chicken breast on the baking sheet. Season with salt and pepper and bake for 30 minutes. The chicken is fully cooked when it reaches an internal temperature of 165°F.

Remove from the oven and let it cool down/rest for 10 minutes.
 For the salad
While chicken rests, arrange green leaves, red onions, cherry tomatoes and cucumber in a large salad bowl.

Slice avocado and place on the salad.

On a cutting board, dice the chicken breast and transfer to a small bowl. Add pesto and stir well, then place chicken atop salad.

In a mason jar, pour the freshly squeezed lemon juice and olive oil. Add salt and pepper and whisk everything together.

Taste to check the seasoning levels and add more salt/pepper if desired, then pour over the salad.

Top with feta cheese and parsley. Enjoy!
Tips
If you prefer chicken thighs, feel free to swap them.
Let chicken rest 10 minutes after baking to prevent dryness.
Feel free to bake extra chicken for meal-prep purposes.
I prefer homemade pesto in this recipe, but you can use store-bought.
You can soak the red onions in cold water to remove some of the bite from them.
For even more protein add a hard-boiled egg to your salad.
To store: If this salad will be your lunch at work, bring the dressing in a separate container to avoid soggy lettuce. Everything will keep well (when stored separately from dressing) for up to 4 days.
To freeze: I don't recommend freezing the salad, but you can freeze the chicken for up to 3 months.
Nutrition Information
Serving:
1
/4
Calories:
254
kcal
(13%)
Carbohydrates:
15
g
(5%)
Protein:
28
g
(56%)
Fat:
31
g
(48%)
Saturated Fat:
14
g
(88%)
Polyunsaturated Fat:
2
g
Monounsaturated Fat:
10
g
Cholesterol:
100
mg
(33%)
Sodium:
1445
mg
(63%)
Potassium:
929
mg
(27%)
Fiber:
3
g
(13%)
Sugar:
11
g
(12%)
Nutrition information is calculated using an ingredient database and should be considered an estimate.
And if you like this Pesto Chicken Salad recipe, please share with your friends and family. Do you want to taste more? Subscribe to my newsletter and follow Primavera Kitchen on Twitter, Pinterest, Instagram, and Facebook for all delicious recipes updates. As always, I really appreciate you stopping by.