This healthy meatloaf recipe makes a delicious, wholesome, family friendly dinner. It's juicy and full of flavour. Make it for tonight in just a few simple steps!
Meatloaf is a favorite in our home. If you love meatloaf recipes as much as we do try this Easy Turkey Meatloaf Recipe or Healthy Meatloaf Meal-Prep Bowls.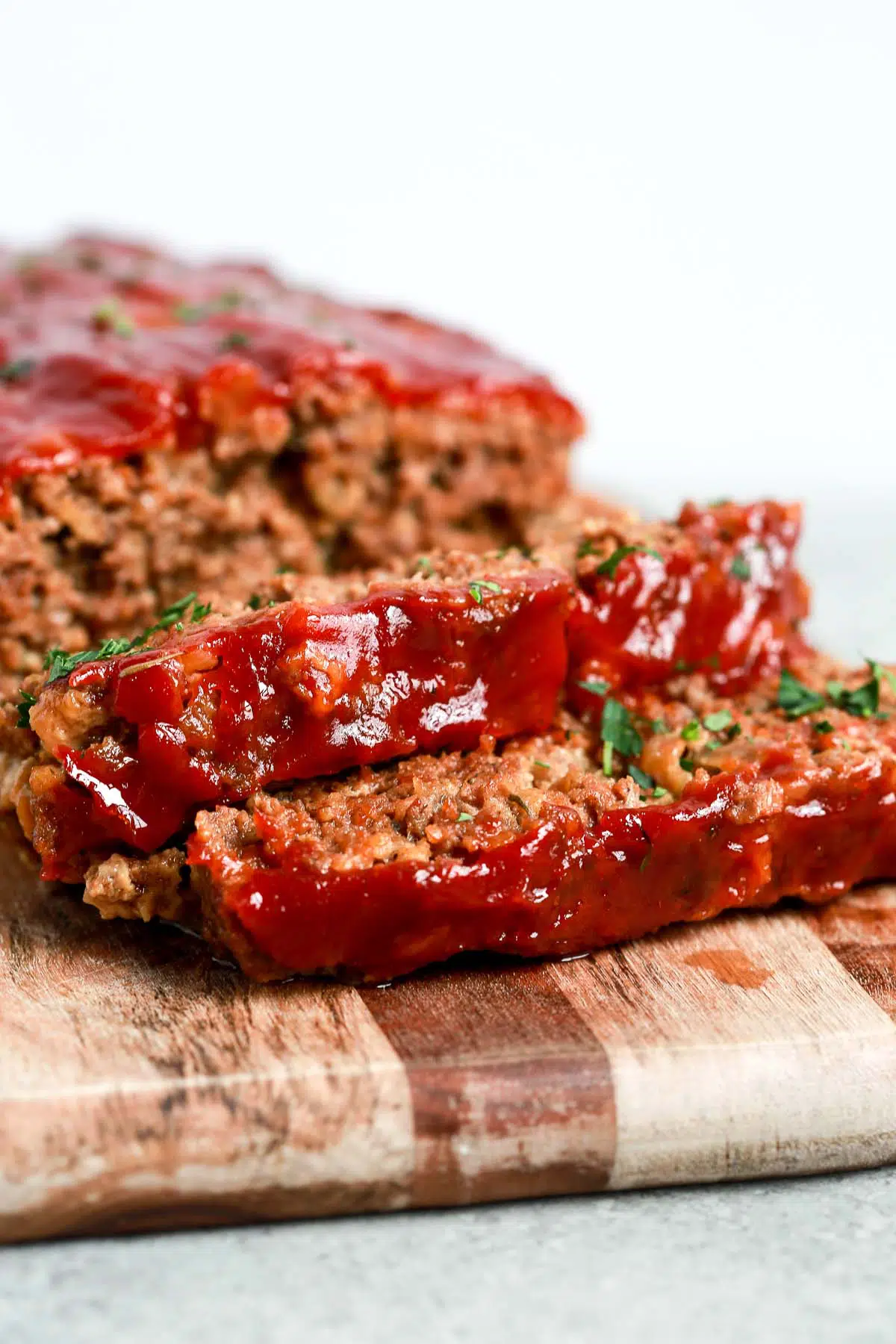 Meatloaf is a classic comfort food dish that's perfect at any time of the year. Plus, you only need a handful of simple ingredients to make it! It's a nutritious dinner that's filling and a great source of protein. Pair it with this Zucchini Cauliflower Rice or Whole30 Mashed Cauliflower. You can even serve it with a simple side salad if you'd like. Follow the recipe below to learn how to make meatloaf that's healthy but still delicious.
Ingredients to Make this Healthy meatloaf recipe
Ground chuck – This comes from a different cut than ground beef and is leaner as well. It's ideal for meatloaf and meatballs because it holds its shape better during cooking.
Chicken stock or broth – If you need to monitor your salt intake, use low sodium stock
Tomato paste – Plain, unflavored goes best with this recipe.
Bread crumbs (you can use almond flour for Whole30, low-carb or gluten-free diets) – These keep the texture light and help retain moisture. Progresso plain dry bread crumbs are my preferred brand.
Onions – I use white onion, but yellow onion would also work.
Eggs – These act as a binder to hold all of the meatloaf ingredients together.
Ketchup – I recommend using sugar-free. I love this one from True Made Foods.
Worcestershire sauce – The staple ingredient that gives this healthy meatloaf recipe its classic flavor.
Olive oil
Seasonings – Dried thyme, kosher salt, and freshly ground black pepper.
How to make meatloaf
Add the olive oil to a large skillet over medium heat. When the oil is shimmering, add the onions and spices and sauté for 5-7 minutes, stirring occasionally. The onions should be soft and translucent, and the spices will be fragrant.
Remove the skillet from the heat and mix in the liquids and tomato paste. Be sure to gently scrape the bottom of the pan to get any bits that are stuck.
Next, make the meatloaf mixture. In a large mixing bowl, combine the ground beef, ingredients from the skillet, breadcrumbs, and egg.
To avoid a dense, heavy meatloaf, use a fork to mix all of the ingredients together. Be sure not to mash or over work the mixture.
Line a loaf pan with parchment paper. Transfer the meatloaf to the pan and gently press into shape. Add ketchup to the top of the loaf, and spread it into a thin layer.
Bake at 325 degrees F for about 85 minutes, or until the loaf reaches an internal temperature of 160 degrees F. After you take it out of the oven, spread on another layer of ketchup before serving.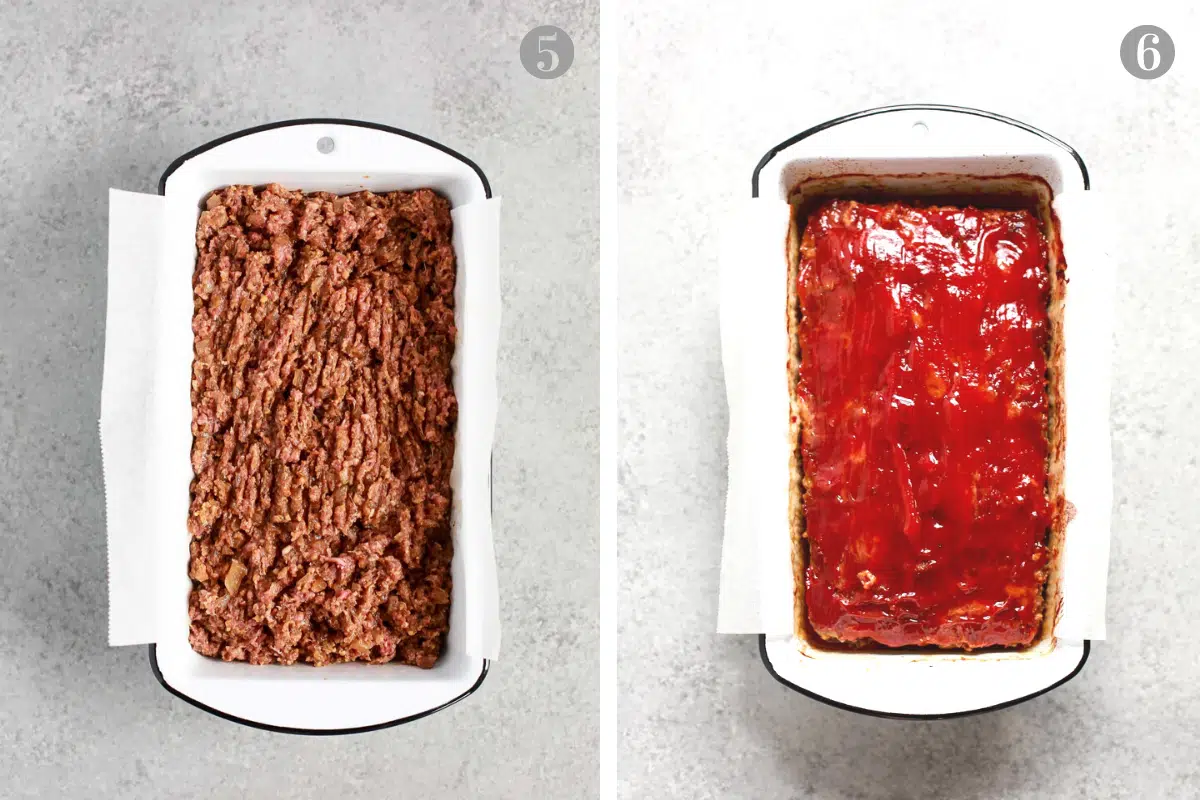 Storing Leftovers
Store the meatloaf in the refrigerator for up to 4 days. Wrap the loaf tightly in plastic wrap, or store in airtight containers to maintain freshness.
This healthy meatloaf recipe is very freezer friendly, making it perfect for easy meal prep!
You can freeze individual slices to reheat for dinner on another night. Or, use it to make meatloaf sandwiches! As a result, you can take out only what you need at the time, without defrosting the whole loaf.
Wrap each slice in plastic wrap or wax paper, then place all of them in a large freezer-safe container or storage bag.
The meatloaf will stay fresh in the freezer for about 3-4 months.
If you know you'll be freezing a portion of your meatloaf, leave the additional ketchup off of those servings. Then, add it to the slices after reheating.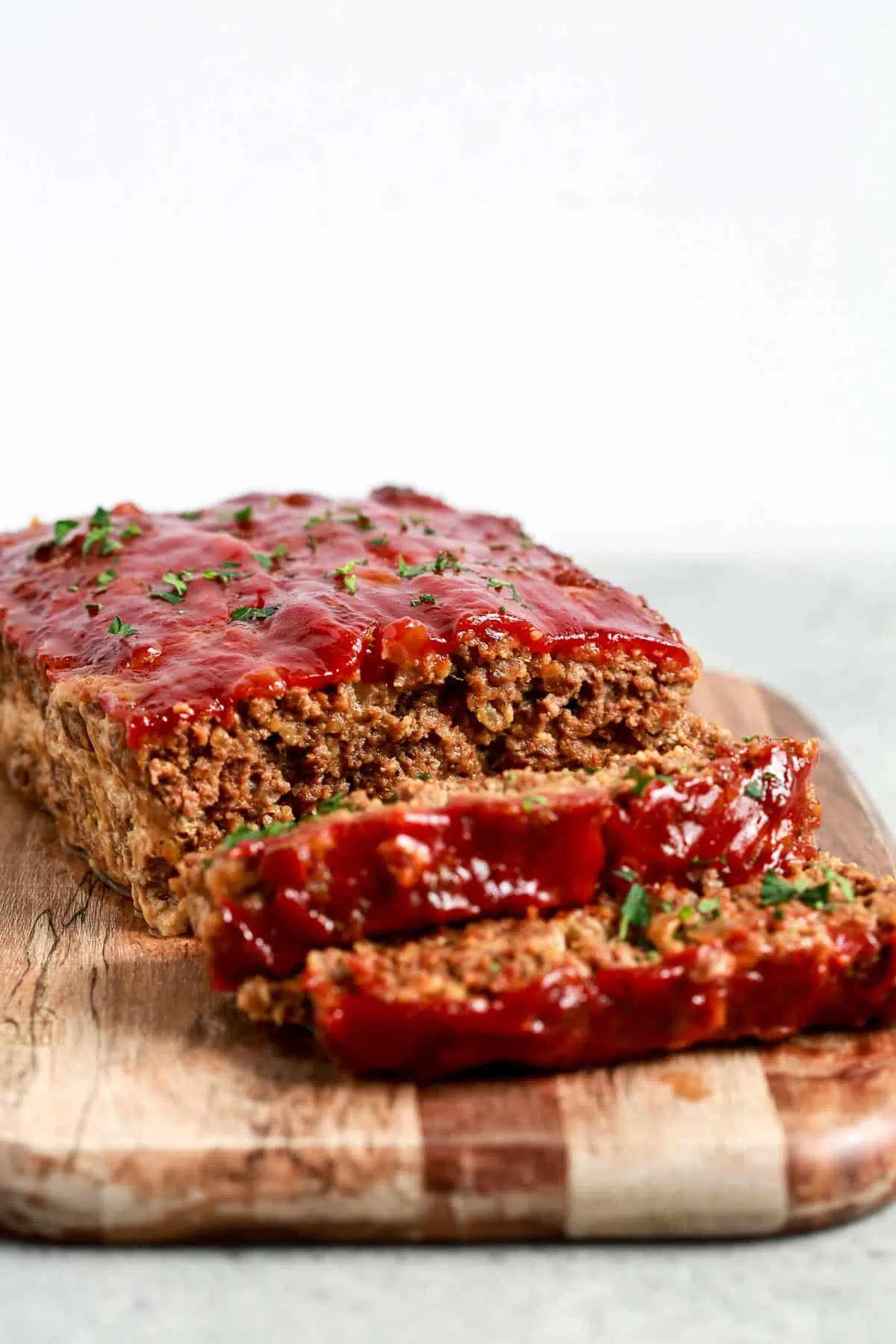 You may think this recipe doesn't sound very exciting because I made healthy choice ingredients, but actually you are going to be surprise how flavorful it is. This meatloaf recipe is also protein-packed, iron-rich and very easy to make.
Recipe Tips
To keep this gluten-free and low-carb, use almond flour instead of bread crumbs.
If you don't have extra-lean ground chuck or beef, you can swap in for turkey or chicken. You can also use a mixture of two types of meat.
If you are worried about the meatloaf being dry, you can cover the top of the meatloaf for the first half of the baking time with tin foil to help retain moisture.
If you don't have dried thyme, you can use dried rosemary as well.
Avoid over-mixing the meat before baking as it can lead to a tough and dense meatloaf.
I don't recommend free form baking (outside of a loaf pan) this meatloaf as the ends and sides will overcook before the middle is cooked. In addition, if you're meatloaf is able to hold its shape while baking free-formed, then you've made it too dense.
Why does my meatloaf fall apart?
The most common reason that a meatloaf falls apart is due to a lack of binding agents. The eggs and bread crumbs are key as they are the binding agent. I would not recommend using less than the recommended amount of eggs and bread crumbs for this recipe. Also, if you oven bake the meatloaf, that will dry it out and cause it to fall apart as well.
What to serve with meatloaf
So, you really should give this healthy meatloaf a try. Ah I almost forget to say that it goes really well with roasted green beans, mashed cauliflower, roasted butternut squash mash, Mediterranean mashed potatoes or roasted asparagus or simply with a delicious green salad.
Want another healthy recipe? Try my Ground Turkey Sweet Potato Lettuce Wraps for lunch and or these 40 Easy Fall Dinner Recipes! Enjoy!
Subscribe for new recipes & a free e-cookbook
Healthy Meatloaf Recipe
This healthy meatloaf recipe makes a delicious, wholesome, family friendly dinner. It's juicy and full of flavour. Make it for tonight in just a few simple steps!
Instructions
Preheat the oven to 325 degrees F. In a large skillet, heat olive oil over medium heat. Add the onions, thyme, salt, and pepper and cook over medium-low heat for about 5-7 minutes. Stir occasionally.

Remove the skillet from the heat and add the Worcestershire sauce, chicken stock, and tomato paste. Mix everything together very well.

In a large bowl, add ground beef, sautéed onion mixture, breadcrumbs and egg. Mix all well using a fork. It's important to use a fork because it will allow the meat mixture to be fluffy and not dense. Do not mash the meat mixture.

Transfer the meatloaf into a loaf pan covered with parchment paper.

Spread sugar-free ketchup on top of meatloaf.

Bake for about 1 hour and 10 minutes, or until the meatloaf is cooked through and the internal temperature is 160˚F. Remove from the oven and spread more ketchup on top. Enjoy!
Tips
Click HERE to watch the web story. 
Careful not to over mix the meatloaf mixture, or the meatloaf will be tough.
Use almond flour instead of bread crumbs to keep this gluten-free and low-carb.
You can cover the top of the meatloaf for the first half of the baking time with tin foil to help retain moisture if you're worried about drying out the meatloaf.
To store: Store leftover meatloaf in the fridge. Try not to slice the entire loaf as sliced meatloaf dry out faster.
To reheat: You can reheat the meatloaf in a microwave. 
To freeze: Tightly wrap the meatloaf in plastic wrap and then tin foil if you do not have a large enough freezer-safe container to freeze it in. 
Nutrition Information
Serving:
1
/6
Calories:
429
kcal
(21%)
Carbohydrates:
10
g
(3%)
Protein:
43
g
(86%)
Fat:
25
g
(38%)
Saturated Fat:
9
g
(56%)
Monounsaturated Fat:
2
g
Cholesterol:
189
mg
(63%)
Sodium:
660
mg
(29%)
Potassium:
126
mg
(4%)
Fiber:
1
g
(4%)
Sugar:
5
g
(6%)
Nutrition information is calculated using an ingredient database and should be considered an estimate.
Watch the Web Story HERE.
If you like Healthy Meatloaf Recipe, please share with your friends and family. Do you wanna taste more? Subscribe to my newsletter and follow Primavera Kitchen on Twitter, Pinterest, Instagram and Facebook for all delicious recipes updates. As always, you are really appreciated for stopping by.