Make these Low-carb Chocolate Muffins and you won't need to give up desserts to stick to a low-carb lifestyle. It's made with almond flour, cocoa powder and natural sweetener.
It's time to indulge your sweet tooth with theseLow-carb Chocolate Muffins and you won't feel bad after eating them. I promise to you that these low-carb chocolate muffins are guilt-free, but yet D.E.L.I.C.I.O.U.S.
If you love low carb muffins I'm sure you'll love these Low-Carb Lemon Blueberry Blender Muffins and these Almond Flour Cranberry Muffins.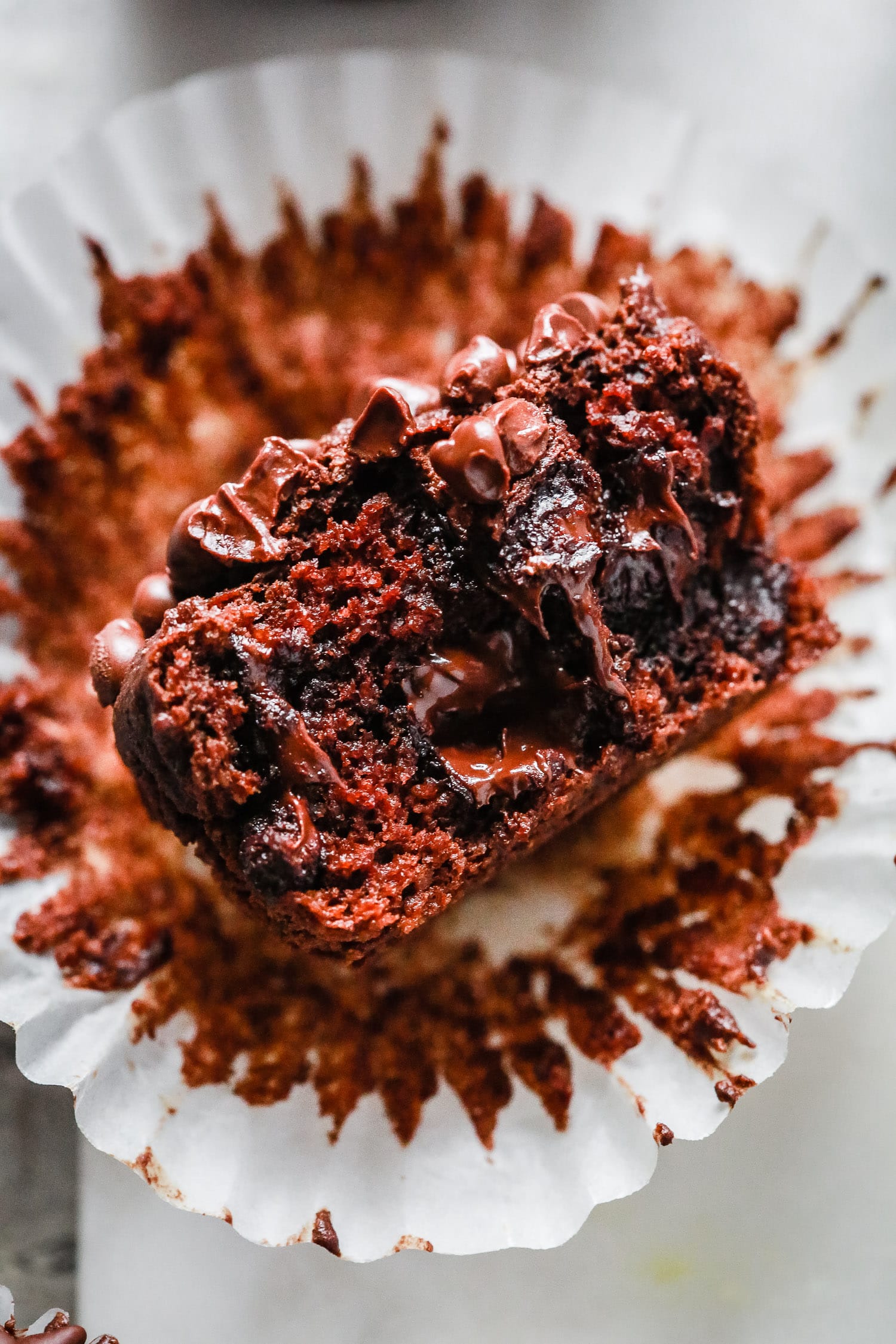 Low-carb Chocolate Muffins for Your Happy Days!
You're going to love these low-carb muffins so much because…
·     They're moist, chocolatey, delicious and super easy to make.
Subscribe for new recipes & a free e-cookbook
·      It's a perfect decadent treat for low-carb diet.
·      It's a chocolate treat that it's ready in 30 minutes.
·      It's healthier than the regular chocolate muffin recipes. It's made with almond flour so it's gluten-free, dairy-free and paleo-friendly too.
·      All the ingredients you probably already have on hand.
·      Also, it's freezer-friendly and kid-friendly too. My 3 years old boy loved these muffins. He also loves my Almond Flour Pumpkin Muffins, Breakfast Egg Muffins Recipe, and Almond Flour Cranberry Muffins if you're looking for more muffins!
What is the best natural sweetener to make these Low-carb Chocolate Muffins?
My three favourite options are:
·      Xylitol: It's a sugar alcohol that it's found naturally in some plants and contains 40% less calories than regular sugar. Also, it has a very low glycemic, which is great for diabetes since it doesn't spike blood sugar.  This was the first natural sweetener that I've ever baked with and I love it so much, because it doesn't leave an awful aftertaste.
·      Monk Fruit Sweetener (Lakanto): This is a new sweetener that I'm using and so far I've been enjoying it. It has almost no aftertaste and it contains no calories and no carbs, which is perfect for low-carb and keto diets. I used this one to make these chocolate muffins.
·      Swerve: I also like to use this one, but the negative side of this sweetener is that it has some cooling sensation when you eat a treat made with this sweetener. It's also natural and all its ingredients come from a selection of fruits and starchy root vegetables. It's also free from artificial flavours or preservatives.
Which flour is the best for low-carb baking?
For this recipe I use only almond flour and it worked really well. It's not necessary to use coconut flour, xanthan gum or even flaxseed meal to make these delicious low-carb chocolate muffins. They came out from the oven with a great texture and very moisture.
What kind of sugar-free chocolate chips do you use to make these Low-carb Chocolate Muffins?
Nowadays, it's getting easier and easier to find sugar-free chocolate chips in the market. But there are some brands that use maltitol as the sweetener, which there are some studies that have been proven to spike blood glucose levels.
So, for me the best sugar-free chocolate chips in the market right now is Lily's Chocolate chips. It's made with natural stevia and real chocolate. I highly recommend it and it's this is the brand that I used to make these low-carb chocolate muffins.  
More Muffins Recipes to Try:
Want some more healthy recipes to try? You should definitely try my Chicken and Bell Peppers Skillet and Healthy Breakfast Meal Prep Bowls before eating one of these delicious chocolate muffins!
Low-carb Chocolate Muffins
Make these Low-carb Chocolate Muffins and you won't need to give up desserts to stick to a low-carb lifestyle. It's made with almond flour, cocoa powder and natural sweetener.
Instructions
Preheat oven to 350˚F. Line a muffin tin with paper liners. Set aside.

In a medium bowl, add the dry ingredients (almond flour, baking soda, cacao powder and salt) and mix well to combine.

In another bowl, add eggs, monkfruit syrup (honey or maple syrup) and melted butter and whisk to combine.

Pour the eggs mixture into the almond-flour mixture, then carefully stir well to combine.

Fold in chocolate chips. Divide the batter among the prepared muffin cups. This is very important: fill each muffin cups three-quarters of the way. It's about two and a half tablespoon per muffin cups. The dough will be a bit thick, but it will work perfectly. Sprinkle with additional sugar-free chocolate chips as desired.

Bake for 25-30 minutes, until the tops of the muffins are set and a toothpick inserted in the center comes out clean.

Place the pan on a wire rack and let the muffins cool in the pan for 5 minutes. Gently pop the muffins out and cool 10 minutes more on the rack.
Tips
This recipe was adapted from the blog Tasty Yummies. 
This recipe was tested for almond flour only. Do not swap for a different flour.
I love adding extra chocolate chips on top of the batter before baking. This makes it look extra appealing! 
Avoid overfilling the muffin liner as it'll overflow. 
To store: Store the muffins in the fridge for up to a week or on the counter for 3 days. Make sure they're in an airtight container. 
To freeze: You can freeze the muffins for up to 3 months.
Nutrition Information
Serving:
1
/12
Calories:
199
kcal
(10%)
Carbohydrates:
6
g
(2%)
Protein:
7
g
(14%)
Fat:
17
g
(26%)
Saturated Fat:
5
g
(31%)
Monounsaturated Fat:
1
g
Cholesterol:
57
mg
(19%)
Sodium:
171
mg
(7%)
Potassium:
18
mg
(1%)
Fiber:
4
g
(17%)
Sugar:
2
g
(2%)
Nutrition information is calculated using an ingredient database and should be considered an estimate.