If you like make ahead breakfast recipe, this breakfast meal prep bowls recipe is for you. I'm sure if you make this recipe, you'll start your day well. Sweet potato frittata, roasted cashews and berries are all you need to have nutritious breakfast every day of the week.
We usually have dinner early evening. Also, I usually don't eat a lot in the evening since it helps me to sleep better. That being said, you can image that I wake up a bit hungry and ready to have breakfast.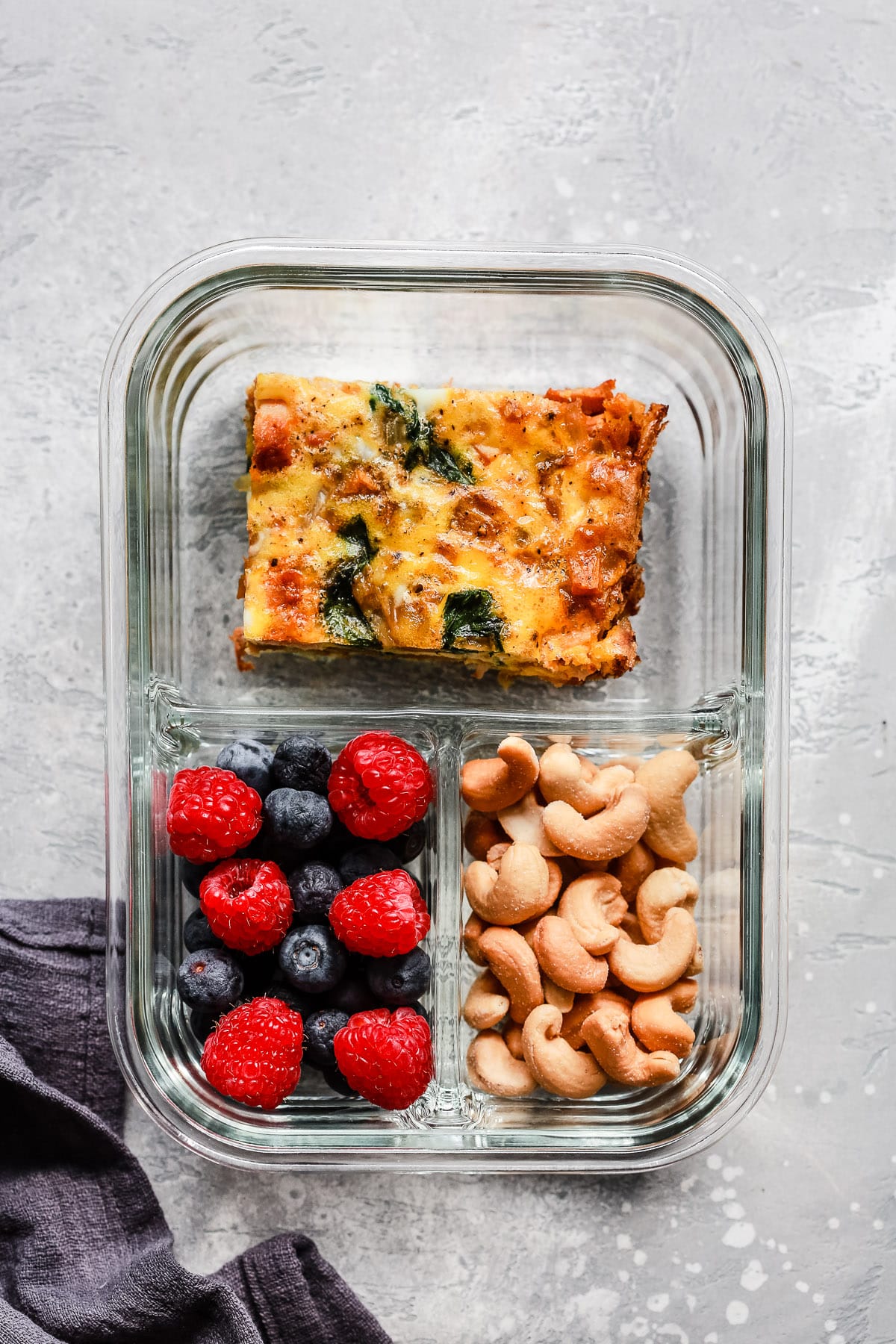 Breakfast is one of my favourite meals of the day and I always try to make sure I eat healthy in the morning to start my day well. Smoothies, breakfast burrito, chocolate chips pancakes with maple syrup on top, scrambled eggs or a toast with peanut butter or almond butter are great for breakfast.
However, some mornings are so busy for most of us that it's difficult to have a healthy breakfast meal, am I right? Well, the answer is not, if you have your healthy meal-prep breakfasts waiting for you in the fridge.
Isn't it great waking up in the morning and having a hearty, homemade breakfast ready for you to dig in? You not only will save yourself some time and energy but also you'll have a nutritious breakfast even during the busy morning days.
For these healthy breakfast meal-prep bowls recipe I made sweet potato frittata because I love having eggs in the morning and I also serve it with some berries and cashews.
You can also replace berries for any other fruits likes bananas and strawberries. If you prefer, you can serve this amazing frittata with some chopped veggies, breakfast cookies, hashes, granola with Greek yogurt, roasted potatoes and breakfast sausage.
Subscribe for new recipes & a free e-cookbook
This recipe is great also because it's freezer-friendly. If you prefer, instead of making this frittata in a baking dish, you can make it in muffin tins to have egg muffins. When you make this recipe in muffin tins is easier to freeze.
Want another easy breakfast recipe? You should definitely try my Easy Vegetable Frittata, Low-carb Chocolate Muffins Recipe, and Coconut Berries Oatmeal Recipe.
What ingredients I need to make these Healthy Breakfast Meal Prep Bowls?
The best part of this breakfast meal is that you probably already have all the healthy ingredients you need in your fridge and pantry to make this recipe. Here are the main ingredients you'll need:
· Onion: You can use red, yellow or white onions. But even for some reason you can have onions, you can skip then.
· Red bell pepper: To make these healthy breakfast meal-prep bowls, I use red bell pepper, but you can replace if for yellow or green too. It's totally up to you. Got extra bell peppers? Try my Chicken and Bell Peppers Skillet.
· Roasted sweet potato: This is the queen of this dish. Love, love, love the addition of roasted sweet potato in here. But if you don't have sweet potato, you can use any other root of your preference.
· Spinach: You have to add some greens in this frittata, right? Kale or collard goes really well with this recipe too.
· Then, you'll need eggs, almond milk (cow's milk works too) and some seasoning.
· Also, to make your healthy breakfast meal-prep bowls complete and even more nutritious I added some berries (or any other fruit of your preference) and cashews. You also can add boiled egg or veggies aside.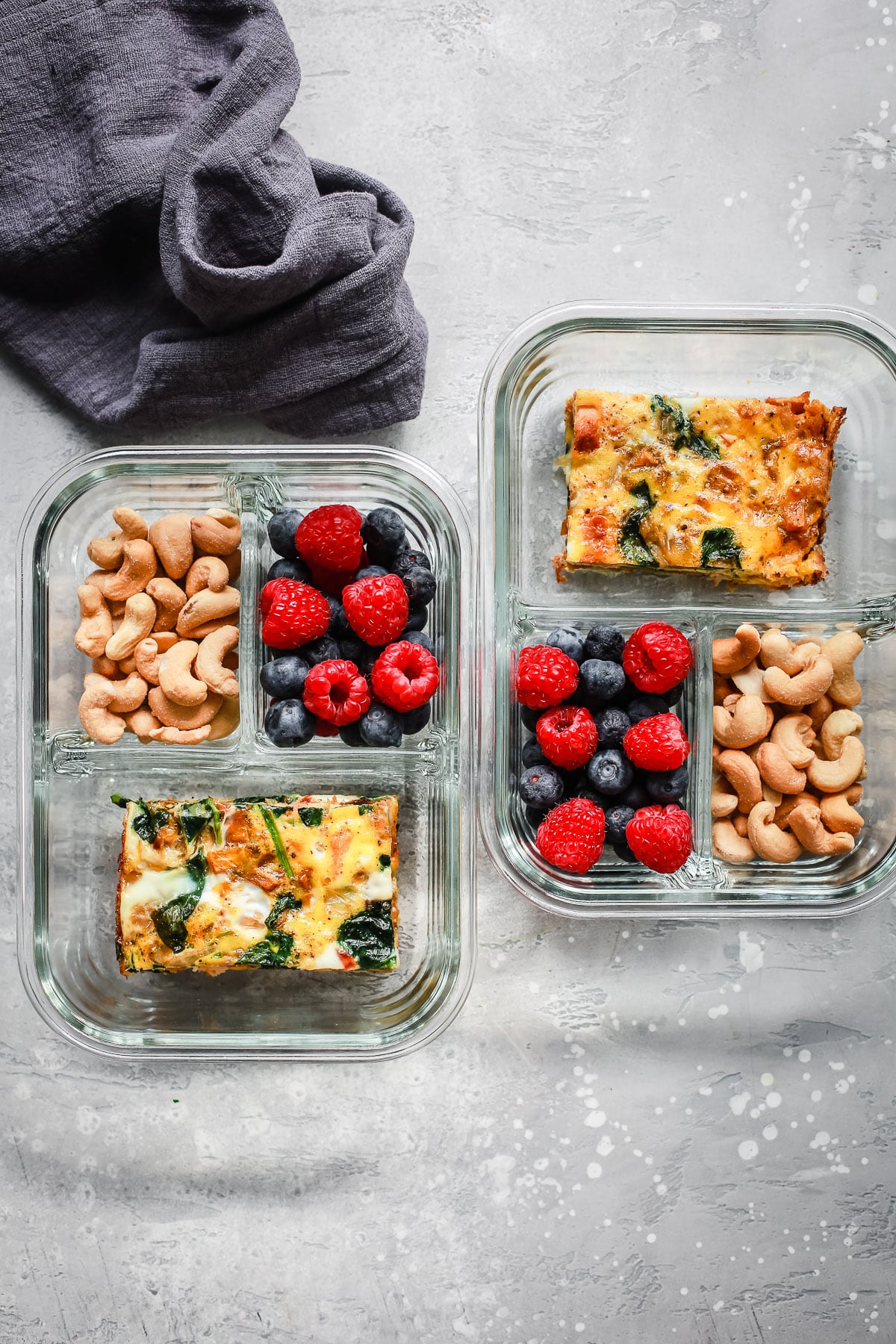 How to make these healthy breakfast meal-prep bowls:
· It's super simple and you'll make it very fast too. First, you need to roast the sweet potato with olive oil, salt and pepper for about 15-20 minutes at 425ºF.
· Meanwhile, sauté the veggies that are not already cooked. Set aside.
· Beat the eggs in a bowl, and then add almond milk and the seasoning (for extra flavors).
· Pour the egg mixture in the skillet where you sauté the veggies and add roasted sweet potato.
· Bring to the oven and bake for about 10-15 minutes or until it's cooked through.
· Slice and place the slices between 4-5 glasses container. Add some berries and when it's time to eat add some cashews. So good and this healthy meal prep recipe will last in the fridge to up 4 days.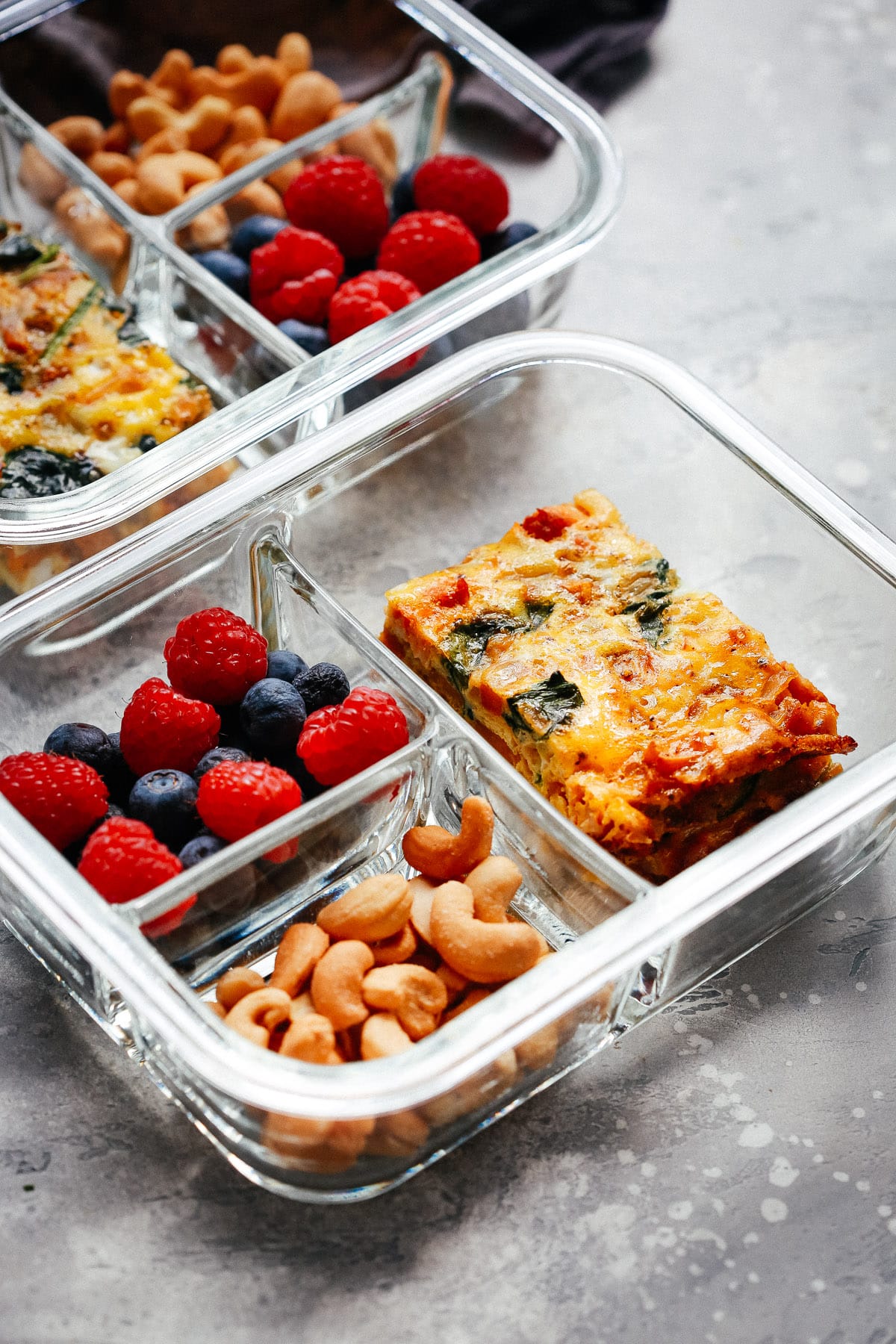 More Breakfast Ideas to Try:
If you are not a egg person, you can try to make gluten-free overnight oats (I love this one from Fit Foodie Finds) or Instant pot oats (this one from Healthy Green Cooking is delicious) or even this breakfast bowl with lots of delicious roasted blueberries on the top. These Low-carb Almond Flour Pancakes are also a great option for someone who loves pancakes or this delicious sweet potato hash. Also you can have these delicious chia pudding and banana bread recipes.
However, if you're more like a savory breakfast person these low-carb bacon and cheese scones, breakfast muffins and these cauliflower muffins are insanely good.
Also, if you love having a ton of veggie in the morning this baked egg with veggies is the right breakfast recipe for you.
Now that you've got breakfast covered? Time to think about dessert! Try my Almond Cake with Berries Recipe!
Healthy Breakfast Meal Prep Recipe
Start your day well with these Healthy Breakfast Meal Prep Bowls. Sweet potato frittata, roasted cashews and berries are all you need to have nutritious breakfast all week long.
Instructions
Preheat oven to 400°F.

Over medium-high heat, heat oil in a 9-inch cast iron skillet.

Add onion and cook until slightly golden brown

Add peppers and cook for 3-5 minutes.

Add roasted sweet potato and spinach. Stir well and cook for 1 minute.

In a medium bowl whisk eggs, almond milk, red flake peppers, dried parsley, salt, and pepper.

Pour the egg mixture into the cast iron skillet, making sure eggs cover the vegetable mixture.

When the edges of the frittata begin to set, move the skillet to the oven.

Bake it for about 10-15 minutes or until frittata is completely cooked.
Tips
Meal-prepping:
Divide frittata between four glass meal prep containers. Add berries aside and place in the fridge for up to 4 days. When it's time to eat add some roasted cashews too (if you prefer). Enjoy!
I like red bell peppers as they're the sweetest, but you can use orange or yellow bell peppers if you'd prefer.
Feel free to swap the spinach for kale or collard greens.
Be careful not to overbake the eggs as they'll become rubbery. 
Nutrition Information
Serving:
1
/4
Calories:
204
kcal
(10%)
Carbohydrates:
19
g
(6%)
Protein:
10
g
(20%)
Fat:
10
g
(15%)
Saturated Fat:
2
g
(13%)
Polyunsaturated Fat:
2
g
Monounsaturated Fat:
5
g
Cholesterol:
233
mg
(78%)
Sodium:
449
mg
(20%)
Potassium:
489
mg
(14%)
Fiber:
3
g
(13%)
Sugar:
7
g
(8%)
Nutrition information is calculated using an ingredient database and should be considered an estimate.