This Roasted Root Vegetables with Thyme recipe is very rich in flavor. The fresh herbs thyme and parsley really take this dish to another level. Enjoy!
Today, I just want to pop in for a minute and share this delicious dish with you guys. This Roasted Root Vegetables with Thyme is so fast to prepare and it is as easy to make as my baked sweet potato recipe. The beauty of this dish is that you can choose whatever root vegetable you prefer to roast.
I personally love to roast carrots, beets, and onions because when they are roasted, they bring out the natural sweetness and flavors. Also, this dish doesn't have a lot of fat and calories, but it is still tasty and packed full of nutrients, just like my easy roasted vegetable recipe. Need to incorporate more vegetables into your daily diet? Here are 15 super easy low-carb salads for lunch that you'll love!
Before we go to the recipe, let me give you some tips to make this even more delicious.
Subscribe for new recipes & a free e-cookbook
One important thing to do when you roast vegetables is to cut them into roughly the same size. The reason why I am saying that it is because you want all of the roots to cook at the same time. If you cut some in small pieces and others in bigger sizes, the smaller ones will cook faster than others and they will probably become soggy by the time the bigger pieces are ready.
Another important tip is to add the vegetables in a single layer to the baking sheet as I did with the kale chips recipe to avoid them become mash.
And finally, toss the cut vegetables with olive oil, but make sure the pieces are coated on all sides because if not, the sides that are not coated will be very dry.
Got extra root vegetables? Try making my Ground Turkey Soup with Veggie Roots.
So, you will know your root vegetables are done roasting when they turn golden brown and the outside edges are almost crisp. It is so easy to make!
What Should I Serve With This?
This roasted root veggie recipe is such a versatile recipe that it goes with pretty much any main dish.  Some of my go-to recipes to serve with this roasted root vegetable recipe are my super easy Lemon Thyme Lamb Chops recipe and Turnip and Carrot Slow Cooker Beef Stew.
Want to browse all of my healthy recipe posts? Follow my Primavera Kitchen Board on Pinterest!!! For this time of the year, I also have great Pinterest Boards such as Healthy Dinner, Healthy Winter Recipes, Healthy Slow Cooker Meals, and Soups and Stews. I hope you enjoy all the delicious and healthy recipes I have there!!
Roasted Root Vegetable with Thyme
This Roasted Root Vegetables with Thyme recipe is very rich in flavor. The fresh herbs thyme and parsley really take this dish to another level. Enjoy!
Instructions
Preheat the oven to 350F (175C).

In a large bowl, add all the vegetables and toss with extra-virgin olive oil, balsamic, garlic, parsley, salt, and pepper.

In a large baking sheet covered with parchment paper, spread vegetables out evenly and in a single layer on the baking sheet and add sprigs of fresh thyme.

Roast in the oven for about 45-50 minutes, stirring once halfway through cooking to promote even cooking and browning.
Tips
You can use any oil that has a high smoke point.
Make sure you don't overcrowd the sheet pan so the vegetables can roast better instead of steaming.
Try to cut everything as uniformly as possible so they roast evenly.
To store: Transfer the roasted vegetables to an airtight container in the fridge for up to 4 days. 
To reheat: Reheat leftovers in the microwave or heat them up in the oven so they stay crispy.
Nutrition Information
Serving:
1
/4
Calories:
195
kcal
(10%)
Carbohydrates:
31
g
(10%)
Protein:
4
g
(8%)
Fat:
7
g
(11%)
Saturated Fat:
1
g
(6%)
Polyunsaturated Fat:
1
g
Monounsaturated Fat:
5
g
Sodium:
293
mg
(13%)
Potassium:
807
mg
(23%)
Fiber:
7
g
(29%)
Sugar:
20
g
(22%)
Nutrition information is calculated using an ingredient database and should be considered an estimate.
I hope I could inspire you to go to the kitchen and roast some vegetables today. Don't forget the more you practice, the more you learn. Thank you so much for stopping by.
If you like this Roasted Root Vegetables with Thyme, please share with your friends and family. Do you want to taste more? Subscribe to my newsletter and follow Primavera Kitchen on Twitter, Pinterest, Instagram, and Facebook for all delicious recipes updates. As always, I really appreciate you stopping by.
Bring joy and roasted veggies into your plate 😉
Do you try more delicious recipes? Here you can find some more!
How about this Quick & Easy Baked Sweet Potato with Cashew Recipe? This recipe is healthy, tasty and so easy to make!!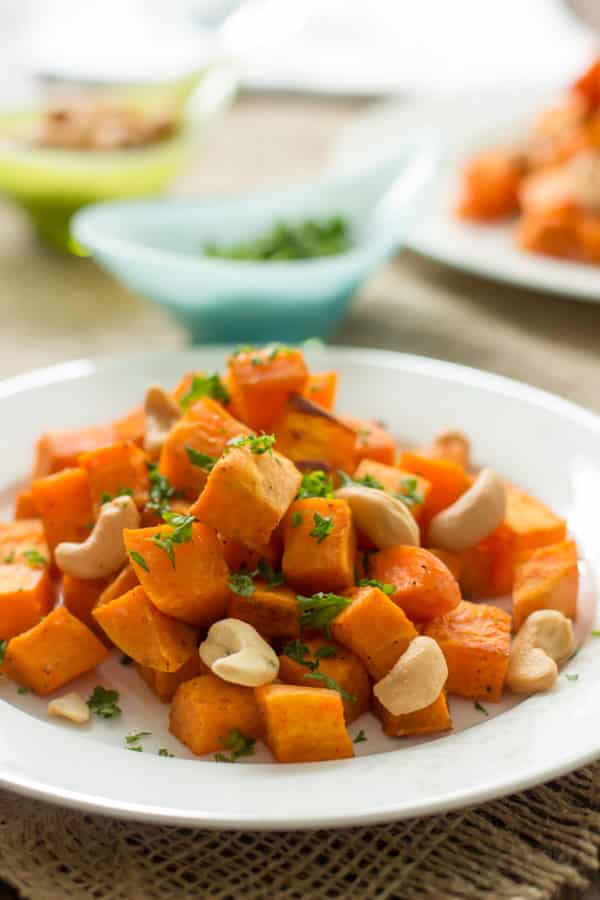 This Rice with Roasted Butternut Squash and Dried Cranberries is a gluten-free, vegan, vegetarian and healthy meal for your busy weekdays.
This is an easy and quick tutorial to explain how to roast delicious asparagus.