Shrimp Quinoa Bowl is a deliciously zesty dish packed with colorful vegetables and topped with feta cheese. It's also easy to customize with your favorite veggies and seasonings, so you can make it your own. Serve it with fresh, crusty bread or a side of roasted veggies like asparagus or broccoli.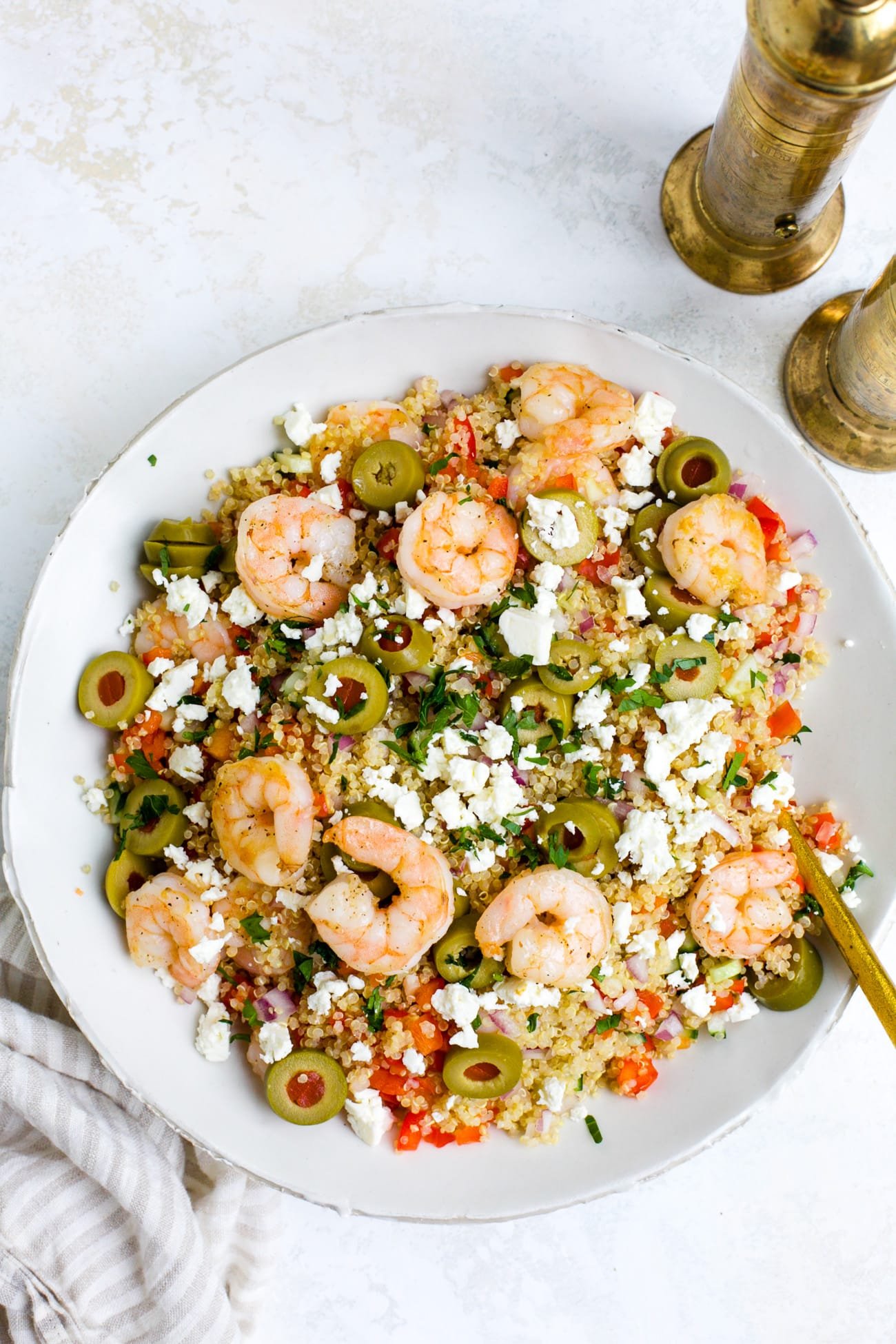 Quinoa is always been my favorite type of salad. If you read my site often you must have seen lots of different quinoa salad made with veggies, beans and even fruits. I always try to create quinoa salads with all kinds of ingredients, and one of my favorites is my black bean quinoa mango salad. I totally love the salt and sweet combo especially in salads because it adds much more flavor into it.
Ingredients to Make Shrimp Quinoa Bowls
When it comes to making a delicious Shrimp Quinoa Bowl, the key is to have fresh and flavorful ingredients. Here are the ingredients you will need to make a mouthwatering Shrimp Quinoa Bowl:
Fresh shrimp: Succulent shrimp adds a good amount of protein to this vibrant bowl.
Quinoa: Nutrient-packed quinoa forms the wholesome base, providing a satisfying and hearty foundation for your bowl.
Veggies: Red onion, red pepper, cucumber.
Olives: Briny olives introduce a tangy and savory element, infusing the dish with Mediterranean flair.
Feta cheese: Crumbled feta cheese for a creamy and salty flavor.
Garnish — Fresh herbs are great here like fresh parsley. It's great for extra flavor and color!
Olive oil: A drizzle of high-quality olive oil ties the ingredients together.
Kosher salt and black pepper: A pinch of kosher salt and a sprinkle of black pepper season the dish to perfection.
Instructions to Make Shrimp Quinoa
Preparing shrimp and quinoa salads can be a breeze with these simple steps. Follow these instructions to prepare the shrimp, cook the quinoa, and assemble the bowl. See the recipe card below for the full instructions.
Prepare the Shrimp:
To prepare the large shrimp, start by cleaning and deveining them if they aren't already deveined. Rinse them under cold water and pat them dry with paper towels, and season them with salt and pepper.
Cook the shrimp over medium-high heat in a large skillet until just cooked through.
Cook the Quinoa:
Cooking the quinoa is simple. Bring water to a boil in a medium saucepan, add the rinsed quinoa, then reduce the heat to low. Cover and simmer until the quinoa is cooked and the water is absorbed.
Check out this post on How to Make Fluffy Quinoa if you need help on making the quinoa.
Then, in a mason jar, whisk the olive oil, lemon juice, salt, and pepper until all is combined.
Assemble the Bowl:
Toss the quinoa, red onions, red bell peppers, cucumbers, and olives in a medium bowl. Top with shrimp and feta cheese.
Recipe Tips
When selecting your shrimp, look for fresh, wild-caught shrimp if possible. You can also use frozen shrimp, just make sure to thaw it properly before cooking.

Add garlic powder, cilantro, and lime juice to add a zesty kick to the shrimp.

Butter will add richness and a silky texture to the shrimp.

For the quinoa, you can use tri-color quinoa, which is a blend of white, red, and black quinoa. Rinse it with cold water through a fine mesh sieve before cooking to remove any bitterness. 

To assemble the bowl, you can use any combination of corn, avocado, tomato, sliced almonds, or fresh cilantro that you like. These ingredients will add freshness, crunch, and color to the bowl. You can also add other fresh veggies, such as roasted sweet potato or Brussels sprouts, or sautéed onions, to customize your bowl to your liking.
Recipe Variations
Shrimp quinoa bowls are a healthy meal and can be customized to suit your taste preferences. Here are some variations to try:
Mexican-style shrimp quinoa bowl: Add black beans, corn, diced tomatoes, avocado, and cilantro to your shrimp quinoa bowl. Top with a dollop of sour cream or Greek yogurt and a squeeze of lime juice for a tangy finish.
Asian-inspired shrimp quinoa bowl: Toss cooked shrimp with soy sauce, sesame oil, ginger, and garlic. Add sliced cucumbers, shredded carrots, and edamame to your quinoa bowl. Top with sliced green onions and sesame seeds for added crunch.
Mediterranean-style shrimp quinoa bowl: Combine cooked shrimp with chopped cucumber, cherry tomatoes, feta cheese, and kalamata olives. Drizzle with a lemon-herb vinaigrette and sprinkle with fresh parsley for a bright and flavorful meal.
Spicy shrimp quinoa bowl: Mix cooked shrimp with hot sauce, chili powder, and cumin. Add black beans, diced bell peppers, and avocado to your quinoa bowl. Top with a dollop of salsa and a sprinkle of shredded cheese for a spicy kick.
Breakfast shrimp quinoa bowl: Swap out the traditional lunch or dinner toppings for breakfast favorites like scrambled eggs, diced sweet potatoes, and sautéed spinach. Top with sliced avocado and a drizzle of hot sauce for a savory morning meal.
How To Store Leftovers
To ensure that this healthy shrimp recipe stays fresh and delicious, it's important to store it properly. Here are some tips for storing and reheating your bowl:
Refrigerate:
Store your leftover quinoa and shrimp in an airtight container in the refrigerator. This will keep it fresh for up to 3-4 days.
Freeze:
If you're planning to store your bowl for longer, consider freezing it. Place the bowl in a freezer-safe container and store it in the freezer for up to 3 months.
Reheat:
To reheat your Shrimp Quinoa Bowl, simply microwave it for 1-2 minutes or until heated through. Add the shrimp with about 45 seconds left in the microwave to prevent them from getting tough and rubbery.
If you're reheating a frozen bowl, let it thaw overnight in the refrigerator before reheating it.
What To Serve With Shrimp and Quinoa
Recommended Tools
Tongs: Tongs are the perfect tool to flip the shrimp while cooking them in the pan.
Saute pan: A heavy non-stick or cast iron saute pan is essential for cooking the shrimp.
Medium size pot: A stainless steel medium size pot is necessary for cooking the quinoa.
Frequently Asked Questions
Can I use frozen shrimp for my quinoa bowl?
Yes, you can use frozen shrimp for your quinoa bowl. Just make sure to thaw them properly before cooking. You can thaw them in the fridge overnight or place them in a bowl of cold water for about 20 minutes. Once thawed, pat them dry with a paper towel before cooking.
What vegetables pair well with shrimp and quinoa?
There are many vegetables that pair well with shrimp and quinoa. Some great options include cherry tomatoes, cucumbers, bell peppers, avocado, red onion, and corn. You can also add leafy greens like spinach or arugula for some extra crunch.
How can I add more flavor to my shrimp and quinoa bowl?
There are many ways to add flavor to your shrimp and quinoa bowl. You can marinate the shrimp in a mixture of olive oil, garlic, and lemon juice before cooking. You can also add spices like cumin, paprika, or chili powder to the quinoa for some extra flavor. Don't forget to add a drizzle of dressing or a sprinkle of feta cheese for some added taste.
Is shrimp and quinoa a good source of protein?
Yes, shrimp and quinoa are both great sources of protein. Shrimp is a low-fat, high-protein seafood that is also rich in vitamins and minerals. Quinoa is a complete protein that contains all nine essential amino acids. Together, they make a delicious and nutritious meal that will keep you feeling full and satisfied.
This recipe is really worth a try. Please, let me know if you made this salad and what you think about it. Hope you enjoy it. If you've a huge bag of quinoa and don't know what to do with all of it? Try this Easy Quinoa Salad, Quinoa Salad with Roasted Asparagus, Carrot Quinoa Salad, or Chicken Quinoa Salad.
Shrimp Quinoa Salad
Shrimp and Quinoa Bowl is a deliciously zesty dish packed with colorful vegetables and topped with feta cheese. It's also easy to customize with your favorite veggies and seasonings, so you can make it your own. Serve it with fresh, crusty bread or a side of roasted veggies like asparagus or broccoli.
Ingredients
Instructions
In a medium saucepan, bring 2 cups water to a boil over high heat. Once boiling, reduce the heat to low and add rinsed quinoa. Cover the sauce pan with a lid and let it cook for 10-15 minutes. Remove from the heat, uncover, fluff with a fork, and set aside to cool for at least 5 minutes.

While the quinoa is cooking, grab a mason jar or small bowl. Pour the freshly squeezed lemon juice and olive oil. Add salt and pepper and whisk everything. Set aside.

Using paper towels, pat dry shrimp and add in a plate or bowl.Season with salt and black pepper. Stir well.

In a skillet, heat olive oil over medium-high heat. Add shrimp and cook for about 1-2 minutes each side or until they are cooked through. Set aside.

In a large bowl, add cooked quinoa, red onions, red bell pepper, cucumber, cooked shrimp. Stir really well.

Pour the homemade vinaigrette dressing over the quinoa salad and stir to combine. Garnish with feta cheese, olives and parsley before serving.
For Meal-Prep/Storage
Place an even amount of quinoa salad and sautéed shrimp into 4glass containers. Cover with a lid, and place in the fridge for up 4 days. You can also store your salad in one, large container if desired.
Tips
Thoroughly thaw the shrimp and remove any excess water by patting them dry with paper towels before cooking them. 
The quinoa is done when it's cooked through but still slightly firm. Don't overcook it or it will become mushy. 
Cut the vegetables into small pieces all of similar size so they're easy to eat and you don't get any big bites of them. 
Whisk together the dressing at the beginning of the cooking process so the flavors have time to sit and mellow and won't be quite so sharp.
Nutrition Information
Serving:
1
/4
Calories:
276
kcal
(14%)
Carbohydrates:
41
g
(14%)
Protein:
19
g
(38%)
Fat:
5.3
g
(8%)
Saturated Fat:
2.3
g
(14%)
Polyunsaturated Fat:
0.2
g
Monounsaturated Fat:
0.6
g
Cholesterol:
110
mg
(37%)
Sodium:
658
mg
(29%)
Potassium:
270
mg
(8%)
Fiber:
3.1
g
(13%)
Sugar:
9.9
g
(11%)
Vitamin A:
80
IU
(2%)
Vitamin C:
113
mg
(137%)
Calcium:
28
mg
(3%)
Iron:
8
mg
(44%)
Nutrition information is calculated using an ingredient database and should be considered an estimate.
If you like Shrimp Quinoa Bowl recipe, please share with your friends and family. Do you wanna taste more? Try these 50 Healthy Salad Recipes or subscribe to my newsletter and follow Primavera Kitchen on Twitter, Pinterest, Instagram and Facebook for all delicious recipes updates. As always, you are really appreciated for stopping by.