This Garlic Butter Shrimp makes an easy and quick meal or appetizer that looks fancy. In just a few minutes, your garlic butter shrimp recipe will be perfectly cooked with garlic butter seasoning, making this a delicious dinner for weeknight and entertaining.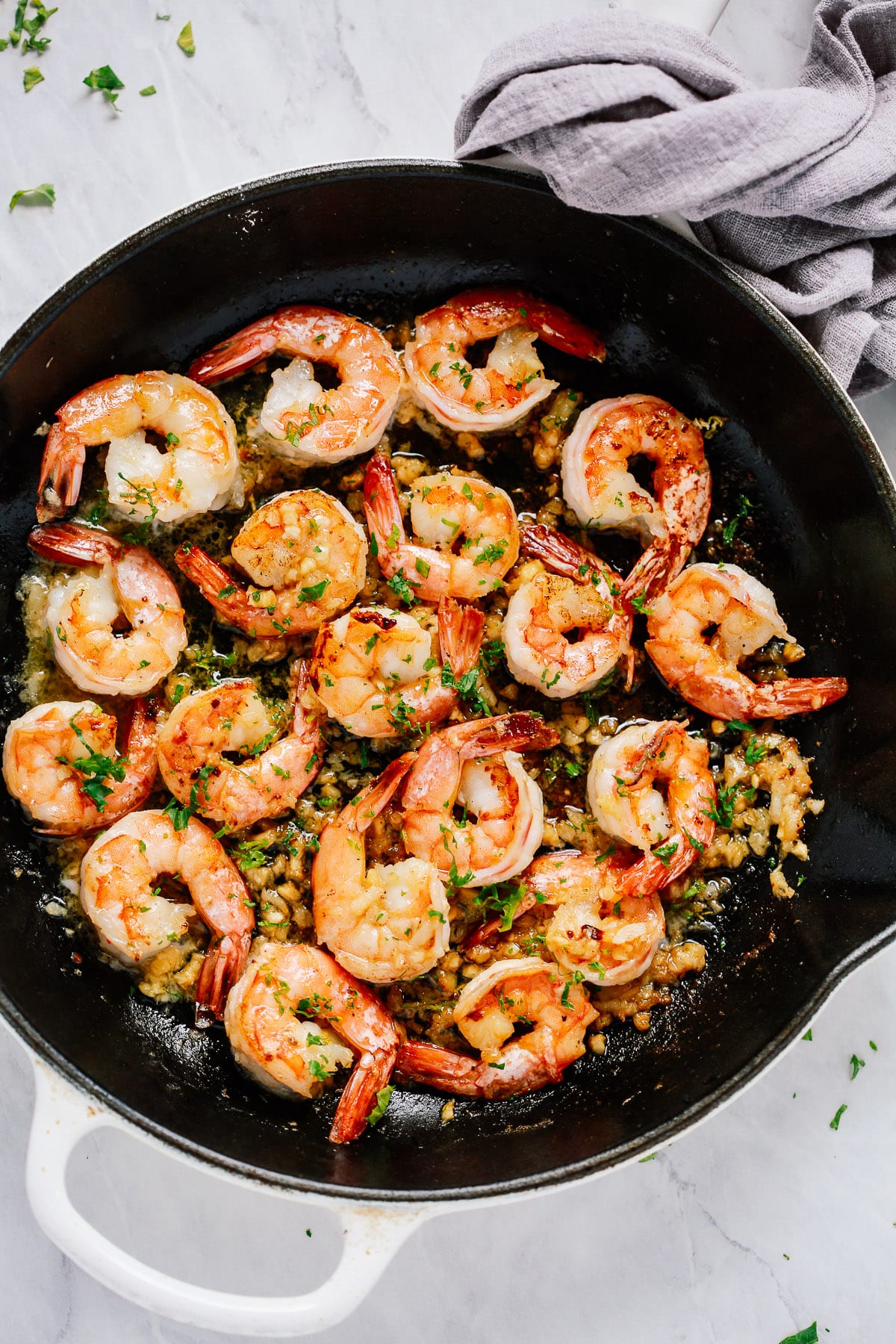 G
Garlic Butter Shrimp
I've been preparing shrimp recipes for years now, and each time I make one, my family and I enjoy it more and more. Shrimp is the best because it's quick and easy to prepare, and it's incredibly flavorful, complementing almost any dish. So, let's try making this garlic butter shrimp recipe because I think you'll love it.
What Makes This Garlic butter Shrimp So good?
Rich and Savory Flavor: Garlic butter shrimp is known for its rich flavor just like my other garlic butter recipes such as Baked Chicken Breast, Baked Chicken Thighs and Garlic Butter Lamb Chops.
Quick and Easy Preparation: It's a quick and easy dish to prepare, making it perfect for busy weeknight dinners just like my Sweet Potato Kale Shrimp Skillet, Shrimp Broccoli Skillet and Pesto Shrimp Salad.
Versatility: Garlic butter shrimp is incredibly versatile. You can serve it as an appetizer like my Shrimp Guacamole Bites, a main course with rice or pasta.
Crowd-Pleaser: Garlic butter shrimp is a crowd-pleaser. Whether you're cooking for family or guests, it's a dish that tends to receive rave reviews and is sure to impress your dinner companions.
How do I prepare shrimp?
For a quicker meal, use shrimp that is peeled and deveined. It may cost a little more, but will save you a lot of prep time. If you use shrimp that needs to be cleaned first, you will have a few extra steps before cooking.
Defrost the shrimp overnight in a bowl of cool water in the refrigerator.
As an option, you can soak the shrimp in salt water for a short time to refresh them after being thawed.
Wash the shrimp and discard any that look slimy or discolored.
Pull off the legs and continue pulling back the shell, then remove the tail.
Cut down the back of the shrimp and pull out the black vein. To remove the vein easily, slide a toothpick underneath to help lift the vein up and out.
Allow the shrimp to soak in cold water until you are ready to use them.
Ingredient to make Garlic Butter Shrimp
This garlic butter sauce brings this shrimp recipe to another level. So, you can use as much butter and garlic as you wish. Ingredients here and on the recipe card below:
Olive oil — I like using extra virgin olive oil but you can use a neutral oil of your choice.
Shrimp — raw, peeled, and deveined
Kosher salt and freshly ground black pepper
Garlic — I prefer freshly minced garlic over buying pre-minced.
Butter — I recommend unsalted grass-fed butter. You can swap for Ghee if you're doing Whole30
Italian seasoning
Juice of 1 lemon — or more, to taste. Citrus always add more flavour to a seafood dish.
Fresh parsley — or herb of your choice. Cilantro and basil work as well.
Optional: add a pinch of red pepper flakes for some heat. You can also add some ground onions. But for me only salt and pepper with the garlic butter sauce is already enough and very flavorful.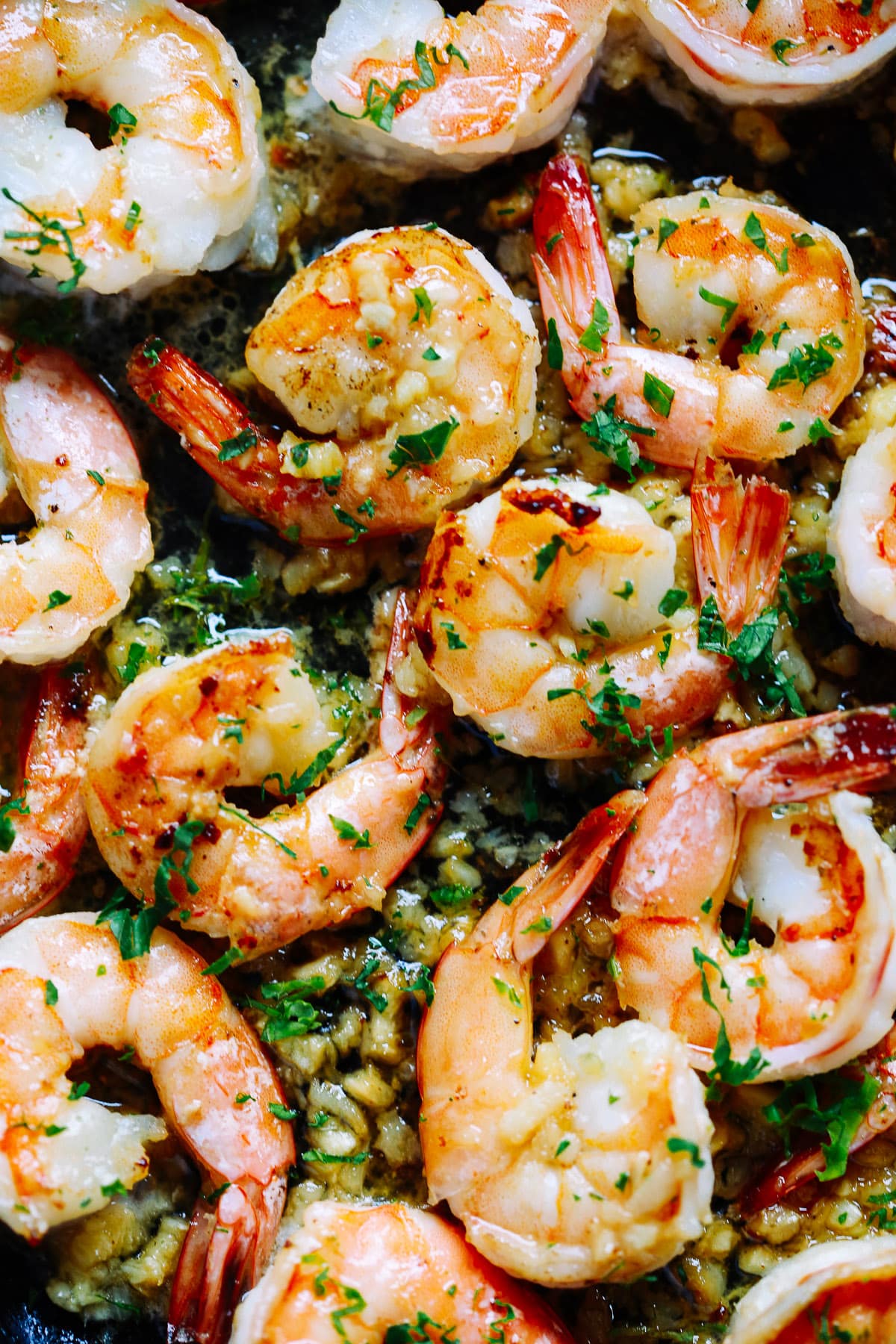 How to cook shrimp
Thaw shrimp completely in the refrigerator before cooking.
Heat a skillet over medium-high heat with olive oil. Add the shrimp and season well.
Cook until the shrimp is pink and opaque. Depending on the size of the shrimp, it should only take four to five minutes to cook fully. Optional, squeeze some lime juice or lemon juice at the end, before serving. Add garlic to the skillet, and cook and stir few times for about 1 minute. Add butter, Italian seasoning and lemon juice. Stir in shrimp and gently toss everything to combine. Cook for another minute.
How long to cook shrimp
The cooking time for shrimp recipes depends on the method you're using and the size of the shrimp. Take a look below to general guidelines:
Recipe tip
If the garlic butter shrimp start turning white, they are overcooked. Over cooked shrimp will be rubbery, so don't let them cook too long.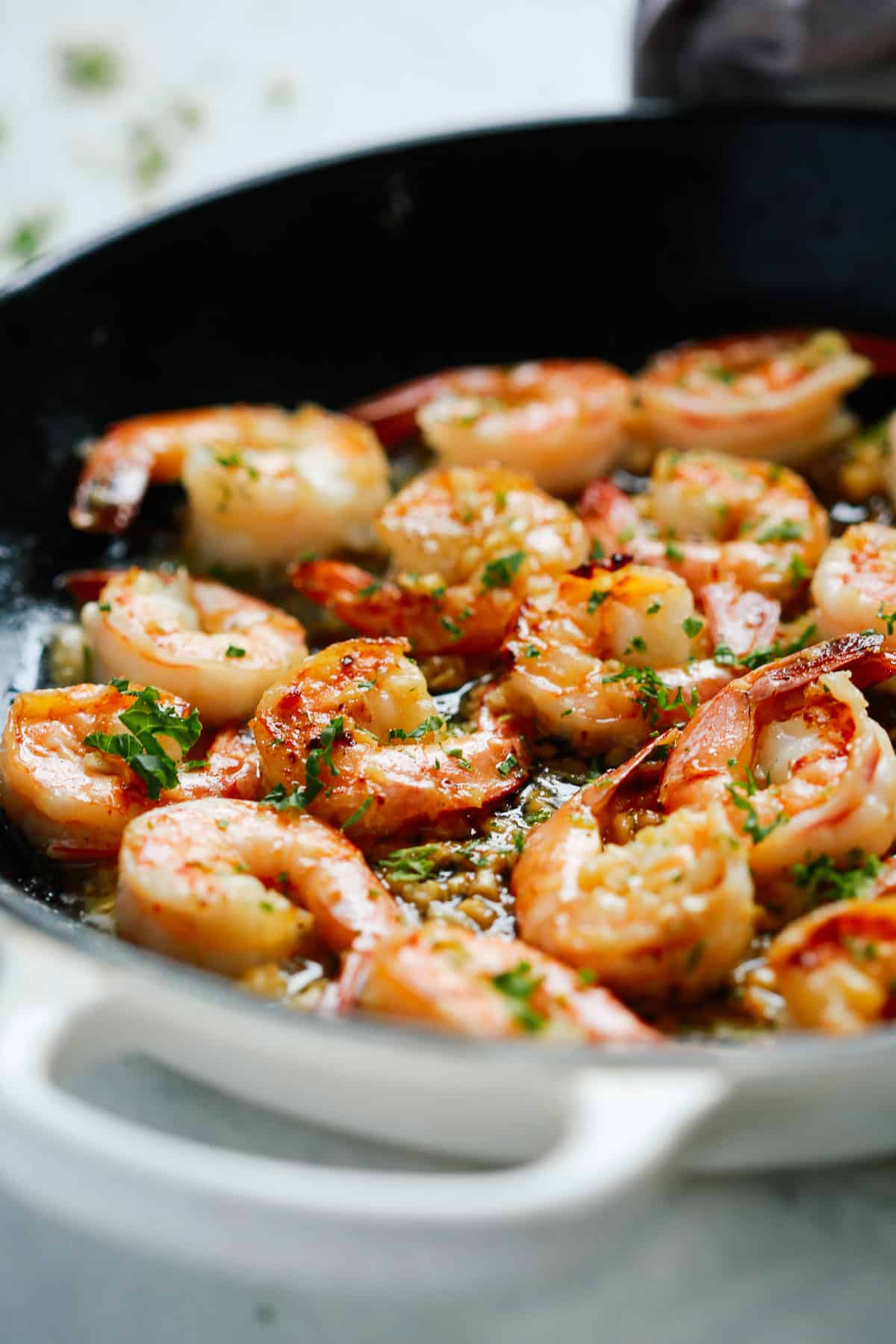 What goes well with this shrimp recipe?
This perfectly seasoned garlic butter shrimp needs side dishes to create a complete meal and a light dinner. Try any of these with this shrimp recipe:
How To Store Leftovers
To Store: This garlic butter shrimp can be stored in the refrigerator for up to three days, or you can freeze the shrimp after cooking it and allowing it to cool.
To Freeze: This garlic butter shrimp will last in the freezer for about three months. Be sure to use an airtight container so the shrimp doesn't take on any odors from the fridge.
To reheat: To reheat the meal, you can toss it in a pan over low heat. If it has been frozen, be sure to thaw it before reheating. Shrimp does not reheat well in the microwave.
Frequently Asked Questions
What Pan Should I Use to make this garlic butter shrimp?
I like to use a cast-iron skillet but a non-stick pan will work as well. I find that cast iron gives the shrimp a nicer sear.
Fresh Or Frozen Shrimp? Which Is Better?
Both fresh or frozen shrimp is a great source of protein. However, wild frozen shrimp are preferred because they are frozen immediately upon catching.
The shelf life for frozen shrimp is also longer compared to fresh shrimp as you won't know for sure how long fresh shrimp has been at the fish counter at the grocery store. Wild caught shrimp also has a cleaner, shrimp-y flavor than farmed shrimp. Frozen shrimp also costs less than fresh shrimp if you are on a budget. If you are purchasing fresh shrimp then check the shells and if they feel soft or slimy, skip them.
Is Shrimp Good For Weight Loss?
Shrimp contains lots of lean healthy protein and very little calories. Shrimp has no carbs. This means it's great for a keto, low-carb and Whole30, like my Garlic Shrimp and Veggies Meal Prep Bowls. In addition to being healthy and delicious, shrimp recipes like this shrimp recipe are very quick and easy to make.
How Do I Quickly Thaw Shrimp?
If you've forgotten to thaw the shrimp overnight in the fridge, not to worry! You can quickly thaw it by placing frozen shrimp into a bowl or colander in the sink. Then run cold water over it for 5 to 10 minutes, giving it a shake every so often so the water can thaw the shrimp evenly. It will take longer if your shrimp are larger. After the shrimp has thawed, you'll have to pat them dry with a paper towel or the shrimp will steam instead of sear in the pan. This step is very important to get a nice colour on the shrimp. Did you thaw too much shrimp? Store them in the fridge and try any of these 35 healthy shrimp dinner recipes the next day!
More Shrimp Recipes:
If you love easy shrimp recipes, you will love these ones below:
I also love this curry coconut shrimp, this shrimp scampi recipe, shrimp skewers, this shrimp avocado cucumber salad and this parmesan shrimp skillet made with coconut milk. They're all very easy shrimp recipes and also very flavourful.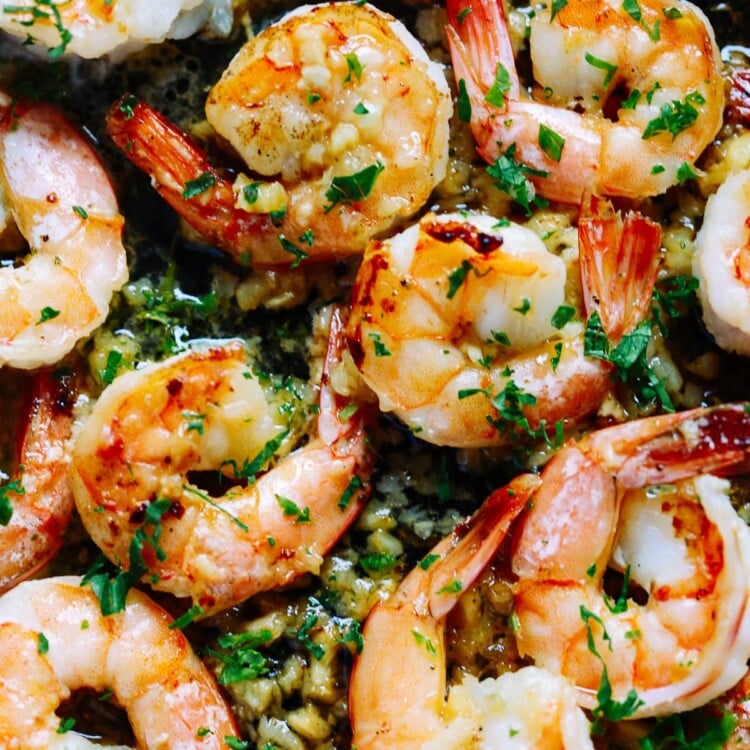 Garlic Butter Shrimp
This go-to shrimp recipe for Garlic Butter Shrimp recipe makes an easy and quick meal that looks fancy. In just a few minutes, your shrimp will be perfectly cooked with garlic butter seasoning. 
Ingredients
2

tbsp.

olive oil

extra virgin

1

lb

shrimp

raw, peeled and deveined

kosher salt and freshly ground black pepper

1

tablespoon

garlic

minced

4

tbsp

grass-fed butter melted — use Ghee if you're doing Whole30

1

teaspoon

Italian seasoning

Juice of 1 lemon

or more, to taste

1

tablespoon

fresh parsley

chopped
Instructions
In a large skillet heat olive oil over medium high heat. Add shrimp, salt and pepper.

Cook until pink for about 3 minutes. Don't forget to stir occasionally. Set aside.

Add garlic to the skillet, and cook and stir few times for about 1 minute. Add butter, Italian seasoning and lemon juice.

Stir in shrimp and gently toss everything to combine. Cook for another minute.

Serve immediately, garnished with fresh parsley.
Tips
Click HERE to watch the web story. 
Buy peeled and deveined shrimp to save time on prepping.
Pat dry the shrimp before you add them to the skillet so they sear instead of steam.
If using frozen shrimp, make sure they are fully thawed before you start cooking with them.
To store: Put leftover shrimp into an airtight glass container and keep them in the refrigerator for up to 3 days.
To reheat: Rewarm leftover shrimp in the microwave or on the stovetop. 
To freeze: Freeze cooked shrimp in a freezer-safe bag once the shrimps have reached room temperature. Freeze for up to 3 months.
Nutrition Information
Serving:
1
/4
Calories:
234
kcal
(12%)
Carbohydrates:
2
g
(1%)
Protein:
28
g
(56%)
Fat:
18
g
(28%)
Saturated Fat:
8
g
(50%)
Polyunsaturated Fat:
1
g
Monounsaturated Fat:
5
g
Cholesterol:
203
mg
(68%)
Sodium:
554
mg
(24%)
Potassium:
12
mg
Sugar:
1
g
(1%)
Nutrition information is calculated using an ingredient database and should be considered an estimate.