Are you looking for some easy and delicious shrimp recipes? Here are Shrimp Dinner Recipes that are simple and flavourful that take no time to make!
Shrimp is such a delicious protein to change things up. Shrimp is the perfect protein if you need a quick and easy dinner. There are many times we forget to thaw meat overnight in the fridge but with shrimp, you don't have to plan the thaw! This is because you can thaw shrimp in the time it takes for you to prep your other ingredients.
We love how shrimp tastes tender and take on added flavours so well. Even better, shrimp only take a couple minutes to cook so you can spend less time cooking dinner and more time with your family.
Is Shrimp Healthy?
Shrimp is a delicious and healthy source of protein, omegas 3s, and lots of nutrients! It's also low in calories! The healthy shrimp dinner recipes shared in this round up include Whole30, paleo, keto, low carb, and gluten free.
How to Thaw Shrimp
Simply add your frozen shrimp into a bowl of cold water and in less than 20-30 minutes, your shrimp should be thawed. Before cooking with it, be sure to pat it dry as adding wet shrimp to a pan will cause it to steam. While steamed shrimp is fine, if we are searing shrimp for a recipe, you won't get a nice colour on it.
What kind Shrimp Should I Buy?
You can purchase whatever type of shrimp you like, I generally buy the frozen de-veined shrimp with their shells removed. This saves me some time of having to remove the shrimp shells and veins myself. You can also purchase fresh shrimp from the fish counter at your local grocery store if you'd prefer fresh to frozen shrimp.
Can I Meal Prep These Shrimp Dinner Recipes?
Yes! Shrimp can be meal prepped for around 4 days as long as you store it correctly in the refrigerator. Divide up your cooked shrimp into airtight containers and avoid over-cooking it when you reheat it. Microwave for no more than 2 minutes as too much longer and your shrimp might taste rubbery.
If you love seafood, I'm sure you'll enjoy these Shrimp Dinner Ideas because they will make your life in the weeknight dinner way easier.
---
Shrimp Dinner Recipes
Sheet Pan Shrimp Boil Recipe – A super colorful meal with classic flavors but much less mess! This sheet pan dinner comes together in just 30 minutes. It's made with potatoes, shrimp, corn and savory sausage with butter and old bay seasoning for lots of explosive flavor.
Whole30 Jambalaya Recipe – You can't go wrong with a delicious, spicy jambalaya recipe and this one is extra healthy because we're using cauliflower rice as a low-carb substitute. Buy it at the store to save time or make your own at home by placing florets in a food processor! Season this meal with Cajun seasoning and enjoy!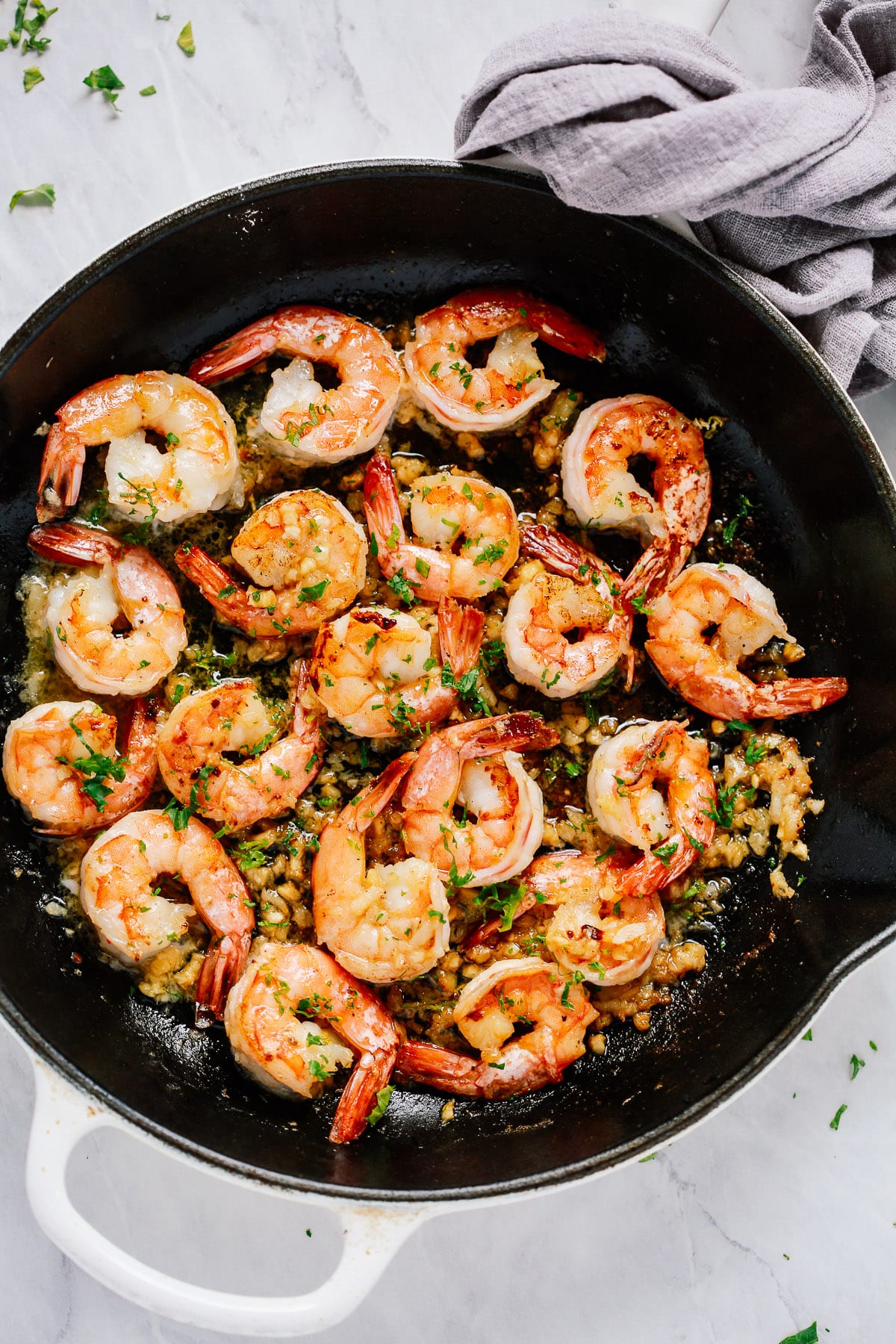 Garlic Butter Shrimp Skillet Recipe – This shrimp scampi recipe features juicy shrimp cooked in a large skillet with minced garlic, butter, seasonings and lemon juice. It's super versatile and goes great with almost any side dish you can think of, I especially enjoy making some air fryer asparagus to go with my skillet!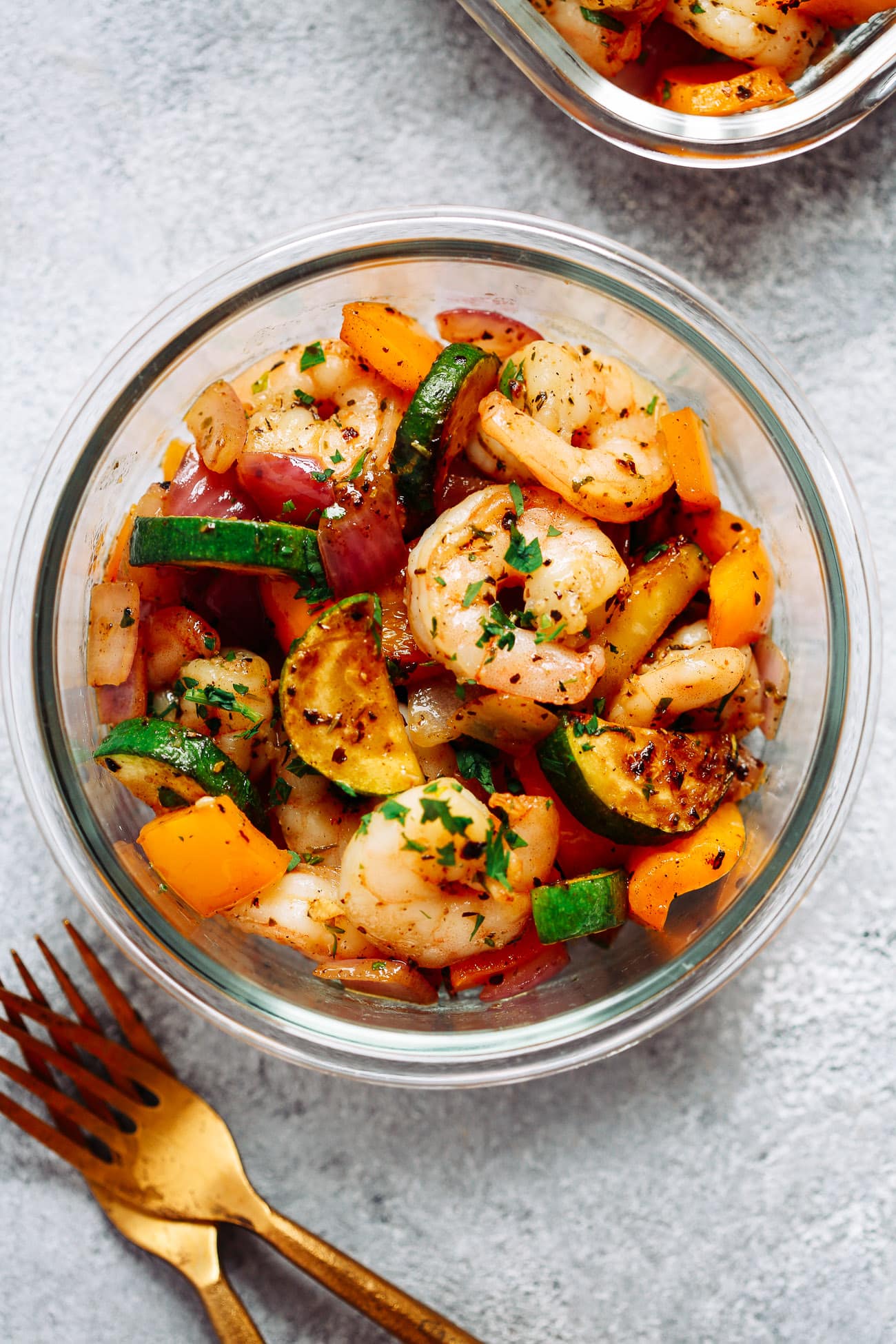 Garlic Shrimp and Veggies Meal Prep Bowls – Save precious time by meal prepping this healthy shrimp and vegetables recipe. You can have it for dinner with a side of fluffy rice, or divide into containers for easy lunches on the go. Simply reheat in the microwave!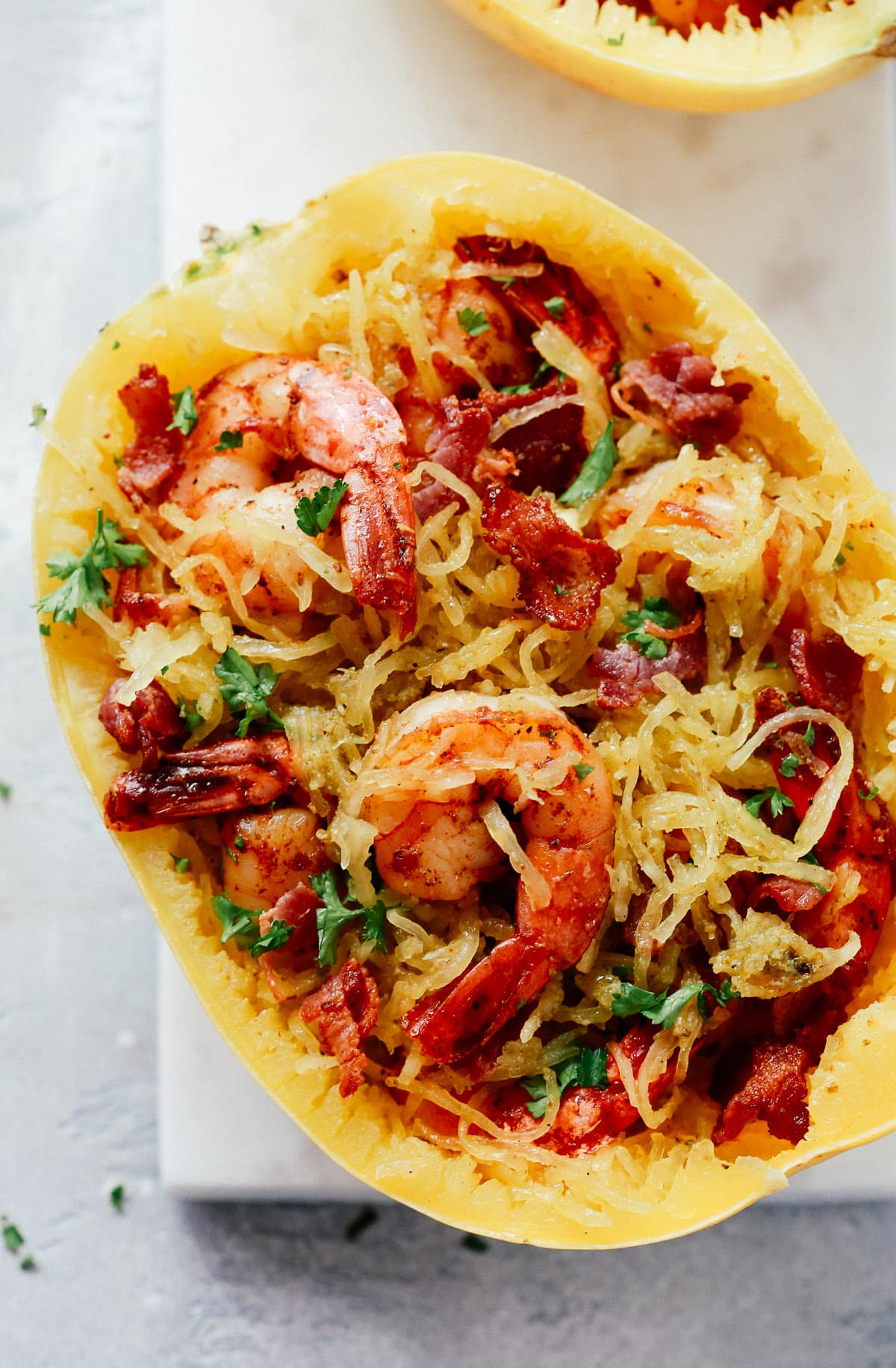 Pesto Spaghetti Squash with Shrimp – These tasty, low-carb spaghetti squash boats are packed full of divine pesto flavor and lots of lean protein. Roasting squash can take a really long time, but here we're microwaving it to get dinner on the table in under 30 minutes. You can also make this recipe with pasta or zucchini noodles instead of spaghetti squash.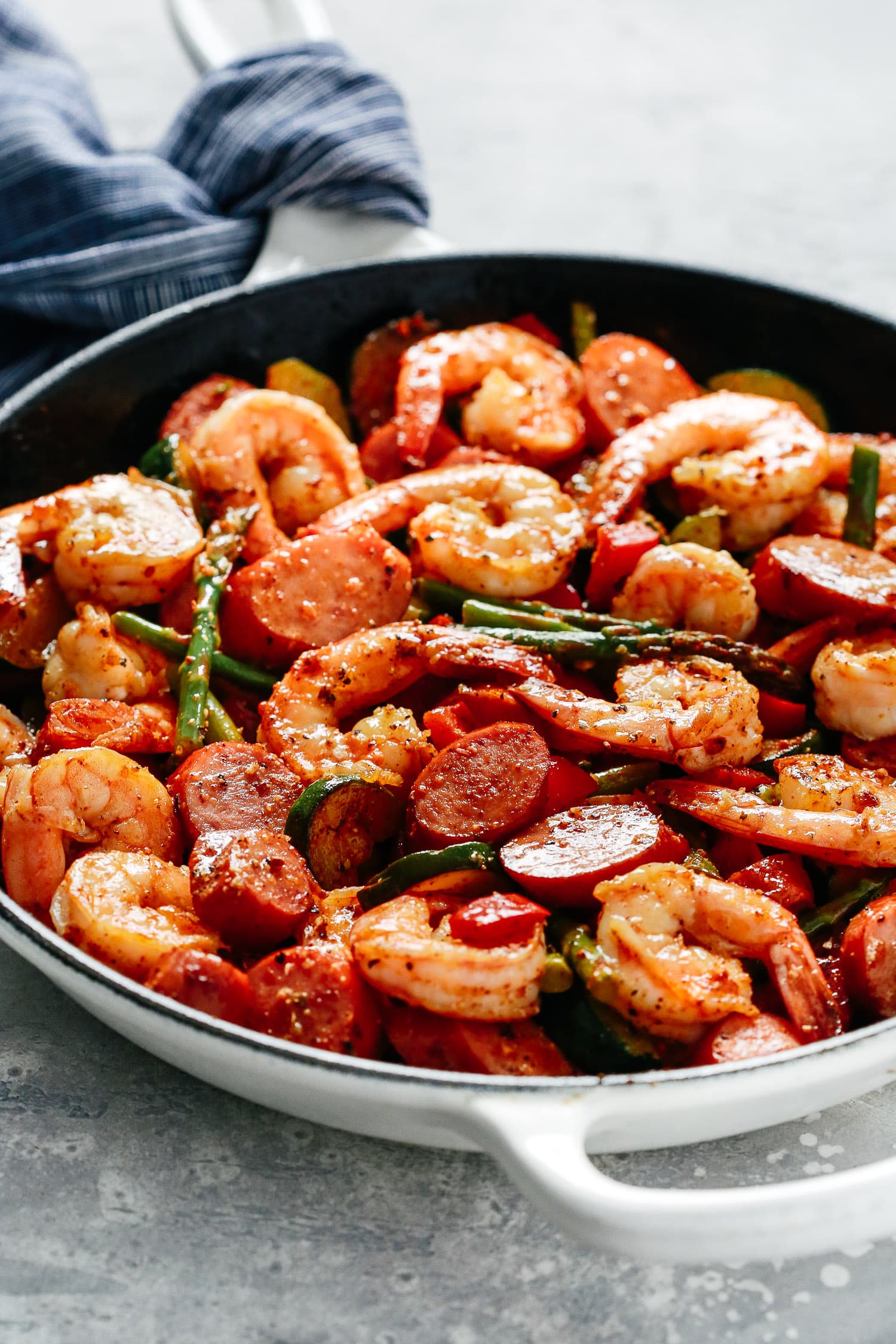 Shrimp and Sausage Vegetable Skillet – I absolutely love the combination of juicy shrimp and savory sausage. These two proteins pair perfectly! Throw in some asparagus, zucchini and bell pepper for a well-rounded meal made with only one skillet. This is one of the best shrimp recipes out there and I am sure you will love it.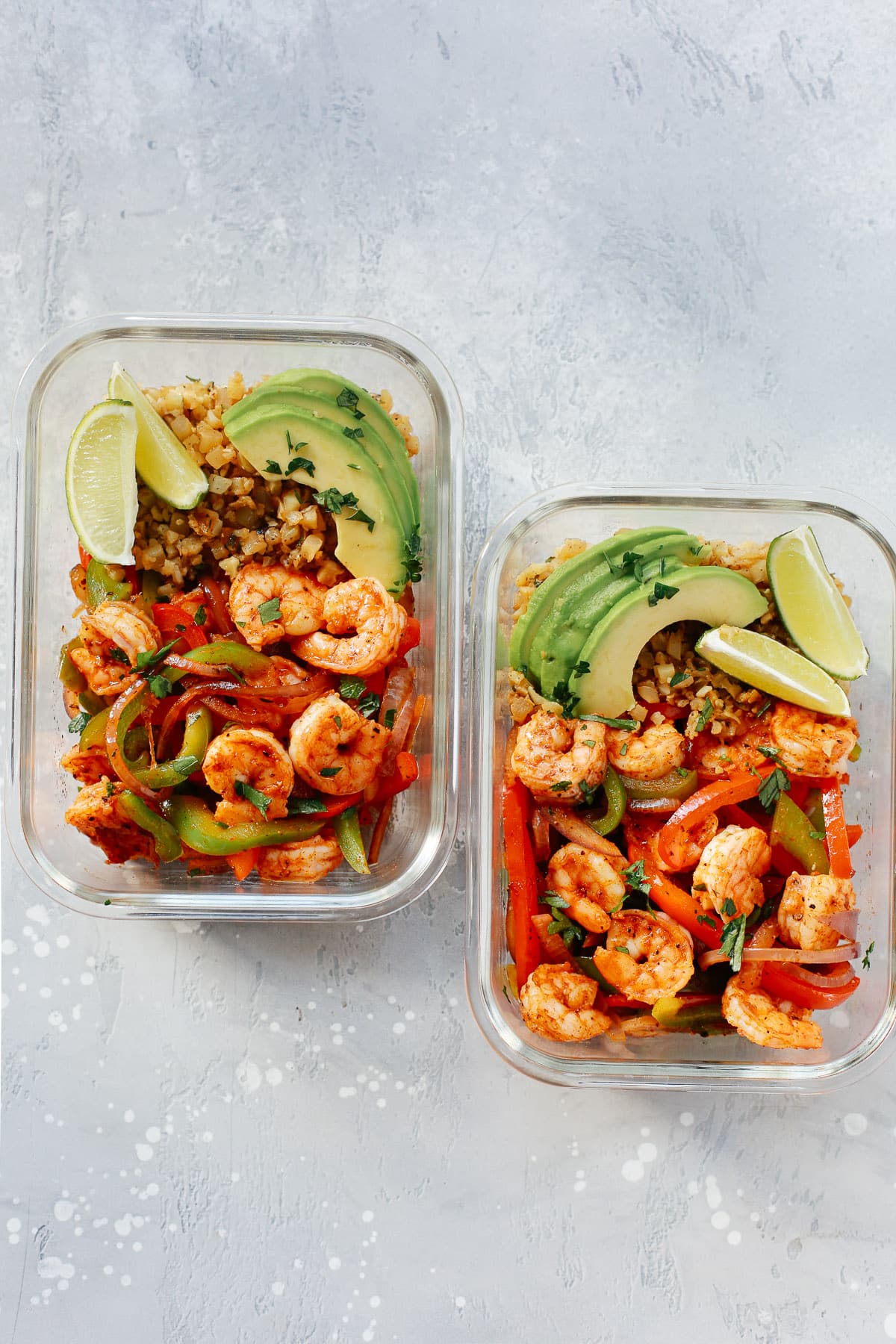 Low-Carb Shrimp Fajita Meal-Prep Bowls – Fajita veggies and seasonings, succulent shrimp and cauliflower rice. The best, healthy Mexican food! Top with some avocado slices, lime wedges, pico de gallo salsa, fresh cilantro or sour cream (if you're not dairy free)!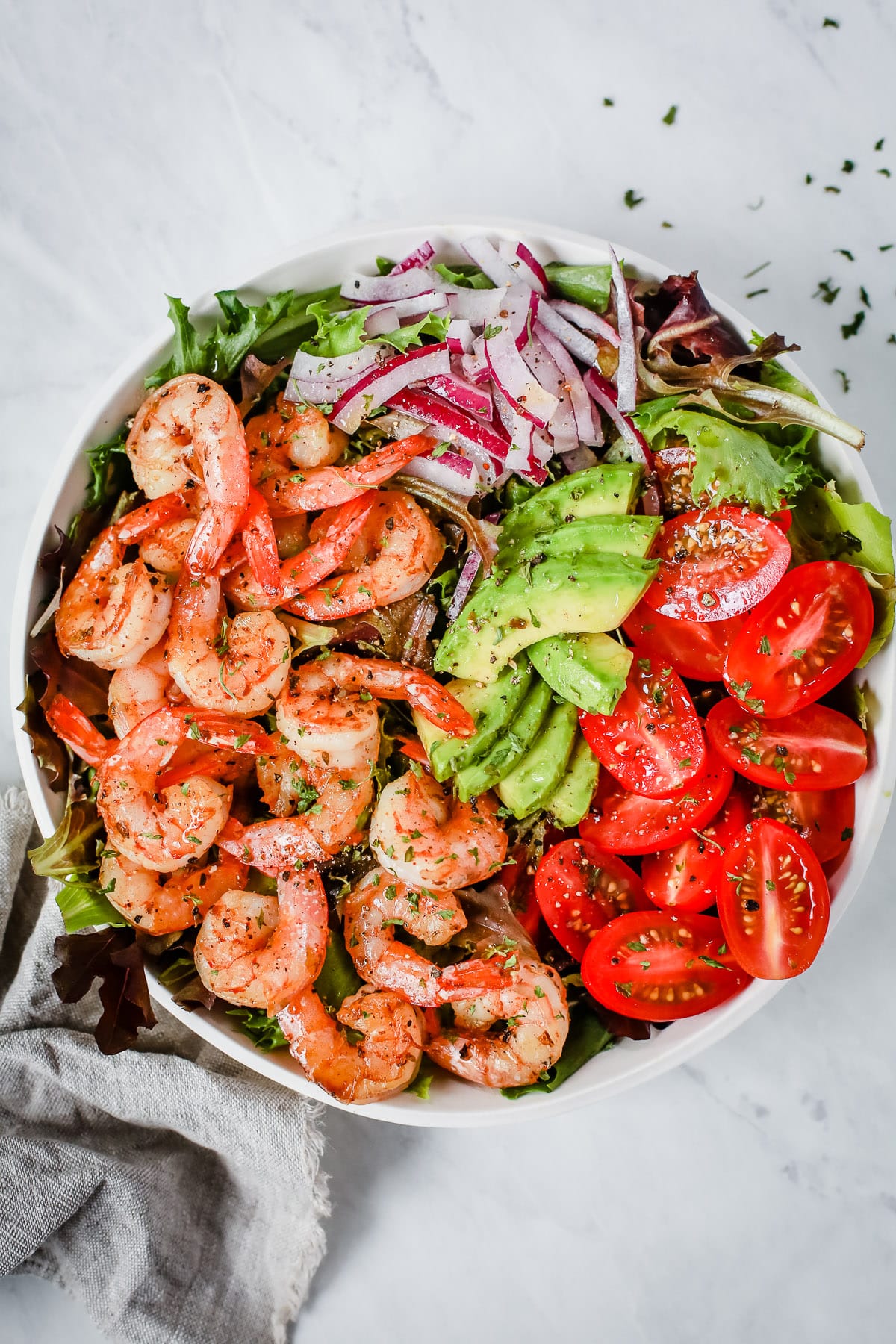 Super Fresh Shrimp Tomato Salad – A simple salad made with leafy greens, creamy avocado slices, cherry tomatoes, spicy red onion and yummy, sauteed shrimp. Top everything with a homemade lemon and olive oil dressing for extra bright flavor.
Sweet Potato, Kale and Shrimp Skillet – You'll only need one pan, 25 minutes and a handful of ingredients to make this nutritious, satisfying meal. Leftovers are also great for meal prep, simply divide into containers and reheat in the microwave.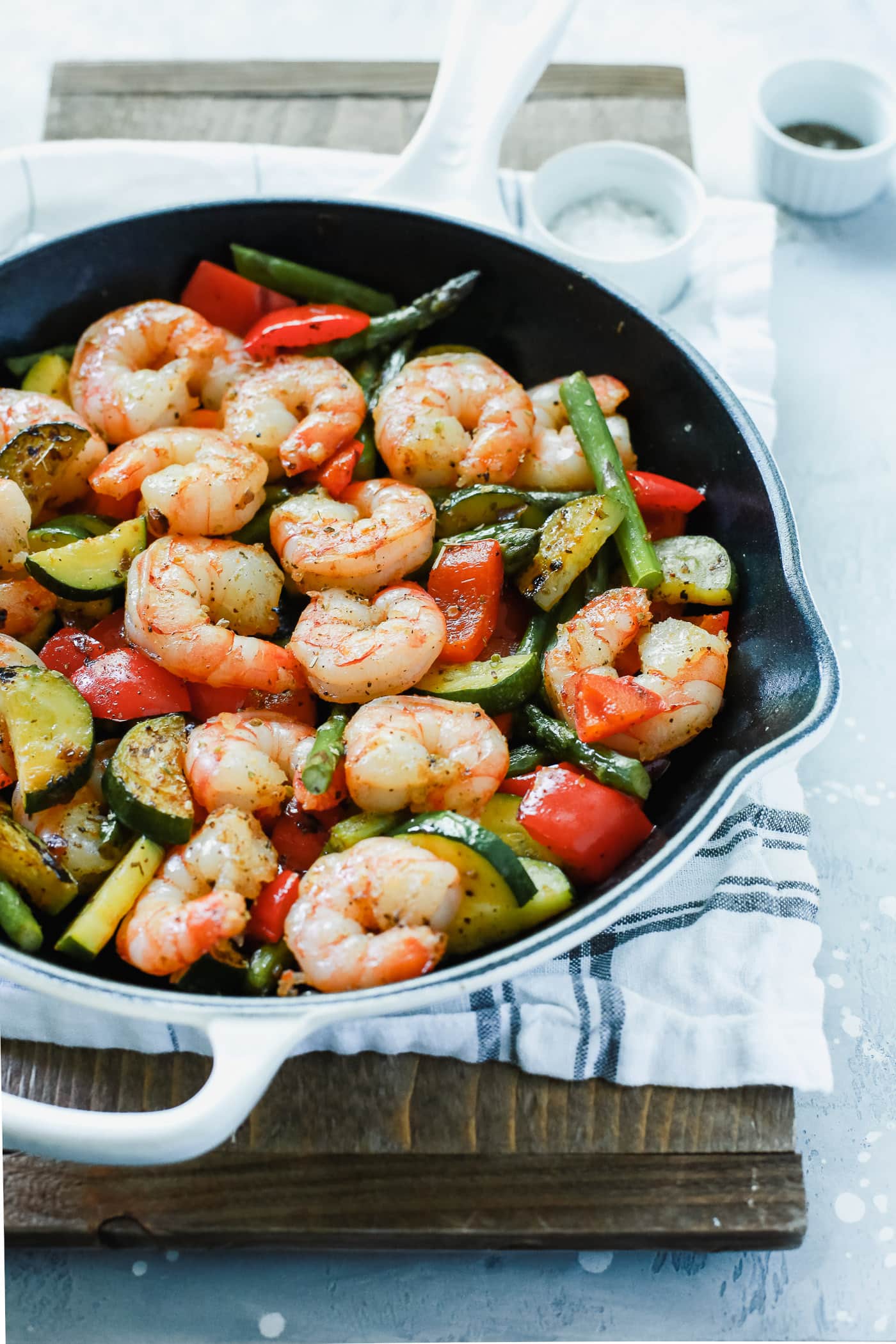 Shrimp Vegetable Skillet – If you're looking for a low-carb, high protein, veggie-filled recipe, this one is for you! It's packed with perfectly seasoned shrimp, asparagus, onion, bell pepper and zucchini. Serve with cauliflower rice or mashed cauliflower, if desired!
Shrimp Avocado Cucumber Salad – Fresh and summery, this salad is the perfect lunch or light dinner. You can also enjoy this salad kind of like a dip, simply scoop it up with big crunchy tortilla chips!
Chimichurri Shrimp Broccoli Skillet – If you've never tried chimichurri sauce, this skillet meal will change your life! It has the most incredible, explosive flavor and brings so much life to any ingredient. I love using a cast iron skillet for this recipe, but any type of pan will work.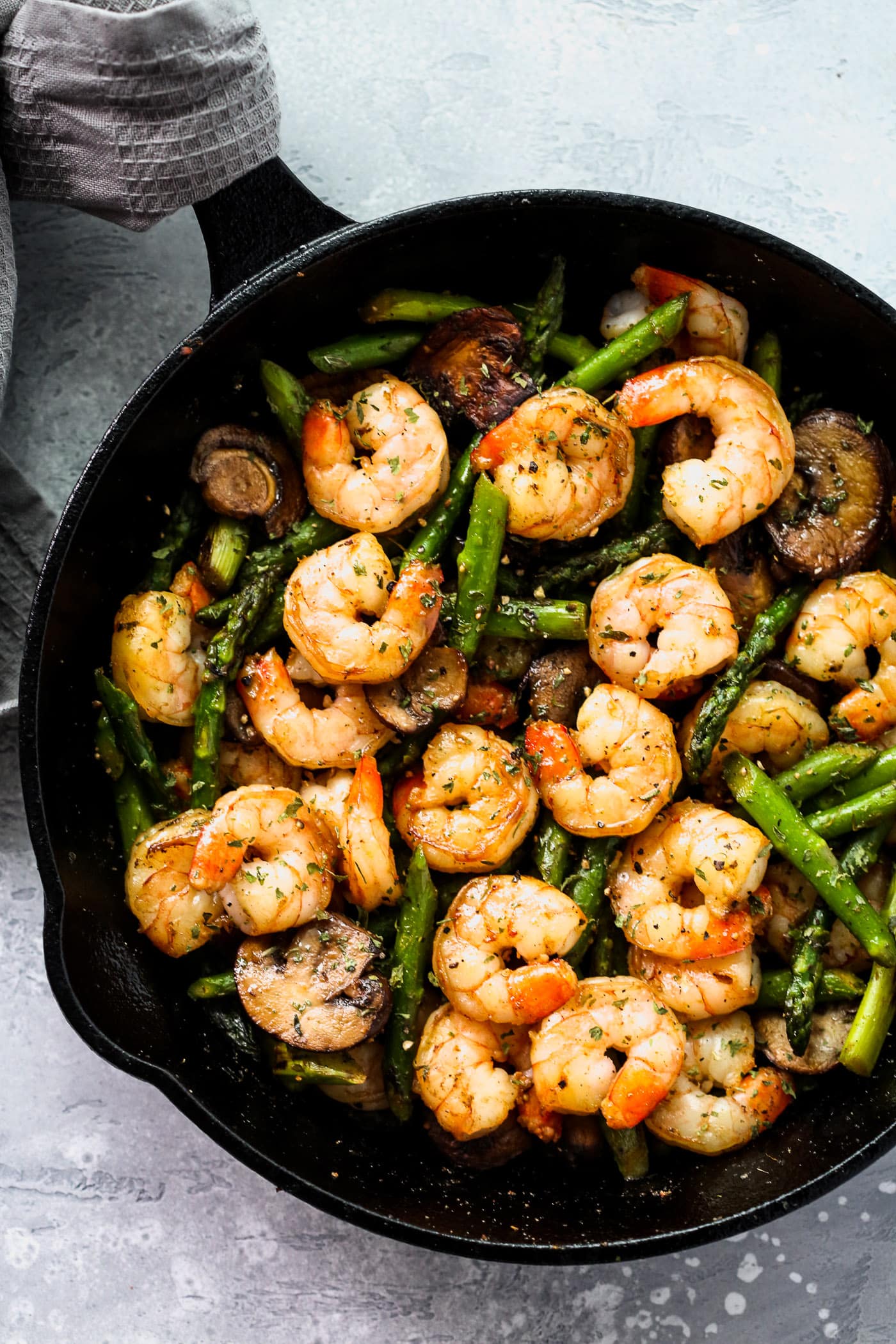 Garlic Shrimp Asparagus Skillet – Juicy shrimp, asparagus and mushrooms cooked in garlic and butter, so simple and so yummy! Add a pinch of crushed red pepper flakes for a little kick if you like it spicy.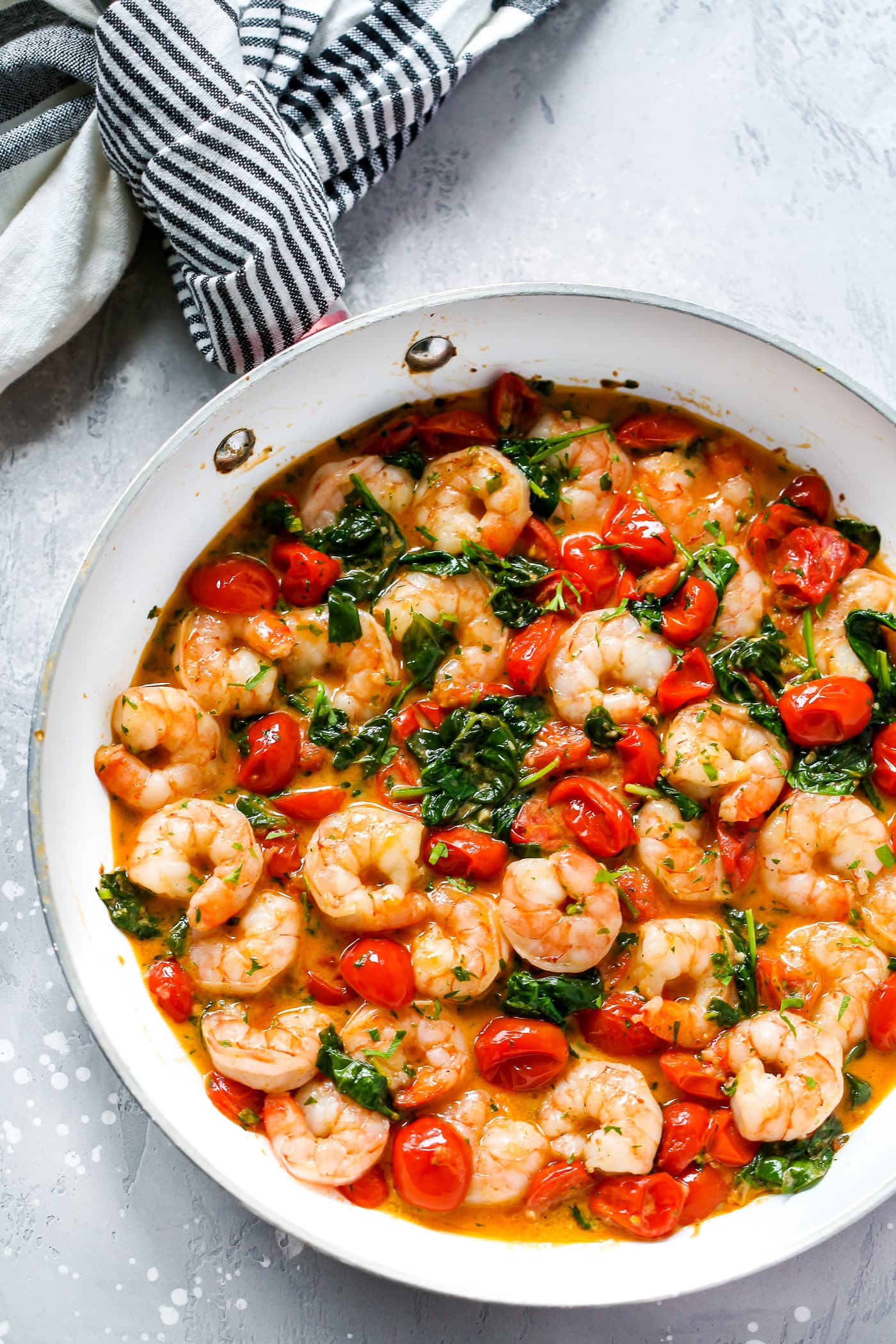 Creamy Parmesan Shrimp Skillet – Coconut milk is the secret ingredient in this recipe! It makes our parmesan shrimp skillet extra creamy and delicious. I highly recommend serving this dish with some garlic bread or dinner rolls so you don't waste a drop of sauce.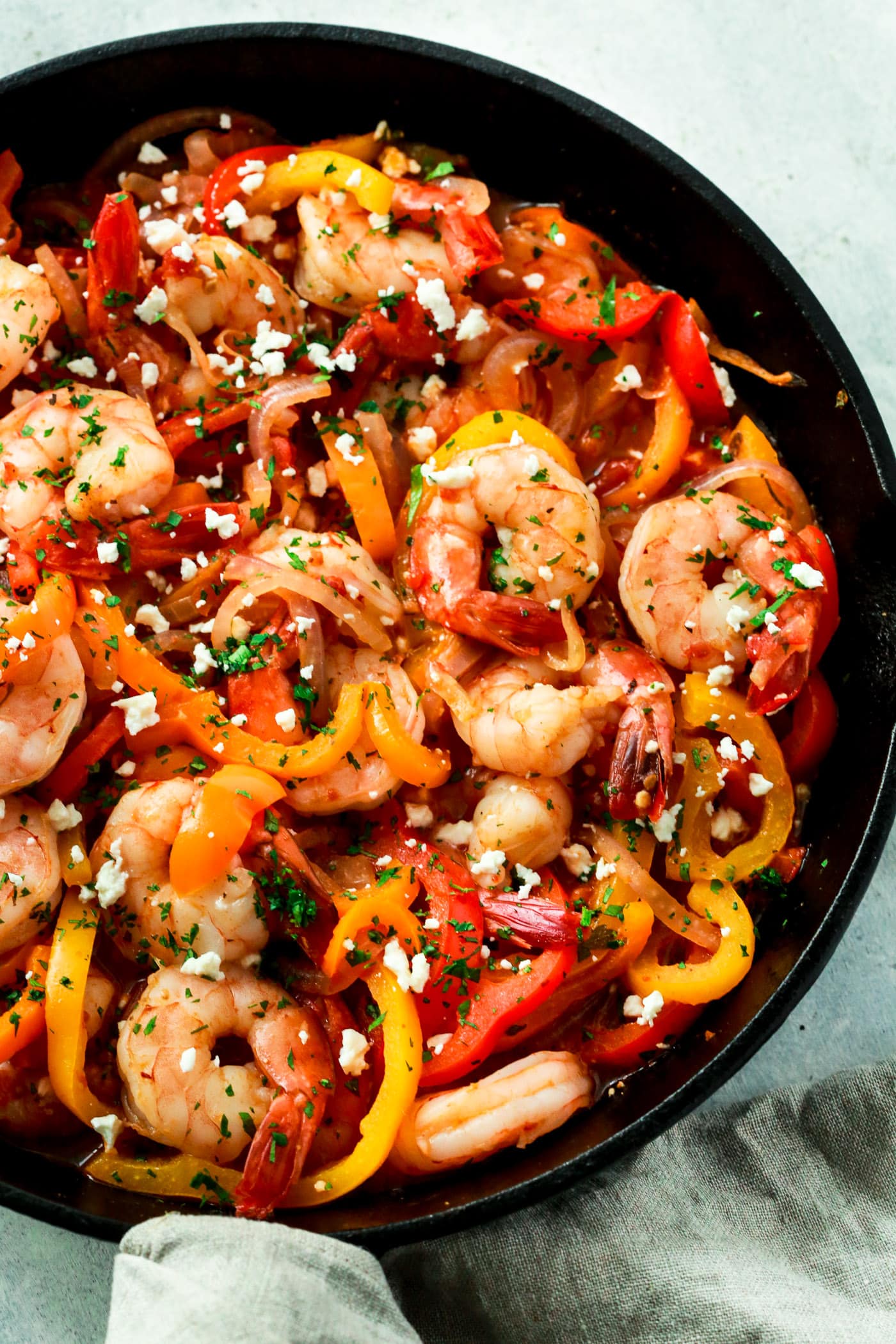 Shrimp, Bell Pepper and Onions Skillet – You won't regret whipping up this combo for dinner. Shrimp goes really well with both bell peppers and onions! Top everything with a generous helping of salty feta cheese crumbles if you aren't following a dairy free diet.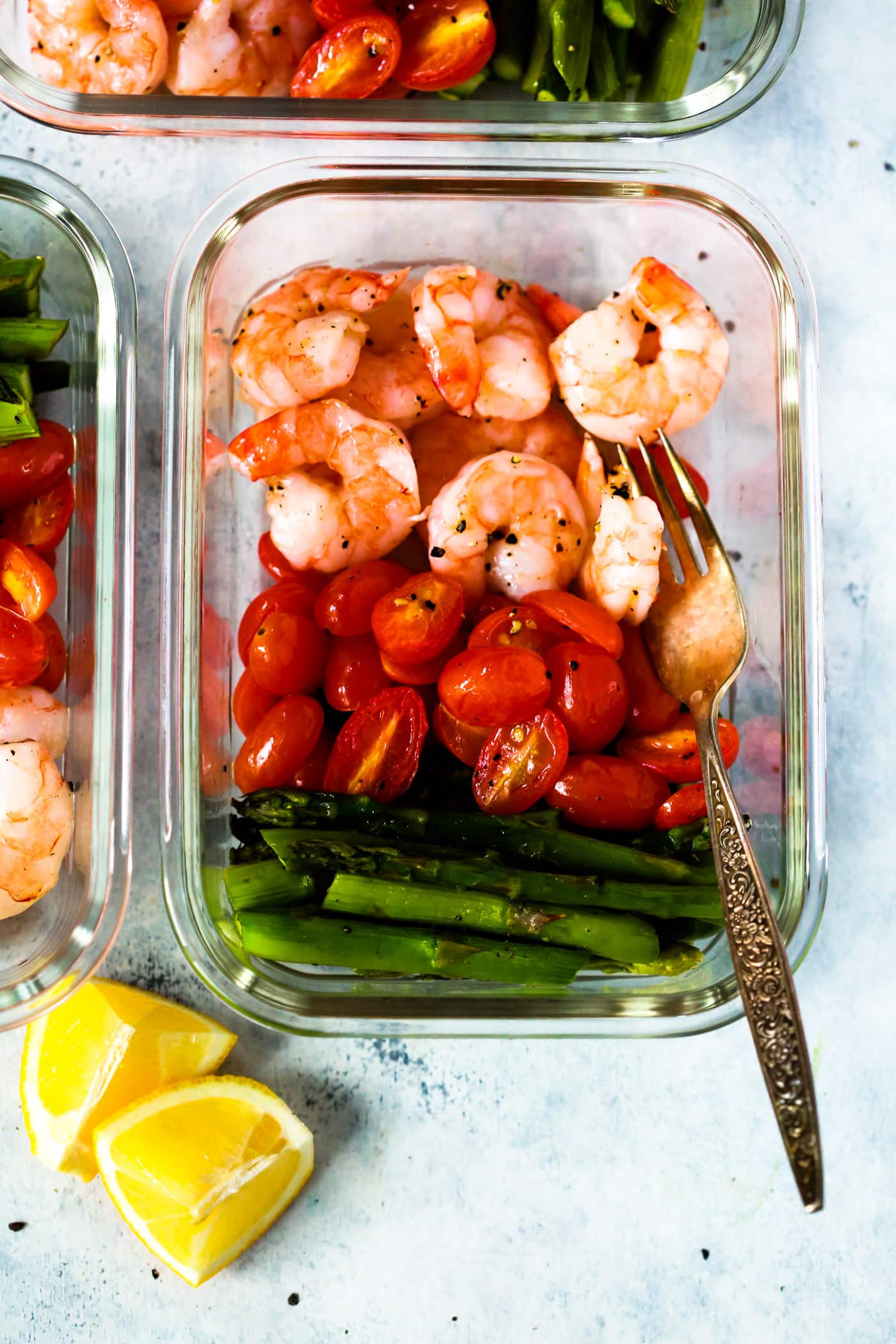 One-Sheet Pan Shrimp with Cherry Tomatoes and Asparagus – I am a huge fan of sheet pan meals and this one is no exception. It's made with only 5 simple ingredients and is perfect for dinner or meal-prepping.
Sun-dried Tomato Pesto Shrimp Asparagus Skillet – This skillet meal is full of yummy goodness! Basil and tomato marry together perfectly in a pesto sauce for the best tangy and bright flavor profile. Plus it's ready in 20 minutes!
Pesto Shrimp Salad Recipe – A beautiful salad, perfect for either lunch or a light summer time dinner! You can make your own pesto, but store bought will also work just fine (and save you some extra time in the kitchen).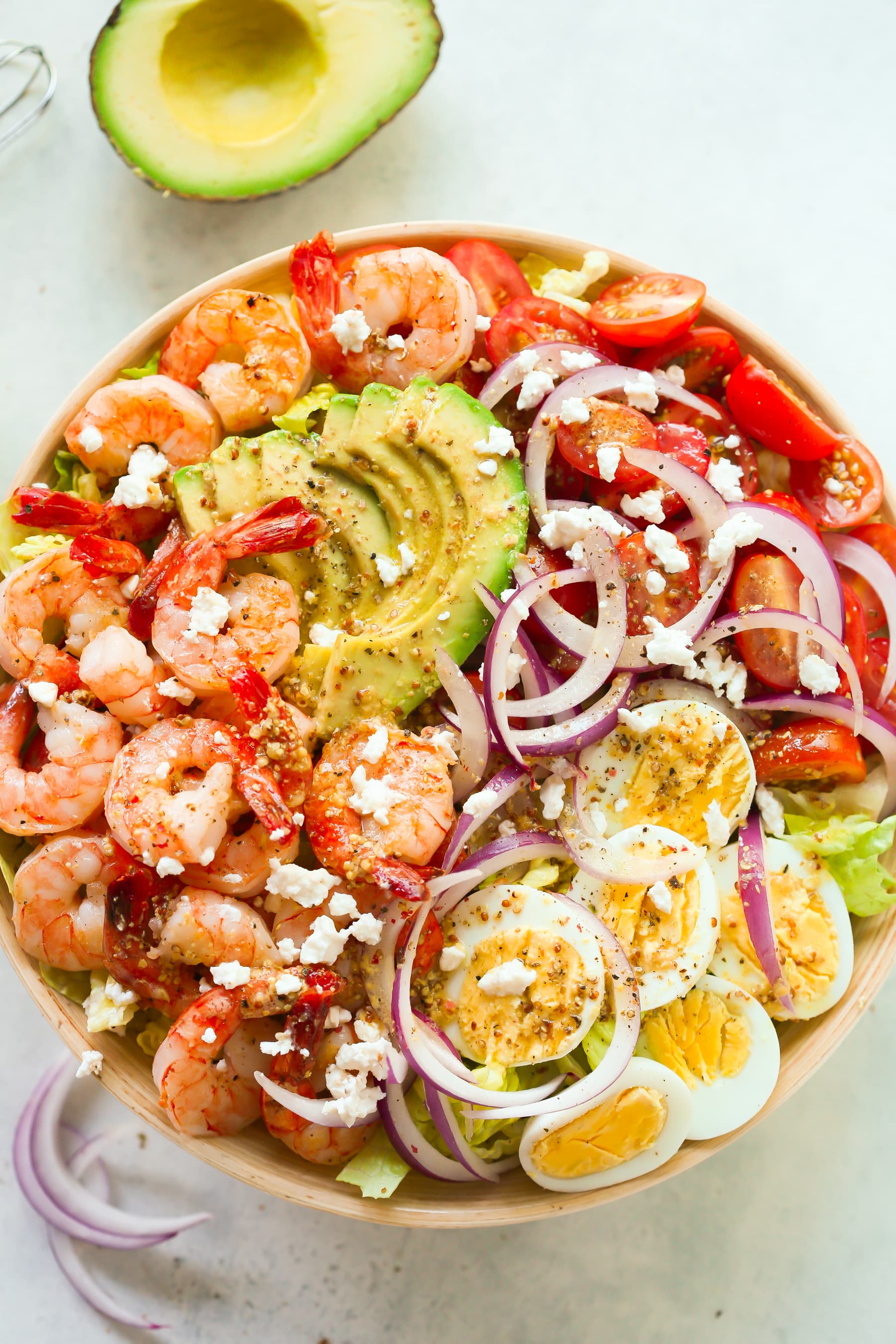 Shrimp Avocado Tomato Salad Recipe – Looking for a nice, high protein recipe? This one is perfect for you! It includes both shrimp and hard-boiled eggs for an extra punch of filling protein, top everything with a homemade lemon and Dijon dressing for the ultimate tasty salad.
Cajun Shrimp Skewers – Does the warm weather have you in the mood for outdoor cooking? Throw some of these spicy skewers on the grill! They take only 15 minutes from start to finish. You can also use any seasonings you like and create a milder flavor profile if that's your preference.
Shrimp Guacamole Bites: Best shrimp appetizer for summer.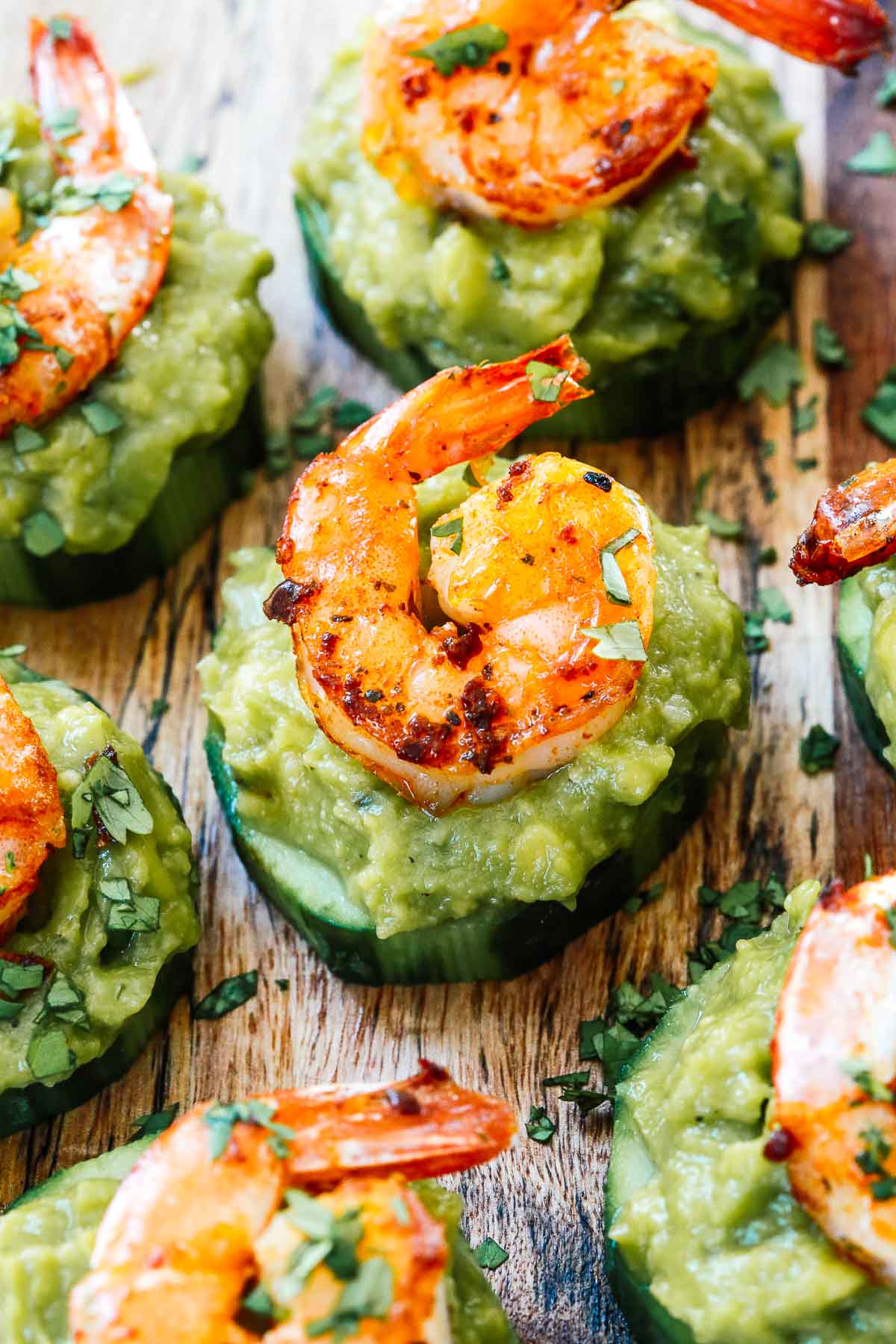 More Shrimp Dinner Ideas to Try:
Shrimp Tacos – The best shrimp tacos with creamy cilantro lime slaw. Yummy!
Shrimp Stir-fry – It's easy and simple, yet flavorful.
Shrimp Cocktail – I love the cocktail sauce of this recipe.
Honey Garlic Shrimp – I couldn't recommend this recipe enough. So good!
Hope you enjoy all these Shrimp Dinner Recipes. If you make one of them don't forget to share with us on Instagram. Enjoy!
Shrimp Dinner Recipes
Looking for some delicious and satisfying shrimp recipes with this guide! You'll learn how to make easy and quick shrimp dinner recipes just like this easy Shrimp, Bell Pepper and Onions Skillet!
Instructions
In a large cast iron skillet, heat the olive oil, and sauté the onions, bell peppers, and garlic for about 5-7 minutes.

Add the diced tomatoes and all the spices. Toss well to combine.

Season the shrimp with salt and pepper, add to the skillet, and cook for 5-6 minutes or until they become pink. Be careful not to overcook them. Otherwise, they will have a rubbery texture.

Turn off the heat, and sprinkle with crumbled feta cheese.

Serve with a side dish, such as a green salad, rice, quinoa, or cauliflower rice.
Tips
Buy raw shrimp already peeled and deveined to save yourself the prepping time.
Feel free to use whatever bell pepper you'd like. Red and orange are my go-to as they're the sweetest.
Try to use the largest skillet you have, as it'll help prevent the ingredients from overcrowding.
To store: Store leftovers in the fridge in an airtight container for up to 4 days. To reheat: You can reheat this shrimp skillet in the microwave.
Nutrition Information
Serving:
1
/4
Calories:
185
kcal
(9%)
Carbohydrates:
9
g
(3%)
Protein:
33
g
(66%)
Fat:
7
g
(11%)
Saturated Fat:
2
g
(13%)
Cholesterol:
183
mg
(61%)
Sodium:
800
mg
(35%)
Fiber:
3
g
(13%)
Nutrition information is calculated using an ingredient database and should be considered an estimate.