Are you looking for some easy and delicious shrimp recipes? Here are Healthy Shrimp Dinner Recipes that are simple and flavourful that take no time to make!
Shrimp is such a delicious protein to change things up. Shrimp is the perfect protein if you need a quick and easy dinner. There are many times we forget to thaw meat overnight in the fridge but shrimp, you don't have to plan the thaw! You can thaw shrimp in the time it takes for you to prep your other ingredients.
We love how shrimp tastes sweet, creamy, and tender and take on added flavours so well. Even better, shrimp only take a couple minutes to cook so you can spend less time cooking dinner and more time with your family.
Is Shrimp Healthy?
Shrimp is a delicious and healthy source of protein, omegas 3s, and lots of nutrients! It's low in calories as well! The healthy shrimp dinner recipes shared in this round up include Whole30, paleo, keto, low carb, and gluten free.
How to Thaw Shrimp
Simply add your frozen shrimp into a bowl of cold water. In less than 30 minutes, your shrimp should be thawed. Before cooking with it, be sure to pat it dry as adding wet shrimp to a pan will cause it to steam. While steamed shrimp is fine, if we are searing shrimp for a recipe, you won't get a nice colour on it.
What kind Shrimp Should I Buy?
You can purchase whatever type of shrimp you'd like! I like to get the frozen de-veined shrimp with their shells removed. This saves me some time of having to remove the shrimp shells and veins myself. You can also purchase fresh shrimp from the fish counter at your local grocery store if you'd prefer fresh to frozen shrimp.
Can I Meal Prep These Healthy Shrimp Dinner Recipes?
Yes! Shrimp can be meal prepped for around 4 days as long as you store it correctly. Divide up your cooked shrimp into airtight containers and avoid over-cooking it when you reheat it. Microwave for no more than 2 minutes as too much longer and your shrimp might taste rubbery.
Subscribe for new recipes & a free e-cookbook
---
35 Healthy Shrimp Dinner Recipes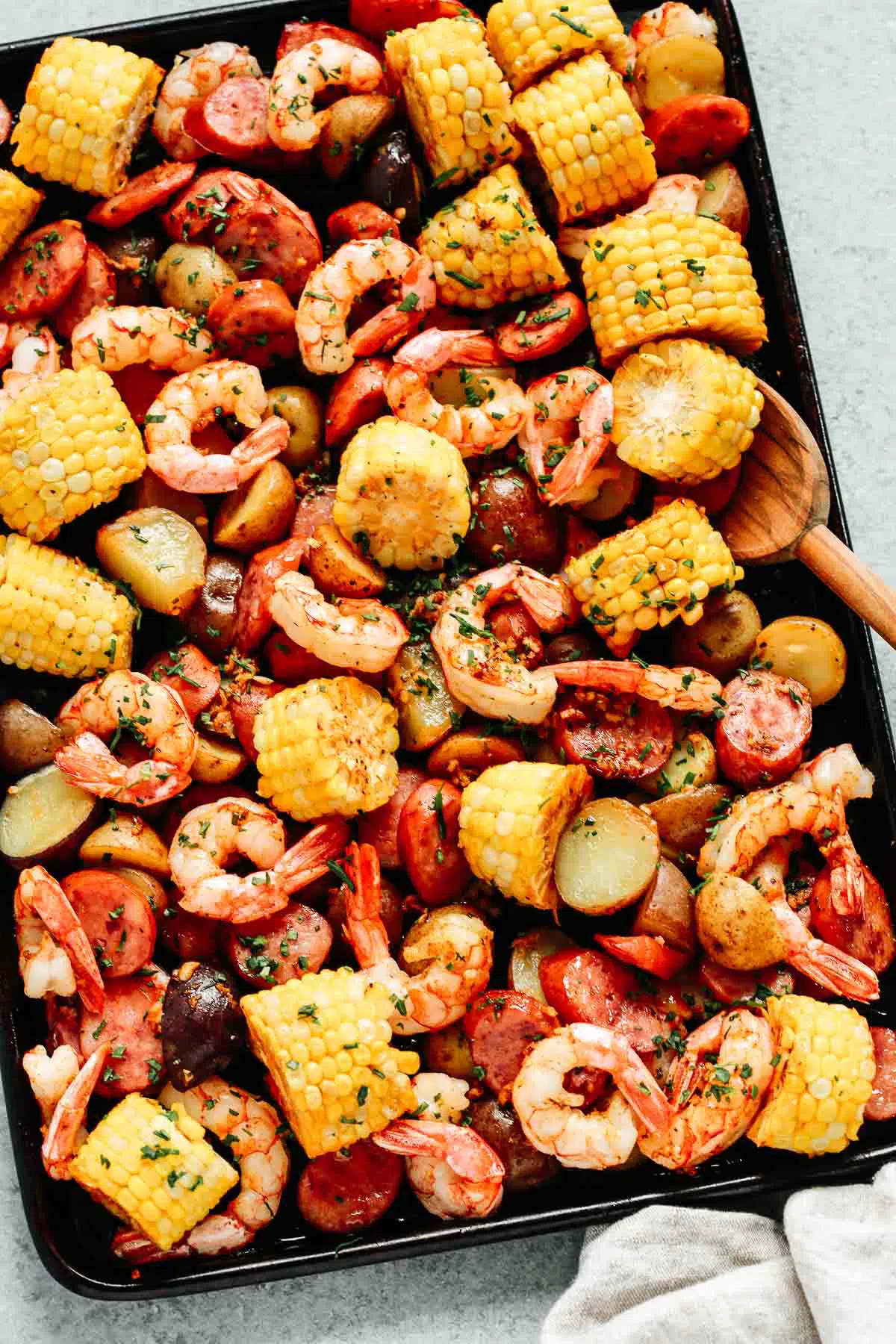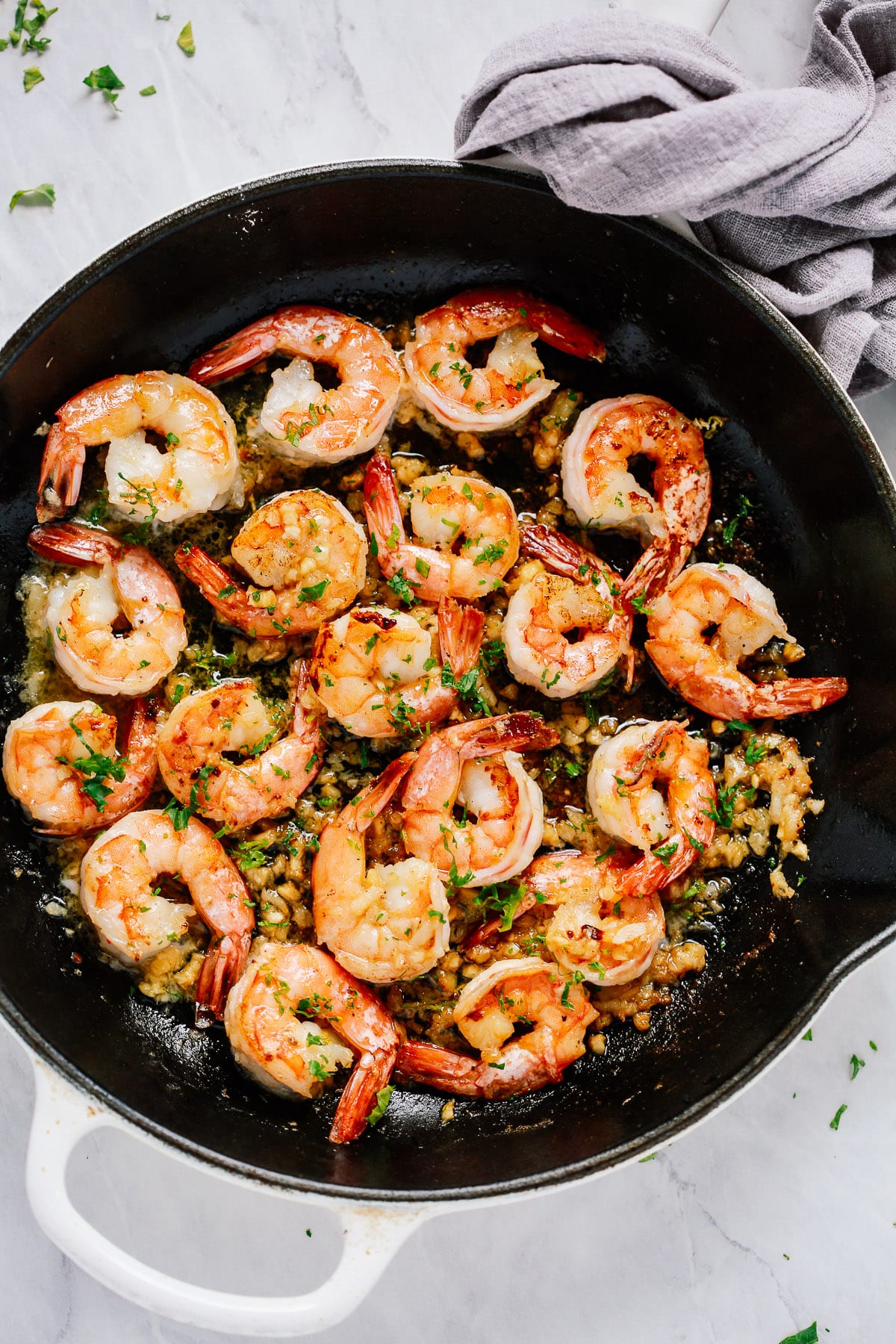 Garlic Butter Shrimp Skillet Recipe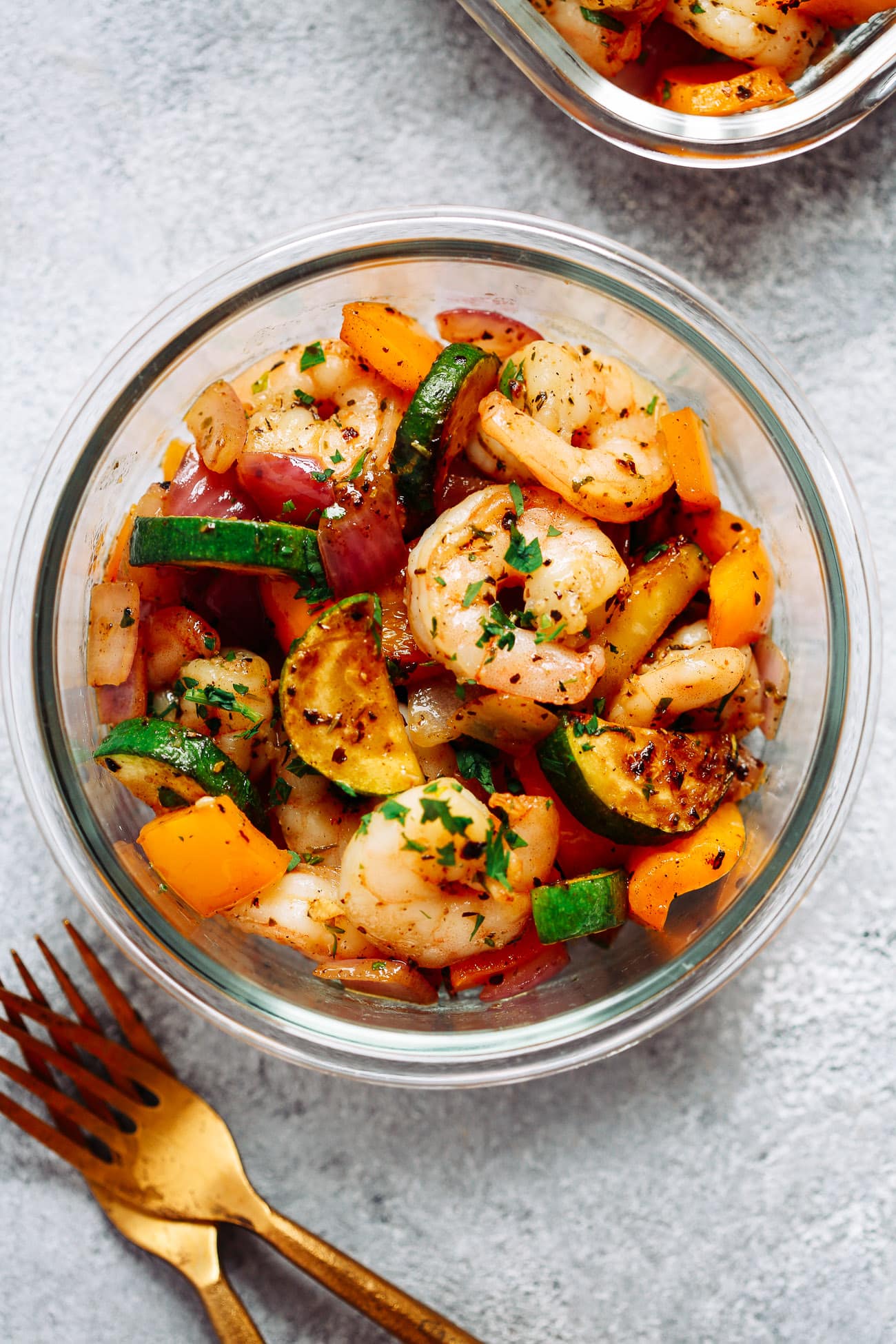 Garlic Shrimp and Veggies Meal Prep Bowls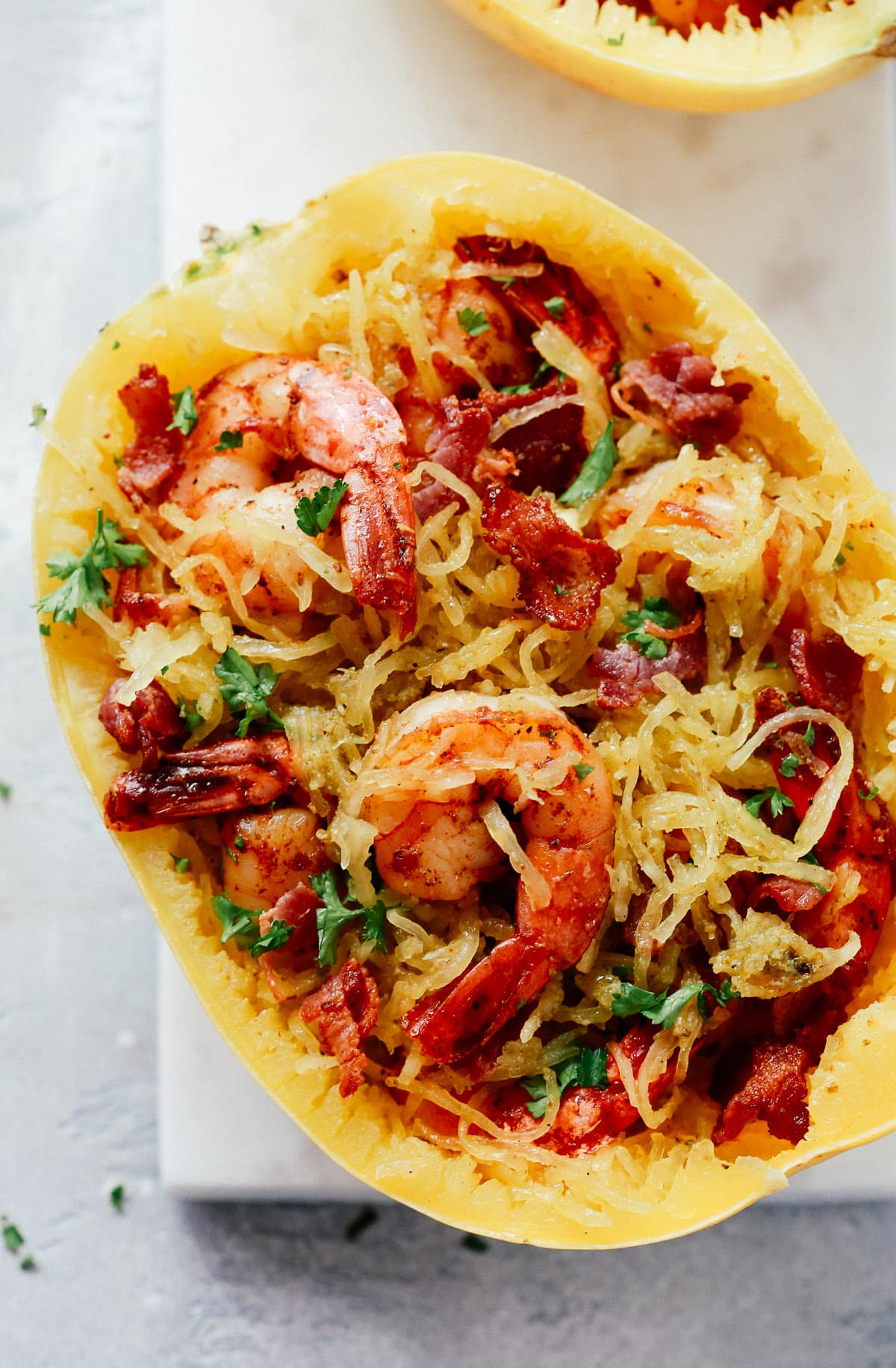 Pesto Spaghetti Squash with Shrimp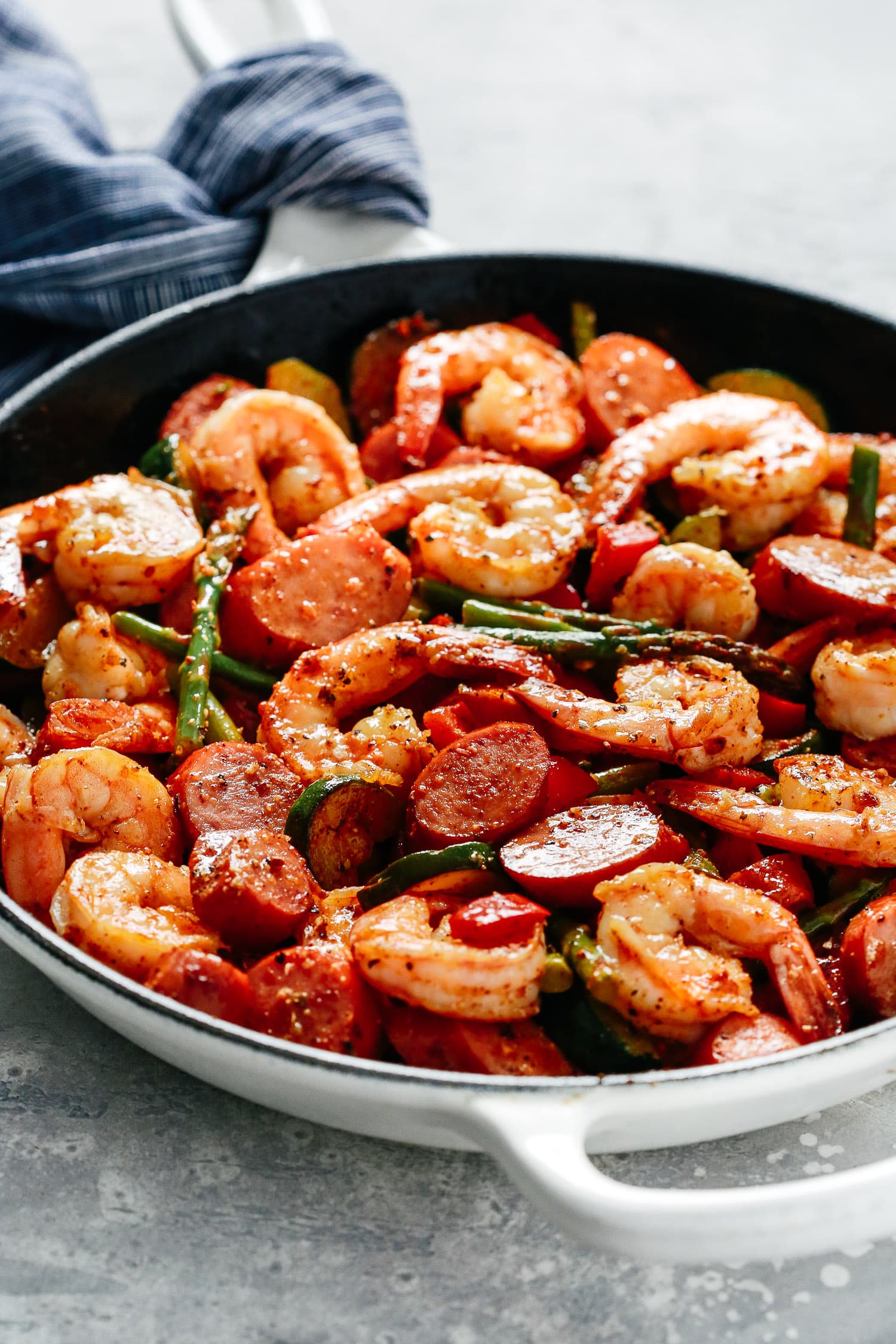 Shrimp and Sausage Vegetable Skillet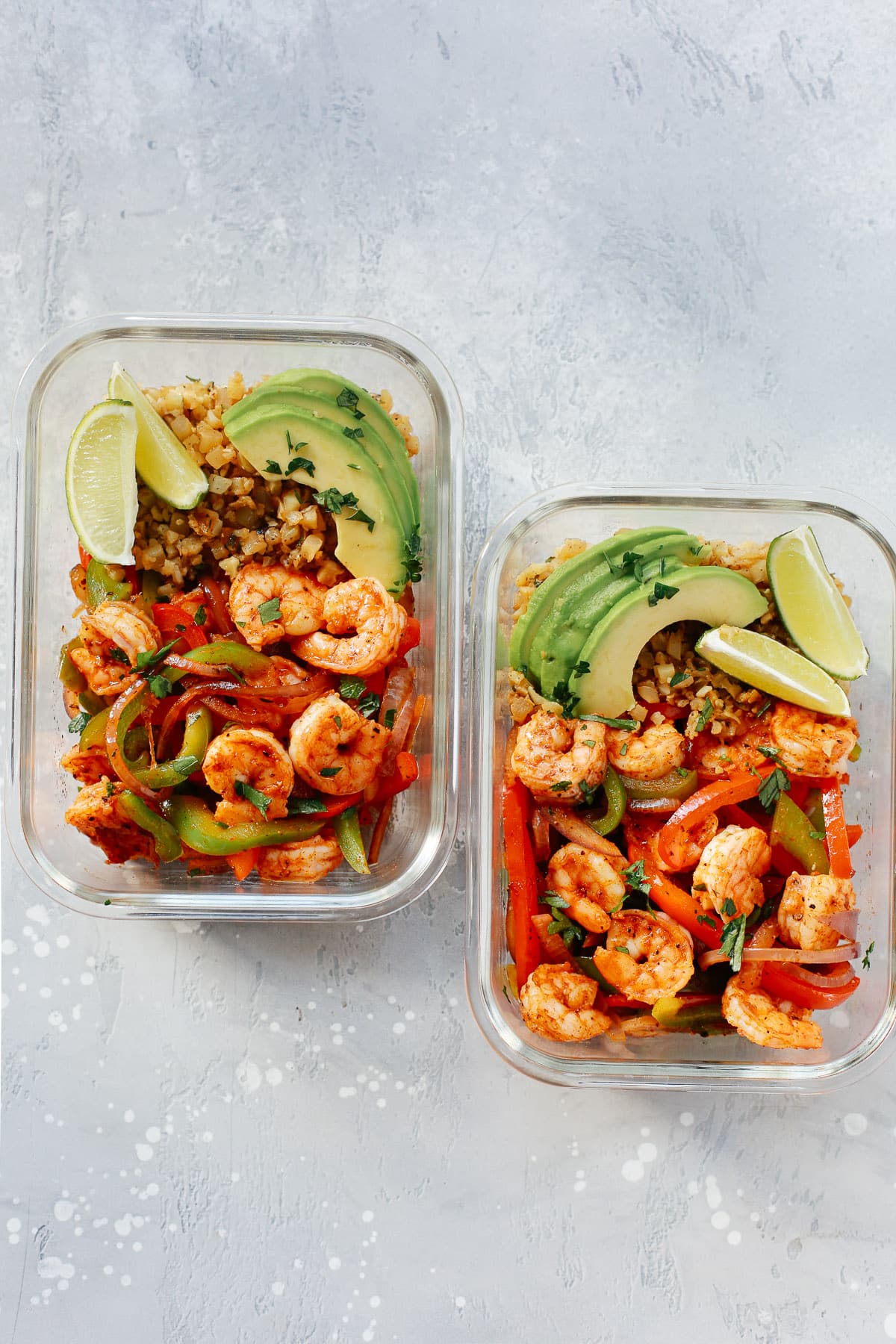 Low-Carb Shrimp Fajita Meal-Prep Bowls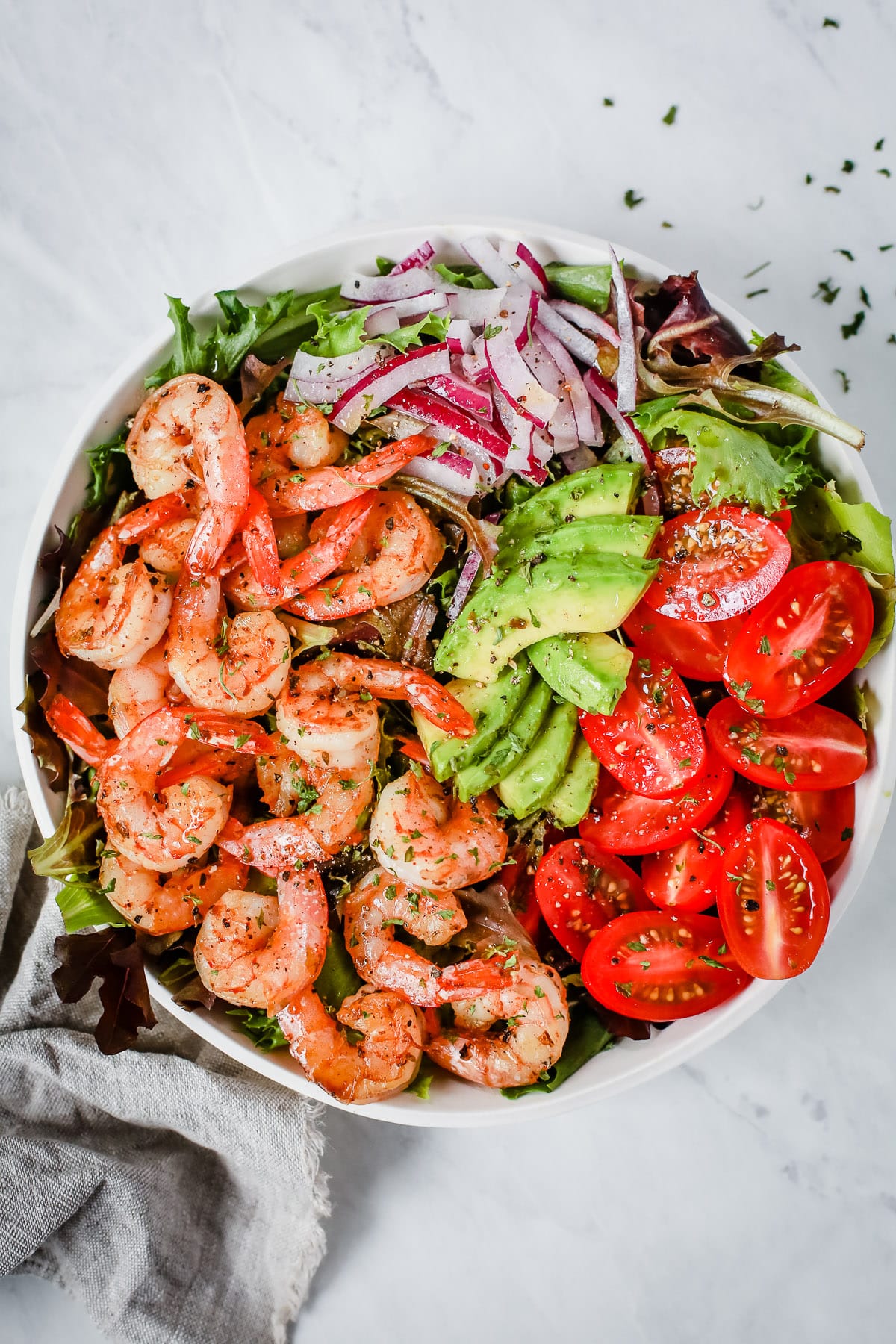 Super Fresh Shrimp Tomato Salad
Sweet Potato, Kale and Shrimp Skillet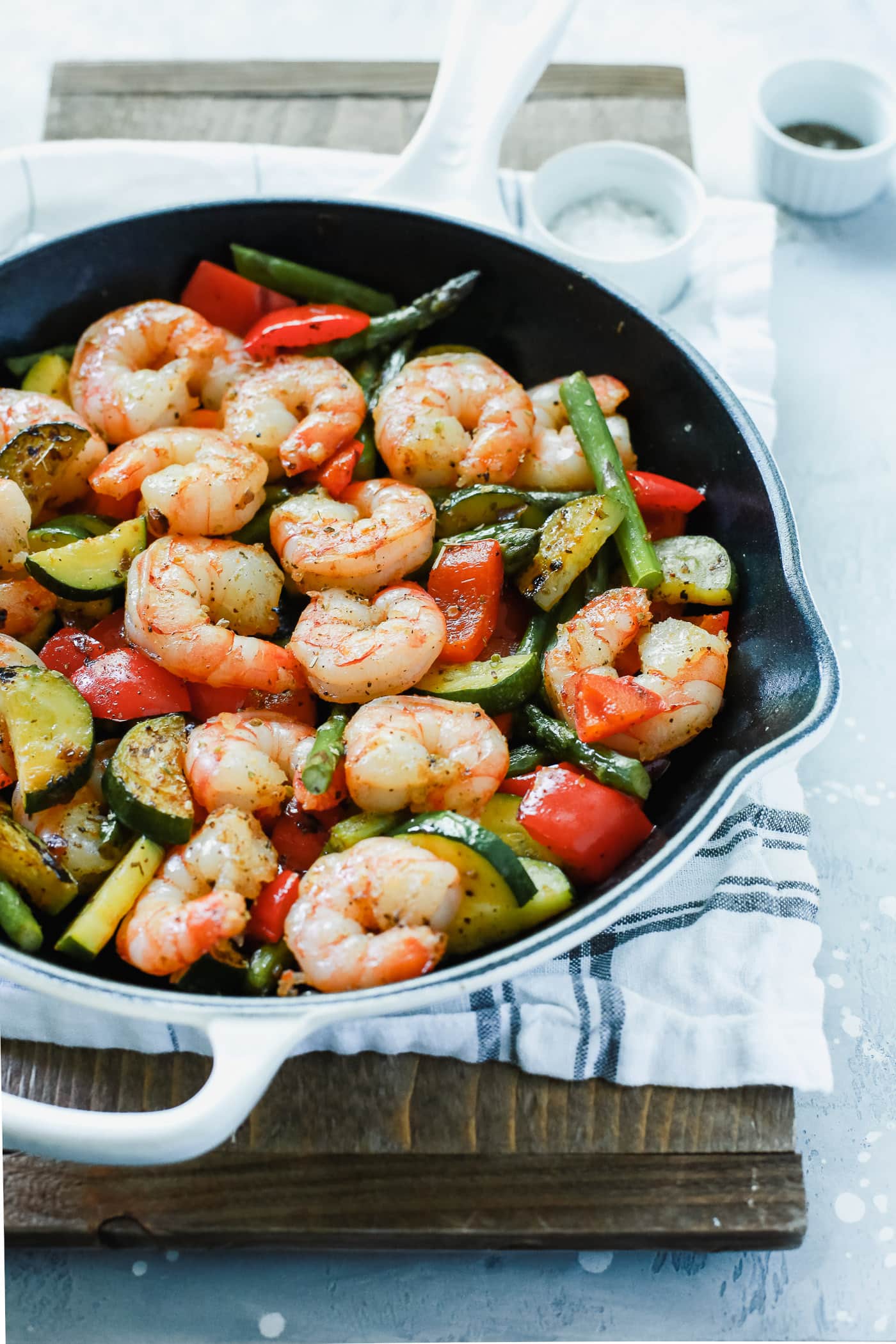 Chimichurri Shrimp Broccoli Skillet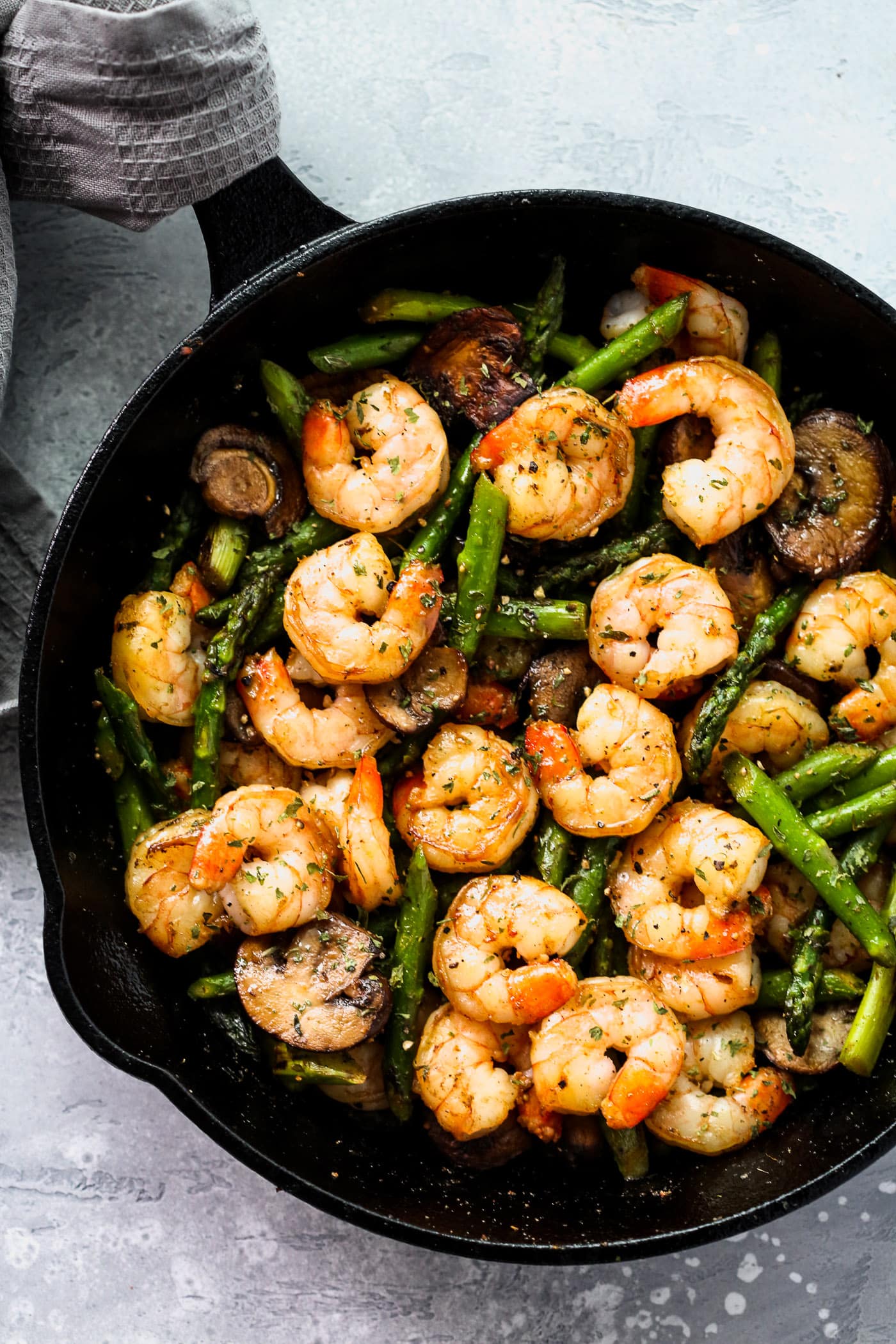 Garlic Shrimp Asparagus Skillet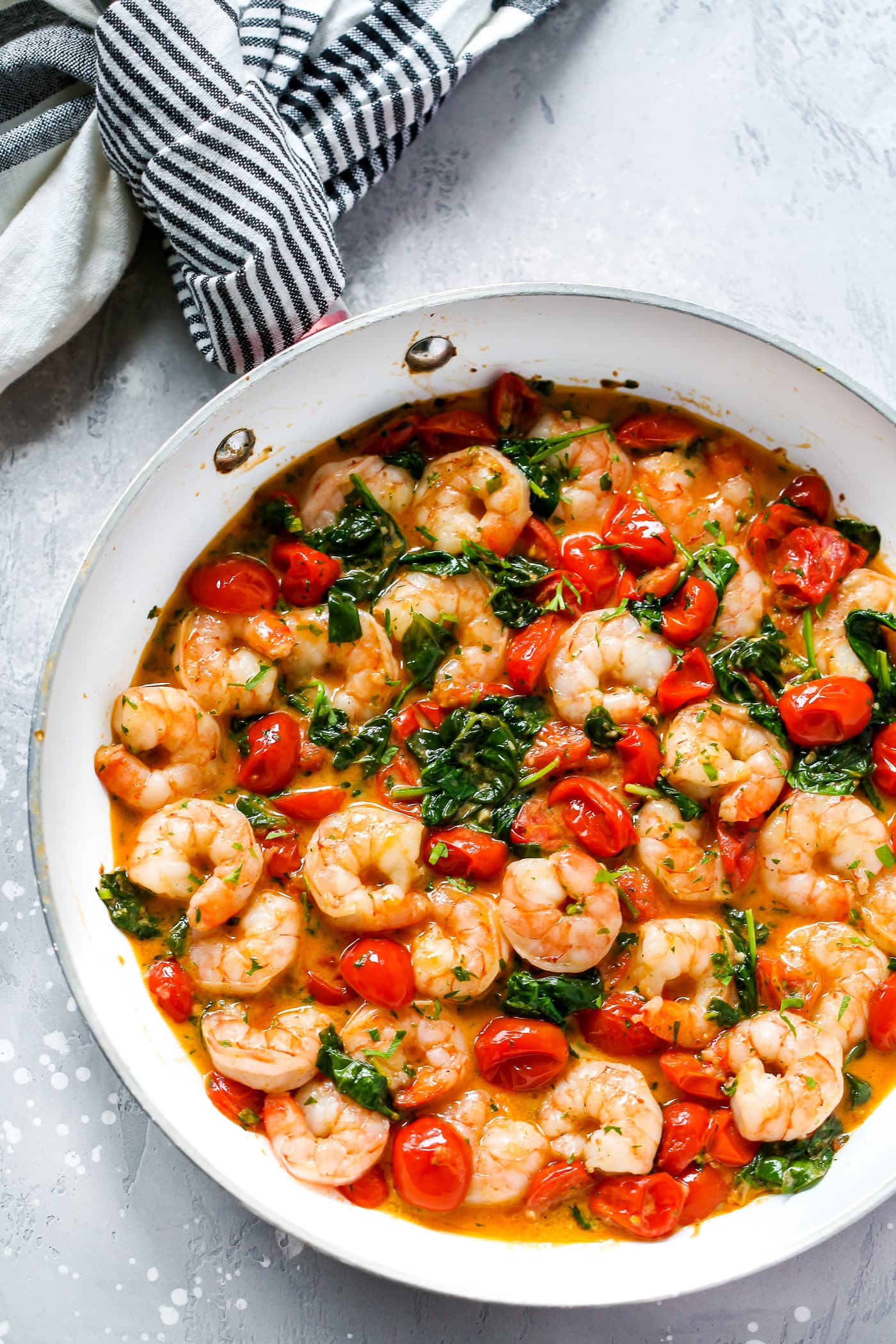 Creamy Parmesan Shrimp Skillet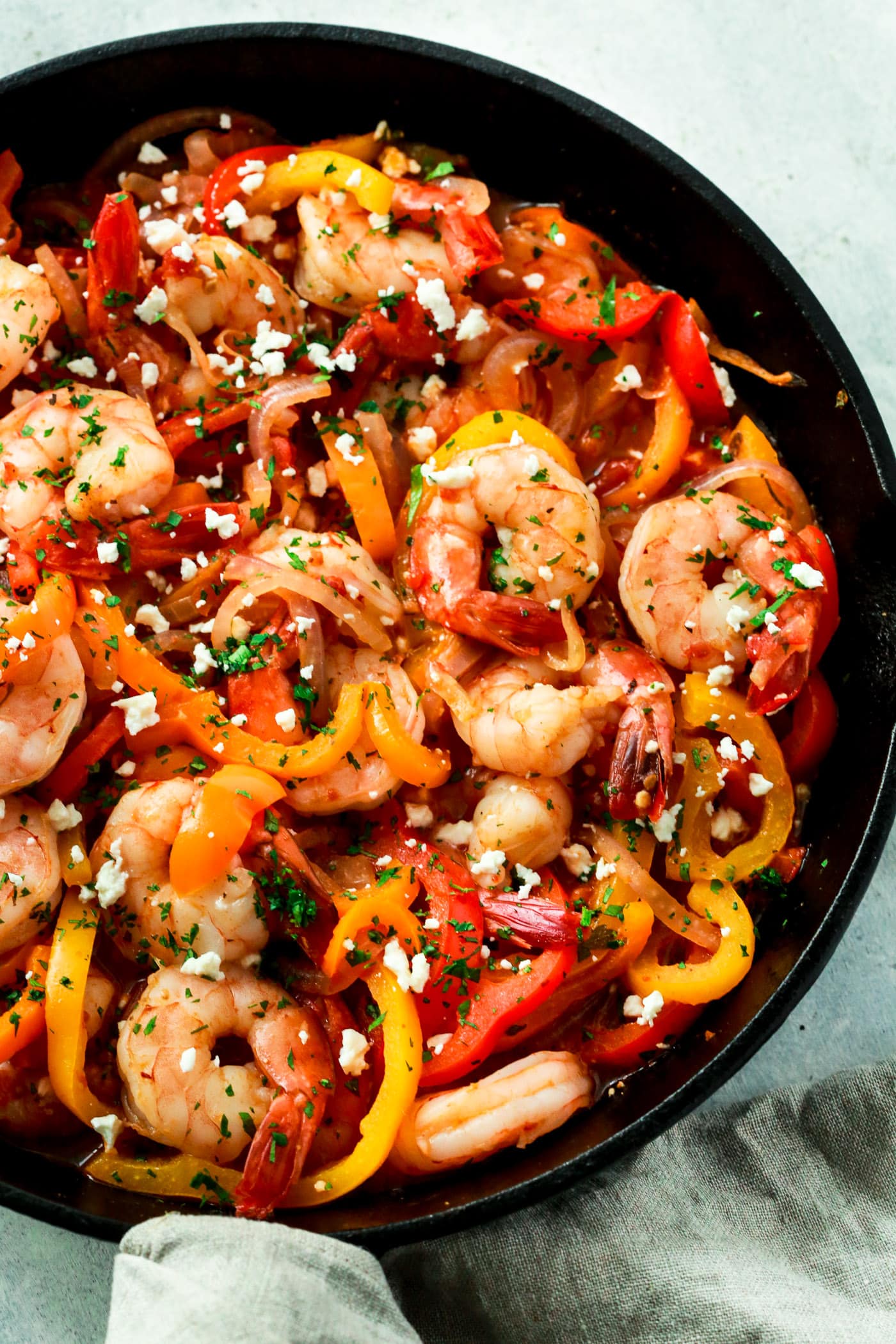 Shrimp, Bell Pepper and Onions Skillet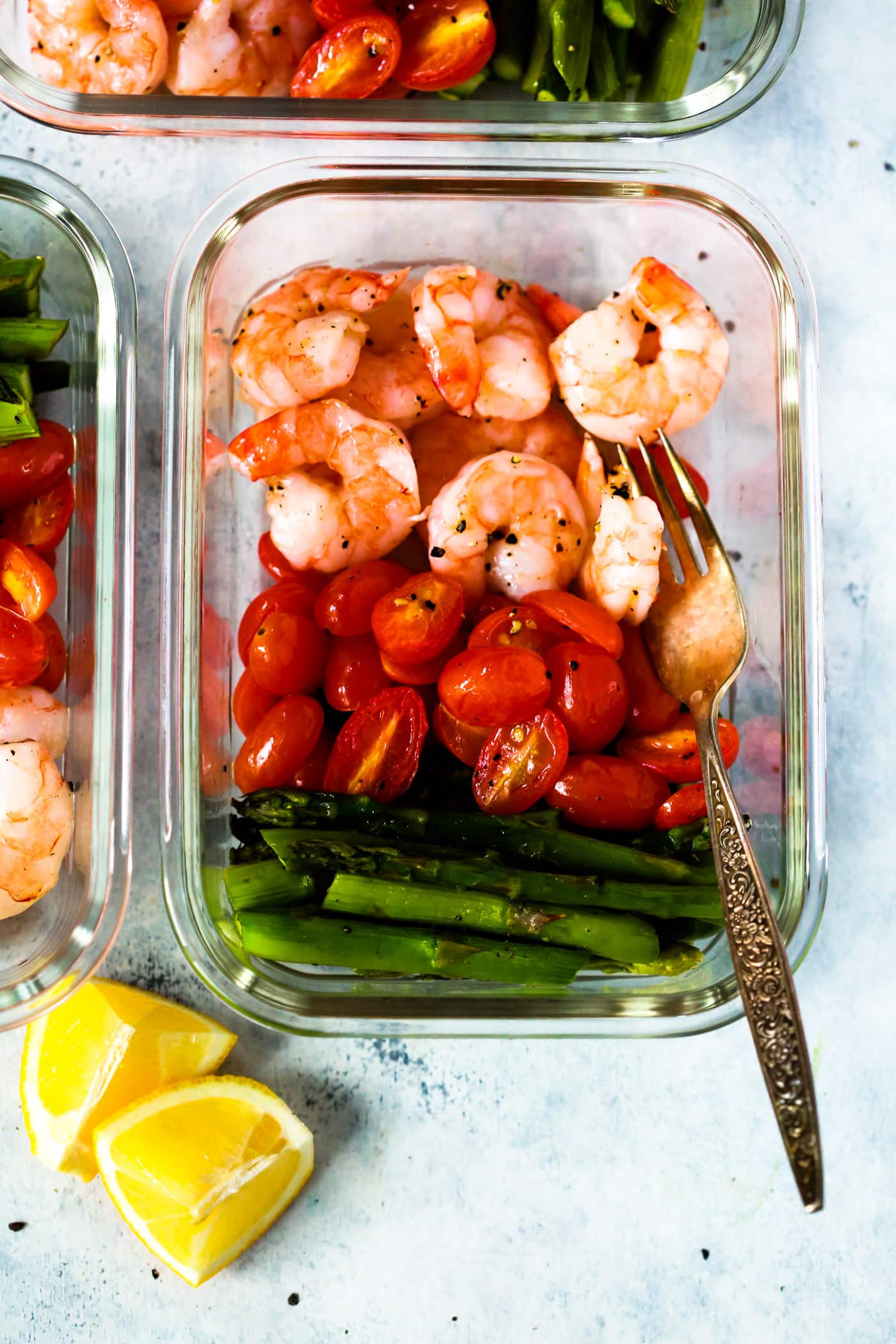 One-Sheet Pan Shrimp with Cherry Tomatoes and Asparagus
Sun-dried Tomato Pesto Shrimp Asparagus Skillet
Pesto Shrimp Tomato Salad Recipe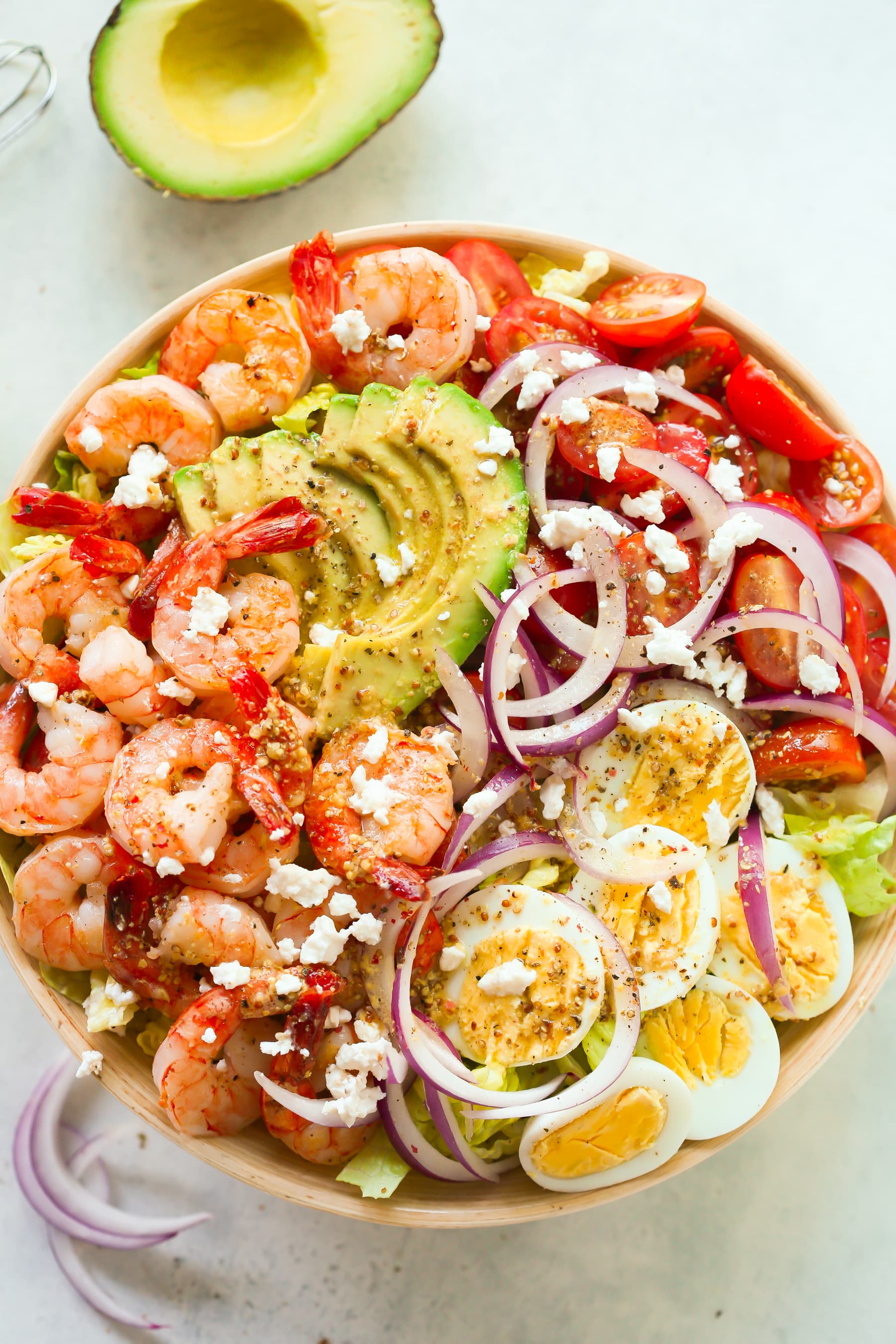 Shrimp Avocado Tomato Salad Recipe
Cajun Shrimp Skewers with Corn Salad
Hope you enjoy all these Healthy Shrimp Dinner Recipes. If you make one of them don't forget to share with us on Instagram. Enjoy!