Easy chicken couscous salad is the perfect healthy lunch or light dinner. This delicious and colorful dish is high in protein and filled with nutritious vegetables. Best of all, it's topped with a flavor-packed, homemade dressing featuring fresh citrus.
I love making chicken couscous salad when the weather starts to warm up. It's so perfect for both spring and summer weather, plus everything comes together in just 20 minutes so you can get food on the table quickly with little effort.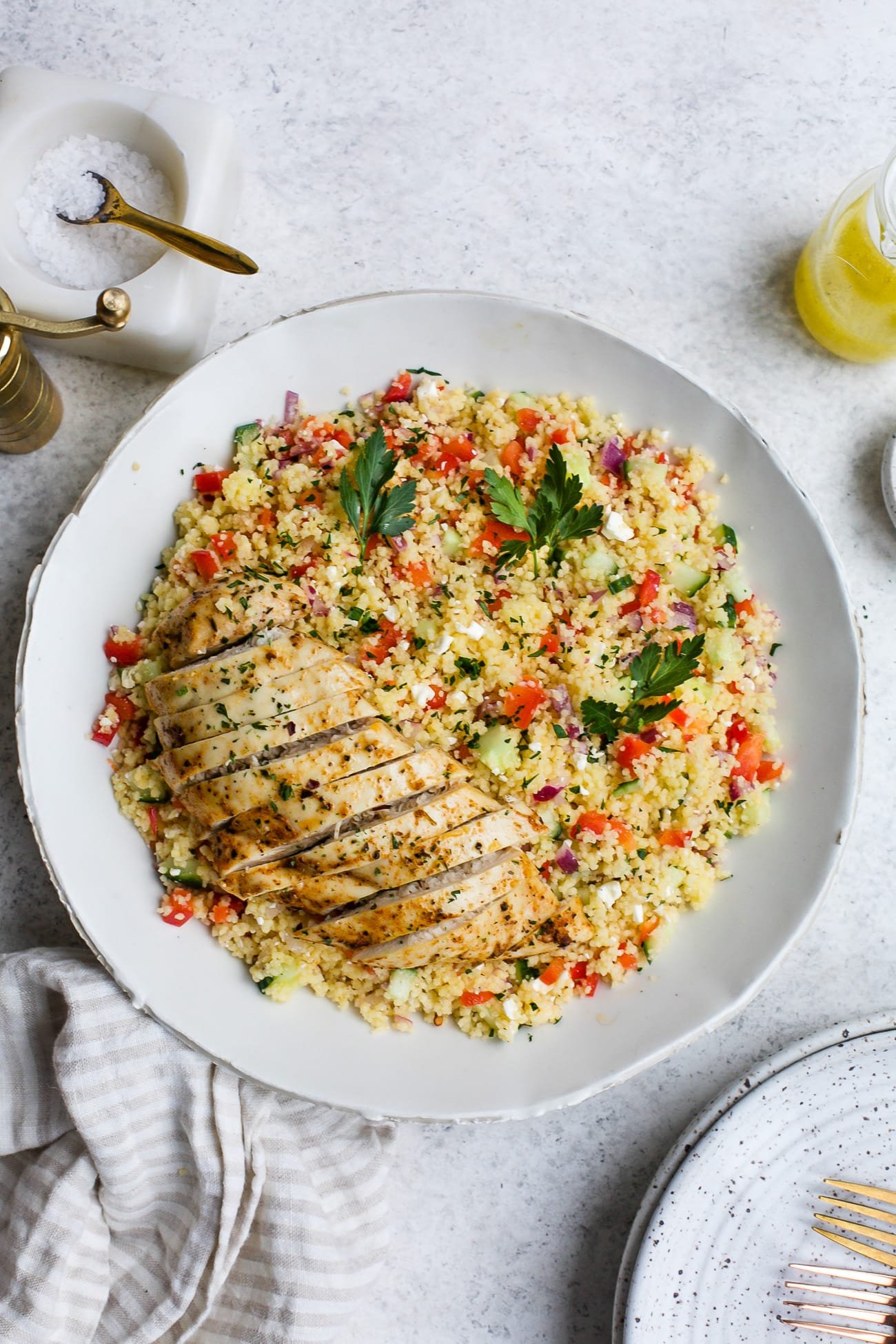 My Easy Couscous Salad and Asparagus Couscous Salad are tasty variations of this recipe! I highly recommend giving them a try if you like this dish.
You may also consider trying my Quinoa Cabbage Salad, Carrot Quinoa Salad or Mango Quinoa Salad. Couscous is a type of pasta and quinoa is a grain featuring nuttier flavor and a heartier texture. But, nonetheless, it is similar. If you enjoy couscous, there's a good chance you'll like quinoa!
How To Make Chicken Couscous Salad
Ingredients
Chicken breasts — I like to purchase free-range and organic chicken whenever possible.
Extra virgin olive oil — You can also substitute avocado oil (or another neutral, high smoke-point oil).
Seasonings — For this recipe, I like using Italian seasonings, paprika, ground coriander, salt and black pepper. Feel free to experiment with spices!
Couscous — Typically, I purchase Moroccan couscous, but any brand will do. You can also look for a whole grain option if desired.
Lemon juice — Fresh squeezed is always best because bottled tends to taste stale.
Vegetables — I generally use red bell pepper, red onion and cucumber. You can certainly use what you've got on hand to reduce food waste!
Cheese — Salty feta crumbles, goat cheese would also be a nice substitute.
Garnish — Fresh chopped parsley is a nice addition to this salad because it provides extra flavor and color.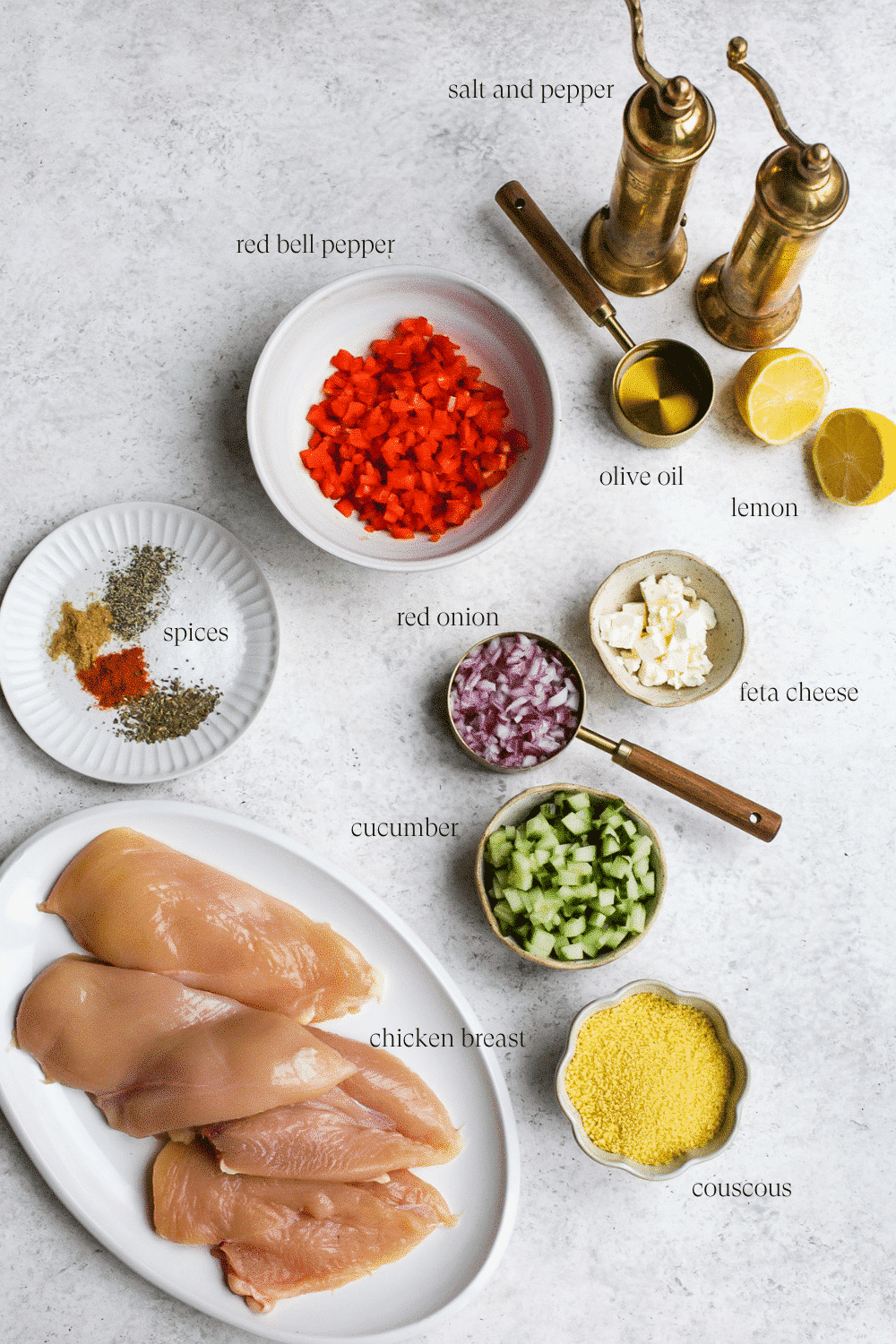 Instructions
Bake the chicken:
Begin by preheating your oven to 400°F. Then, line a large baking sheet with parchment paper or aluminum foil (optional, but great for easy cleanup).
Place chicken breasts in a big bowl. Add olive oil and stir to coat, then add spices and stir again.
Bake for 15 minutes, or until tender and internal temperature of the chicken reaches 165°F. Be sure to check temp at the thickest part of the largest piece!
Allow chicken to rest for around 10 minutes before slicing, this will make it juicier.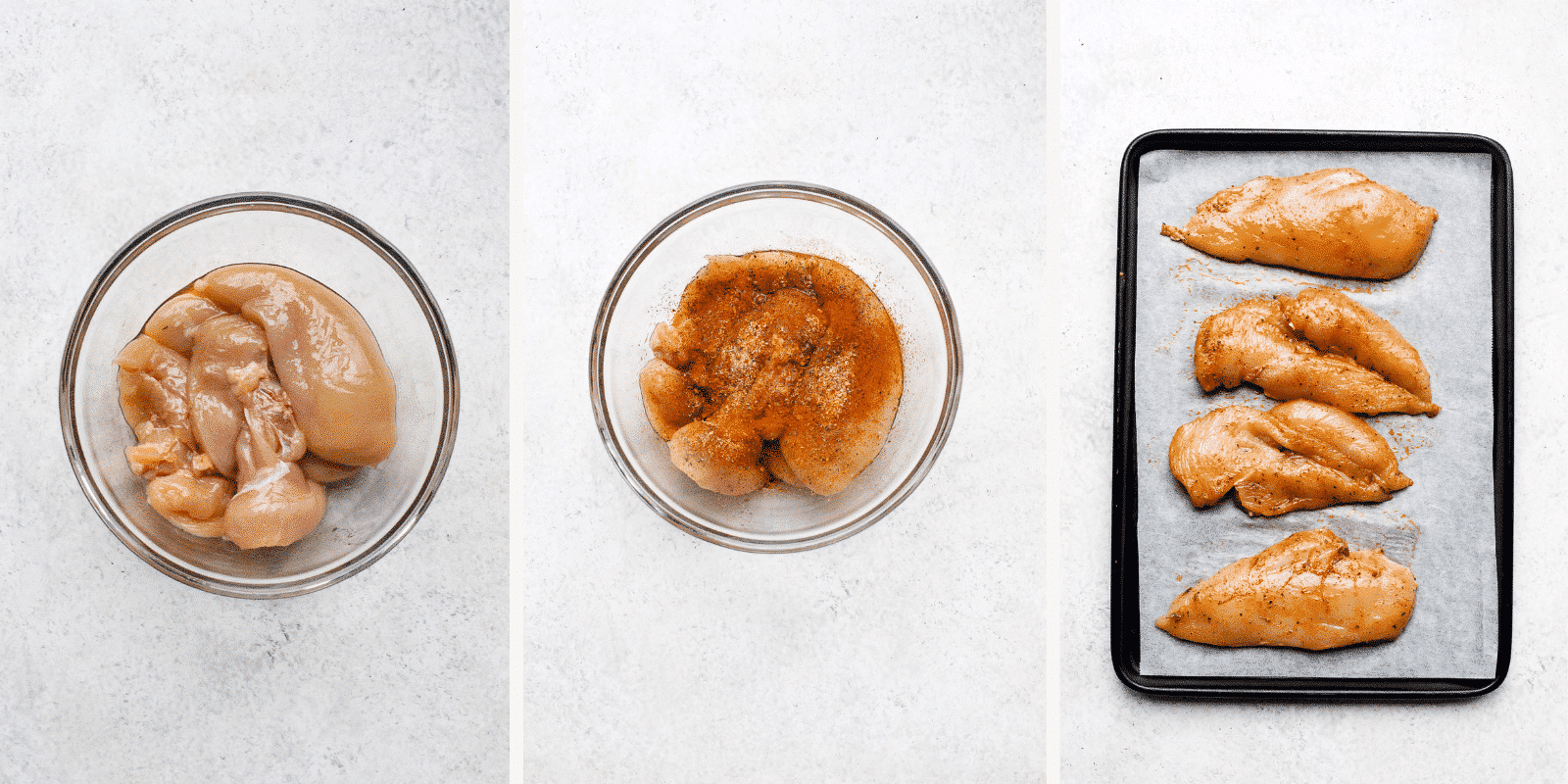 Make your couscous:
While the chicken is roasting, measure water or chicken broth into a medium saucepan and bring it to a rolling boil over high heat.
Once boiling, turn the heat off completely and stir in your couscous.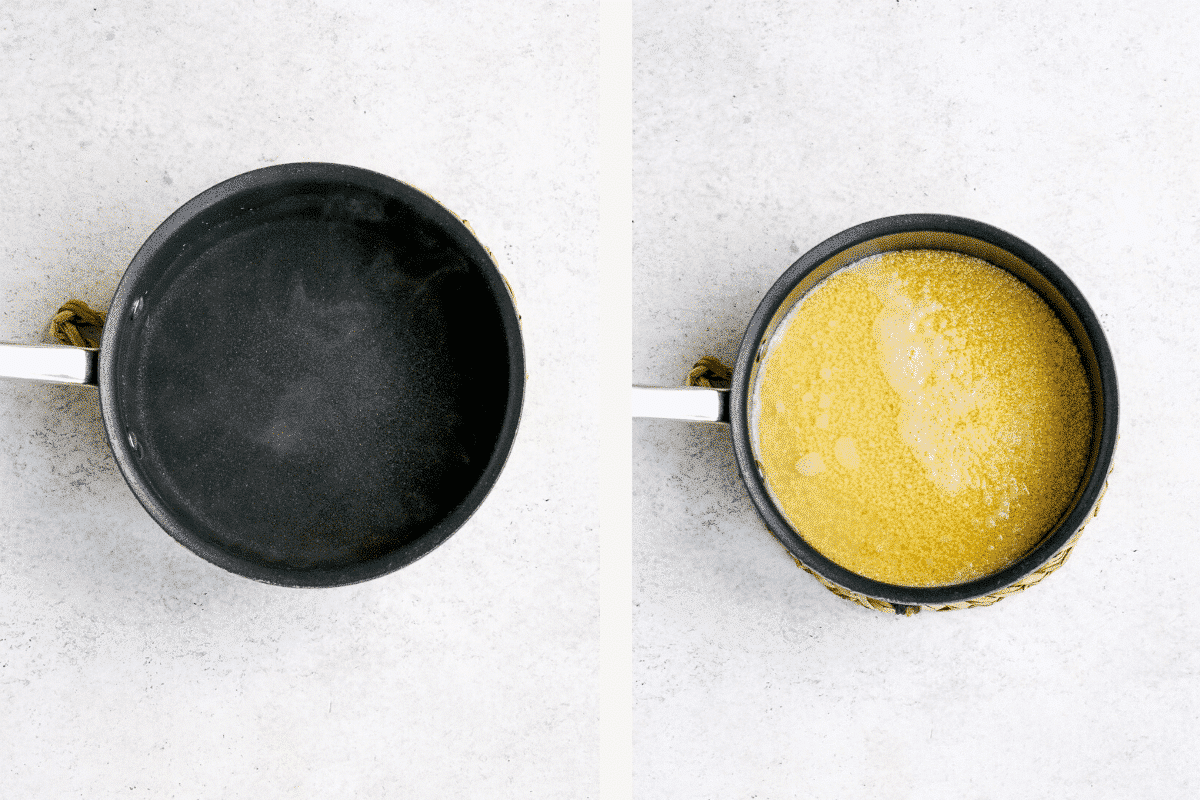 Place a lid on the pan and allow couscous to soften for 5 minutes.
Uncover the pan and use a fork to fluff, fluff, fluff! Then, set aside and allow couscous to cool for at least five minutes.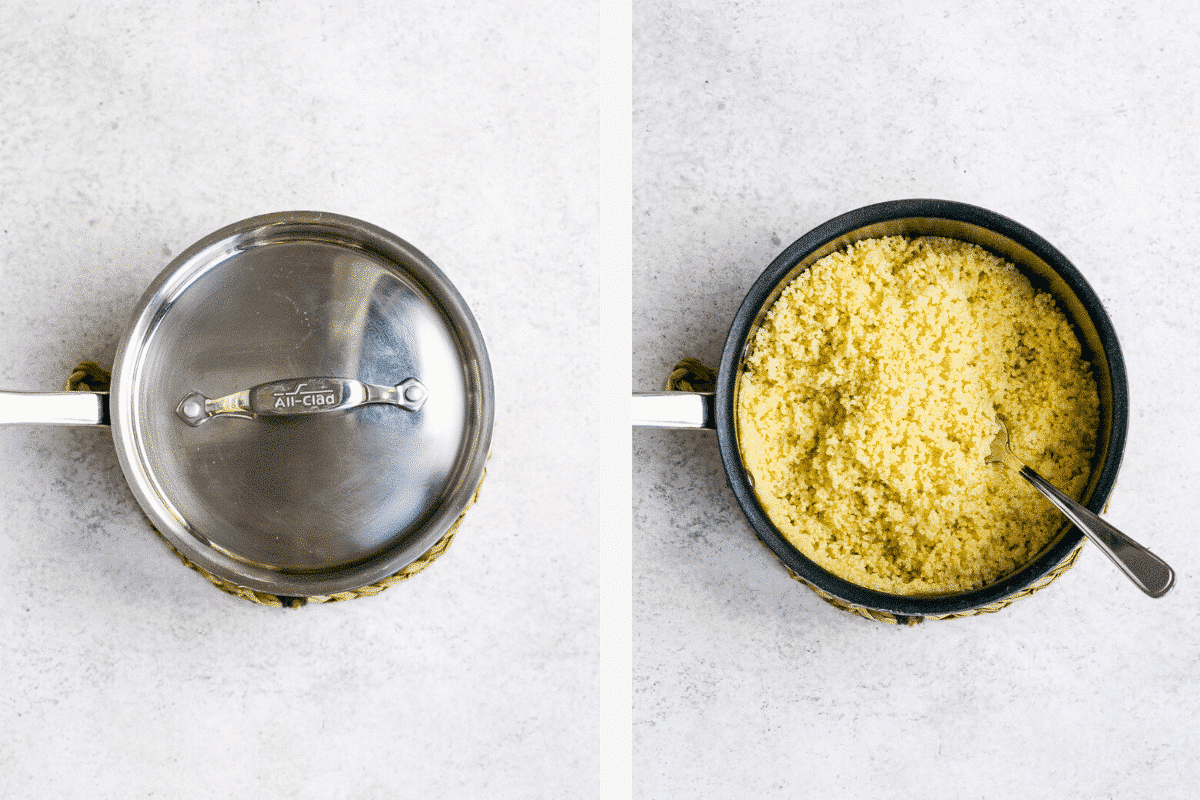 Mix dressing:
Get out a small bowl or mason jar (preferably one with a lid, if you've got it)! Add lemon juice, olive oil, salt and pepper. Lid the jar and shake well, or whisk vigorously to combine.
Assemble and serve your couscous chicken salad:
Transfer cooked couscous, chopped veggies and crumbled feta cheese to a large mixing bowl. Stir until ingredients are well incorporated, then drizzle dressing over everything and mix once again to coat.
Garnish with some fresh, chopped parsley and plate. Slice up your chicken and place atop the salad. Enjoy right away or on the next day!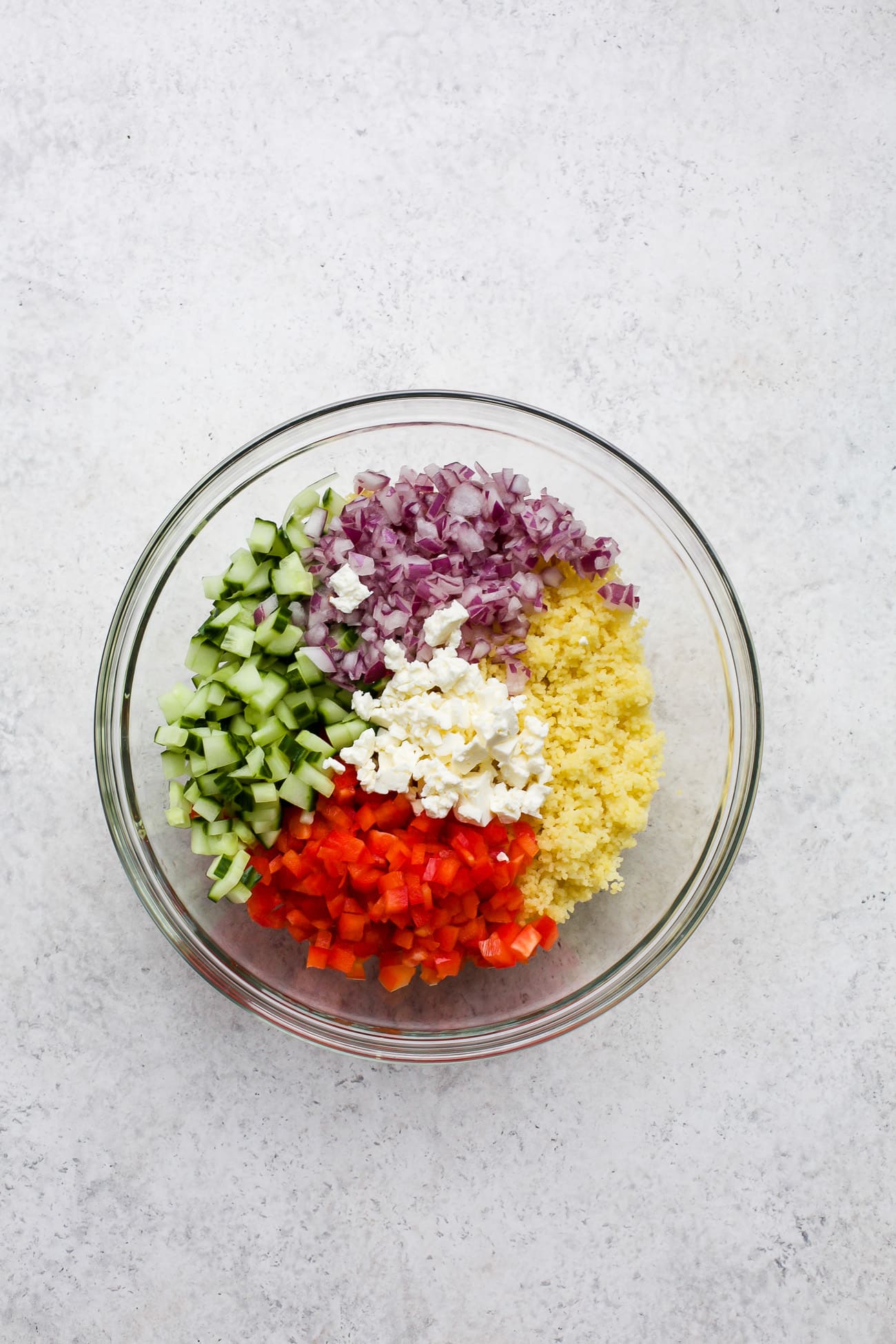 Recipe tips
If desired, use a different protein like shrimp or steak in this recipe. For a vegetarian version consider substituting mushrooms, tofu, extra feta or artichoke hearts.
If the weather is extra nice and you want to cook outside, feel free to grill (rather than bake) your chicken! If you're short on time and unable to cook chicken, consider using store-bought rotisserie chicken as a quick alternative.
However you choose to cook your chicken, remember it needs to rest for at least 10 minutes before you slice it up. This will make the meat extra moist, but if you cut into it too quickly the juices will run out.
Traditionally, couscous is made with wheat and isn't gluten-free. You can look for specialty, gluten-free brands at the store if you need a wheat free variation made with alternate ingredients. Also, you can use pearl couscous in this salad if you'd like!
For extra protein, you can cook your couscous in bone broth instead of water.
Start slow with the salt and add more at the end if necessary. It's easy to add salt, but hard to remove it.
I prefer using English cucumbers in my chicken couscous salad as they tend to be sweeter and are also seedless.
Make this recipe even more delicious by taking the time to cut all of your veggies up nice and small. This way you'll get a little bit of everything in each bite for optimal tastiness!
You can also add green onions, tomatoes, pine nuts, cherry tomatoes, and kalamata olives to this salad. For the freshest taste, I recommend adding the tomatoes just before enjoying the salad.
Meal Prep Instructions
Because this salad can be enjoyed hot or cold, it's really great for meal prep. Simply portion it evenly into 4 containers (be sure they have lids)! Top with chicken and reheat at the office, or enjoy chilled.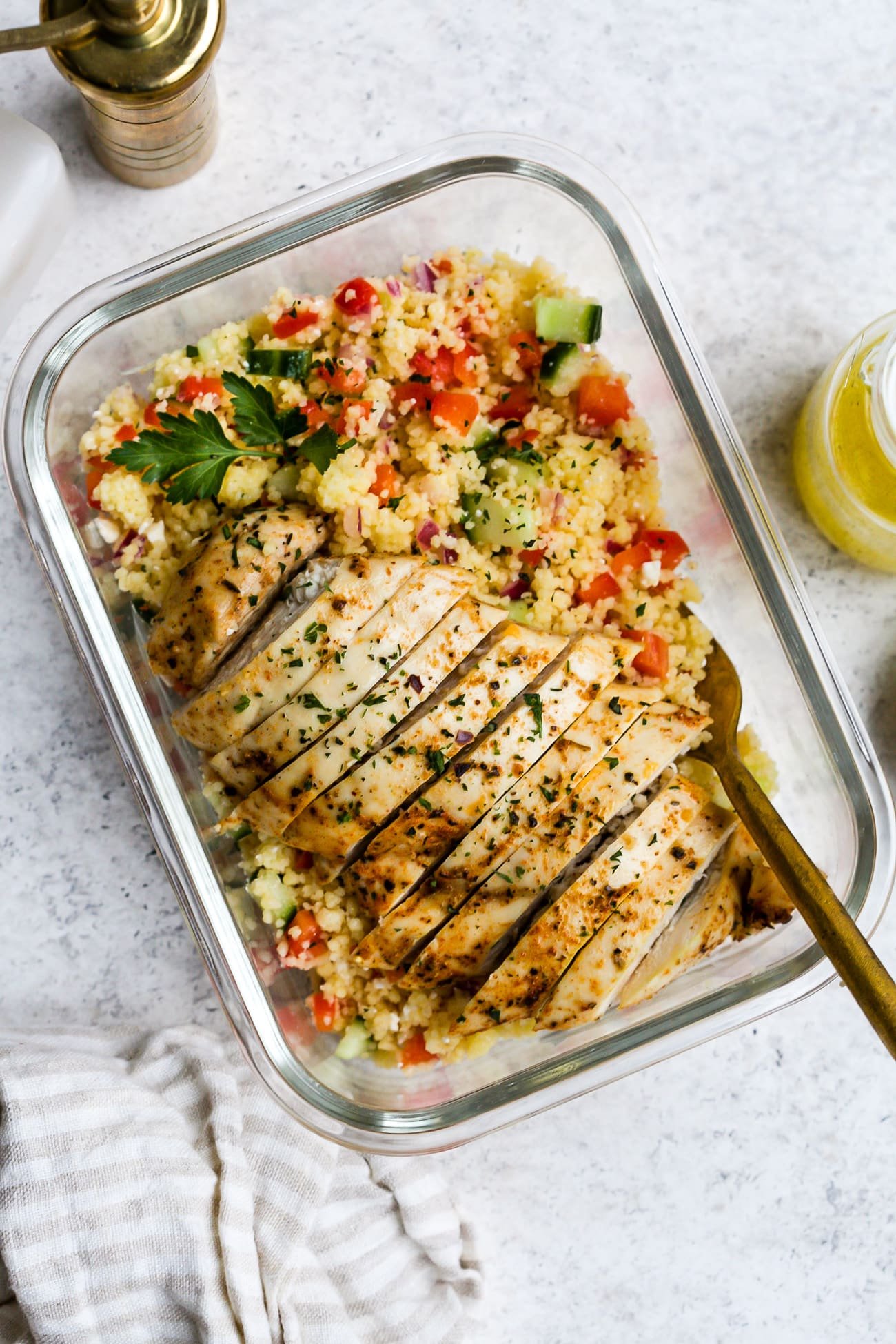 If you'd like, you can also whip up some extra dressing to bring along. Simply place it in a jar with a screw top lid so it doesn't spill.
How To Store Leftovers
To Store: If you have leftovers, transfer them to an airtight container and refrigerate for 3 to 4 days.
To Freeze: You can also freeze this salad in an airtight container or Ziploc bag for up to 4 whole months!
To Reheat: Simply thaw overnight in the refrigerator or on the countertop for a couple of hours (if you stored leftovers frozen). Enjoy chilled or microwave, on high, until warmed through completely.
Make Ahead: This salad is really great barbeques and cookouts. If you want to make it a few days ahead of time, I recommend storing dressing separately from the salad to keep it fresher for your event.
More Chicken Salad Recipes
If you're in the mood for chicken salad, I've got you covered! Be sure to check out these fantastic recipes:
Frequently Asked Questions
Is couscous a type of pasta? Is it hard to cook?
Couscous is, indeed, a type of pasta made from durum wheat! Each granule is kind of like an itty-bitty noodle. Cooking couscous is super quick and easy, all you have to do is soak it in super hot water for about 5 minutes and then fluff with a fork.
Should I serve my couscous salad hot or cold?
One cool thing about this salad? You can serve it hot or cold, just do whatever fits your preference/needs best. I love using this salad for meal-prep because It's super tasty when chilled and there's no need to reheat (though you can if desired).
Is this chicken couscous salad healthy?
I absolutely consider this salad to be healthy. It's filled with nutritious vegetables, healthy fats from olive oil and a nice boost of filling protein!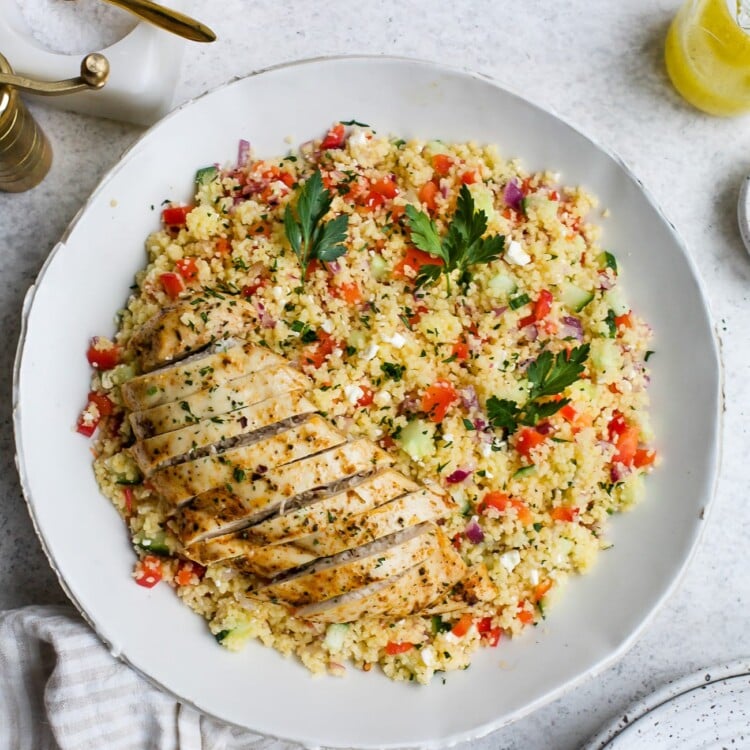 Chicken Couscous Salad
Easy chicken couscous salad is the perfect healthy lunch or light dinner. This delicious and colorful dish is high in protein and filled with nutritious vegetables. Best of all, it's topped with a flavor-packed, homemade dressing featuring fresh citrus.
Ingredients
For the Couscous
1

cup

dry Moroccan couscous

1

cup

water

Salt
For the Salad
¼

cup

red onions

chopped

1

cup

cucumber

chopped

1

cup

red bell pepper

chopped

2

tablespoons

fresh parsley

chopped

¼

cup

feta cheese
Instructions
Preheat oven to 400ºF.

In a medium glass bowl, add chicken and olive oil. Mix well.

Add all the spices and toss everything together. Set aside.

On a baking sheet lined with aluminum foil or parchment paper, place the chicken, and roast it for about 15 minutes or until it reaches an internal temperature of 165°F (at the thickest part). Let it cool/rest for at least 10 minutes and slice before serving.

In a medium saucepan, bring water to a boil. Once the water is boiling, turn off the stove and add couscous. Cover the saucepan with a lid and let sit for 5 minutes. Uncover, fluff with a fork, and set aside to cool for 5 minutes or more.

In a mason jar or small bowl, pour the freshly squeezed lemon juice and olive oil. Add salt and pepper and whisk everything.

In large bowl, add cooked couscous, red onions, cucumber, red bell pepper and feta cheese. Stir really well. Pour the dressing on top and mix everything again.

Taste and adjust the seasoning if you think it's necessary. Garnish with parsley if you prefer. Serve immediately with slices of chicken.
MEAL PREPPING:
Place an even amount of chicken couscous salad into 4 glass containers. Cover with the lid, and place in the fridge for up 4 days.
Tips
If desired, use different protein like shrimp/steak in this salad. For vegetarian try mushrooms, tofu, extra feta or artichoke hearts.  
You can grill your chicken instead of baking it.
Regular couscous isn't gluten free. But, you can look for specialty, gluten-free brands at the store if you need a wheat free option.
Feel free to use pearl couscous in this salad if desired.
For even more protein, cook your couscous in bone broth rather than water.
Be sure rest chicken before slicing or the juices will run out.
Start slow with the salt, add more at the end if necessary.
I like using English cucumbers as they're sweeter and seedless.
Dice everything into small pieces so you can get an equal amount of each ingredient in every spoonful.
To store: Store leftovers in an airtight container in the fridge for up to 4 days (or freeze up to 4 months). You can eat this salad chilled or reheat in the microwave if desired.
Nutrition Information
Serving:
1
/4
Calories:
400
kcal
(20%)
Carbohydrates:
30
g
(10%)
Protein:
22
g
(44%)
Fat:
21
g
(32%)
Saturated Fat:
4
g
(25%)
Polyunsaturated Fat:
3
g
Monounsaturated Fat:
16
g
Cholesterol:
59
mg
(20%)
Sodium:
536
mg
(23%)
Potassium:
382
mg
(11%)
Fiber:
3
g
(13%)
Sugar:
2
g
(2%)
Nutrition information is calculated using an ingredient database and should be considered an estimate.
If you like this Chicken Couscous Salad recipe, please share with your friends and family. Do you wanna taste more? Subscribe to my newsletter and follow Primavera Kitchen on Twitter, Pinterest, Instagram and Facebook for all delicious recipes updates. As always, you are really appreciated for stopping by.