This cod recipe combines fresh fish fillets with a flavourful garlic butter sauce. Make this easy cod fish recipe for a quick one-pan dinner! This is one of my favourite cod recipes and I'm sure you'll love it too.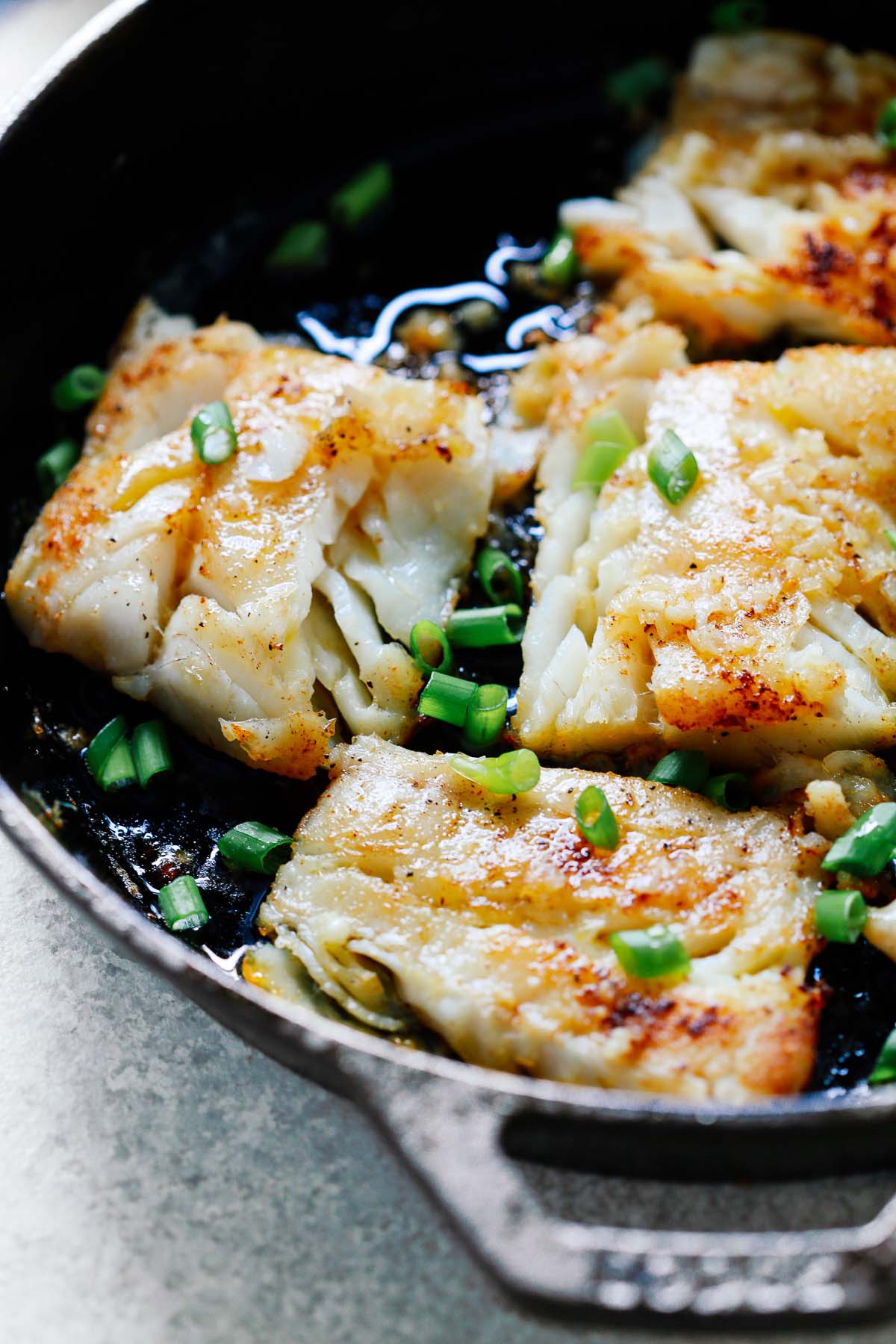 When the day is busy or stressful, making a meal with lots of steps can be overwhelming. Simple recipes make it easy to have a healthy, balanced meal made from fresh ingredients so you don't end up turning to take out on a nightly basis.
During my busy week, I love cooking with fish like salmon, tuna, swordfish or cod because they have no time at all to be cooked like this cod fish recipe that is ready in less than 20 mins. They are also great if you're following a healthy diet because they do hold many nutrients, vitamins, minerals, omega-3s and other health benefits. But it's good to know that cod fish and other lean fish are lower in omega-3 fatty acids than fatty fish like salmon.
This flavorful cod recipe uses just a few ingredients that you probably already have on hand. Even better, both the cod fish and the sauce are cooked in the same pan, meaning there are fewer dishes to wash later!
If you're looking for more white fish recipes, you will love these recipes too: 3-Ingredient Tilapia Skillet Recipe, Garlic Butter Rainbow Trout in Foil Recipe, Garlic Butter Halibut Fish Recipe and this Baked Salmon Recipe that is not white fish, but it's so yummy too.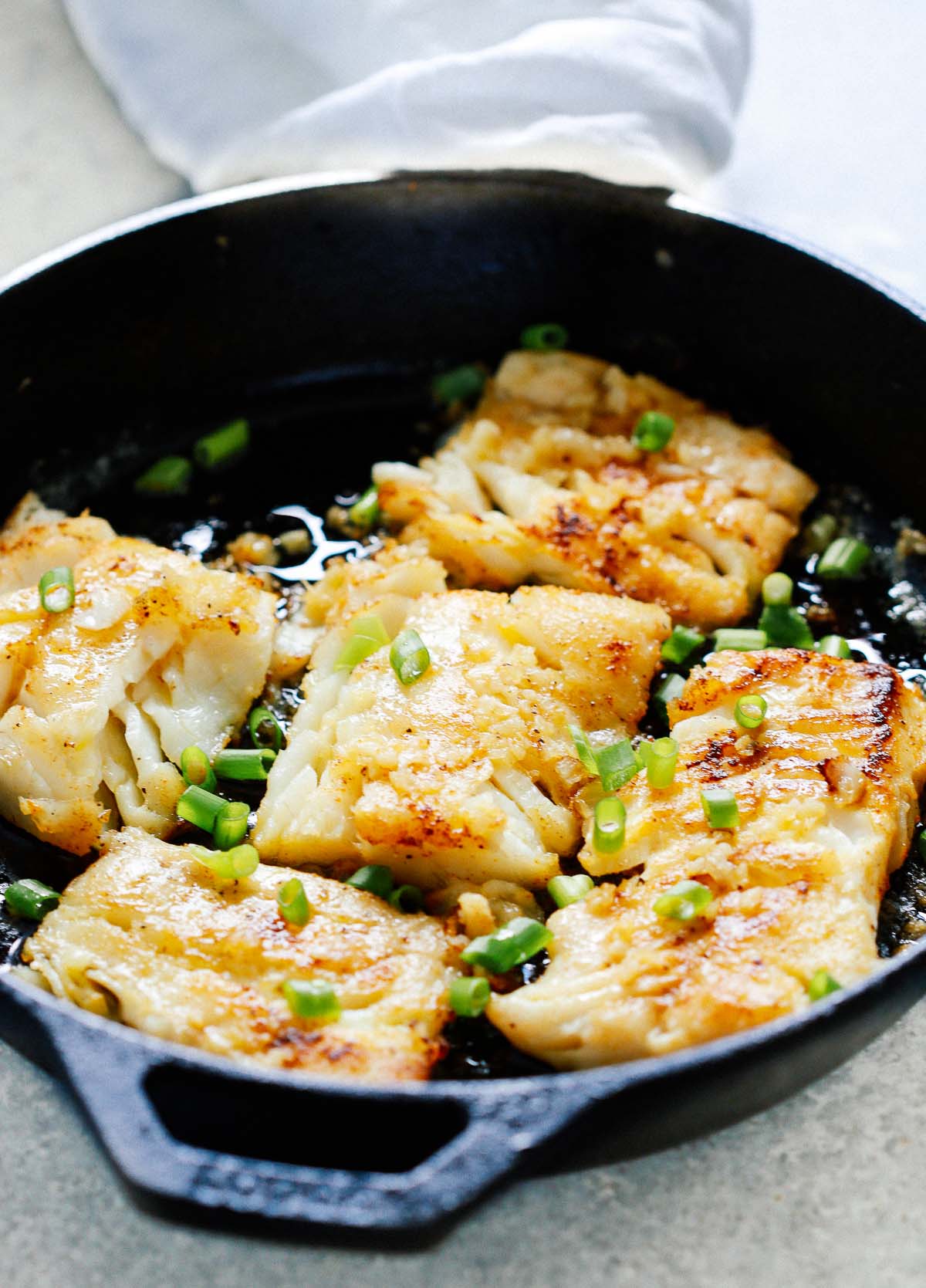 How to Cook Cod
This cod recipe couldn't be simpler, but yet it's a very tender and flavorful cod recipe! Just cook the cod fish in a pan on the stove, then baste with garlic butter sauce.
Ingredients to make cod fish
Cod fish fillets – This is an affordable white fish that takes on the flavors it's cooked with. Haddock, Pollack, or Mahi Mahi would make great substitutes. Feel free to use fresh or frozen versions of cod. Just be sure that it is fully thawed before you use it.
Olive oil – Or use another neutral cooking oil with a high smoke point like vegetable, avocado, or safflower oil.
Spices: garlic powder, onion powder, paprika, black pepper. Optional: some cayenne pepper
Unsalted butter – I suggest using unsalted butter as it's easier to control the salt levels as salted butters all vary in the amount of salt in them.
Garlic – I prefer freshly minced garlic over jarred minced garlic.
Lemon zest – lemon zest adds a nice bright flavour to your dish. Or you can also squeeze a little bit of fresh lemon juice.
Green onions or fresh parsley, for garnish.
Instructions to Make Cod Recipe
Season the fish
Pat the cod fish dry with a paper towel so the seasonings adhere better to the surface. It will also help the fish crisp on the outside when seared. If the cod fish is wet, the seasoning will have trouble sticking and the cod fish will steam in the pan instead of crisp up.
Season both sides of the cod fillets with the spices. It may help to mix them together in a small bowl so you can evenly distribute the seasoning overtop the cod fish.
Next, sear the fish on both sides in hot oil. Continue cooking until the fish flakes apart, flipping again halfway through. If you have a fish spatula, it's makes flipping much easier. Melt the butter in the pan with garlic and lemon zest. Coat the cod fish in the garlic butter by spooning it overtop.
Remove the pan from heat and transfer the cod fish to a serving dish. Avoid letting the cod cool in the pan as the residual heat will continue to cook the cod fish. Then, sprinkle chopped green onions over the top and serve this cod recipe with your favorite sides.
Recipe notes
Storage – Keep cod recipe leftovers in an airtight container in the refrigerator for up to 4 days.
Reheating – Heat in the microwave or on the stove until the cod fish is warmed through. You may need to add a splash of water or more butter for added moisture.
Meal prep – This cod recipe makes enough for a week's worth of lunches. Simply add one fillet to each meal prep container along with your side of choice.
Freezer – You can freeze this cod recipe once it's reached room temperature. Transfer the cod into an airtight freezer safe bag or container and freeze for up to a month. Due to how delicate the cod fish can be, a container is best to keep it from getting squished while it's freezing. If you have the space, let the cod freeze in a bag while laying flat before moving it around to prevent it from breaking.
Special tools– While it's possible to make this cod recipe with a regular spatula, it's well worth it to invest in a quality fish spatula. It's designed to cradle delicate fillets and easily flip them without them breaking apart.
Cod Fillets vesus Cod Loins:
Cod fillets are vertical cuts from the body (from the backbone down to the belly). Cod loins are thick fillets cut from larger fish. If you replace cod fillets for cod loins in this recipe, please adjust the cooking time if your fillet is large.
Frequently Asked Questions
How does cod taste?
In general, the main varieties of cod are Pacific cod and Atlantic cod but both are firm, mild and flaky. Cod is a popular fish that has lean protein (unlike Salmon, which is a very fatty fish) and it's a sweeter white fish, meaning it doesn't have a prominent fishy taste to it. It takes on seasoning really well so since this is cooked with garlic butter, this cod recipe will taste of garlic butter.
What makes cod fish tough or rubbery?
A good cod recipe should be flakey and moist. If your cod is tough or rubbery, that means you've overcooked it. Unfortunately, there isn't much you can do to fix it but you could always repurpose the cooked cod into a stir fry or salad.
How to tell when cod is cooked
The easiest way to check for doneness is to insert a fork into the thickest part of the fish. Gently twist the fork at an angle; if it is cooked properly, this cod recipe should flake apart easily. Also, it will look opaque rather than shimmery and translucent once it's cooked through. To be sure, check the internal temperature. It should be between 140 and 145 degrees F.
Is the lemon needed?
A touch of lemon zest really makes this cod recipe taste fresh and bright. It's a little touch that really makes a difference!
What to serve with this cod fish Recipe
Because this cod recipe has such simple, classic flavours, it's easy to pair with any of your favourite sides. Here are a few ideas to get you started:
Other easy seafood recipes
For something a little different, make my recipe for Easy Grilled Fish Tacos. It's another great way to add lots of flavor to cod fillets. Or try one of these other recipes for dinner:
Garlic Butter Cod Recipe
This cod recipe combines fresh fish fillets with a flavourful garlic butter sauce. Make this easy fish recipe for a quick one-pan dinner!
Instructions
In a large skillet heat olive oil over medium high heat. Pat cod fish dry with paper towel and season all over with garlic powder, onion powder, paprika and salt and pepper.

Place the cod fish in a large (10-inch) skillet and turn the heat to medium. Sear fish for 3-4 minutes. Flip your cod fish fillets over to cook the other side.

Add butter and when it melts, add garlic and lemon zest. Cook for about 1 minute.

Gently remove fish from the pan and plate onto a serving dish. Garnish with green onions.
Tips
Click HERE to watch the web story. 
If you use cod loins instead of fillets, you'll have to adjust the cooking time as they're larger.
If using frozen cod, make sure it's completely thawed before cooking with it.
The cod is ready when the internal temperature reaches between 140 and 145 degrees F.
To store: Store leftover cod in the fridge in an airtight container for up to 4 days.
To reheat: You can reheat garlic butter cod on the stovetop or microwave. 
Nutrition Information
Serving:
1
/4
Calories:
190
kcal
(10%)
Carbohydrates:
1
g
Protein:
14
g
(28%)
Fat:
15
g
(23%)
Saturated Fat:
6
g
(38%)
Polyunsaturated Fat:
1
g
Monounsaturated Fat:
5
g
Cholesterol:
83
mg
(28%)
Sodium:
544
mg
(24%)
Potassium:
22
mg
(1%)
Nutrition information is calculated using an ingredient database and should be considered an estimate.
Watch the Web Story HERE.