Tilapia Recipe with diced tomatoes and onions is a quick, easy, healthy, and delicious dinner. It's something the whole family will enjoy! Plus, you can make this dish in just 20 minutes using only one skillet, perfect for a busy weeknight.
This recipe is also healthy! It's low carb, high in protein and even gluten free. Want another simple, nutritious tilapia meal? Be sure to check out my Garlic Butter Baked Tilapia!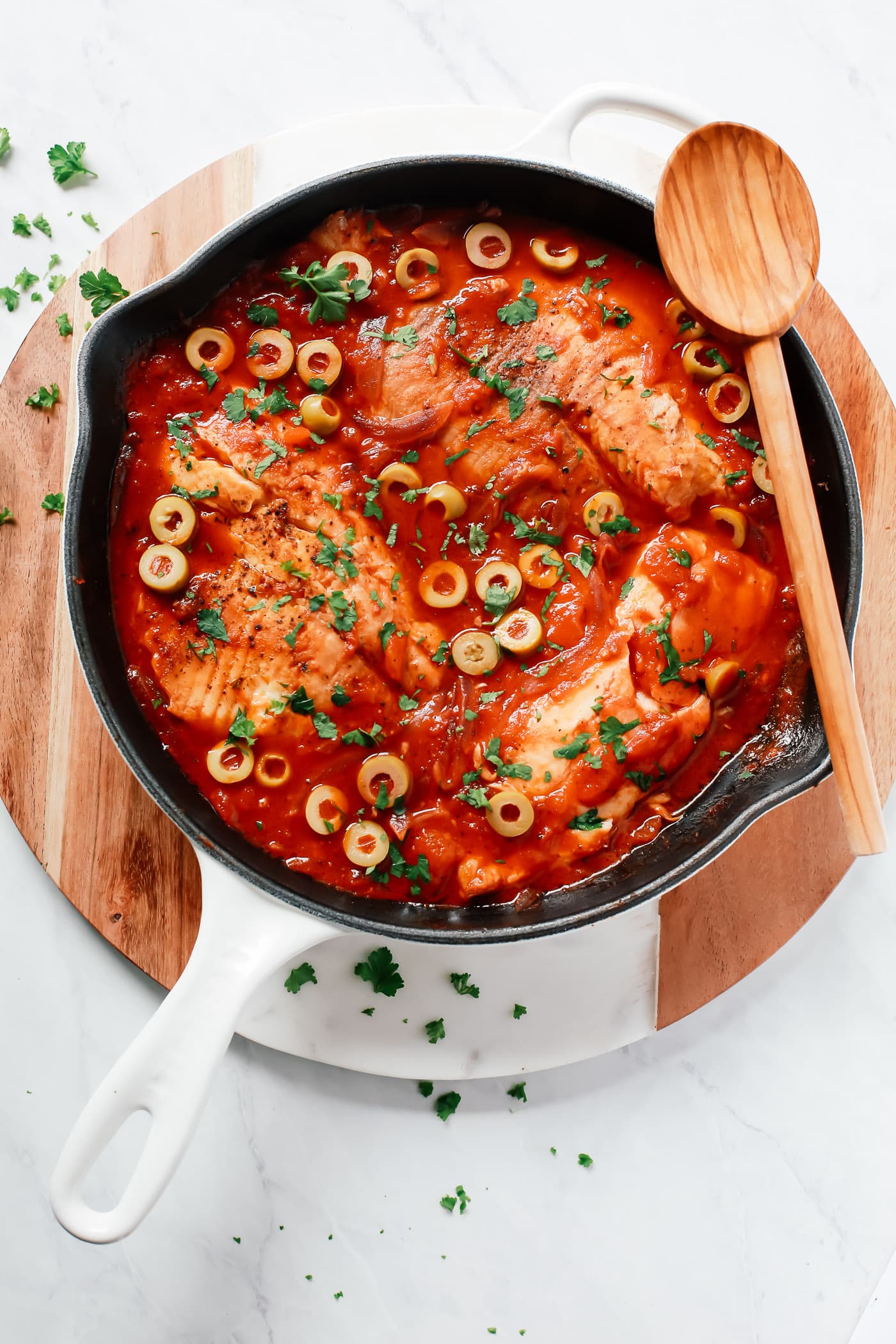 If you're in the mood for fish, I've got lots of yummy recipes you can try!
You can't go wrong with flaky Oven Baked Salmon or Dijon Mustard Salmon. My Brazilian Fish Stew is always a winner and so is this Garlic Butter Halibut Fish or Garlic Butter Cod.
Ingredients To Make Tilapia Recipe
Extra virgin olive oil — Avocado oil will also work great!
Produce — White onion and canned diced tomatoes or chopped cherry tomatoes.
Seasonings — I like to keep things simple with salt and black pepper. But of course, you can add some paprika, red pepper flakes, cayenne pepper and other kind of spices you prefer.
Optional — For a bit of extra flavor and color you can add some chopped parsley and sliced green olives if desired. Also, lemon slices are good here too or even a little bit fresh lemon juice or lemon zest.
Instructions to Make Tilapia Recipe
Heat olive oil:
Place a skillet on the stovetop over medium-high heat, then add olive oil and let it heat up.
Sauté onion:
Slice up your onion and add to the skillet. Stir and sauté for about 5 minutes until it softens and becomes translucent.
Add tilapia and tomatoes:
Finally, add diced tomatoes (with juices), thawed tilapia fillets, salt and black pepper.
Mix ingredients together really well, then cover and simmer for 7-10 minutes until the fish is fully cooked.
Garnish and serve:
Do a quick taste test and add more salt/pepper if needed, then garnish with fresh chopped parsley and green olives.
Plate, squeeze a little bit of lime juice, serve and enjoy!
Recipe Tips
You can use frozen tilapia in this recipe! It's a lot easier to find in many places, compared to fresh. Just be sure you let the fish thaw before cooking.
Look for tilapia fillets that are similar in size when you do your shopping. This helps with quick, even cooking!
Don't overcook your tilapia fish. It really doesn't take long at all for these thin fillets to cook all the way through and if overdone, they can become dry.
You'll know the tilapia is done when it easily flakes at the thickest part of the fillet and loses its translucent appearance. You can also use a meat thermometer to check for an internal temperature of 145°F.
How To Store Leftovers
To Store: Allow leftovers to cool and transfer them to an airtight container, refrigerate for up to 4 days.
To Freeze: Leftovers are also freezer friendly. Let them cool and place in a Ziploc bag or airtight, freezer-safe container and store frozen for up to 3 months.
To Reheat: Thaw leftovers in the refrigerator overnight (if reheating from frozen). Gently reheat sauce and fish in a pan on the stovetop until warmed through completely.
What To Serve With this Tilapia Recipe
Wondering what to serve with your tilapia recipe? Thankfully this quick main course meal pairs seamlessly with many sides.
Recipe Variations
Substitute another kind of fish: This recipe would be great with either cod or halibut, both are white fish with a similar mild and sweet flavor profile.  
Use flavored diced tomatoes: Instead of plain, canned diced tomatoes use fire roasted or Italian flavored! And if you've got some fresh tomatoes hanging around, feel free to dice them up and toss them in.
Experiment with spices: I typically use a simple salt and pepper blend for this tilapia recipe but you can certainly mix things up and use additional spices from your cabinet.  
Recommended Tools
Large Skillet: Use one with a lid and a large one to cook evenly your tilapia recipe!
Sharp Knife: For prepping produce and cut all really well.
Cutting Board: For chopping onion/cilantro. I like to use a wooden one
Frequently Asked Questions
What seasonings are good for tilapia?
Tilapia has a mild taste, which means it can be seasoned with pretty much anything! Here we're using simple salt and pepper, though the tomatoes in this recipe add a ton of additional flavor.
Is tilapia or salmon better for you?
Both salmon and tilapia are packed with protein and nutrients. They also both contain a decent amount of omega-3 fatty acids, however, salmon has a lot more.
Should I use fresh or frozen tilapia?
You can use either fresh or frozen (I generally use frozen). Just be sure to thaw your fish before using it in this recipe.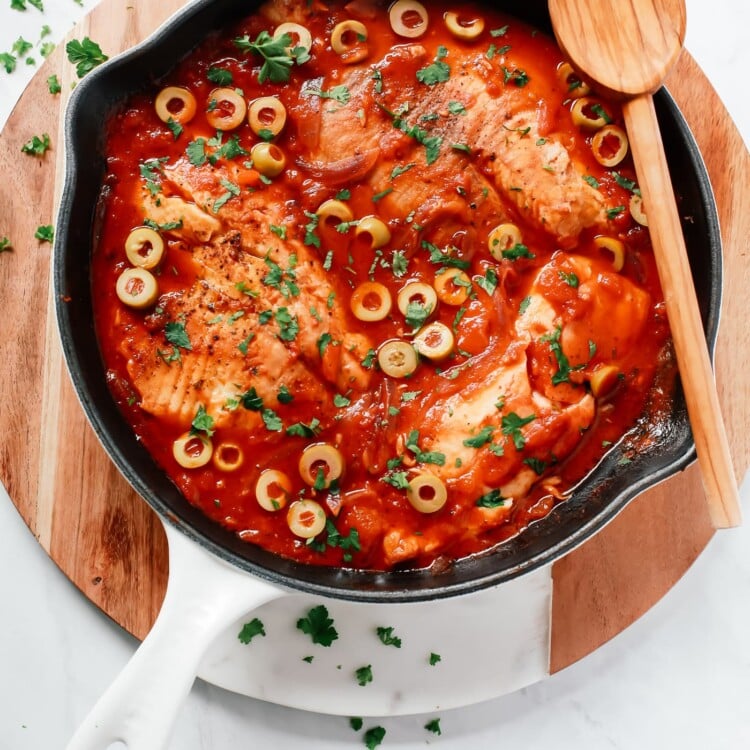 Tilapia Recipe
Tilapia recipe with diced tomatoes and onions is a quick, easy, healthy, and delicious dinner. It's something the whole family will enjoy! Plus, you can make this dish in just 20 minutes using only one skillet, perfect for a busy weeknight.
Ingredients
1

tablespoon

olive oil

extra virgin

½

medium white onion

sliced

1

can (500ml)

diced tomatoes (with the liquid)

2

fresh tilapia filets

Fresh parsley for garnishing

optional

Green olives for garnishing

optional
Instructions
Add onion to the skillet. Sauté for 5 minutes until tender.

Add diced tomatoes, tilapia fillets, salt, and pepper.

Cover the skillet and cook for about 7-10 minutes until the tilapia is cooked through.

Top with fresh parsley and olives before serving.
Tips
If you like easy recipes with fish, seafood and salmon, you will love this list of salmon and shrimp recipes that I made especially for you.
If you are using frozen tilapia, make sure to fully thaw the fish before cooking with it.
Try to buy filets that are similar in sizing so they cook evenly.
Careful not to overcook the fish as it can dry it out.
Tilapia is done once it flakes easily at the thickest part of the fillet or reaches an internal temperature of 145°F (63°C).
To store: Store in the fridge for up to 4 days in an airtight container. 
To reheat: Gently reheat the fish and sauce on the stovetop when ready to enjoy. 
To freeze: Always allow the skillet to cool to room temperature before freezing. Freeze the fish and sauce in an airtight freezer-safe container for up to 3 months. Thaw in the fridge overnight before reheating.
Nutrition Information
Serving:
1
/3
Calories:
254
kcal
(13%)
Carbohydrates:
9
g
(3%)
Protein:
13
g
(26%)
Fat:
7
g
(11%)
Saturated Fat:
1
g
(6%)
Cholesterol:
16
mg
(5%)
Sodium:
335
mg
(15%)
Fiber:
4
g
(17%)
Sugar:
3
g
(3%)
Nutrition information is calculated using an ingredient database and should be considered an estimate.
If you like this Tilapia Fish recipe, please share with your friends and family. Do you want to taste more? Subscribe to my newsletter and follow Primavera Kitchen on Twitter, Pinterest, Google+, Instagram, and Facebook for all delicious recipes updates. As always, I really appreciate you stopping by.