Healthier Slow Cooker Beef Stew Recipe
This Healthier Slow Cooker Beef Stew is a very simple, low-carb, and gluten-free slow cooker stew with potatoes, carrots, turnips, parsnip, and herbs.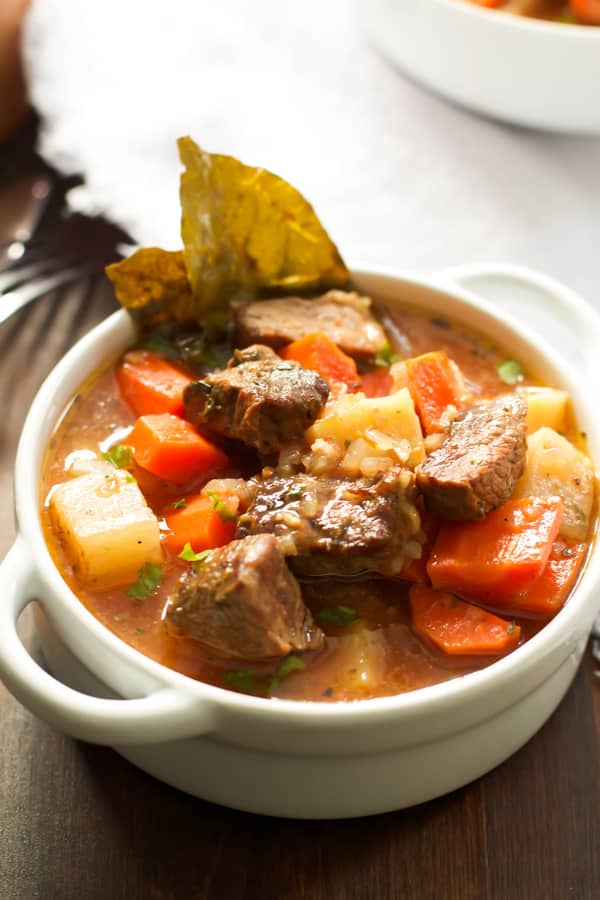 This Healthier Slow Cooker Beef Stew is definitely one of my ultimate comfort foods, especially during the winter months. To be honest, I think I could have my Pasta Soup with Sweet Potato and Peas, my Extra-lean Turkey Chili with Kale, or stew for dinner every night from November to March and be perfectly content. I am lucky that my husband can eat these three recipes all the time during winter season too! When it is so cold outside, I guess there is nothing better than a comforting bowl of stew, chili, or soup to warm up. I also love to make stew because of the smell it leaves in my home. It is so welcoming and delicious.
I called this recipe Healthier Slow Cooker Beef Stew because by adding more vegetables such as turnip and parsnip and using reduced-sodium beef broth I made this recipe extra healthy for my family. I also reduce the amount of potato in there because they're high in starchy carbohydrates. For this reason, I don't like to eat a lot of potatoes. Although I know that potatoes are still a good source of fiber, potassium, and vitamin C, especially if you eat the skin and you prepare them correctly like boiled and baked.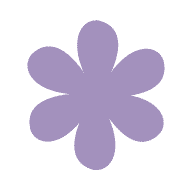 MY OTHER RECIPES
The other thing I did to make this recipe even healthier is that I didn't add flour to the stew. I know the traditional slow cooker beef stew recipe calls for whisking 2 tbsp flour with 2 tbsp (25 mL) water, stir into stew and cook for few minutes until thickened.
But I just didn't think it is necessary for me. I prepared it avoiding added white flour, but if you prefer, when it is about 30 minutes before serving, mix the flour and the water together in a small dish and pour into the crockpot. Mix until well combined.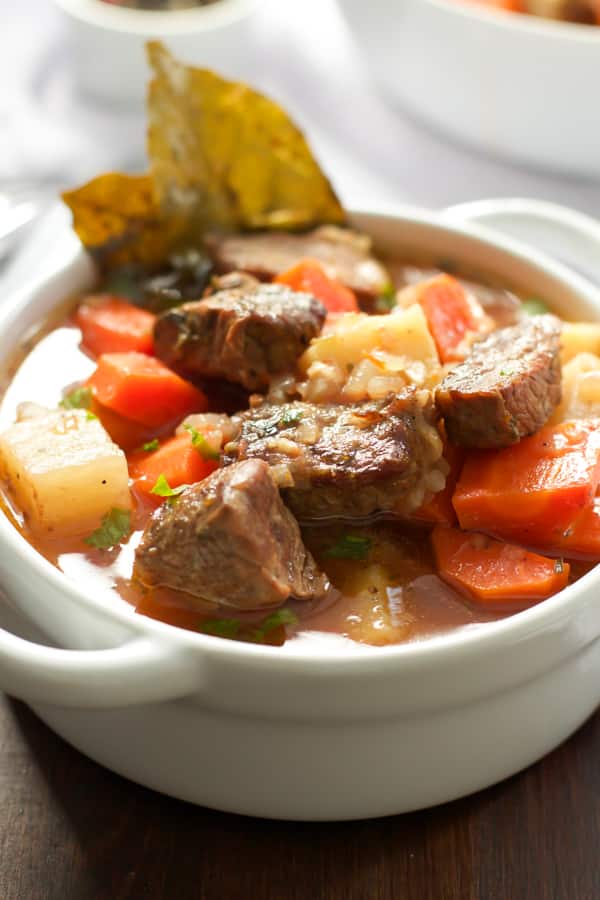 I also browned the meat before it went into the slow cooker because it adds a depth to the flavor that you simply can't get just by letting it boil away in the cooker. Please do not skip this step. I guarantee your slow cooker beef stew will taste much better if you brown the meat.
More Healthy Slow Cooker Recipe to Try:
Healthier Slow Cooker Beef Stew
This Healthier Slow Cooker Beef Stew is a very simple, but yet hearty slow cooker stew with potatoes, carrots, turnips, parsnip, and herbs.
Ingredients
1 medium onion — finely chopped
2 cups carrots — cut into bite-sized pieces
2 celery ribs — chopped
2 medium red potatoes — cut into bite-sized pieces
2 turnips — cut into bite-sized pieces
1 parsnip — cut into bite-sized into pieces
½ cup tomato paste
4 cups beef broth — Whole30 friendly beef broth
1 teaspoon dried thyme
1 tablespoon dried parsley
1 teaspoon dried oregano
2 pounds beef stew meat — (cut into bite-sized pieces)
1 tsp salt
1 tsp pepper
2 tbsp olive oil
2-3 cloves of garlic — minced
1 tbsp fresh parsley — chopped
Instructions
Place the onions, carrots, celery, red potatoes, turnips, parsnip, tomato paste, beef broth, dried thyme, dried parsley, oregano, and dried bay leaves into a large slow cooker.

Add the stew meat in a large bowl and season liberally with salt and pepper. Toss the meat until it is fully coated. Set the meat aside.

Over medium heat, heat the olive oil in a skillet.

Add the garlic and sauté for about 30 seconds or until fragrant is released.

Add the meat and let the beef cook without stirring for a few minutes to allow the meat to brown on one side.

Stir and repeat until all sides of the beef pieces are browned.

Add the cooked beef to the slow cooker and stir to combine with the vegetables.

Place the lid on the slow cooker and cook on high for five hours. After five hours, taste the stew and adjust the salt if needed. Garnish with fresh parsley.
Course: Main Course
Cuisine: American, French
Keyword: Beef, beef stew, Crock Pot, gluten-free, paleo, Slow Cooker
Nutrition Information
Amount per serving (1/4) — Calories: 364, Fat: 12.5g, Cholesterol: 66.9mg, Sodium: 825.1mg, Carbohydrates: 31.4g, Sugar: 13.9g, Protein: 27.7g
If you make this recipe, please don't forget to snap a photo and hashtag it #primaverakitchen. I really want to see!
This post contains affiliate links. For more information, please visit my disclosure page here.
I love this Healthier Slow Cooker Beef Stew recipe because you can make a nutritious meal in the morning before leaving for work and when you get home, you won't worry about what to make for dinner. On top of that, your kitchen will smell so good! You can serve it hot as is or over a delicious bowl of rice. Enjoy!
If you like this Healthier Slow Cooker Beef Stew recipe, please share with your friends and family. Do you want to taste more? Subscribe to my newsletter and follow Primavera Kitchen on Twitter, Pinterest, Google+, Instagram, and Facebook for all delicious recipes updates. As always, I really appreciate you stopping by.
Taste more from 50 Healthy Slow Cooker Recipes!