This is a simple and easy way to prepare Homemade Pumpkin Puree. It's perfect for fall baking!
I have to confess that before living in Canada I didn't like much pumpkin especially baking with pumpkin puree. I thought it was very weird because in Brazil it isn't popular pumpkin in desserts. Well, this isn't true. We can find few desserts made from the pumpkin puree, but it is nothing like in North America.
So, in Canada during fall, pumpkins are everywhere you look. I've never seen so many different types of pumpkins before. There are pumpkins of many shapes and sizes. It's really crazy. But what I most like is to harvest pumpkin. It's so much fun! However, when you harvest it, you have to cook with that, right? And that's the reason why I started to bake with pumpkin puree. Last year I made and posted my very first recipe using pumpkin puree and it was an incredibly delicious. I wasn't sure it was going to be good, but actually it was very delicious. 
Since then, I've made so many different pumpkin recipes like this Paleo Chocolate Pumpkin Cake, Easy Low-carb Pumpkin Bread, and Healthy Pumpkin Chocolate Chip Bread. I've also made these amazing 8 Pumpkin Sauces!
I don't know about you, but I don't really like the taste of the canned pumpkin puree. Maybe it's only me, but I prefer to make my own pumpkin puree, because it's much more flavourful and of course fresh. Also, sometimes depending on where you are it isn't very easy to find it in the supermarkets. So, why not to make your own pumpkin puree? It's easy and fresh!
First, you have to slice off the stem and remove the seeds with a spoon. You can keep the seed and roast it later if you desire.
Then you need to cut them into wedges. My pumpkin isn't very small so I cut it in half twice. After that you need to pierce the wedges many times with a fork.
Cover the baking sheet with aluminum foil and place the wedges flesh down.
After that, you have to roast those wedges until they are fork tender. When they are cooked, allow to cool enough to handle. Remove the fresh with a spoon. 
Then add the pumpkin to a blender or food processor and puree until you get the texture you desire. Finally you are done. It tastes good and it will last for up two weeks in the fridge. Enjoy!
Homemade Pumpkin Puree Recipe
This is a simple and easy way to prepare Homemade Pumpkin Puree. It's perfect for fall baking!
Instructions
Preheat the oven to 375 degrees F.

Slice the pumpkin in half and if your pumpkin is big cut it in more pieces.

Remove the seeds with a spoon.

Pierce the wedges many times with a fork.

Place the pumpkin wedges onto a baking sheet with aluminum foil skin-side up.

Roast for 45 to 60 minutes until the pumpkin is tender.

Remove from the oven and let it cool for about 10-15 mins.

Scrape the flesh from the skin.

Store pumpkin in the container with lid in the fridge. It will last for about a week.
Tips
Save the pumpkin seeds to roast!
Avoid cutting through the stem as it's much too tough for most knives.
If you're having trouble holding the pumpkin steady as you slice, cut off a bit of the bottom so you have a flat surface.
To store: Store homemade pumpkin puree in airtight containers in the fridge for up to 1 week.
To freeze: Freeze the puree in freezer-safe bags for up to 3 months.
Nutrition Information
Serving:
1
/4
Calories:
43
kcal
(2%)
Carbohydrates:
10
g
(3%)
Protein:
1
g
(2%)
Sodium:
6
mg
Potassium:
258
mg
(7%)
Fiber:
4
g
(17%)
Sugar:
4
g
(4%)
Nutrition information is calculated using an ingredient database and should be considered an estimate.
And if you like this Homemade Pumpkin Puree recipe, please share with your friends and family. Do you wanna taste more? Subscribe to my newsletter and follow Primavera Kitchen on Twitter, Pinterest, Instagram and Facebook for all delicious recipes updates. As always, you are really appreciated for stopping by.
Recipes with Pumpkin Puree!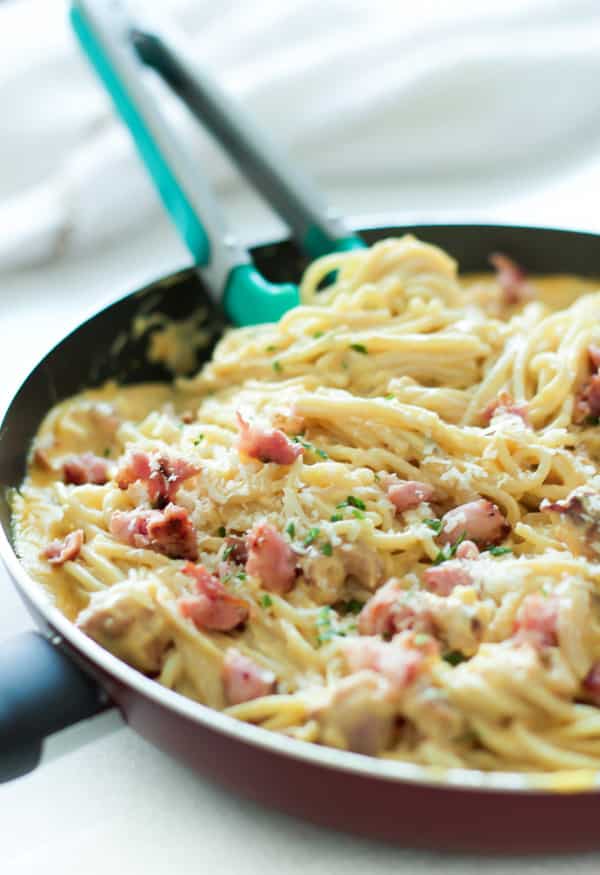 Pumpkin Alfredo Sauce with Italian Sausage