This Cajun Shrimp Skewers recipe is an easy and delicious summertime BBQ dish for lunch or dinner. Smoky, savoury, and flavourful, this gluten-free dish comes together in only 15 minutes. Mouthwatering and plump, these Cajun flavoured shrimp are going to be your new family favourite.
I love making grilled shrimp for dinner. It comes together quickly, easily, and never fails to please a crowd. You can serve these Cajun shrimp kabobs as an easy appetizer, lunch, or dinner recipe. No one will say no to it!
Today I am here with another easy grill recipe for you to enjoy during summer. Again I am using my Cajun seasoning in this recipe because to be honest with you I can't get enough of it. I totally love this spicy mix since it is full of flavor and transforms any bland meal into a memorable dish. I also would like to point out that you could use this Cajun seasoning to make not only shrimp skewers but skewers of chicken, pork, lamb and even fish such as salmon.
I chose to make Cajun shrimp skewers because it is an easier and more practical way to grill shrimp. When you don't use wooden skewers to grill shrimp, they may get stuck between the grill or can fall down. Another thing I like to use when I am grilling small pieces of meat or seafood, it is to grill it on a grill pan over the BBQ. It works really good and I really recommend it.
How To Make Cajun Shrimp skewers
Ingredients
Shrimp (large or jumbo shrimp) — For ease and to save time, you can purchase raw, peeled, and deveined shrimp. Try to use larger shrimp instead of small shrimp as they're easier to skewer and help to avoid them being overcooked.
Olive oil — You can also use any oil of your choice if you don't have olive oil.
Garlic – Freshly minced garlic is much more flavourful than pre-minced garlic.
Cajun seasoning – While you can use store-bought Cajun seasoning, I like making my own. All you need is some paprika, cayenne pepper, salt, onion powder, garlic powder, and herbs such as oregano. I much prefer my homemade blend as I can control how spicy or mild it is.
Instructions
Prepare the Shrimp
Rinse shrimp and pat dry with paper towels.
Preheat grill to medium-high (400°F).
In a large bowl combine the shrimp, olive oil (or melted butter), garlic, and Cajun seasoning (Cajun spice). Optional: lemon juice.
Grill the Shrimp
Skewer 5 shrimp on each skewer.
Place the skewers on the grill and grill over direct heat for 2-3 minutes per side, or until the shrimps are pink and fully cooked.
Recipe Tips
Pat the shrimp with a paper towel to absorb any excess moisture. This helps the olive oil and seasoning stick better to the shrimp. You also don't want excessive moisture on the shrimp dried shrimp gets a nicer sear.
Soaking the skewers prevents them from burning on the grill. You can skip this if you are using reusable metal skewers.
Leftover cooked shrimp can be stored for up to 3 days in the fridge. You can reheat them in the microwave.
This Cajun shrimp skewers recipe makes about 6 skewers. You can easily double or triple the recipe to feed a crowd at a BBQ.
Can I use Frozen Shrimp?
Yes, you can make this easy Cajun shrimp skewer using frozen shrimp! Just buy uncooked shrimp and make sure to fully thaw the shrimp before using them.
Subscribe for new recipes & a free e-cookbook
Wild frozen shrimp are preferred because they are frozen immediately upon catching. Wild-caught shrimp also has a cleaner, shrimp-y flavor than farmed shrimp. Frozen shrimp also costs less than fresh shrimp if you are on a budget.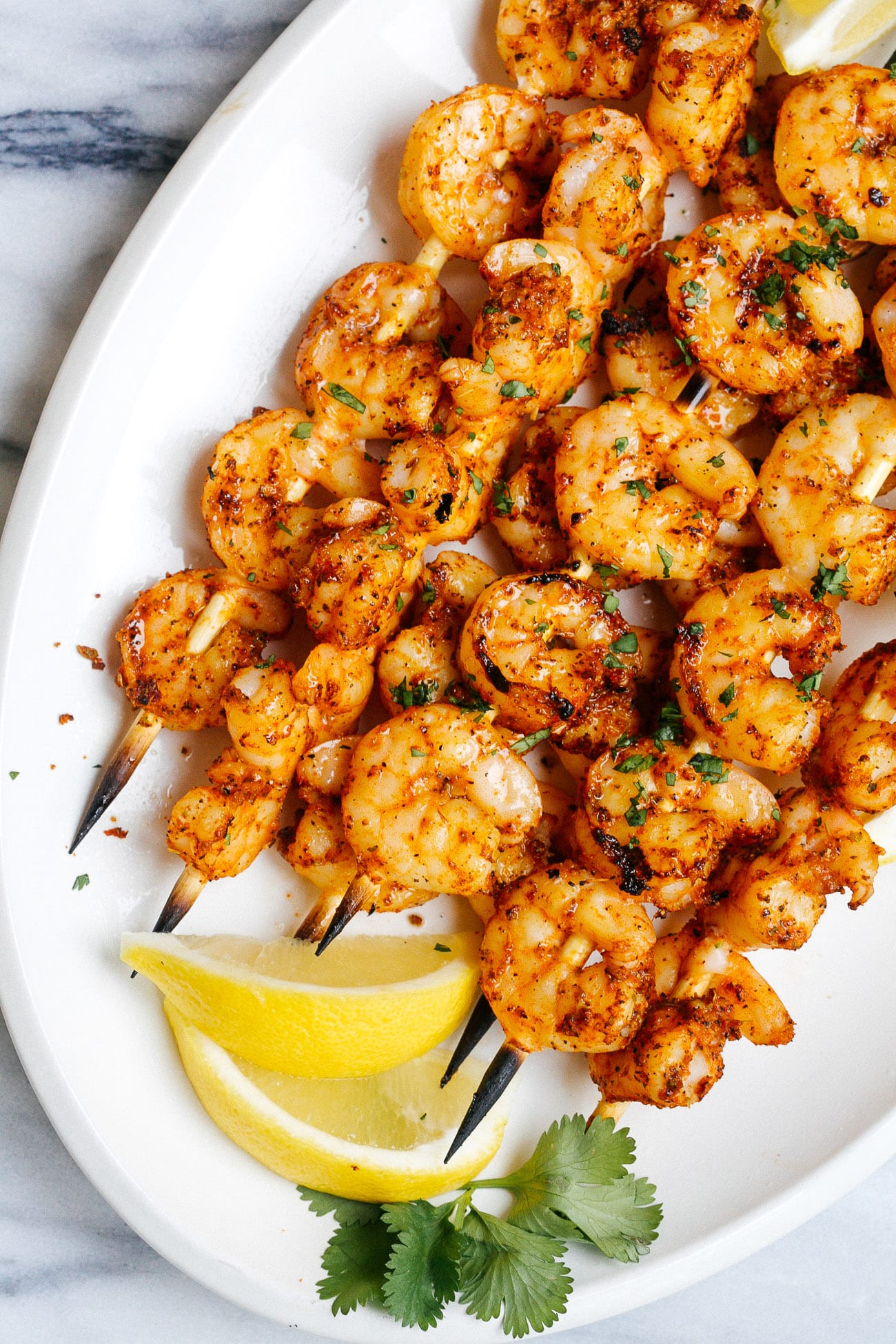 How to serve Cajun shrimp
This Cajun shrimp is perfect for a dinner for four people and can be served over rice or quinoa salad or even roasted potatoes. It is also a great option for lunch with a green salad.
If you take the shrimps off the skewers you can use them in sandwiches, wrap and even tacos. That's why I can confirm that this recipe will be a big hit with your family and friends at a BBQ/patio party.
Why Are My Shrimp So Chewy?
If your shrimps are chewy, then they're probably overcooked. When shrimp are overcooked, they become tough, rubbery, dry, and chewy. Shrimp is a quick-cooking protein.
So, as soon as the shrimp turn pink, it's a sign that they are done cooking. It will only take about 3-5 minutes to cook if the shrimp are medium-sized. If the shrimp are larger, they will take about 6-7 minutes.
How to thaw frozen shrimp
You can thaw frozen shrimp in the fridge overnight. However, if you've forgotten to thaw the shrimp overnight in the fridge before a big BBQ, don't worry!
You can quickly thaw them by placing frozen shrimp into a bowl or colander in the sink. Then run cold water over it for 5 to 10 minutes, giving it a shake every so often so the water can thaw the shrimp evenly.
It will take longer if your shrimp are larger. Small shrimp take much less time to thaw. After the shrimp has thawed, you'll have to pat them dry with a paper towel.
What the Web Stories HERE!
Cajun Shrimp Skewers
This Cajun Shrimp Skewers is an easy and practical summertime BBQ dish for lunch or dinner. This is a gluten-free dish, which takes only 15 minutes to be ready.
Ingredients
For Cajun Skewers shrimp
1

lb

large shrimp

peeled and deveined, but with tail on

1

tablespoon

olive oil

4

cloves

of garlic

minced

1

tablespoon

homemade Cajun seasoning
Instructions
Rinse shrimp and pat dry with paper towels.

Soak the wooden skewers in water for 30 minutes before grilling (It will avoid burning of the sticks).

In a large bowl add shrimp, olive oil, garlic and Cajun seasoning. Mix everything together.

Skewer 5 shrimp on each damp skewer.

Gas grill: If you need to clean the grates, use a steel grill brush to do so. Then, dip a wad of paper towel into cooking oil and wipe the grates. This step is important to prevent the shrimp from sticking to the grates. Turn all burners on medium-high, cover, and heat the grill until it reaches 450 degrees F.

Place the skewers on the grill and cook for 2-3 minutes per side, or until the shrimps are pink and fully cooked.
Tips
Always pat dry the shrimp before using it so the olive oil and seasoning will stick better to the shrimp.
I recommend using larger shrimp as they're easier to skewer.
Buying peeled and deveined shrimp is a great time saver. 
To store: Store leftover shrimp in the fridge in an airtight container for up to 4 days. Remove the shrimp from the skewers before storing them.
To reheat: You can reheat this Cajun shrimp in the microwave.
Nutrition Information
Serving:
1
/4
Calories:
112
kcal
(6%)
Carbohydrates:
2
g
(1%)
Protein:
16
g
(32%)
Fat:
5
g
(8%)
Saturated Fat:
1
g
(6%)
Polyunsaturated Fat:
1
g
Monounsaturated Fat:
3
g
Cholesterol:
143
mg
(48%)
Sodium:
1482
mg
(64%)
Potassium:
140
mg
(4%)
Nutrition information is calculated using an ingredient database and should be considered an estimate.
Do you wanna taste more? Subscribe to my newsletter and follow Primavera Kitchen on Twitter, Pinterest, Instagram and Facebook for all delicious recipes updates. As always, you are really appreciated for stopping by.