Instant Pot sirloin steak strips have all the flavor without all the work. Make this one-pot recipe for dinner in under an hour, prep to plate! It's super easy to make and the gravy is so good!
If you're looking for more Instant Pot recipes, please visit these recipes too. You'll love them: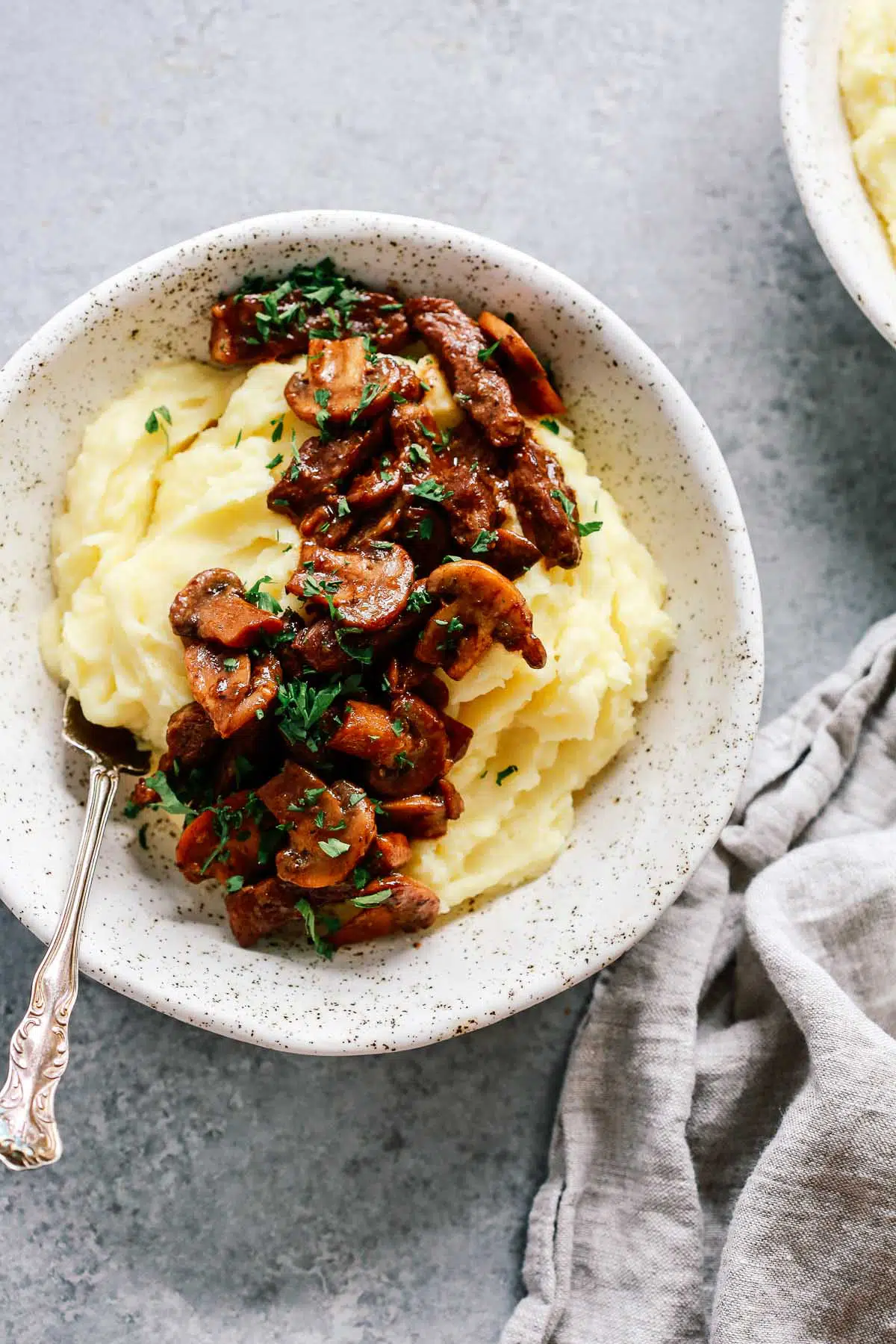 One pot meals are popular for a reason – you can enjoy a delicious meal with very little hands-on cooking. Plus, you won't have a sink full of dishes to clean afterward.
Using an Instant Pot takes this idea one step further by doing all of the cooking for you. There's no need to check it while simmering or test the meat to see if it's the right temperature. I absolutely love it, like with Instant Pot Sirloin Steak.
When the lid comes off, you're ready to eat!
This Sirloin Steak recipe comes together with just a handful of ingredients you probably already have on hand.
Pressure cooking the ingredients creates tender mushroom, a delicious sauce, and meat that's full of flavor.
Subscribe for new recipes & a free e-cookbook
How to Make Instant Pot Sirloin Steak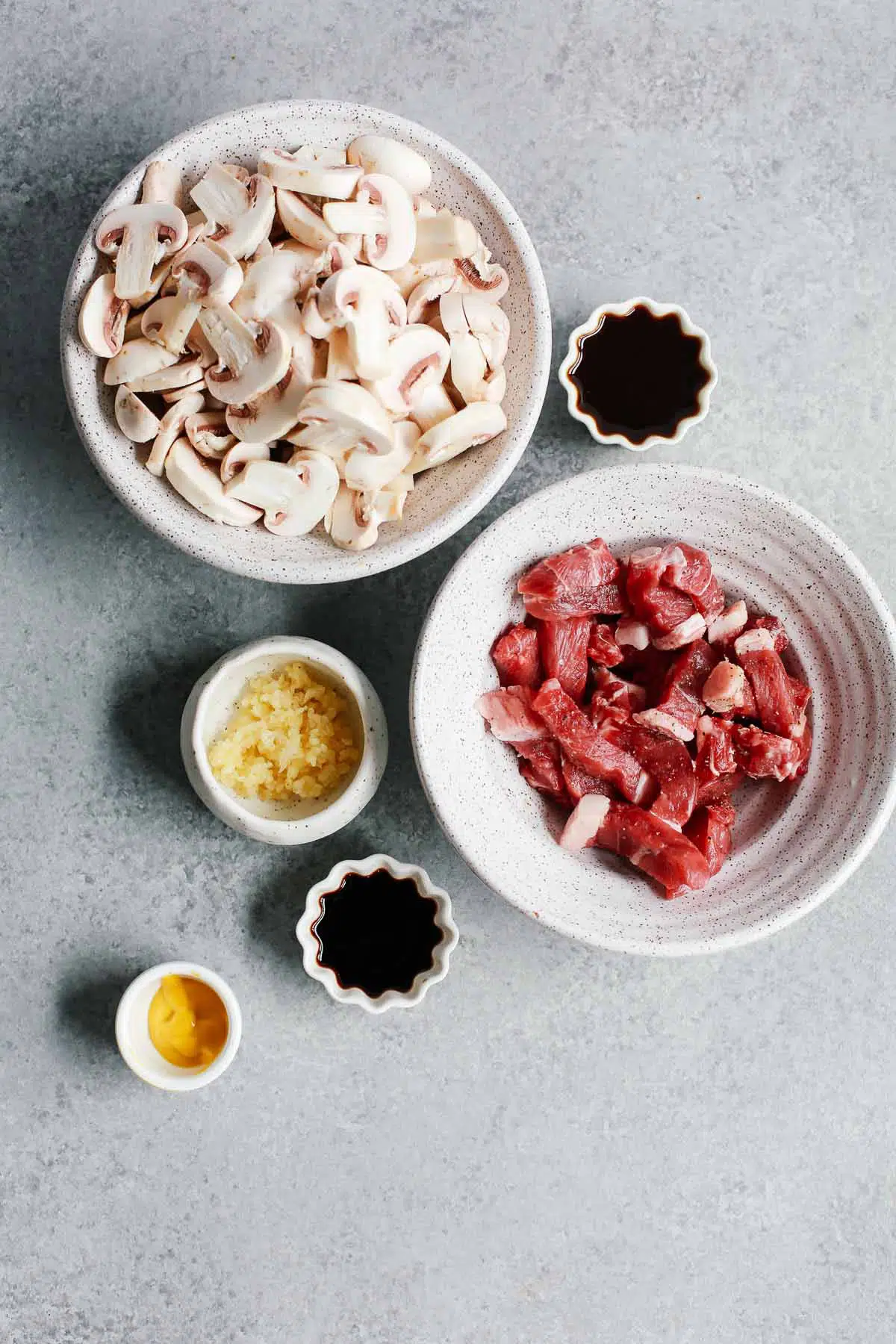 INGREDIENTS & SUBSTITUTIONS
Sirloin steak – can be bought in strips, usually labeled "for stir fry," or sliced by hand. Buy a fatty meat because it brings more flavour to the recipe and it avoids the meat to be dry. Sirloin steak can be used in so many different ways like with my Pan Seared Steak with Mushrooms and Garlic Butter Steak Bites Skillet Recipe. For this recipe you can also use (flank steak or skirt steak).
Mushrooms – this recipe uses white button, but cremini or baby bella would work as well.
For the sauce – I use minced garlic, balsamic vinegar, soy sauce, yellow mustard for the sauce.

Arrowroot

flour or cornstarch – this thickens the sauce after the steak has been cooked.
Olive oil
Salt and pepper
Cutting sirloin steak into strips
It's really simple to make steak strips yourself for this recipe.
Place the sirloin steak on a cutting board and find the grain – the lines that run through the meat.
Use a straight-edged knife, like a chef's knife, to cut the steak into strips along the grain.
Then, turn the strips sideways and cut into smaller bite-size pieces.
Instructions to make this Sirloin Steak Recipe
Heat your Instant Pot with the Saute function. Season the meat with salt and pepper
Add the oil and meat to the pot in a single layer. Continue cooking until fully browned, stirring occasionally so it doesn't stick to the bottom.
Next, add the mushrooms and sauce ingredients to the browned steak, stirring once to combine.
Seal the Instant Pot and cook on high for 15 minutes. Do a natural pressure release for another 15 minutes, then open the valve to release the last of the steam.
Remove the lid and stir in the cornstarch to thicken the sauce. Mix all well and serve with mashed potato. Enjoy!
Instructions to Make this meal on a Stovetop
Since Instant Pot sirloin steak is basically meat, mushroom, and sauce ingredients, it can be adapted to be cooked on a stovetop instead.
To make the meal on a stovetop:
Heat a neutral cooking oil in a large pan over medium-high heat.
Mix together the sauce ingredients.
Season the beef strips with salt and pepper, then brown in the pan on both sides. Add the mushrooms.
Pour the sauce over the beef and let simmer for an additional minute, stirring to coat the meat.
Serve with your side of choice. Make sure to spoon extra sauce over the meat!
Recipe Notes
If you're following keto, low-carb, paleo, or Whole30, you'll need to make some substitutions in this sirloin steak recipe. Replace the soy sauce with coconut aminos and the cornstarch with arrowroot flour.
Make sure to store all your portions in an airtight container. I use glass containers as they don't hold onto any smells and are easier to clean.
Be sure to keep the meals refrigerated until you're ready to eat.
Microwave your meal prep with a damp paper towel over the top of the container to keep the steak moist.
This meal prep will last for up to 4 days when properly stored.
I wouldn't recommend freezing this, as the texture of the mushrooms won't be pleasant once thawed and reheated.
Recipes To Serve With Sirloin Steak?
This sirloin steak recipe is very simple and has classic savory flavors. You can easily pair it with any of your favorite sides!
I like to spoon it over mashed cauliflower, Mediterranean Mashed Potatoes, or perfectly fluffy rice. You could also serve it with:
Tossed salad
Steamed vegetables
More Instant Pot Recipes:
Frequently Asked Questions
Can I Cook Frozen Steak In My Instant Pot?
I would thaw my steak when making this Instant Pot sirloin steak. Since they're cut in strips, if you froze them in strips, chances are the strips are clumped together so the exterior will be overcooked before the interior cooks.
Does The Meat Need To Be Covered With Liquid In Instant Pot?
No, it does not. It only requires around 1 cup of liquid for the Instant Pot to come up to pressure! The beef will release liquid on its own as it cooks.
What Is Natural Pressure Release? What About Quick Release?
Natural pressure release is when you leave the Instant Pot alone and let the pressure decrease on its own. It allows the cooking to stop gradually. All you have to do is leave the pressure cooker alone and over time, the metal pin in the lid will drop and the lid will unlock. Quick release is when you turn the valve on the lid and the pressure leaves the pot immediately.
Why Is It Taking So Long For The Instant Pot Timer To Start?
The Instant Pot doesn't start its countdown until the pot has come up to pressure. This is why it's important to make sure your lid is set to sealing. Once sealed, the pot will build pressure and you'll see the pin beside the valve go up. At that point, the Instant Pot has come up to pressure and the timer will start. Mine took about 15 minutes to reach pressure.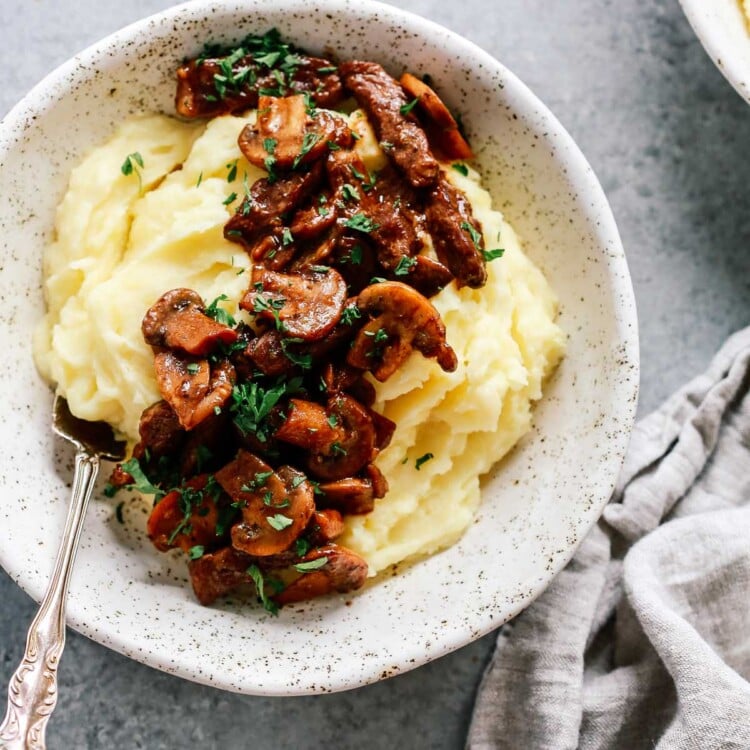 Instant Pot Sirloin Steak Recipe
Instant Pot sirloin steak has all the flavor without all the work. Make this one-pot recipe that goes from kitchen to table in under an hour.
Instructions
Set a 6-qt Instant Pot® to the sauté setting. Season the meat with salt and black pepper. When the pot is hot, add olive oil and beef. Cook for about 5-7 minutes or until the meat is browned on all sides. Remember to stir occasionally.

Then, add the mushroom, garlic, balsamic vinegar, yellow mustard and coconut aminos to the pot.

Put on the lid, lock it and check to see if the vent is at sealing. Then, select manual setting; adjust pressure to high, and set time for 15 minutes. Mine took about 15 minutes to reach pressure. After the 15 minutes is up, let it naturally release pressure for 10 minutes. Then, do a Quick Release, which means move the valve to venting to release the steam. When all the steam is gone, open the instant pot and add the arrowroot flour.

Mix all well and serve with mashed potato. Enjoy!
Tips
Click HERE to watch the web story. 
You can find pre-sliced beef labeled as stir-fry beef.
You can swap white mushrooms for cremini or baby bella mushrooms.
Make sure the beef is fully thawed if you had frozen it beforehand. 
To store: Keep the cooked sirloin steak in an airtight container in the fridge for up to 4 days.
To reheat: Reheat the steak on the stovetop or microwave. 
Nutrition Information
Serving:
1
/4
Calories:
274
kcal
(14%)
Carbohydrates:
6
g
(2%)
Protein:
31
g
(62%)
Fat:
30
g
(46%)
Saturated Fat:
9
g
(56%)
Polyunsaturated Fat:
1
g
Monounsaturated Fat:
5
g
Sodium:
451
mg
(20%)
Potassium:
271
mg
(8%)
Fiber:
1
g
(4%)
Sugar:
2
g
(2%)
Nutrition information is calculated using an ingredient database and should be considered an estimate.