Instant Pot Korean Beef is a simple dish that's packed with Asian flavors. Make this recipe for dinner tonight in under an hour!
If you love Instant Pot Beef Recipes, you'll love these recipes too: Instant Pot Vegetable Beef Soup, Instant Pot Beef Stew Recipe (Whole30 & Paleo), and Instant Pot Vegetable Beef Soup.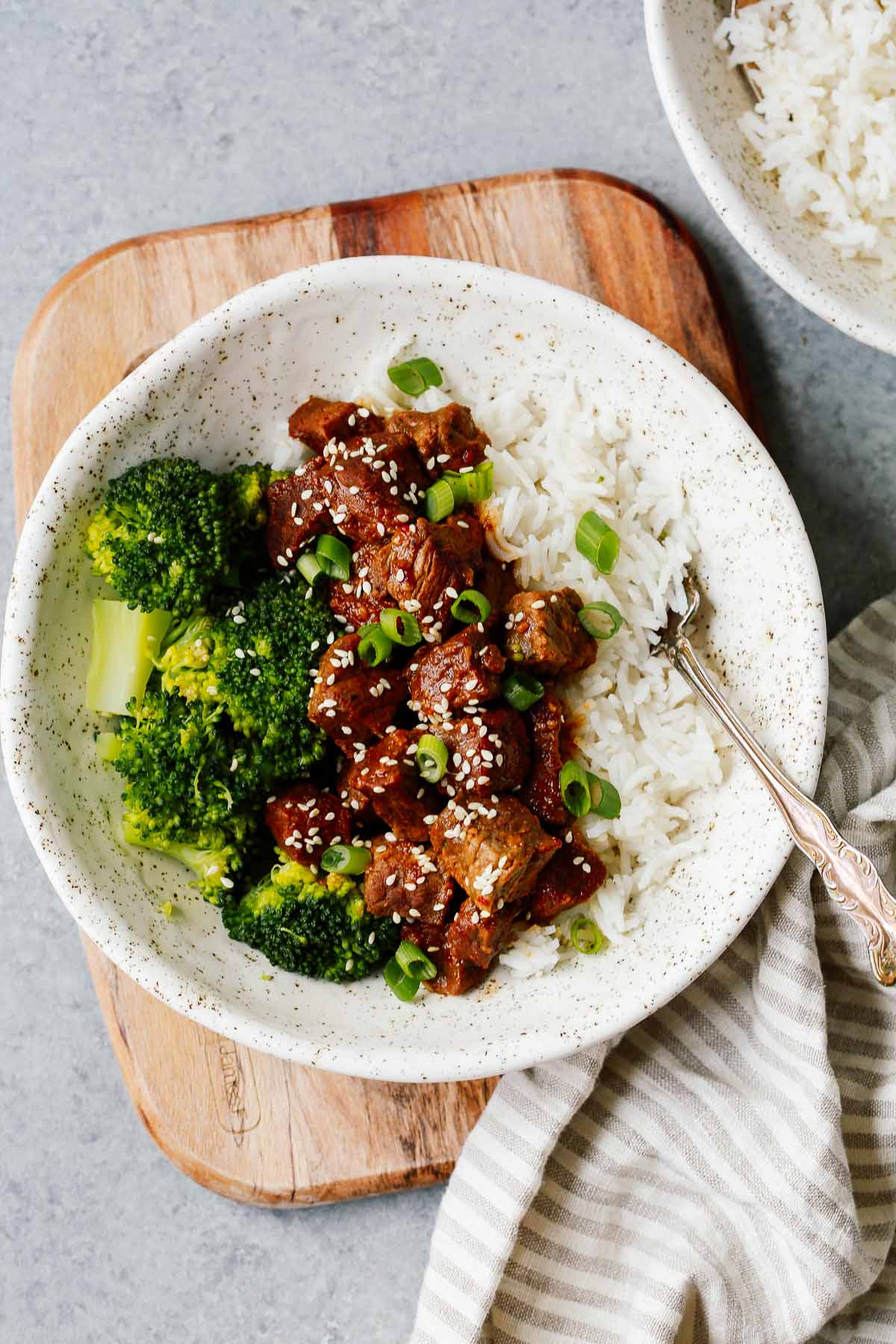 This Instant Pot Korean Beef recipe only requires a few steps, and it's really easy to make. I love using the Instant Pot for this recipe, because it doesn't take a lot of time and the meat comes out so tender, like this Instant Pot Meat Sauce Recipe, Instant Pot Sweet Potato Kale Beef Soup, and Easy Instant Pot Chicken Stew.
Many of the ingredients you should already have on hand. As a result, it's the perfect meal for when you can't get to the grocery store. You'll have dinner ready in no time!
This is also such a comforting meal, it's perfect for a cold day, just like my Cabbage and Sausage Stew.
Ingredient notes and substitutions
Broth or beef stock – beef works best, but chicken or vegetable will work too
Coconut aminos – this is what makes the recipe gluten-free. If you don't have gluten allergies or sensitivities, you can use low sodium soy sauce instead. Tamari is also a soy sauce alternative that is made by fermenting soybeans and is usually gluten-free.
Honey – brown sugar can be substituted in equal amounts
Crushed red pepper flakes – use Sriracha or Gochujang instead to make this extra spicy
What can I use instead of beef stew meat?
Beef stew meat is simply a combination of leftover cuts of beef that is already trimmed and sliced into bite-size pieces.
Using stew meat in this Instant Pot beef recipe gives you a tender bite that's full of flavor. Thinner slices, like what you would use for stir fry, may come out tough and dry.
If you can't find it pre-packaged at the store, you can ask the butcher to prepare some for you or you can make your own at home. Alternatively, if you don't have any beef stew meat, you can use trimmed chuck roast or top sirloin cut instead.
Tip: How to cut your own beef stew meat
Choose a beef chuck roast and use a long, sharp knife to trim off any hard fat.
Cut the roast into 1-inch slices, like you would a loaf of bread.
Next, cut each slice into 1-inch strips.
Then cut each strip into 1-inch cubes.
It's really that simple!
How to make Instant Pot Korean Beef
First, season the beef stew meat with salt and pepper. Sauté in the Instant Pot with some sesame oil until browned on all sides.
NOTE:
Don't add the sesame oil until the pot is already hot or it will burn and have a bitter flavour.
Add the remaining ingredients (except for the garnishes), lock the lid in place and turn the pressure release valve to the sealing position. Cook on High for 35 minutes.
Do a natural pressure release, then remove the lid and stir everything well.
Serve with green onion and sesame seeds sprinkled on top.
What if I don't have an Instant Pot?
Since Instant Pot Korean beef is basically meat and sauce ingredients, it can be adapted to be cooked on a stovetop instead.
In this instance, you'll want to replace the stew meat cubes with thinner slices of beef. Cut these yourself from a rib-eye, sirloin, or flank steak. You can also purchase beef that has been pre-sliced for stir fry.
To make the meal on a stovetop:
Heat a neutral cooking oil in a large pan over medium-high heat.
Mix together the sauce ingredients, with a few adjustments. Replace the broth with 2 tablespoons of rice vinegar. Also, add 2 tablespoons each of water and cornstarch to thicken the sauce.
Season the beef strips with salt and pepper, then brown in the pan on both sides.
Pour the sauce over the beef and let simmer for an additional minute, stirring to coat the meat.
Serve with your side of choice. Make sure to spoon extra sauce over the meat!
What to serve with Korean beef
Keep your sides simple to compliment the flavors in the sauce.
Serve over rice: use your favorite long grain rice, brown rice, or cauliflower rice. I love how saucy this recipe is and when I serve it over rice, I just scoop spoonfuls of the sauce into the bowl so the rice can soak up all that flavour!
Serve it with tacos: You can serve it with tacos and transform this dish into Korean beef tacos.
Add a vegetable: try steamed or sautéed broccoli, carrots, or bell peppers, or even roasted veggies.
Extra heat: mix in some kimchi, a traditional Korean spicy side dish of fermented cabbage and radish.
Do I have to sear the meat before cooking in an Instant Pot? 
Yes, it's better to brown the meat first. You just need to season the meat with kosher salt and black pepper right before browning. But please, add the meat in a pressure cooker when it is piping hot.
How many minutes per pound do you cook beef in an Instant Pot?
I would say for large chunks, you should cook for about 20 minutes (per pound of meat) at high pressure. For small chunks, it should be around 15 minutes in high pressure. For both, please use a quick pressure release method.
Does Instant Pot make meat tough? 
Depends. Meat can become tough in the instant pot too. And why is that? Well, if you cook beef meat too quickly, it will be tough.
But you can avoid your meat to become tough, if you let the instant pot come to high pressure, cook for about 15 minutes, and then do a naturally release. When you do a naturally release, the pressure makes the meat tender and juicy.
Also, the meat can be tough because of the cut of the meat. Also choose marbled meat, which is red meat that contains a fair amounts fat, making it looks like marble.
Recipe Tips
If your beef was frozen beforehand, make sure it is fully thawed before using so it doesn't cook unevenly.
Make sure the beef pieces are even so they cook evenly. If you see a chunk that's too big, simply cut it down.
If you don't have ground ginger, you can swap for fresh ginger instead.
Meal Prep Tips
I like to meal prep this with some rice and vegetables.
Make sure to store all your portions in an airtight container. I use glass containers has they don't hold onto any smells and are easier to clean. You can also get containers with compartments so the rice and Korean beef can be separated in storage.
Be sure to keep the meals refrigerated until you're ready to eat.
Microwave your meal prep with a damp paper towel over top of the container to keep the Korean beef meal prep bowls moist.
This meal prep will last for up to 4 days when properly stored.
This Korean beef is freezer-friendly. Once the beef has cooked and cooled, you can transfer the beef to a freezer-safe bag or container to freeze for up to 3 months. When ready to eat, simply thaw overnight in the fridge and reheat on the stovetop or microwave.
Other tasty Asian dinner recipes
If you enjoy Asian flavors, be sure to also make my recipe for Low-carb Egg Roll in a Bowl.
More Instant Pot Recipes:
Instant Pot Korean Beef
Instant Pot Korean Beef is a simple dish that's packed with Asian flavors. Make this recipe for dinner tonight in under an hour!
Instructions
Set a 6-qt Instant Pot® to the sauté setting. Season the meat with salt and black pepper.

When the pot is hot, add sesame oil and beef. Cook for about 5-7 minutes or until the meat is browned on all sides. Remember to stir occasionally.

Then, add the beef broth, garlic, honey, coconut aminos, ginger and red pepper flakes to the pot.

Put on the lid, lock it and check to see if the vent is at sealing. Then, select manual setting; adjust pressure to high, and set time for 35 minutes. Mine took about 15 minutes to reach pressure. After the 35 minutes is up, let it naturally release pressure. Open the pot and give a good stir.

Top with green onions and sesame seed before serving with steamed broccoli or brown rice. Enjoy!
Tips
Make sure you do not add the sesame oil until the pot is already hot or it will burn and lead to a bitter flavour.
Do not skip browning the beef as it locks in flavour.
Always cut the beef as uniformly as possible so they cook evenly.
To store: Store leftover Korean beef in the fridge for up to 4 days.
To reheat: You can reheat the beef in the microwave or stove top.
To freeze: Freeze leftover beef in a freezer-safe bag or container for up to 3 months.
Nutrition Information
Serving:
1
/4
Calories:
348
kcal
(17%)
Carbohydrates:
16
g
(5%)
Protein:
22
g
(44%)
Fat:
22
g
(34%)
Saturated Fat:
8
g
(50%)
Polyunsaturated Fat:
2
g
Monounsaturated Fat:
1
g
Cholesterol:
75
mg
(25%)
Sodium:
219
mg
(10%)
Potassium:
50
mg
(1%)
Sugar:
15
g
(17%)
Nutrition information is calculated using an ingredient database and should be considered an estimate.