Garlic Butter Steak Bites are quick, easy and so delicious! These flavor-packed morsels are the perfect solution when you're craving steak on a weeknight but don't have lots of extra time to spare. Get dinner on the table in just 15 minutes with this skillet steak recipe.
These bites are really versatile and can be enjoyed any time of year. And, I love how they pair seamlessly with endless sides. This comes in especially handy when you have fresh produce to use up.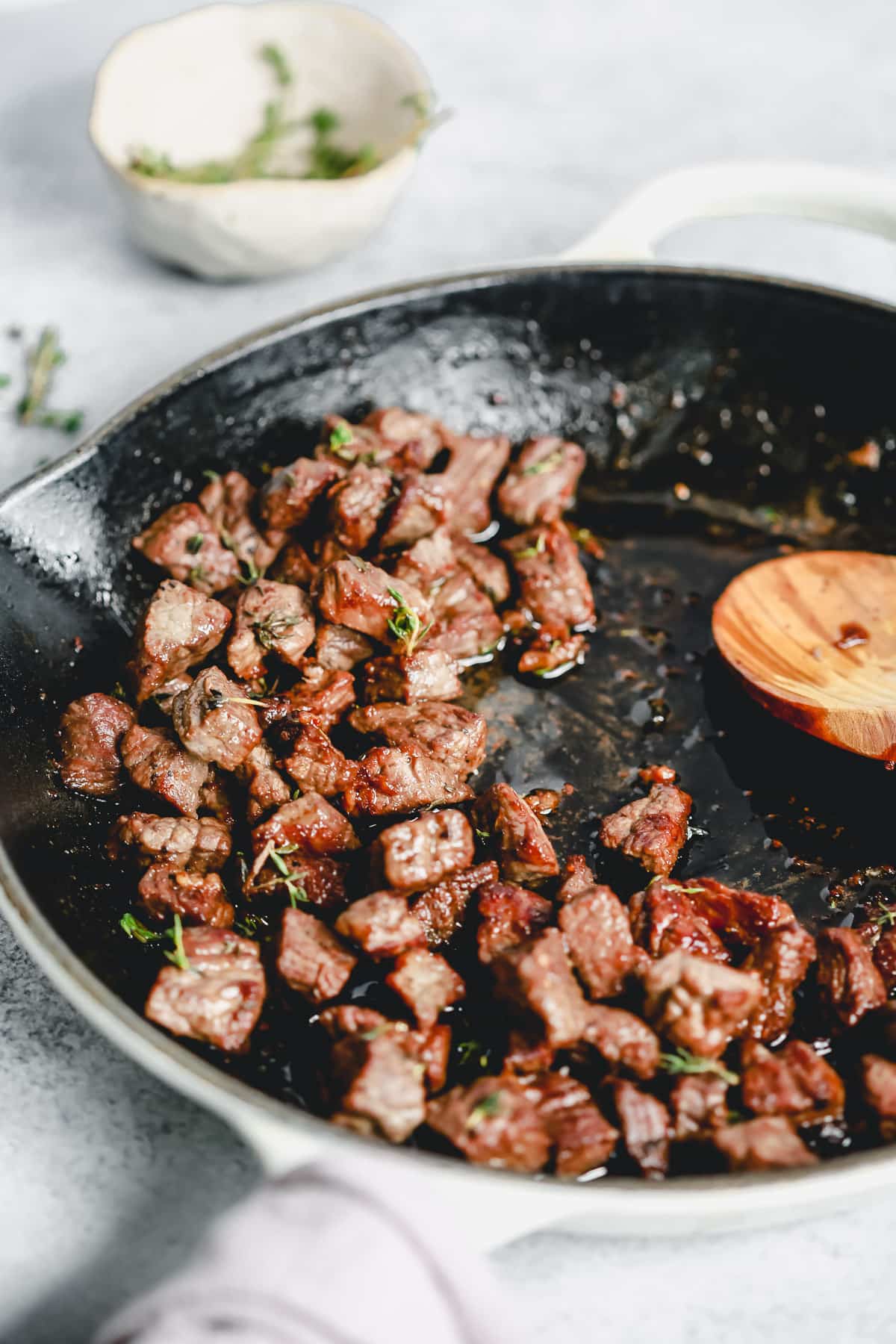 This easy to make steak recipe is a great basis for meals. Steak bites are a fantastic source of protein. With no carbs, they are keto and Whole30 friendly. Because they are bite sized, they cook in just five minutes.
This recipe works great for meal prep. You can have a large batch of steak bites prepared and ready to add to any meal. Serve the steak on top of a salad, rice, or spiralized veggies. Use it as an appetizer or eat it as the main dish at dinner. I love serving it with this Cabbage Steak Recipe or Cauliflower Bites too!
They are great for the whole family and they fit the needs of nearly any diet. Plus, kids will love that they don't need to struggle with a whole steak to enjoy the taste.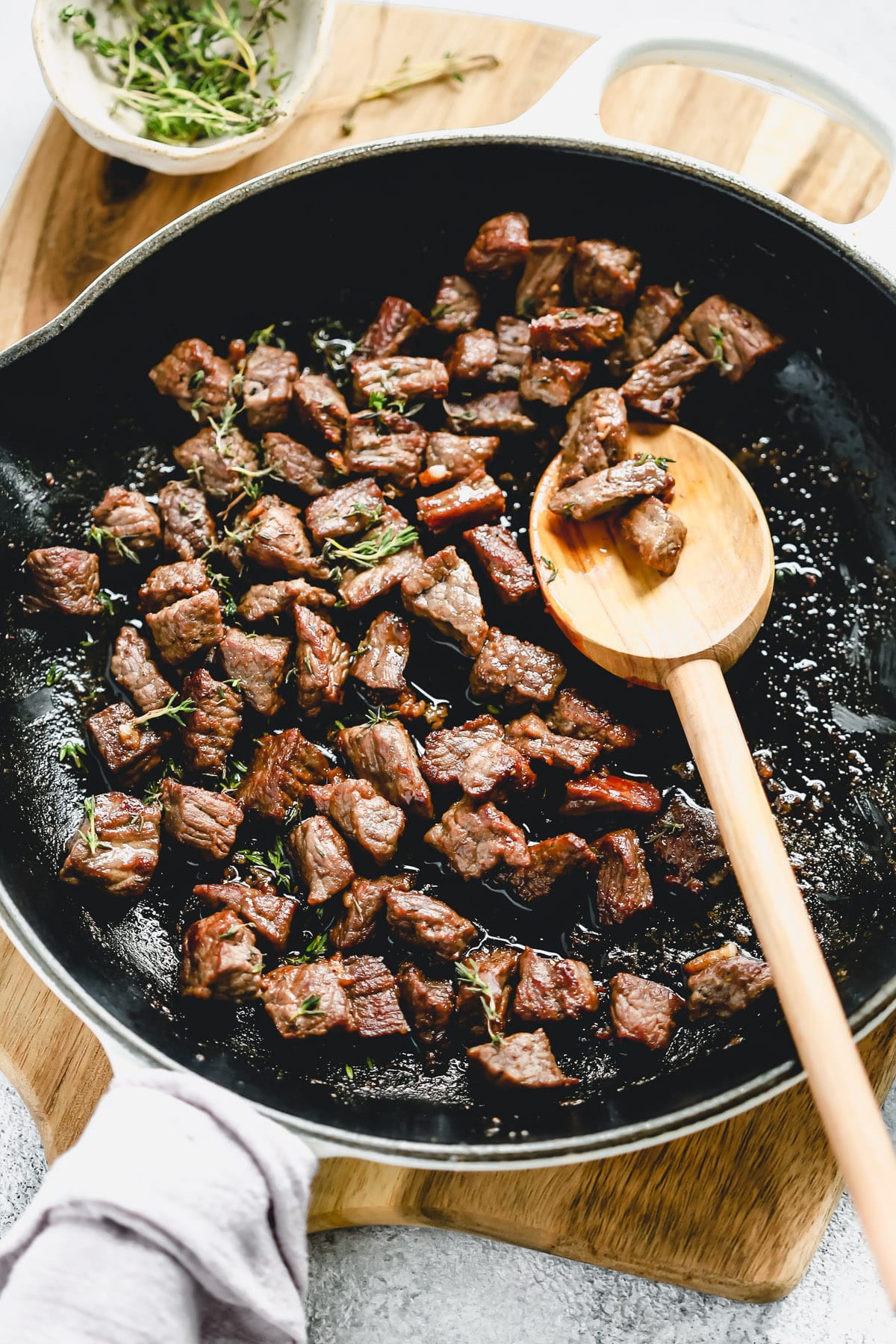 How do you properly season steak Bites?
Use a light hand when seasoning steak. A little olive oil with salt and pepper is plenty. If you want to add a little extra flavor, try some of these herbs and spices:
Garlic
Onion powder
Chili powder
Paprika
Rosemary
Thyme
Fennel
Coriander
A sirloin steak does not need to be marinated because it is already tender enough. Just rubbing some spices onto the meat will create a full flavor.
Subscribe for new recipes & a free e-cookbook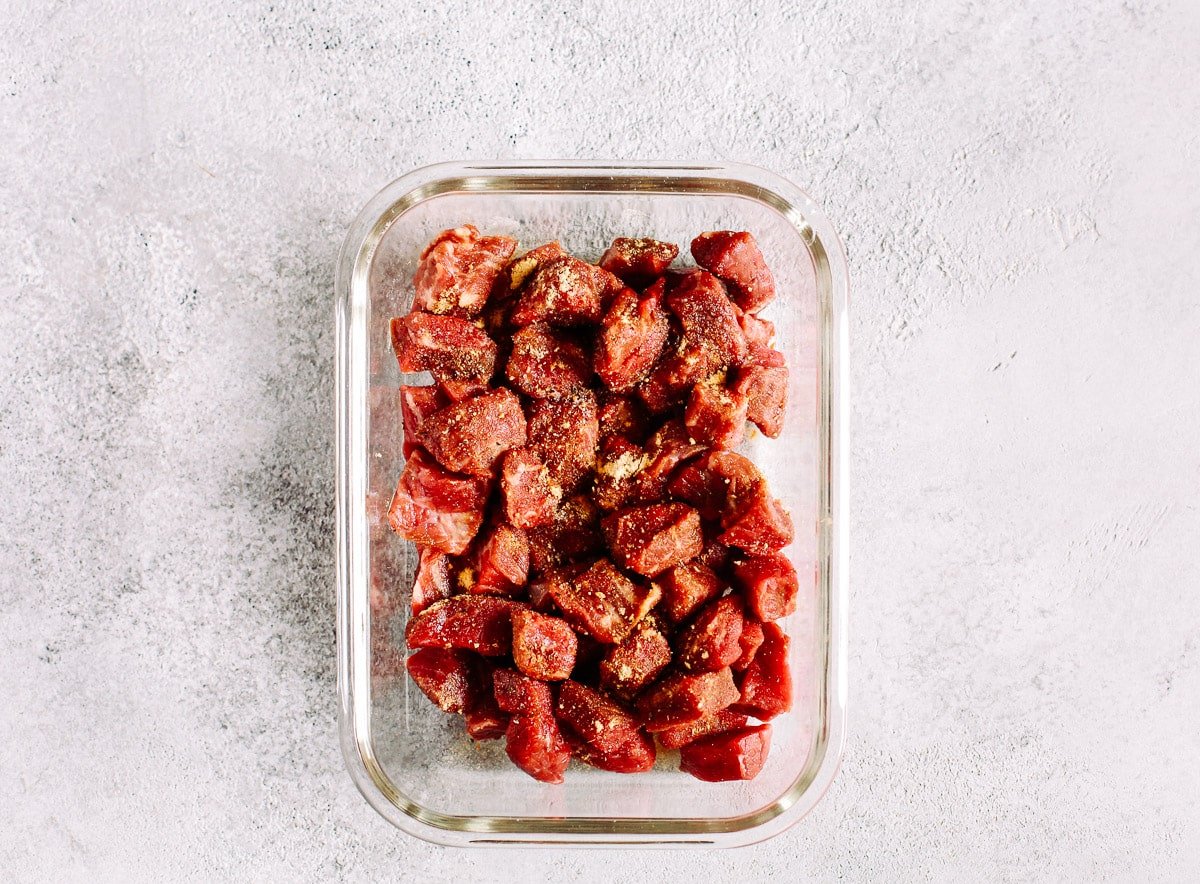 How to cook steak bites
Steak does not need a lot of preparation to be delicious. Following these few tips will help you make the best steak bites.
Prepare the steak:
Remove steak from the refrigerator 30 minutes before cooking. Cut it into small, bite-sized cubes.
Place steak bites in a glass bowl and add seasonings. Mix well, until each piece is well coated!
Sauté steak bites:
Place a skillet or cast-iron pan on the stovetop over medium-high heat. Add olive oil.
Allow the pan to get hot, then add steak cubes. Don't overcrowd the skillet and sauté in batches if necessary.
Cook bites for 3-4 minutes, and stir often.
Add butter and garlic. Cook for approximately 1 minute longer, until the butter is fully melted.
Serve:
Remove pan from heat and spoon garlic butter sauce over the cubes.
Add some freshly chopped parsley as garnish, if desired, and enjoy!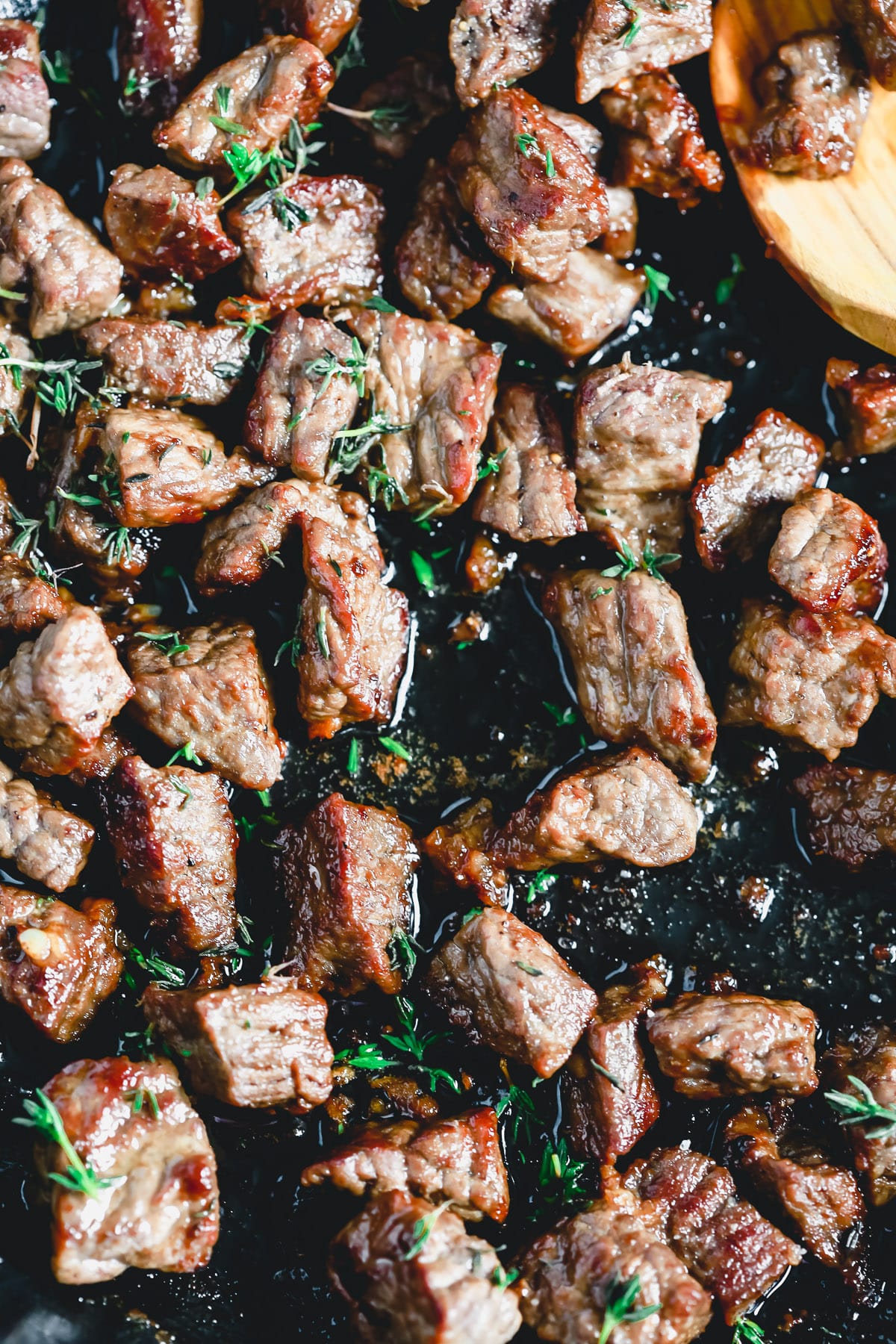 Recipe Tips
When making steak bites, there is no need to marinate your meat first. Simply use a tender cut like sirloin, ribeye, tenderloin or New York strip steak, skirt steak.
Look for a cut with a little marbling. A bit of fat will make your bites tender, juicy and more flavorful.
Steak has fantastic flavor on its own and doesn't need a whole ton of seasoning. A little bit of kosher salt and pepper is sufficient.
Use unsalted butter.
Steak will cook better and more evenly when it's at room temperature. Remove it from the refrigerator 30 minutes before sautéing.
To get a good sear on your bites, avoid adding steak cubes to the skillet before it's hot.
How To Store Leftovers
To Store: Allow leftovers to cool and place them in an airtight storage container or Ziploc bag. Store in the refrigerator for up to 4 days.
To Freeze: Steak bites can also be frozen in a plastic bag or airtight food-storage container for up to 3 months!
To Reheat: Reheat your bites using the microwave or in a pan on the stovetop until warmed through completely.
Frequently Asked Questions
What is the best cut of meat to make steak bites?
A tender cut of steak is best for pan frying. These include sirloin, ribeye, tenderloin and skirt steak. Pan frying uses a dry heat. A delicious brown crust forms on the outside of the steak bites while cooking it this way. However, it can dry the steak out a bit. Pick a tender cut of meat so it is not negatively affected by the cooking method like New York Strip.
Also look for a bit of marbling in the steak. Too much fat will make the steak bites chewy while too little will leave it without the flavor you expect in a good steak.
Can you make steak bites with stew meat?
Technically, you can use stew meat to make steak bites. However, it's not the most tender and generally needs to be cooked low and slow for best results (which is why it's generally used in soup/stew). Therefore, I find it better to purchase a tender cut of beef and dice it up myself.  
How to make steak bites tender?
It all starts with the right beef selection. If you purchase a tender cut, your steak bites are going to turn out better. Also, be sure to avoid overcooking cubes as this can make them tough and dry.
More Beef recipes to try:
Watch the Steak Bites Recipe Web Stories.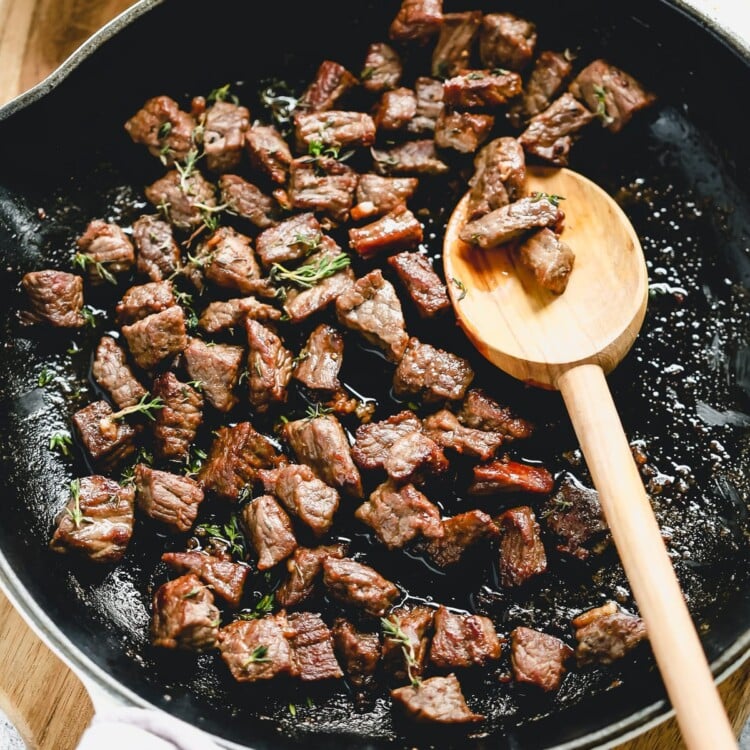 Garlic Butter Steak Bites Recipe
Steak bites are a delicious and easy way to enjoy a steak dinner on a weeknight. This skillet steak recipe is quick to make; dinner is ready in 15 minutes!
Ingredients
1

lb

sirloin steak

cut into small cubes

1

tsp

garlic powder

1

tsp

onion powder

salt and ground black pepper

1

tbsp

olive oil

3

tbsp

unsalted butter

or ghee if you're doing Whole30.

1

tbsp

garlic clove

minced
Instructions
In a glass bowl, add steak bites, garlic powder, onion powder, salt and black pepper. Mix everything well.

Add olive oil in a large skillet over medium-high heat.

Once the pan is hot, place the steak bites in the skillet in a single layer (if necessary work in batches). Don't overload your skillet.

Cook for 3-4 minutes, stirring often.

Add butter and garlic to the skillet. Cook for about 1 minutes or until the butter is totally melted and the garlic is cooked.

Remove the skillet from the heat and coat the meat in the sauce.

Sprinkle with fresh chopped parsley and serve.
Tips
I like using a cast-iron skillet to make these steak bites as it gives the steak a nice sear.
For the best sear, you need to wait for the skillet to be hot before adding the beef to the pan.
Bring the beef to room temperature before you start cooking so it cooks evenly.
To store: Store the garlic butter steak bites in an airtight container for up to 4 days in the fridge.
To reheat: Reheat the steak bites in the microwave or stovetop.
To freeze: You can freeze the cooked steak bites in a freezer-safe bag or container for up to 3 months.
Nutrition Information
Serving:
1
/4
Calories:
244
kcal
(12%)
Carbohydrates:
2
g
(1%)
Protein:
23
g
(46%)
Fat:
16
g
(25%)
Saturated Fat:
12
g
(75%)
Polyunsaturated Fat:
1
g
Monounsaturated Fat:
5
g
Cholesterol:
95
mg
(32%)
Sodium:
87
mg
(4%)
Potassium:
408
mg
(12%)
Nutrition information is calculated using an ingredient database and should be considered an estimate.