This is a healthier, Low-carb Almond Flour Chocolate Cake for the holidays! It's made with almond flour, eggs, natural sweetener, cocoa powder, and lots of toasted natural sliced almonds. This cake is gluten-free too. Enjoy!
Now that it's baking season, we're all excited to bake for the holidays. Many people like me enjoy giving cookies, cakes, and all the delicious baking treats as a gift during this time of the year. And who doesn't like to receive it as a gift, right? Isn't it awesome when someone spends their time making or creating a homemade gift for you? I think it's so sweet.
I made this cake to bring to a close friend of mine who I love and admire a lot. She is also Brazilian and lives in Toronto. We met when we were living in Brazil more than 10 years ago and we became even closer friends when we both immigrated to Canada. Although we both have very busy lives and we don't see each other as much as we wish, it's always good to have a close friend who lives near you, especially when you are new to a country and you don't know many people. I think having a good friend always provides you comfort and a sense of connection, which is very important for us human beings.
Unfortunately, the day we were supposed to go to her place and bring this yummy cake, Thomas woke up with a little cold. Since my friend Patricia has a beautiful 3-year-old daughter, we thought better to stay home and avoid Sofia to get sick. But this cake was so good that next time we meet I'll make this cake for her again 😉
But the good thing is, while I was making this Low-carb Chocolate Almond Flour Cake, I wrote all the instructions to post here and then you, my dear readers, can make this cake too and enjoy it. Oh yes, you'll enjoy it a lot because it's a delicious healthier version of the regular chocolate cake we all love, but without all the bad ingredients.
This Low-carb Chocolate Almond Flour Cake is made with almond flour, which is gluten-free, low-carb, high in fiber and a good source of protein. What's not to love about almond flour? I can't forget to say, almond flour is also rich in vitamins and minerals such as magnesium, potassium, calcium, and vitamin E.
Want some more low-carb treats? Try my Low-Carb Flourless Chocolate Cake, Low-Carb Raspberry Chocolate Cake, and Almond Cake with Berries Recipe.
I love baking with almond flour because it's also very flavorful too. For this cake, I used only 2 cups of almond flour and lots of eggs. This way the dough becomes very fluffy. And last but not least, I topped it with healthier chocolate frosting, which I made with 70% dark chocolate and almond milk. I finish it with lots of toasted natural sliced almonds to make it even better.
There's a lot going on in the world and in our lives at the moment. So, make this cake today and show some love for those who care about you and for the world too 😉
Want some more treats? Try this Paleo Chocolate Pumpkin Cake or these Top 8 Gluten-Free Mug Cake Recipes for individual treats!
Love this Low-carb Almond Flour Chocolate Cake Recipe
? Let's try to make it!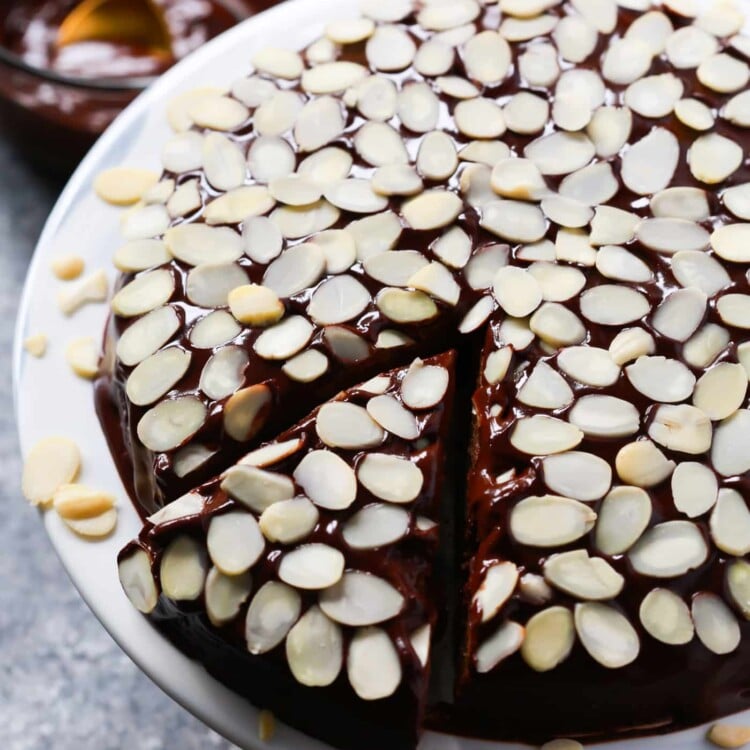 Low-carb Almond Flour Chocolate Cake
This is a healthier, Low-carb Almond Flour Chocolate Cake for the holidays! It's made with almond flour, eggs, natural sweetener, cocoa powder, and lots of toasted natural sliced almonds. This cake is gluten-free too. Enjoy!
Instructions
First, pre-heat the oven to 350F.

Grease a 9-inch baking pan with cooking spray or coconut oil.

Then, place a piece of parchment paper on the bottom of the cake pan, leaving an overhang on the sides to lift the cake out when it's done. Set aside. If you have a removable bottom baking pan, you can skip this step.

In a large bowl, whisk together the egg yolks and 1/2 cup of natural sweetener xylitol for about 1 minute or until the yolks become pale in color.

Add the vanilla extract and salt. Whisk to combine everything well. Set aside.

In the bowl of a standard electric mixer fitted with the whisk attachment, beat the egg whites at medium speed for about 1 minute. Sprinkle in the remaining 2 tablespoons of natural sweetener xylitol, and continue to beat the egg whites until they are very white, firm and fluffy. The eggs whites will be ready when you turn the bowl upside down and the egg whites don't fall out.

Add half of the egg whites to the egg yolk mixture and mix to combine.

Add the remaining egg whites over the yolks, half of the almond flour, and cocoa powder.

Gently fold them into the yolks.

Add the remaining almond flour and fold until you have a homogeneous batter.

Carefully pour the batter into the prepared pan.

Bake the cake for about 30-40 minutes. The cake will be ready when it is golden brown and when a toothpick is inserted in the center and comes out clean. Let the hot cake cool on a wire rack for 5 minutes before removing it from the pan.

While the cake is in the oven, make the chocolate frosting.

In a heatproof bowl, add dark chocolate over simmering water.

When the chocolate is starting to melt, add the almond milk and mix well until all is combined and smooth.

Allow the chocolate frosting to cool before icing the cake.

Spread the frosting chocolate over the top and add some almond slices. Enjoy!
Tips
Do not overmix the batter. Stop mixing once the batter is combined, or you'll end up with a dense cake. 
Let the cake cool a bit before removing it from the pan as the cake will be tender.
Make sure there is no water in the bowl when you melt the chocolate as it'll cause the chocolate to seize. 
To store: Tightly wrap up the cake and store it in the fridge for up to 5 days.
To freeze: Once the cake is cooled, skip adding the sliced almonds on top of the cake and tightly wrap the cake. Freeze for up to 3 months.
Nutrition Information
Serving:
1
/14
Calories:
229
kcal
(11%)
Carbohydrates:
16.2
g
(5%)
Protein:
8.1
g
(16%)
Fat:
17.2
g
(26%)
Saturated Fat:
4.7
g
(29%)
Cholesterol:
63
mg
(21%)
Sodium:
170
mg
(7%)
Fiber:
3.2
g
(13%)
Sugar:
10.9
g
(12%)
Nutrition information is calculated using an ingredient database and should be considered an estimate.
And if you like this Low-carb Almond Flour Chocolate Cake recipe, please share with your friends and family. Do you want to taste more? Subscribe to my newsletter and follow Primavera Kitchen on Twitter, Pinterest, Google+, Instagram, and Facebook for all delicious recipes updates. As always, I really appreciate you stopping by.