This baked chicken recipe has just two steps and uses bone-in thighs with the skin on.
Keeping the bone in while cooking creates extra tender meat. Plus, the crispy skin keeps the chicken moist while adding texture.
The honey and mustard in the marinade create a balance of spicy and sweet, while the acid from the orange juice helps the flavors penetrate the meat. It is also the perfect summer recipe as the orange juice gives it a bright citrus flavour. Another summer recipe you'll love is this
Super Fresh Shrimp Tomato Salad
!
How to make dijon chicken thighs
INGREDIENTS
You only need 4 ingredients (I'm not counting salt and pepper of course) to make the base of this very tasty sauce for the chicken to bake in.
Chicken thighs – bone-in and skin-on
Dijon mustard – see recipe notes for a homemade substitute. Got extra? Try my Dijon Mustard Salmon Recipe (Web Story).
Honey
Orange juice – either fresh squeezed or bottled
Salt and pepper
It's an ultra-easy way to make a unique sauce with ingredients you probably have on hand anyway. Ah, I can't forget to say that although I made this recipe with chicken thighs, this orange dijon sauce can be used for any chicken parts you have in your fridge like chicken breast or legs.
Differences between Dijon mustard and regular mustard
Both have that noticeable sharp bite, but the overall flavors and ingredients are very different.
Yellow mustard is made with powdered white and yellow mustard seeds, water or vinegar, and some seasonings.
Dijon mustard, however, uses ground black or brown mustard seeds and swaps the vinegar for white wine. This gives it a more intense and slightly spicier flavor.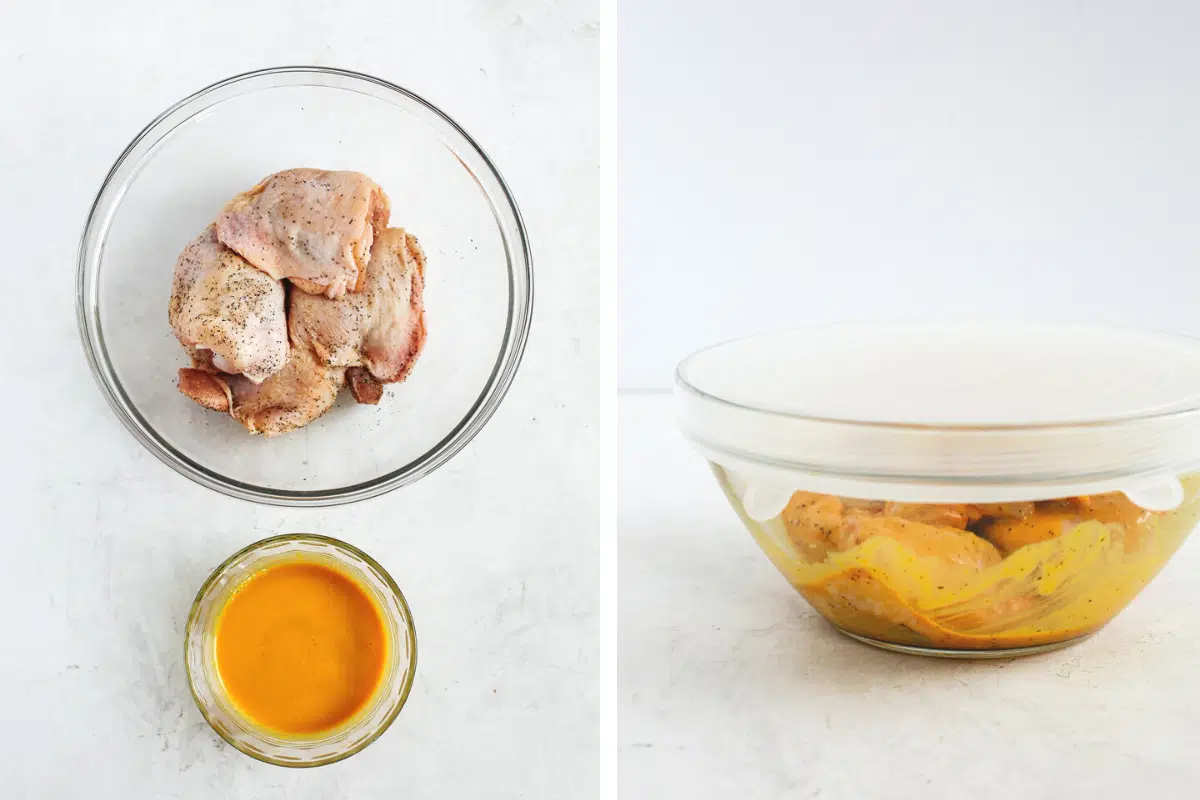 INSTRUCTIONS
Marinate: Season the thighs with salt and pepper, then mix together the other ingredients and pour over the top. Cover and let sit for 15 minutes or in the refrigerator overnight.
Bake: Place the chicken in an oven-safe skillet and discard the marinade. Baked until the skin is crispy and the meat is cooked all the way through.
Can I use boneless skinless chicken breasts instead?
Yes, you can! Chicken thighs are less expensive than breasts, which makes them a great option for budget-friendly meals.
However, they are also fattier because they're dark meat. So you can easily replace them with chicken breasts, which are also lower in calories.
Reduce the baking time to 15-20 minutes, depending on the thickness of the breasts, or until cooked all the way through.
The high heat will still make the outside crispy, even without the skin on, and lock the moisture inside for perfect, juicy chicken.
Recipe notes
Baking in a pan – Prevent the chicken from sticking either by using a seasoned cast iron skillet or by adding some oil to the pan before the chicken. Use a neutral oil with a high smoke point like canola or avocado oil.
Trim the meat – It's a good idea to remove the fat from the underside of the thighs before marinating. Hold the fat away from the meat and cut in a scraping motion with a small, sharp knife.
Dijon mustard substitute – Mix together 2 tablespoons each dry mustard and mayonnaise, 2 teaspoons each water and white wine vinegar, and a pinch of sugar.
Storing and reheating – Keep in an airtight container in the refrigerator for up to 4 days. Reheat in the microwave or in an oven at 300 degrees F until warmed through.
Freezing – Store the cooked chicken in ziploc freezer bags and freeze for up to 3 months. Thaw in the refrigerator overnight before reheating.
MORE CHICKEN THIGH RECIPES
Orange Dijon Chicken Thighs
This Orange Dijon Chicken Thighs recipe is the perfect chicken recipe for the busy weeknights! It only requires 4 ingredients. It only takes 5 minutes to prepare and it serves 4-5 people. 
Instructions
Preheat the oven to 425º F.

In a small bowl, mix together the mustard, honey, and orange juice.

Place the chicken thighs in a medium bowl and season them with salt and pepper.

Pour the orange-mustard mixture over the chicken thighs. Wrap the chicken bowl with a silicone wrap (I like to use this reusable silicone strech lids) or a plastic wrap. Marinate at room temperature for 15 minutes*.

Place the chicken thighs into a cast iron skillet* and cover the skillet with aluminum foil. Bake for 25 minutes. Remove the aluminum foil and bake for more 20 minutes or until it gets the internal temperature of 165˚F.

Serve the chicken thighs with rice or roasted veggies.
Tips
You can marinate the chicken in the fridge overnight if you prefer.
My cast iron skillet is pre-seasoned, so I didn't need to add oil in there before adding the chicken. If your skillet is not a cast-iron skillet, please add a little bit of oil before adding the chicken.
If you do not have a cast-iron skillet, simply bake the chicken in a baking dish.
Click HERE to watch the web story. 
To store: Store leftover chicken thighs in an airtight container for up to 4 days in the fridge. 
To reheat: You can reheat in the microwave when ready to eat. 
To freeze: You can freeze the chicken in a freezer-safe bag or container for up to 3 months. 
Nutrition Information
Serving:
1
/5
Calories:
230
kcal
(12%)
Carbohydrates:
8
g
(3%)
Protein:
17
g
(34%)
Fat:
14
g
(22%)
Saturated Fat:
4
g
(25%)
Polyunsaturated Fat:
1
g
Monounsaturated Fat:
3
g
Cholesterol:
70
mg
(23%)
Sodium:
596
mg
(26%)
Potassium:
297
mg
(8%)
Sugar:
7
g
(8%)
Nutrition information is calculated using an ingredient database and should be considered an estimate.
Subscribe for new recipes & a free e-cookbook
Check out the Web Story HERE.
If you like this Orange Dijon Chicken Thighs recipe, please share with your friends and family. Do you want to taste more? Subscribe to my newsletter and follow Primavera Kitchen on Twitter, Pinterest, Google+, Instagram, and Facebook for all delicious recipes updates. As always, I really appreciate you stopping by.