Tired of eating store-bought mayo full of food additives and who knows what else? So, make your own. This 1-Minute Homemade Mayonnaise is all you need to have a clean mayo on your table.
If you are like me, you probably LOVE mayo. I mean I love it so much that I put it on almost everything. But this year as I mentioned before on my 2018 resolutions post, I want to eat even healthier and cleaner than before, which means eating lots of veggies, fruits, healthy fat, lean protein, nuts and seeds and of course more homemade meals.
I'm also more cautious about the store-bought products I buy weekly from my local grocery store. Now I take my time to read the food labels and to see what is inside of these products such as artificial colors, GMOs, preservatives, refined grains and sugar.
You would be surprise about how much junk is inside of these products. Every time a strange-sounding ingredient shows up I give up buying it.
For this reason I started to make my own sauces, dressings and mayo. You may think "I don't have time for that?!" But I say "yes you have!" You know why? Because these recipes are made few minutes Making homemade sauce/dressings like my creamy avocado sauce and this 1-minute homemade mayonnaise won't take much of your time and your body and mind will thank you.
Believe me I've been feeling so much better with more energy and less anxiety now that I am eating fresh/clean/homemade foods. So, because I love mayo and I can't live without it I decided to make my own and now I'm gonna teach you how to make yours 😉
Subscribe for new recipes & a free e-cookbook
Made a batch and need a recipe to use it in? Try my Tuna Salad Meal Prep Bowls!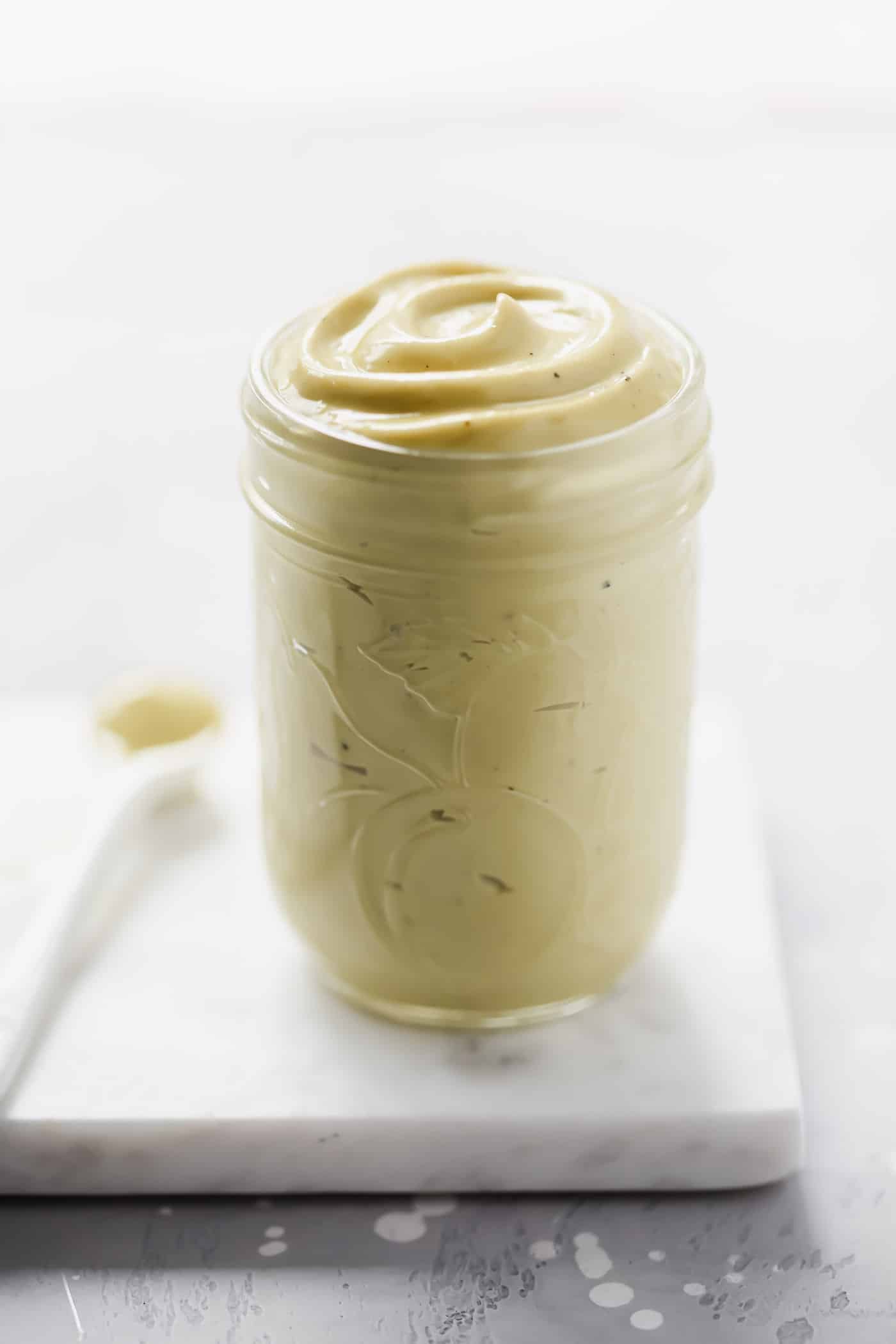 This post contains affiliate links. For more information, please visit my disclosure page here.
What do you need to make this 1-Minute Homemade Mayonnaise?
In terms of ingredients, you will need only 5 ingredients to make this 1-minute homemade mayonnaise: avocado oil, egg, ground mustard, lemon juice, salt and black pepper. And in terms of equipment you will need a hand blender and a long and wide mouth mason jar that fit well the hand blender.
This small kitchen appliance is essential for this recipe because it will make the magic happen. I have a simple, good and very affordable hand blender (you can check it out here) that I used to make this recipe. However this hand blender doesn't come with blending Jar like hand blender. But mine is still doing a very good job so I made my 1-minute homemade mayonnaise recipe with this hand blender and a long mason jar that I have and fits well the hand blender.
You also can make this recipe on a high-speed blender, but to be honest with you I didn't find it very convenient to scrape all the mayo out of the blender jar. I felt like I was wasting half of it. But you can totally try and see how it goes.
What type of oil should I use for this 1-minute homemade mayonnaise recipe?
The first time I made this recipe I used extra-virgin olive oil, but it tasted awful though I love the taste of olive oil. What happened? It was so strong and bitter. I tried to add some kind of seasoning to kill the taste, but it didn't work AT ALL.
So, please DO NOT use extra-virgin olive oil to make this 1-minute homemade mayonnaise. I also don't recommend use canola oil because this is definitely not a healthy fat choice. I love to use avocado oil instead. The taste is not very strong and this oil is natural and full of omega-9 fatty acids. You also can use extra-light olive oil.
Reasons why you should make your own homemade mayonnaise:
It's fresh!
It's tastier and more delicious than the store-bought one.
It's free from any artificial colors, flavours, GMOs and preservatives.
It only takes 1 minute to be ready.
It stays good in the fridge for about 3-4 days.
It's a great base to make many other yummy sauces.
It's Whole30, paleo, low-carb and gluten-free. Want another gluten-free recipe? Try my Easy Roasted Potato Salad, Gluten-free Mug Cake On-the-Go, Sweet Potato Zucchini Casserole,and Ground Turkey Sweet Potato Skillet Recipe!
1 Minute Homemade Mayonnaise
Tired of eating store-bought mayo full of food additives and who knows what else? So, make your own. This 1-Minute Homemade Mayonnaise is all you need have a clean mayo on your table.
Servings:
1
Medium Mason Jar
Instructions
Add all the ingredients in a wide mouth mason jar.

Place the hand blender in the jar all the way to the bottom into the mixture.

Turn the hand blender on low speed and keep it on the bottom until the mixture of ingredients starts to become a creamy and thick mayo. It's about for 30 seconds or so.

After that, begin to slowly lift the hand blender up to keep emulsifying all the oil. The mayo will be done when all oil is emulsified. It will take about 1 minute to complete all the blending process. Taste and adjust the seasoning.
Tips
This recipe was tested with only a handheld stick blender. I have not tested it in a food processor or blender and do not recommend it.
A jar that just fits your stick blender is ideal as it'll help the ingredients emulsify slowly.
Use a room temperature egg for the best results.
To store: Store the homemade mayonnaise in an airtight container for up to one week. 
Nutrition Information
Serving:
1
/14
Calories:
149
kcal
(7%)
Carbohydrates:
1
g
Protein:
1
g
(2%)
Fat:
16
g
(25%)
Saturated Fat:
2
g
(13%)
Cholesterol:
13
mg
(4%)
Sodium:
171
mg
(7%)
Sugar:
1
g
(1%)
Nutrition information is calculated using an ingredient database and should be considered an estimate.
And if you like this 1-Minute Homemade Mayonnaise recipe, please share with your friends and family. Do you want to taste more? Subscribe to my newsletter and follow Primavera Kitchen on Twitter, Pinterest, Google+, Instagram, and Facebook for all delicious recipes updates. As always, I really appreciate you stopping by.