Ready to make delicious, and HEALTHY fries? These Spicy Baked Sweet Potato Fries recipe is SO GOOD that will make you lick your fingers. It's also Whole30, paleo and gluten-free.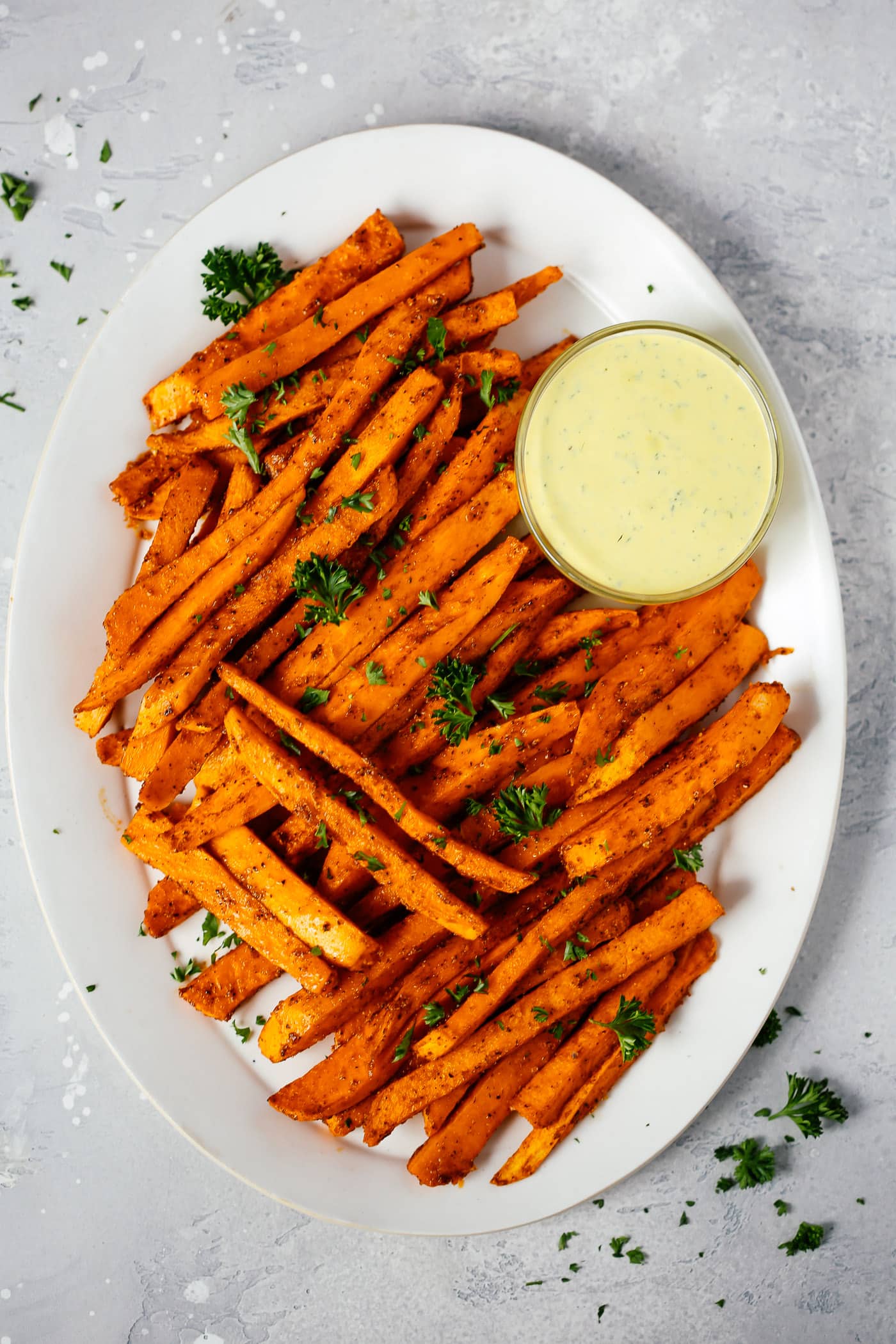 If you're always visiting Primavera Kitchen, you must notice that we have lots of sweet potatoes recipes just because we love them. And of course we have our favorite recipes using sweet potato such as my skillet recipes such a ground turkey sweet potato skillet, Kale Salad with Crispy Sweet Potato, Asparagus Sweet Potato Chicken Skillet, Sweet Potato Chicken Soup, and Sweet Potato Chicken Slow Cooker.
Although as you can see I've always made sweet potato recipes, I've never made Baked Sweet Potato Fries, which is craaazy! I don't really know why it took me so long to make this recipe. But here I'm sharing my version of Spicy Baked Sweet Potato Fries.
Tips to make this Spicy Baked Sweet Potato Fries even better:
Every time you roast any type of veggie, you need to cut them roughly the same size. The reason why is because you want the veggie or root to bake evenly. If you cut the sweet potato in small and large matchsticks pieces, the smaller pieces will cook faster than the large pieces and they will probably become soggy by the time the bigger pieces are ready.
Another important tip is to place the sweet potatoes matchstickspieces in a single layer on the baking sheet to avoid they become mushy.
And last, toss the cut sweet potato with olive oil, but make sure the pieces are coated on all sides because if not, the sides that are not coated will be very dry.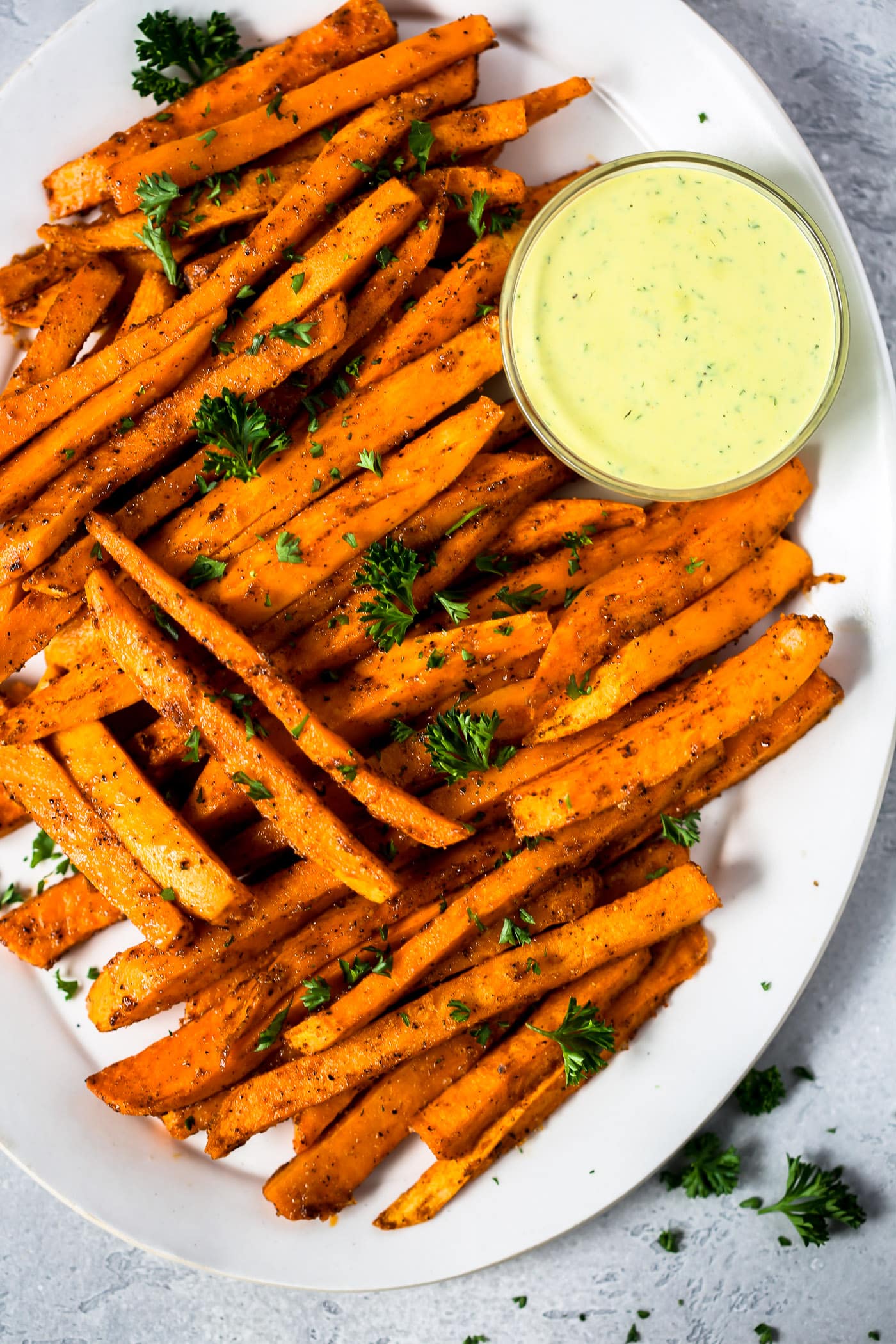 What other type of spices I can use to make this Spicy Baked Sweet Potato Fries?
The best part of this recipe is that it's very versatile, which means you can use whatever pleases your heart or your tummy here 😉 You can add to this recipe garlic powder, onion powder, cumin and even curry. It's totally up to you.
Recommended Tools to Make Spicy Baked Sweet Potato Fries:
Large Sheet tray: I have lots of sheet trays because I love making meat, fish and veggies in the oven and for each type of recipe you need a different size of tray. When it comes to roasted veggies I always choose the large size because I'm afraid to overcrowding the sheet with veggies and as a result I can have soggy roasted veggies instead of crispy veggies.
Parchment paper: You can use also aluminum foil too, but if you are concerned about the amount of aluminum in your food, you should use parchment paper instead.
What should I serve with sweet potato fries?
Some of my favourite dishes to go with these baked sweet potato fries are my Instant Pot Ribs, Healthy Baked Chicken Parmesan, Easy Cauliflower Fried Rice Recipe (Web Story), and Shrimp Fried Rice with Broccoli! They're so easy to make and you'll love how they go so well together!
Subscribe for new recipes & a free e-cookbook
Other Sweet Potato Recipes you may like it:
Spicy Baked Sweet Potato Fries
Ready to make delicious, and HEALTHY fries? These Spicy Baked Sweet Potato Fries recipe is SO GOOD that will make you lick your fingers. It's also Whole30, paleo and gluten-free.
Instructions
Preheat oven to 425 degrees F.

In a large bowl toss sweet potatoes with oil to coat. Sprinkle with paprika, coriander, salt and pepper.

Spread sweet potatoes in single layer on prepared baking sheet.

Place the tray in the oven and bake until sweet potatoes are tender and golden brown. It's about between 15-20 minutes. The bake timing will depend on the power of your oven.

Let sweet potatoes cool down for 5 minutes before serving.
Tips
I love eating this sweet potato fried with this roasted chicken legs or this delicious baked garlic butter salmon. You should give them a try too 😉
Cut the sweet potatoes as uniformly as possible, so they roast evenly.
You can peel the sweet potatoes or leave the skin on. If leaving the skin on, make sure to wash and dry the potatoes first.
Make sure there is space between the sweet potatoes as they will steam if too tightly packed.
To store: Store baked sweet potatoes fries in an airtight container in the fridge for up to 5 days.
To reheat: You can reheat this in the microwave or oven.
To freeze: Once cooled, you can freeze the potatoes in a freezer-safe bag for up to 3 months.
 
Nutrition Information
Serving:
1
/4
Calories:
231
kcal
(12%)
Carbohydrates:
41
g
(14%)
Protein:
3
g
(6%)
Fat:
7
g
(11%)
Saturated Fat:
1
g
(6%)
Sodium:
214
mg
(9%)
Fiber:
6
g
(25%)
Sugar:
9
g
(10%)
Nutrition information is calculated using an ingredient database and should be considered an estimate.
And if you like this Spicy Baked Sweet Potato Fries recipe, please share with your friends and family. Do you want to taste more? Subscribe to my newsletterand follow Primavera Kitchen on Twitter, Pinterest, Google+, Instagram, and Facebookfor all delicious recipes updates. As always, I really appreciate you stopping by.