Subscribe to receive new recipes!
Taste more! Sign up and you'll be getting to your inbox brand new content weekly such as recipes, cooking tips, videos and my FREE E-COOKBOOK.
These ground turkey sweet potato stuffed peppers are filled with favours and a delicious homemade tomato sauce. Perfect recipe for you busy dinnertime.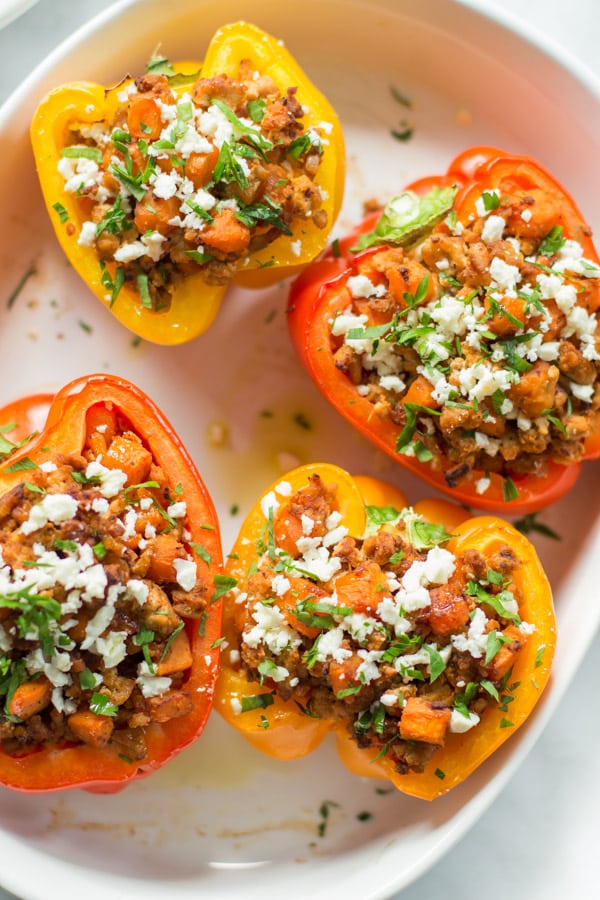 Today I've got a new recipe that I'm really excited to share with you because I've always been a fan of stuffed peppers. This recipe is so versatile since you can stuff your peppers with lots of different ingredients such as rice, beans, veggies and meat. I chose to make my stuffed peppers only with sweet potatoes and ground turkey because those were the ingredients I had on hand. My husband and I went to Costco few weeks ago and we bought about 4 pounds of ground turkey because I love it and the price was really good.
So, there is so much you can do with ground turkey that it's a good idea to buy more than 2 pounds and keep some on hand. When I buy it I always use a good leaner ground turkey so my meals will be healthier. This recipe for low carb ground sweet potato stuffed peppers is something I love to make and freeze individually for lunch the next day. It tastes really good the next day and I really recommend you make it ahead and keep in the freezer even if you are cooking only for yourself.

This recipe takes only 30 minutes to be ready on your table. These bright peppers with their lively filling will really cheer you up! These brilliant red peppers are great to cook either in an oven or in the summer, over medium coals on a barbecue. The ground turkey and sweet potato work really well together and make a delicious filling that is satisfying and full of flavor.

Ground Turkey Sweet Potato Stuffed Peppers
Author:
Primavera Kitchen
Ingredients
1 tbsp extra-virgin olive oil
2 cup (480g) ground turkey
2 cloves garlic, minced
½ cup (78g) onions, diced
1⅔ cup (219g) sweet potato, diced
½ cup homemade tomato sauce
Red chili flakes to taste (optional)
Salt and pepper
2 big bell peppers cut in half
Feta cheese (don't add cheese if you want to make this recipe paleo-friendly) and fresh parsley, chopped
Instructions
Preheat oven to 350F.
In a skillet, heat olive oil over medium high heat.
Add ground turkey and garlic. Stir occasionally and cook for about 10 minutes or until the meat is not pink any more. Make sure to break apart the meat with a wood spoon as it cooks.
Add onions and cook until onions are gold brown.
Add the sweet potato, cover the skillet and cook until they are tender. It is about 8mins. Don't forget to stir occasionally. Add tomato sauce, ground chili pepper, salt and pepper to taste. If necessary, add more olive oil or a little bit of water to cook the sweet potato.
Arrange the peppers in a greasy baking dish. The cavity side is facing up.
Fill each bell pepper halve with the ground turkey-sweet potato mix.
Bake uncovered for about 30 minutes, or until the peppers are cooked and soft.
Remove from the oven and garnish with feta and parsley.
Please, if you recreate this recipe, please take a picture and tag @primaverakitchen and #primaverakitchen on 
Instagram
! I would love to see your version. Thanks a lot.
If you like Pressure Cooker Sausage and Beans recipe, please share with your friends and family. Do you wanna taste more? Subscribe to my newsletter and follow Primavera Kitchen on Twitter, Pinterest, Google +, Instagram and Facebook for all delicious recipes updates. As always, you are really appreciated for stopping by.
More Sweet Potato Recipes 
Ground Turkey Sweet Potato Skillet
Sweet potato, Kale and Shrimp Skillet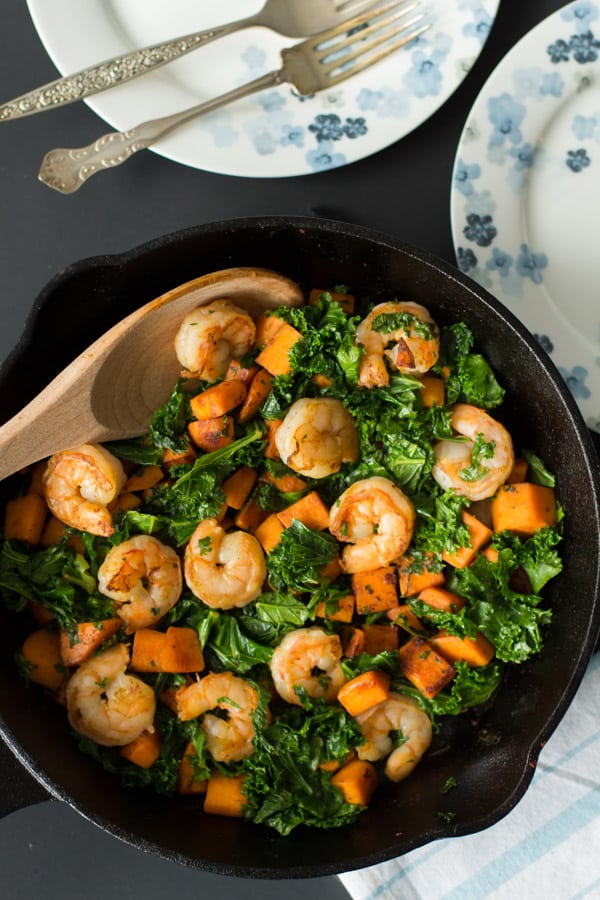 Easy Ground Turkey Stuffed Peppers
Ground Turkey Skillet with Green Beans