Asparagus Stuffed Chicken Breast
This fast, easy, and delicious Asparagus Stuffed Chicken Breast recipe is a perfect meal for your weeknight dinner and it requires only 4 ingredients.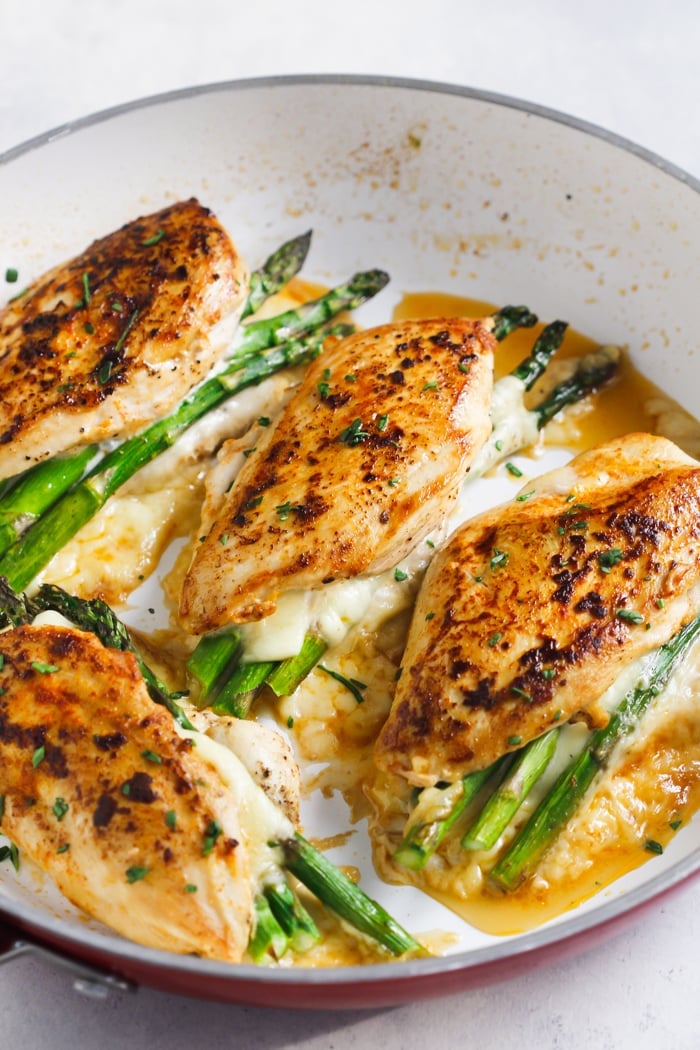 We all know that chicken breast (boneless and skinless) can sometimes be very boring. But, when you stuff them with your favorite ingredients, they can really elevate the flavor of your chicken. I love to make stuffed chicken breasts because you can stuff the chicken with just about anything and the options are endless. Last time I made stuffed chicken, I used spinach, feta cheese, and black olive as a filling and it was very tasty.
For this recipe, I only needed asparagus, mozzarella cheese, and lemon zest to make this insanely good asparagus stuffed chicken breast. This recipe is easier than it looks. And it takes no time at all to create it, other than a quick sear in a skillet to make the chicken even more flavorful and get a good crust on the outside.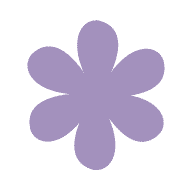 MY OTHER RECIPES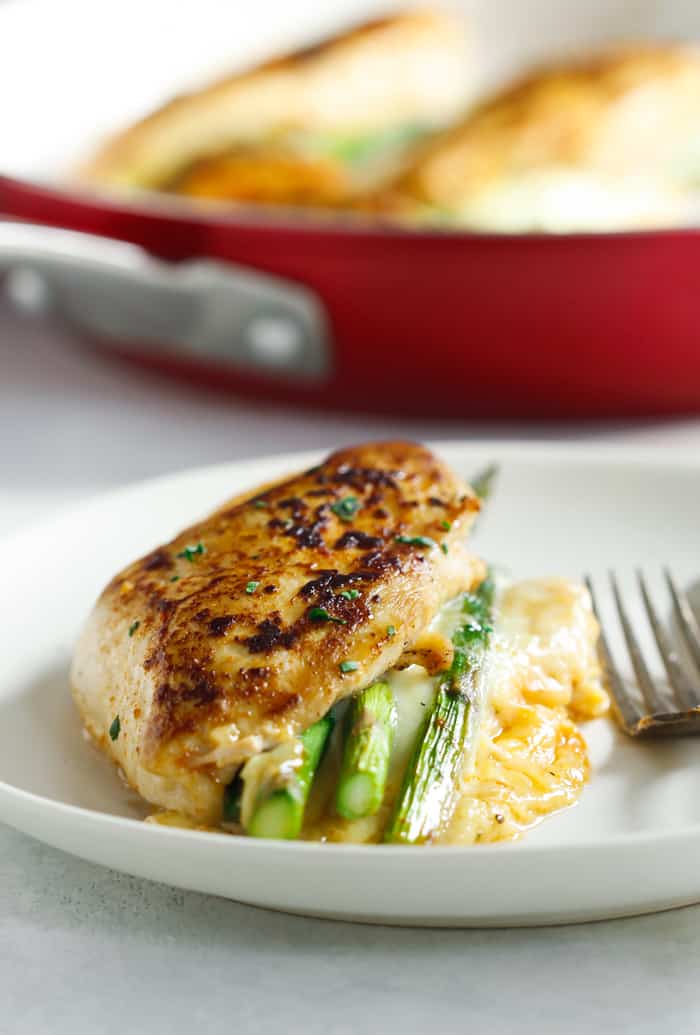 Love This Asparagus Stuffed Chicken Breast Recipe
I'm sure you won't be disappointed if you try this recipe. I love it and here are the reasons why:
Not your everyday chicken dish, because it's super flavourful! It's stuffed with asparagus and fresh mozzarella cheese and the chicken is seasoned with paprika, garlic powder and salt and pepper.
This dish is easy to make, but at the same time, it looks so pretty that it will impress your family and friends.
It has a really fresh flavor and it's great on its own or it goes really well with mashed cauliflower, cauliflower rice or even roasted veggies.
You'll make an elegant meal with simple and easy to find ingredients. In fact, it's possible that you already have all the ingredients to make it.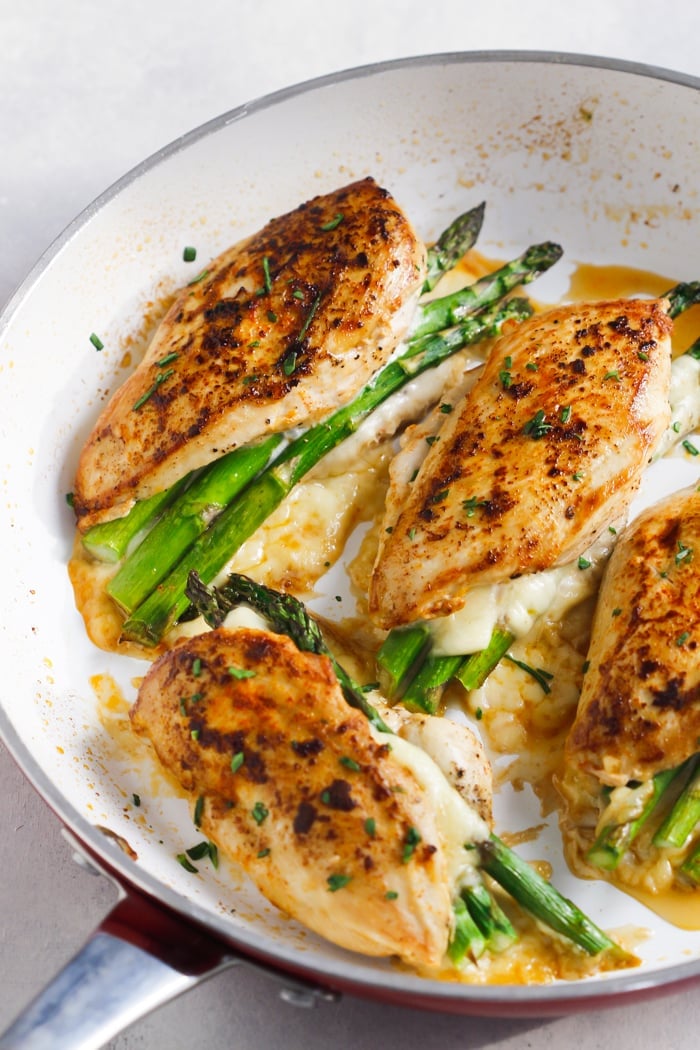 After you stuff the chicken it is important that you dust the exterior of the chicken breasts with seasonings such paprika, garlic powder, salt and pepper for extra flavor. Mm… Delicious! I like to serve this with a salad on the side, fluffy rice, or quinoa. So, it's time to impress your family at dinnertime with asparagus stuffed chicken breast! You won't believe how simple and delicious these are!
Looking for more chicken recipes? Try these ones too:
Spicy Chicken Meal-Prep Bowls: Plan ahead for the week with these whole30, paleo-friendly, gluten-free, and low-carb Spicy Chicken Meal-Prep Bowls packed with spicy chicken, roasted green beans, broccoli, and mashed cauliflower.
Asparagus Stuffed Chicken Breast
This fast, easy, and delicious Asparagus Stuffed Chicken Breast recipe is a perfect meal for your weeknight dinner and it requires only 4 ingredients.
Instructions
Preheat oven to 425 degrees F.

Cut the chicken breast in half, length-wise. Please do not cut all the way through.

You need to create a pocket into each chicken breast.

Season the inside of the chicken breast with lemon zest, salt, and pepper.

Place chicken on your work surface and lay the mozzarella cheese and 3 asparagus pieces inside of each chicken breast and fold over, enclosing the filling.

In a small bowl, mix together salt, pepper garlic powder, and paprika. Then season the outside of the chicken breast with this spice mixture.

Heat a large and oven safe skillet over medium-high heat. Add the olive oil.

Sear the chicken for 3 to 5 minutes each side and until the chicken is golden brown on top.

Place the chicken in the oven.

Bake for 20 minutes. Make sure the chicken reaches the internal temperature of 165 degrees.
Course: Main Course
Cuisine: American, Mediterranean
Keyword: Asparagus and Chicken Recipe, Chicken recipe, gluten-free, Keto, low-carb, Stuffed Chicken Recipe
Nutrition Information
Amount per serving (1/4) — Calories: 348, Fat: 17g, Saturated Fat: 5.4g, Cholesterol: 121mg, Sodium: 238mg, Carbohydrates: 3.8g, Fiber: 1.4g, Sugar: 1.2g, Protein: 43.8g
If you make this recipe, please don't forget to snap a photo and hashtag it #primaverakitchen. I really want to see!
This post contains affiliate links. For more information, please visit my disclosure page here.
If you like this Asparagus Stuffed Chicken Breast recipe, please share with your friends and family. Do you want to taste more? Subscribe to my newsletter and follow Primavera Kitchen on Twitter, Pinterest, Google+, Instagram, and Facebook for all delicious recipes updates. As always, I really appreciate you stopping by.