This flavorful Homemade Cajun Seasoning recipe is made with paprika, cayenne pepper, onion powder, garlic powder, and herbs. It is great with chicken, fish, shrimp, and more. You'll want to add it to everything!
A blend of zesty, spicy, and bold flavors, after you try this homemade cajun seasoning, you're never going to go back to store-bought seasoning again! It comes together quickly with a few pantry staples, this seasoning blend adds a punch to any recipe from proteins to side dishes.
Today I'm sharing with you this easy and quick to make homemade Cajun Seasoning, which is a great way to bring more flavor to your chicken, fish, pasta and shrimp meals. I know you can buy your Cajun seasoning at any grocery store, but if you have lots of spices and herbs in your pantry, why not to make it yourself, right?
You can make a large batch of this homemade Cajun seasoning blend, store in a mason jar and keep in your pantry or spice drawer so you can use it whenever you need Cajun seasoning. It is healthier and you will add only ingredients you like and avoid any processed fillers ingredients.
what is Cajun seasoning?
Cajun cuisine is known to use many ingredients in their cooking, such as garlic, bell peppers, onions, celery, and bay leaves. All these ingredients are super flavorful and great to any recipe. One of my favorite creations from the Cajun cuisine is the Cajun spice mixture, which is a seasoning blend (spice mix) that comes from Louisiana.
Some of my favourite recipes to make with this cajun spice is my Cajun Grilled Chicken with Black Bean Mango Salad, Cajun Shrimp Skewers with Corn Salad, and Cajun Salmon with Strawberry Salsa.
How To Make Homemade Cajun Seasoning
What spices are in Cajun/Creole Seasoning?
Paprika — You can use regular, smoked, or sweet paprika for cajun seasoning.
Garlic powder — Make sure you are using garlic powder and not garlic salt.
Cayenne pepper — You can increase or decrease the heat of homemade Cajun seasoning with more or less cayenne pepper
Salt — You can add salt to the seasoning or omit it entirely and season all your recipes to taste if you prefer.
Dried herbs — I use dried oregano and dried thyme. In a pinch, you can use one or the other or use Italian seasoning or basil.
Ground black pepper — I find freshly cracked black pepper to be more flavourful.
Onion powder — Again, make sure you use onion powder and not onion salt or flakes.
Instructions
Mix all the ingredients together until combine well. Store in a glass or plastic container with a lid.
Don't Forget
Always store the homemade Cajun seasoning in an airtight container so it does not get stale.
Subscribe for new recipes & a free e-cookbook
Recipe Tips
The Cajun seasoning is only as fresh as your seasoning. It will last as long as standard spices but if you're mixing your homemade Cajun seasoning with older spices, your mix may not be as fresh for as long.
Ground spices and dried spices are not the same. For example, ground thyme is more concentrated than dried thyme. This recipe is using dried spices so you'll have to adjust the measurement of spices used if you substitute.
Store the homemade Cajun seasoning mix covered in a dark, cool place, out of direct sunlight.
Adjust this spice perfect blend as much as you'd like to fit your tastes! Don't feel like you need to follow the measurements exactly.
This recipe is so easy to make and the only equipment you'll need is a set of measuring spoons.
How does Cajun Seasoning Tastes like?
Homemade Cajun seasoning has a bold spicy flavor with a savoury and smokey taste. You can make this spice blend as spicy or mild as you prefer by adjusting the cayenne.
Can I double or triple the seasoning?
You can! While I recommend you don't triple the seasoning, you can if you plan on using a ton of Cajun seasoning! I like to make a small batch so it doesn't go stale before I can use it all.
How much does this recipe yield?
This spice blend makes around 24 tablespoons worth of homemade Cajun seasoning.
Remember, you don't have to only use this in recipes requiring Cajun seasoning. Feel free to add it to other recipes to give it a kick of spice like this Sweet Potato Chicken Soup Recipe or Italian Sausage Stuffed Butternut Squash.
Watch Cajun Seasoning Web Stories here.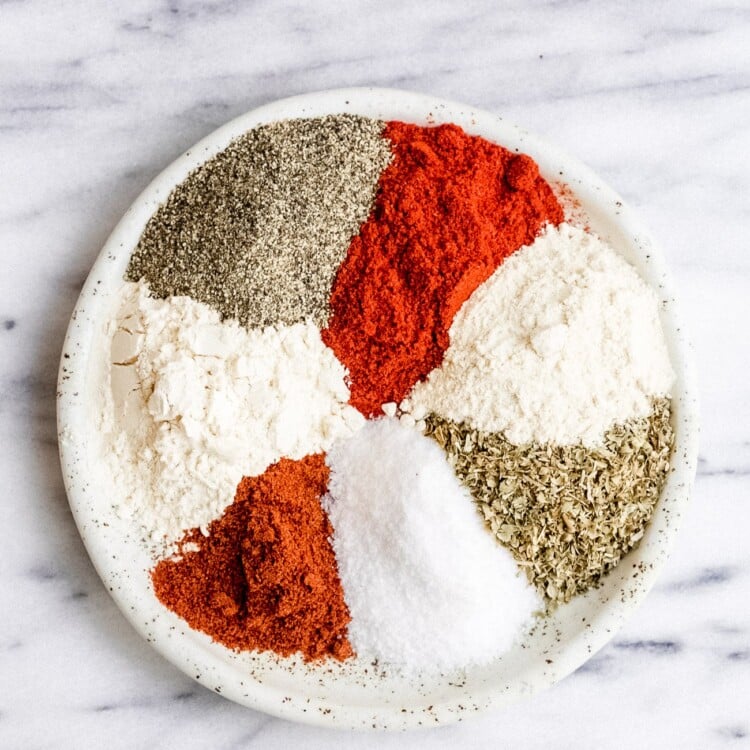 Cajun Seasoning Recipe
This flavorful Cajun Seasoning recipe is made with onions, garlic powder and herbs. It is great with chicken, fish, shrimp and more.
Instructions
Mix all the ingredients together until combine well. Store in a glass or plastic container with a lid.
Tips
You can adjust the cayenne pepper to change how spicy the homemade Cajun seasoning is. 
The seasoning is only as fresh as the spices you use to make the mixture. 
To store: Keep the seasoning in an airtight container in a cool dark place.  
Nutrition Information
Serving:
1
/24
Calories:
5
kcal
Carbohydrates:
1
g
Sodium:
292
mg
(13%)
Potassium:
27
mg
(1%)
Nutrition information is calculated using an ingredient database and should be considered an estimate.
If you like this Cajun Seasoning recipe, please share with your friends and family. Do you wanna taste more? Subscribe to my newsletter and follow Primavera Kitchen on Twitter, Pinterest, Instagram and Facebook for all delicious recipes updates. As always, you are really appreciated for stopping by.