This Cheesy Broccoli-Cauliflower Bake is a delicious and healthy casserole dish that is loaded with veggies, cheese, and panko. It is creamy, golden, and super-yummy!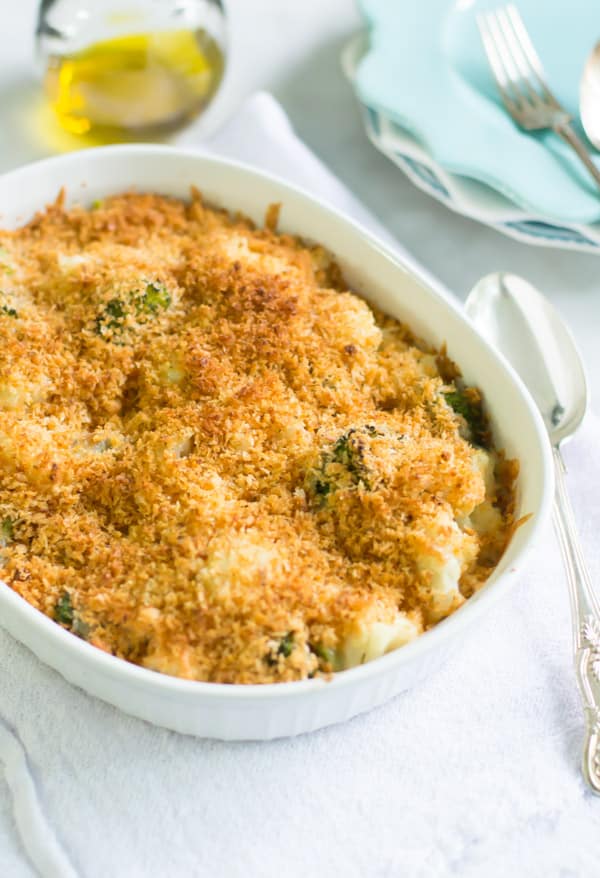 I bet many my readers are starting to think about the big night (Thanksgiving dinner) and already planning what to make, especially what will go along with the juicy and delicious roasted turkey. My family always like to serve it with roasted green beans, mashed potatoes, rice, salads, some type of stuffing, and cranberry sauce. But, I think baked casserole dishes are also a big hit for Thanksgiving dinner, right?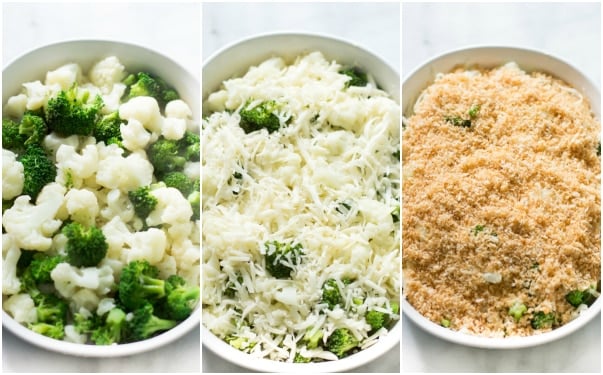 Keeping this in mind, I made this recipe a few days ago, and we love it. I was trying to make a veggie casserole because we already eat a lot at this dinner. I thought a lighter, veggie dish was the right way to go. Since this is a veggie casserole, many of you may think, "Hum… This is a little blah…" But you are about to change your mind! Give it a try.
The crunchy and yummy crust on the top of this dish and the softness of the veggies inside and the melted mozzarella cheese make this Broccoli-Cauliflower Bake a winner. Give it a try because it is really easy-to-make, gluten-free, healthy, and so cheesy.
Subscribe for new recipes & a free e-cookbook
I made this Broccoli-Cauliflower Bake on Sunday and kept it in the fridge for more than 3 days. I took some to work and warmed it up in the microwave for lunch, and it was still very flavourful. I believe you can keep it in the fridge for up 5 days, but I don't think it will last that long just because this is so D.E.L.I.C.I.O.U.S.! The panko really adds that extra crunch. I've been using it a lot recently, see my Roasted Green beans with Garlic Panko and Garlic Panko Salmon Recipe.
If you're in the mood for another casserole dish, you should try my Broccoli and Cauliflower Casserole Recipe, Brussels Sprouts Casserole Recipe, and Zucchini Casserole Recipe! They are packed with vegetables and so delicious!!
See below for how to make Cheesy Broccoli-Cauliflower Bake: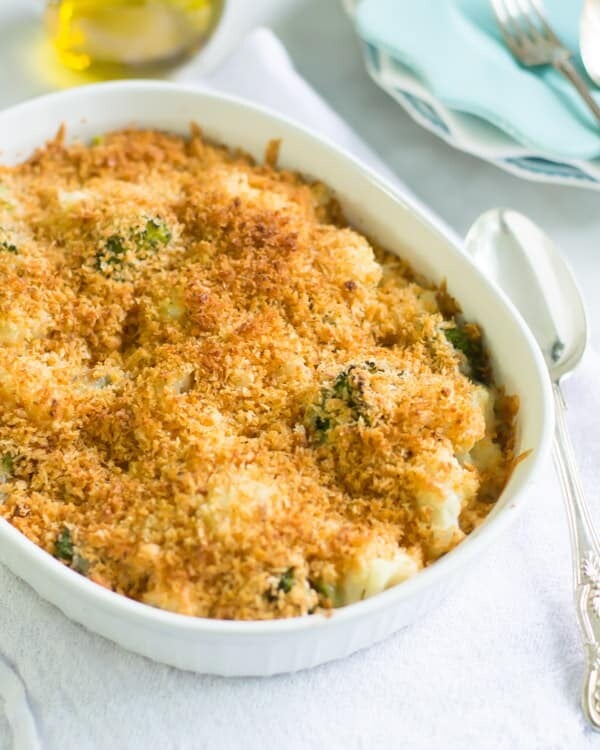 Cheesy Broccoli-Cauliflower Bake Recipe
This Cheesy Broccoli-Cauliflower Bake is a delicious and healthy casserole dish that is loaded with veggies, cheese, and panko. It is creamy, golden, and super-yummy!
Instructions
In a large pot, bring some water to a boil.

Add the broccoli and cauliflower. Cook them for about 3-4 minutes. Don't cook more than that because you will bake them as well. Drain, and set aside.

In a small bowl, add the panko crumbs, olive oil, oregano, paprika, parsley, cayenne, and black pepper.

Mix everything very well to combine. Set aside.

In a medium-sized casserole dish sprayed with cooking spray, add the broccoli, cauliflower, and mozzarella.

Top with the panko mixture.

Bake for about 15 minutes.
Tips
You can use frozen broccoli and cauliflower florets if you do not have fresh ones. Just add them to the water from frozen.
Feel free to add different dried herbs to the casserole such as dried thyme, rosemary, or basil instead of oregano. 
Feel free to use any type of melty cheese if you don't have mozzarella. Try gouda, gruyere, cheddar, or parmesan. 
To store: You can tightly wrap the broccoli-cauliflower bake, once cooled, and store it in the fridge for up to 3 days.
To reheat: Reheat the casserole in the oven until warmed through. You can also reheat it in the microwave. 
To freeze: Tightly wrap the casserole and freeze for up to 3 months.
Nutrition Information
Serving:
1
/6
Calories:
155
kcal
(8%)
Carbohydrates:
11.8
g
(4%)
Protein:
5.4
g
(11%)
Fat:
10.4
g
(16%)
Saturated Fat:
2.2
g
(14%)
Cholesterol:
5
mg
(2%)
Sodium:
94
mg
(4%)
Fiber:
2.7
g
(11%)
Sugar:
1.9
g
(2%)
Nutrition information is calculated using an ingredient database and should be considered an estimate.
Thanks for much for being here and always try to make my recipes. Have a lovely day!
If you like this Cheesy Broccoli-Cauliflower Bake recipe, please share it with your friends and family. Do you want to taste more? Subscribe to my newsletter, and follow Primavera Kitchen on Twitter, Pinterest, Instagram, and Facebook for all delicious recipe updates. As always, I really appreciate you stopping by.
More casserole recipes to try: