Panko Crusted Salmon! This beautiful and healthy meal takes under 30 minutes from start to finish and calls for only a handful of ingredients. It's perfect for any regular weeknight meal but also great when you want to serve something elegant to houseguests.
For more salmon recipes, try this broiled salmon, baked salmon and air fryer salmon.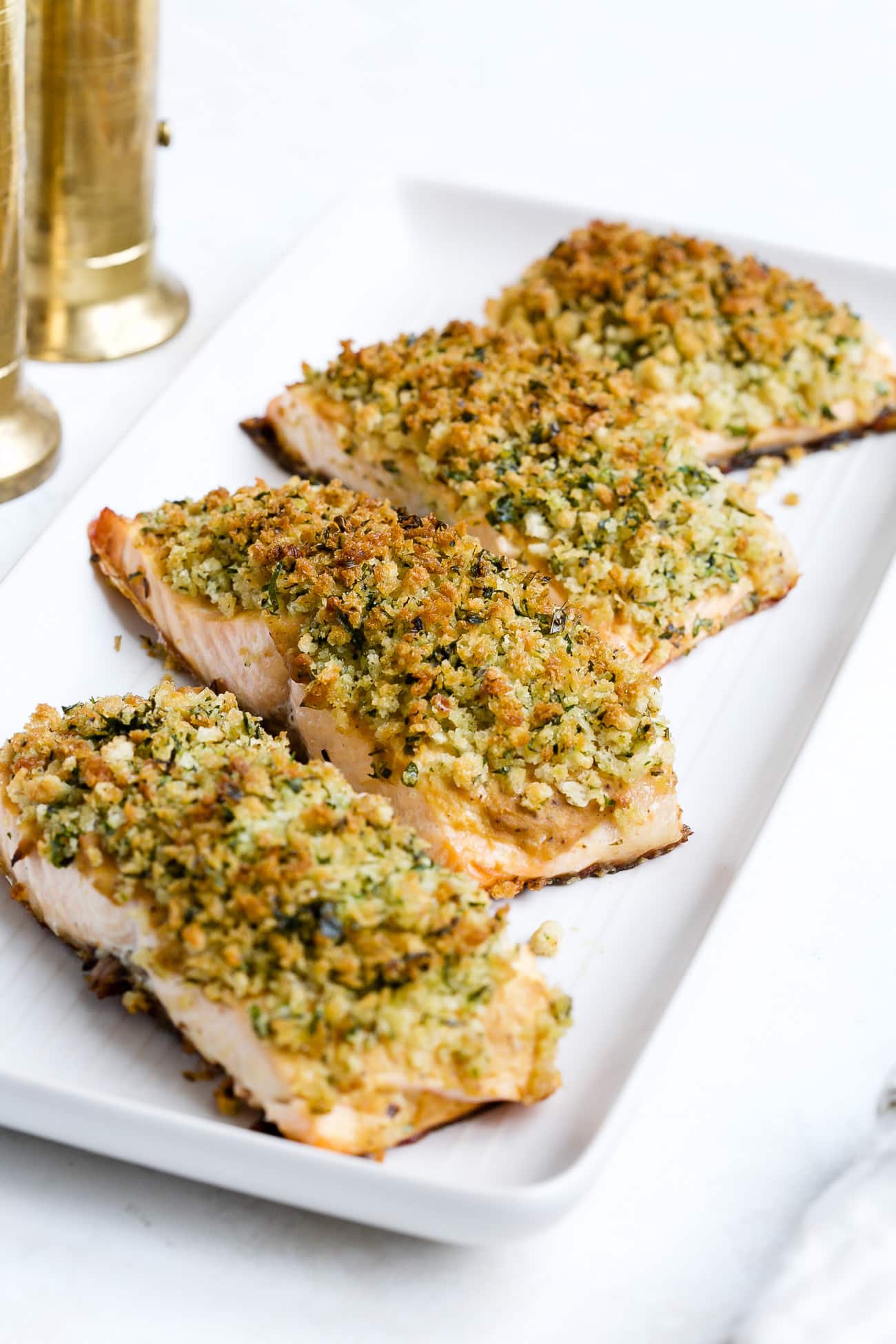 These delicate, flavorful fillets with panko breading (panko crust) can't be beat. Moist, tender and flaky salmon is perfectly complimented by crunchy crumb topping. And, they're even gluten free!
This Panko Crusted Salmon dish pairs seamlessly with basically any accompaniment. I love serving my salmon with fresh Arugula Salad, some warm Garlic Bread, Easy Roasted Vegetables and creamy Mashed Potatoes.
And if you've got an air fryer, I really love whipping up a batch of these Air Fryer Potato Wedges, another notably delicious side!
If you've got leftover panko crumbs after making this salmon, be sure to try my Roasted Green Beans With Garlic Panko or this Cheesy Broccoli-Cauliflower Bake Recipe!
How To Make Panko Crusted Salmon
Ingredients
Panko breadcrumbs — Look for a gluten free option at the store, wheat panko also works if you don't need to make this recipe gluten free. You can also make this recipe with regular breadcrumbs.
Parsley — I like using fresh, but dried parsley will work in a pinch.
Extra virgin olive oil — Avocado oil can also be substituted.
Seasonings — kosher salt and ground black pepper work well in this recipe, you can certainly use additional spices if desired!
Salmon filets — This recipe calls for one pound of salmon, you can buy either fillets or one large piece that you hand cut into smaller portions.
Dijon mustard — I typically buy creamy ground mustard, but a whole grain option will also work.
Instructions
Mix panko topping:
Subscribe for new recipes & a free e-cookbook
Begin by preheating your oven to 425°F (218°C).
Mince fresh parsley and place it in a small bowl. Add panko crumbs, olive oil, salt and pepper. Stir to combine and get the crunchy texture, then set crumb mixture to the side.
Optional: Add a touch of lemon zest and Parmesan cheese to the panko mixture for an additional burst of flavor.
Assemble and sear:
Pat fillets dry with a paper towel and place them in a greased, oven-safe skillet (skin side down). Leave a bit of space between pieces.
Spread mustard evenly onto each fillet and then press panko crumb mixture on top.
Sear salmon on the stovetop over medium-high heat, skin side down, for about 3 minutes. No need to flip!
Bake and serve:
Transfer skillet to the hot oven and bake fillets for 7-10 minutes until the fish reaches a desired level of firmness when touched and easily flakes apart with a fork.
Remove salmon from the oven and allow it to rest for a few minutes. Sprinkle some fresh chopped parsley on top of the fillets. Serve with all of your favorite sides like Couscous Salad and Savory Mashed Sweet Potatoes. Enjoy!
Recipe Tips
I like salt and pepper on my salmon. You can definitely mix things up and experiment with different spices or herbs! You might try oregano, rosemary, garlic powder, onion powder or paprika.
Patting your salmon dry with a paper towel will help to absorb excess moisture and prevent fish from steaming in the oven. Instead, you'll get more of a roasting effect and better texture overall.
You can also avoid steaming your fish by ensuring there is space between fillets while they bake in the oven. Definitely avoid overcrowding your skillet and leave some room.
Make sure to buy fillets that are the same size so they cook evenly. You can also cut one large piece of salmon into even potions by hand if necessary.
If you prefer, you can skip the searing step and simply place the salmon on a baking sheet lined with aluminum foil or parchment paper and bake it.
If you don't have Dijon mustard on hand, you can easily substitute it with mayo (mayonnaise).
How To Store Leftovers
To Store: Allow leftovers to cool and place them in an airtight container, then refrigerate for up to 3 days.
To Freeze: Place baked fillets in a Ziploc bag or freezer-safe container and press to remove excess air. Store frozen for up to 4 months.
To Reheat: Thaw leftovers in the refrigerator overnight (if reheating from frozen). Warm leftovers in the microwave or reheat in the oven.
More Salmon Recipes
Salmon is a great food to add to your healthy diet! It contains a lot of protein, potassium, omega-3 fatty acids and vitamins. If you want to get more of this fabulous fish on your family dinner table, try some of these mouthwatering recipes:
Frequently Asked Questions
Should I bake salmon uncovered?
I prefer to bake my salmon uncovered, especially when it comes to a panko crusted recipe. If you cook it without a foil covering, the crumbs will get nice and golden!
What type of salmon should I use for this recipe?
Really any type will work! You can use either farm raised or wild-caught options. I prefer fresh fish, but frozen fillets also work. Just let them thaw completely in the refrigerator before adding the panko crumbs and baking.
Why is my salmon dry?
If your Panko Crusted Salmon turns out dry, it's more than likely overcooked. Make sure to take fillets out of the oven as soon as they reach an internal temp of 145°F.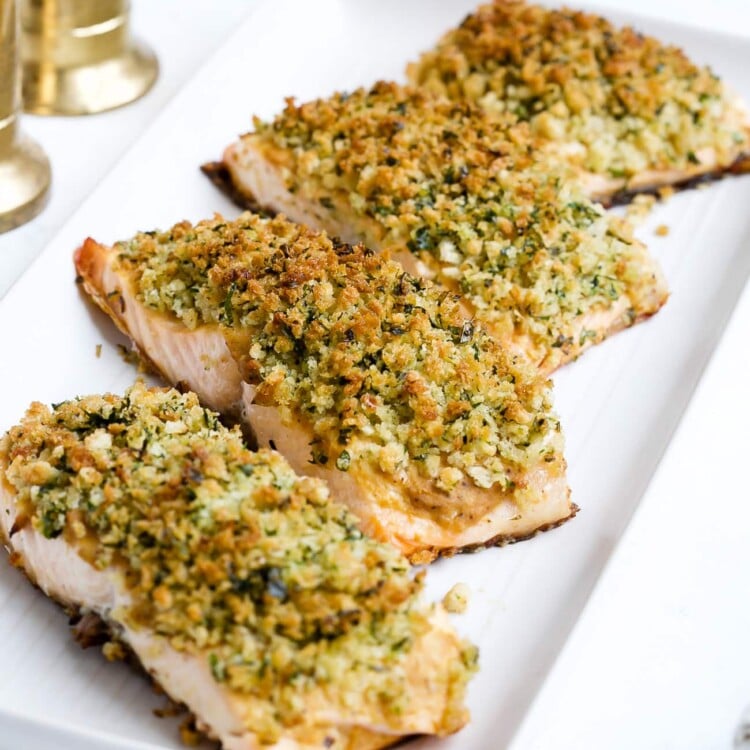 Panko Crusted Salmon
Panko crusted salmon! This beautiful and healthy meal takes under 30 minutes from start to finish and calls for only a handful of ingredients. It's perfect for any regular weeknight meal but also great when you want to serve something elegant to houseguests.
Instructions
Preheat oven to 425°F (218°C).

In a small bowl, mix together panko, parsley, 2 tablespoon of olive oil, salt and pepper. Set aside.

Pat fillets with a paper towel and place them skin side down in a greased skillet or pan (1 tablespoon of olive oil). Season salmon with salt and pepper. Then, spoon mustard over each piece of fish.

Press the panko mixture on top of the mustard on each salmon fillet. 

Sear salmon for 3 minutes over medium high heat, without turning. Then, transfer the skillet to the oven and bake for 7-10 minutes until the salmon is cooked and the panko is browned. Enjoy!
Tips
Feel free to use seasonings other than salt and pepper, if desired.
Patting the salmon fillets with a paper towel will help absorb excess moisture so fish will roast rather than steam.
Avoid placing the salmon too close together, so the hot air in the oven can circulate between each fillet.
Buy fillets uniform in size so they cook evenly.
To store: Put leftover panko salmon into an airtight glass container and keep for up to 3 days.
To reheat: Rewarm leftovers in the microwave or oven. 
To freeze: Freeze in a freezer-safe bag once the salmon fillets have reached room temperature. Freeze for up to 4 months.
Nutrition Information
Serving:
1
/4
Calories:
210
kcal
(11%)
Carbohydrates:
11
g
(4%)
Protein:
25
g
(50%)
Fat:
8
g
(12%)
Saturated Fat:
1
g
(6%)
Polyunsaturated Fat:
1
g
Monounsaturated Fat:
5
g
Cholesterol:
50
mg
(17%)
Sodium:
826
mg
(36%)
Potassium:
458
mg
(13%)
Fiber:
3
g
(13%)
Sugar:
3
g
(3%)
Nutrition information is calculated using an ingredient database and should be considered an estimate.
So, I hope you enjoy this Panko Crusted Salmon recipe and try to make some in your own kitchen today. If you like this recipe, please share with your friends and family. Do you want to taste more? Subscribe to my newsletter and follow Primavera Kitchen on Twitter, Pinterest, Instagram, and Facebook for all delicious recipes updates. As always, I really appreciate you stopping by.